Meditation
Pet Meditation: Easy Ways to Meditate with your Pets
Last Update on October 13, 2020 : Published on October 13, 2020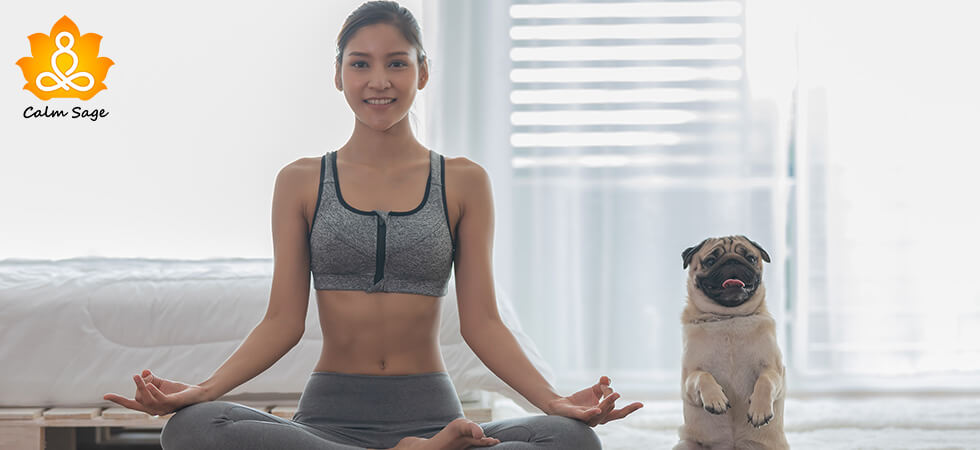 Giving a shoutout to all the pet owners in the house!
Do you remember that time when you held your pet for the first time? I still remember the moment when I held my pup for the first time. It felt like calmness standing at my door and positivity all around my home. I cannot deny the fact that he completes my family. My pet is my happy place where I want to be with him for a lifetime. The reason being, pets are known to be natural meditators and therapists.
Their presence makes us positive and simply fills us with joy. It is the basic nature of all the pets. And the best part about having a pet is that you don't have to remind them to spread positivity around. They always carry positive vibes and happy faces. I am really in love with the fact that pets intuitively enjoy each moment to the fullest. And meditating with them brings a lot of benefits. This blog covers a mini guide for pet meditation. So, let's get started.
Pet Meditation: How It Goes

Meditation with pets like dog meditation, rabbit meditation, or cat meditation is the easy type of meditation to practice every day. All I have to do is to invite them nicely. For pet meditation, you really do not have to train your pets. There is no doubt that they can turn your bad day into a good day because they carry such calming energies in themselves. Their bodies have energies that they move beyond boundaries. Learn about pets and personality, click on the link to read.
For example, when you meditate with your dog, dogs consistently exchange energies which improve connection, understanding, and communication mutually. It also helps in the creation of a deeper bond and your dog starts connecting with you more throughout your journey. Indeed, dog meditation is one of the greatest meditations of all time.
How To Meditate With Your Pet

You don't have to put any science here, with these simple ways you can easily meditate with your pets:
Find a quiet and comfortable place for practicing pet meditation.
Invite your pet and let them also get comfortable with space.
Remember, the comfortable they get, the more beneficial and timely meditation is going to be.
If possible, ask your pet to sit nearby and embrace the stillness and calmness of nature.
The serene energy of your pet will help in maintaining the most turbulent meditations of all time.
How Pet Meditation Benefits Us

More connection with your pet.
Deep understanding within your pet and you.
Better sleep.
Less stress and anxiety.
Removal of depressive symptoms.
The increased flow of happy hormones in the body.
Calm, peaceful, and positive vibes all around.
Increased diet as well.
Overall improved physical and mental wellbeing.
Exploring More About Pet Meditation

Apart from sitting and meditating with each other, you can also take your pet meditation on a different level. You can also actively engage in what your pet enjoys. You can take them for a walk or play with them. For example with dogs, you can do more stuff. Take your dog out, let them explore the world, let them take you to the new places, and do not forget to leave your digital devices behind. Being present with them at the moment and practicing mindfulness with them is the greatest gift you can give to your pet.
Like they do, take every moment to pass on positive energies, observe everything, and explore everything with a happy positive face. You can also opt for pet therapy if you don't have a pooch to play around.
I hope this blog helps you to explore more about your pets and pet meditation. Comment down and let us know how you're going to include your pet while practicing meditation. For more such inspirational content, follow Calm Sage on all social media platforms.
Thanks for reading!
Enjoy meditating with your pet ☺