Therapy
PlushCare Review 2023: Is PlushCare The Virtual Healthcare You're Looking For?
Last Update on January 19, 2023 : Published on January 14, 2022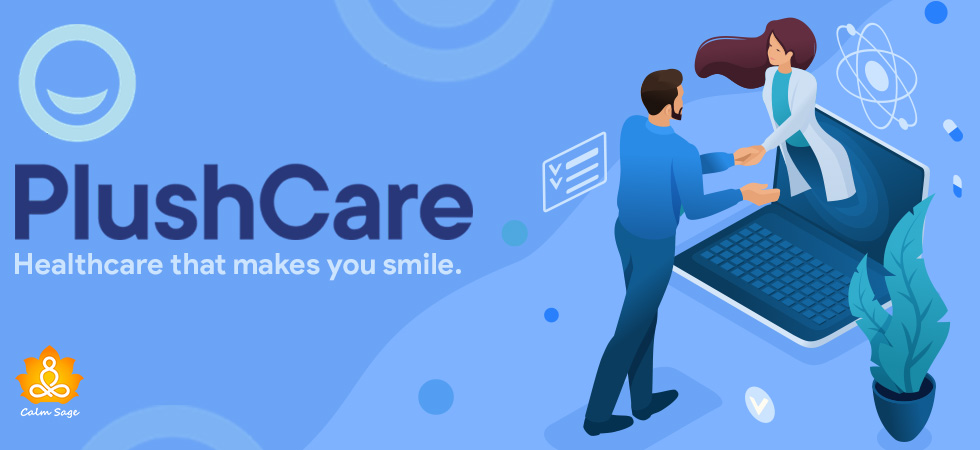 Getting groceries delivered at your doorstep with just one click is easy and convenient so why can't you get the healthcare services you need with just one click? With this thinking in mind, Dr. James Wantuck and Ryan McQuaid started PlushCare in 2015.
Launched in the back room of a doctor's office, PlushCare now with over 100 physicians, is located in San Francisco. The vision of this virtual healthcare has been the same ever since its conception: To help all individuals live a long, happy, and healthy life.
In this blog, I'll be reviewing the features, services provided, and other pros and cons of signing up with PlushCare and whether this virtual healthcare was the healthcare service you've been looking for.
Let's review!
*Please note that PlushCare app and services are limited to US residents only*
Overview Of PlushCare
Product Name 
PlushCare
Session Type
Live video and audio calls only
HIPAA Compliant
Yes
Year Founded
2015
Price
$14.99/mo or $99/yr
Usability
Mobile App Available (Android + iOS)
Insurance Accepted
Yes, but not for mental healthcare services
Payment Options
Credit Cards
Trial Available
30-day trial available
Sign-Up Process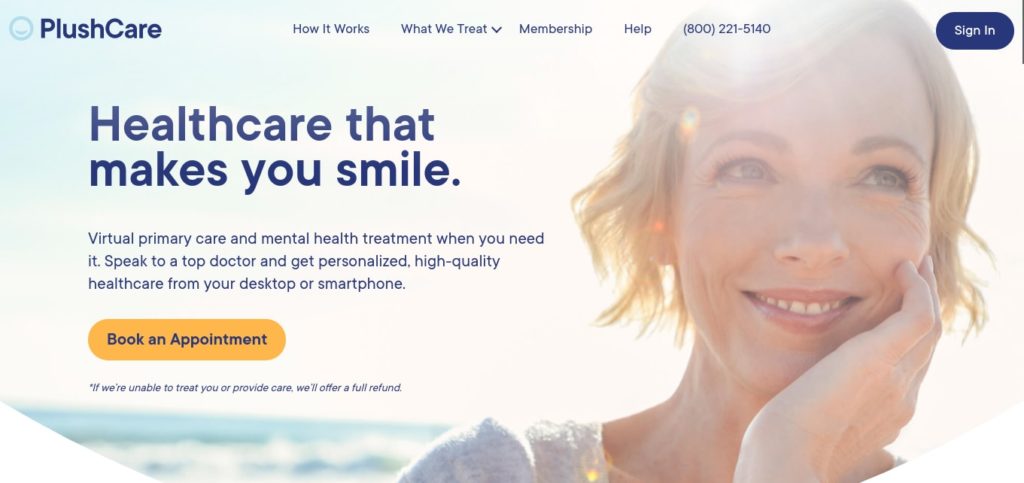 When you arrive at PlushCare's website, you'll see a 'Sign In' button on the right corner. When you'll click the button, you'll be directed to a page where you'll be asked to create an account if you're not already a member.
Please keep in mind that to sign up with PlushCare, you'll need a valid email address, a valid phone number registered in the United States.
PlushCare offers healthcare services for primary and urgent care as well as mental health therapy. To book an appointment for mental health therapy, you need to click on the "What We Treat" button on the homepage. Once you click on the 'Mental Health' button, you'll be directed to a page where you'll be asked to book an appointment.
Next, you'll be asked a few questions about your mental health and your needs. For example, you'll be asked if you're looking for medication-based therapy or if you've ever been diagnosed with schizophrenia or psychosis.
If you click "yes" to these questions, you'll be told that PlushCare's services are not the right ones for you. However, if you answer "no" to the above questions, then you'll be taken to the page where you can make an appointment with the doctor in your region.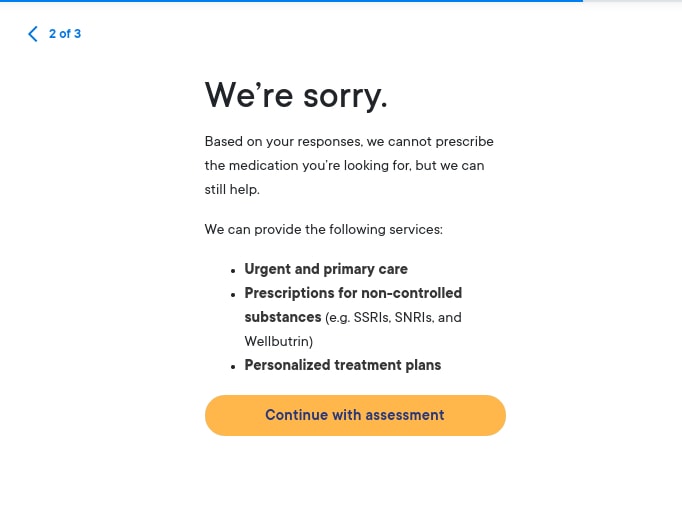 Once you've signed up, you can access your dashboard where you can see your booked appointments. If you've chosen to go with online therapy, then you'll be directed to a page asking if you'd like to book a 45-minute therapy session or a 15-minute informational session. Based on your choice, you'll be provided with the available time slots.

While the website is well-maintained and simple you may still find the navigation quite confusing. Another feature that attracted me was the blogs that PlushCare offers. In the blogs section, you can find topics on online therapy, prescription, primary care treatment, and more.
Pricing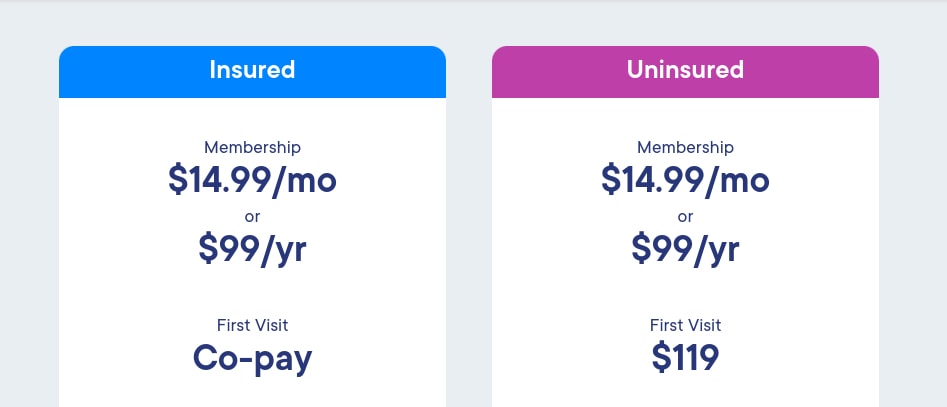 PlushCare is a telehealthcare provider so there are two membership options available; one for primary and urgent care and one for mental healthcare. However, there are two types of cost available. One insured and the other one uninsured. If you're insured, you'll pay co-pay for your visits, but if you're uninsured, you'll have to pay $119 for each visit.
The cost for PlushCare membership is $14.99 a month or $99 a year.
Therapy with PlushCare costs $149 a week for a 45-minute session or $169 for a single session if you can't commit to a weekly session.
If you're looking at medication management or prescribed mental health services, then you'll need to select a different plan; the Care+Meds plan. This separate plan costs $49 for the first month and $99 for each month thereafter.
This Care+Meds plan includes monthly video checkups, prescribed medications at your doorstep, and all-around support from the PlushCare team.
With a PlushCare membership, you get a free 30-day trial. If you choose to cancel your membership within 30 days, you won't be charged. If your needs cannot be met by the PlushCare team, then you'll be eligible for a full refund.
Ease Of Use
In terms of user navigation, the PlushCare website can be confusing at times if you've not created an account in the beginning. With an account in place, the navigation is simple and easy. Live sessions with a therapist or a physician are done via audio or video calls only.
If you want to connect with your therapist or physician outside of your session, you have the option to message them, however, the messaging option isn't what other platforms such as Talkspace or BetterHelp offer.
If you're not satisfied with the physician or therapist you currently have, you can request to change your doctor. Switching to the doctor is an easy and fair process.
Therapies Offered By Plushcare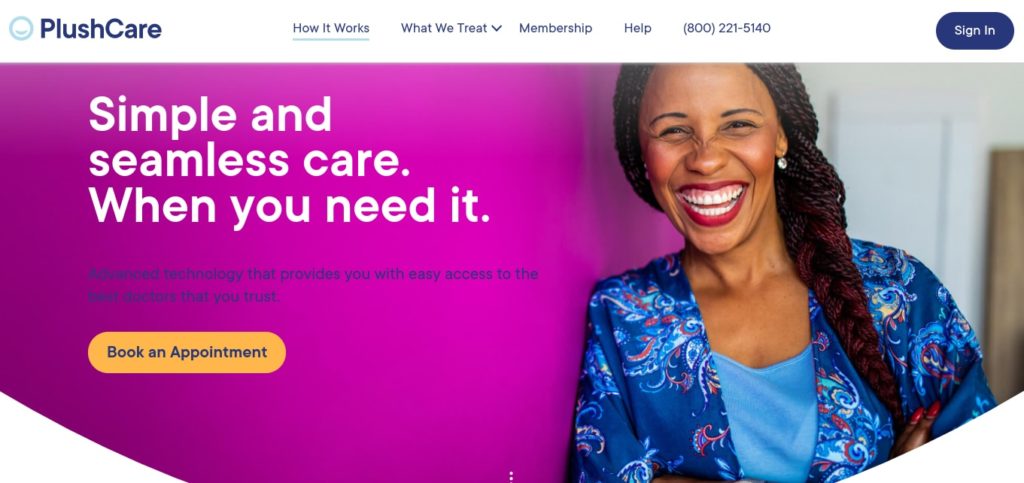 PlushCare currently offers physical health, primary care, everyday care, ongoing care, and mental health services. With mental health services, you can access talk therapy as well as medication management.
Although PlushCare doesn't offer any psychiatric services or treatments for severe mental health disorders. They also refrain from prescribing medications such as Xanax, Adderall, Valium, and Ativan. You can find the full list of drugs not prescribed by PlushCare on the website.
Other treatments offered by PlushCare include:
Mild to moderate anxiety
Relationship problems
Mood management
Plushcare Pros and Cons:
Pros:
45-minute therapy session
Medication management available
Weekly subscription available
Licensed and experienced therapists
Detail-oriented and instructive navigation
Same day appointments
Liberty to choose your therapist
Cons:
No insurance for therapy available, only for primary care
Services limited to certain geographical area
Doesn't offer psychiatric services
Doesn't offer messaging-based services
No group, teen, or couples therapy available
Plushcare Privacy Policy
Like other virtual healthcare platforms, PlushCare is HIPAA compliant and implements all reasonable security measures to protect your privacy and personal information. The website uses firewall security and encryption.
If you want to access your medical history from PlushCare, you can do so easily after you sign a release form.
PlushCare protects your identity and data from unauthorized access, however, the service isn't anonymous.
To read the detailed privacy policy, you can click here.
Is Plushcare The Right Choice For You?

PlushCare is different from other mental healthcare platforms and might not be the right fit for you if you're looking for services such as psychotherapy or psychiatric help. But, if you're looking for primary care or urgent care, then PlushCare might be a good choice.
PlushCare doctors aren't equipped to diagnose mental health conditions and are not for individuals below the age of 18. This virtual healthcare platform is not an emergency service or for those struggling with severe mental health conditions and suicidal tendencies.
Read: Doctor On Demand Review: Your Virtual Healthcare Provider
Frequently Asked Questions
Q1: Does PlushCare Accept Insurance?
PlushCare accepts insurance if you're opting for primary or urgent care. It does not accept insurance for therapy.
Q2: Can You Change or Cancel Your Subscription?
Yes, you can cancel your membership anytime via the app or the portal on the website. You can also change your scheduled appointment time, however, you'll be charged $30 for canceling within two hours of your appointment or if you're a no-show.
Q3: Are There Discounts Available?
Yes but only to subscribers to Care+Meds membership. You get a discount on your first month only.
Final Verdict
PlushCare is your one-stop shop for primary care, medication management, and mental health. Keep in mind that this virtual healthcare platform is first a primary care platform not a mental healthcare platform like Talkspace or BetterHelp.
If you're looking for quick access to a doctor, you can opt for PlushCare, however, if you're seeking mental health care for severe mental health disorders, then PlushCare may not be the right choice.
PlushCare's goal is to provide easy, accessible, and affordable healthcare for everyone. Even with this vision, PlushCare fails to reach globally. With its limited resources available only to US residents, PlushCare might not be the right choice for all.
If you find yourself reaching out to PlushCare, you can download the mobile app on Apple App Store and Google Play store by clicking the links below.
You can visit the PlushCare website here!
Please note that this review is completely based on my experience with PlushCare. For more information, you can write to us at info@calmsage.com or DM us on social media. I hope this review helped you understand how PlushCare works and if it's the virtual healthcare platform you've been looking for.
Let me know what you think about this PlushCare review and its services in the comments below!
Take Care!