Therapy
Doctor On Demand Review: Your Virtual Healthcare Provider
Last Update on November 11, 2022 : Published on February 4, 2021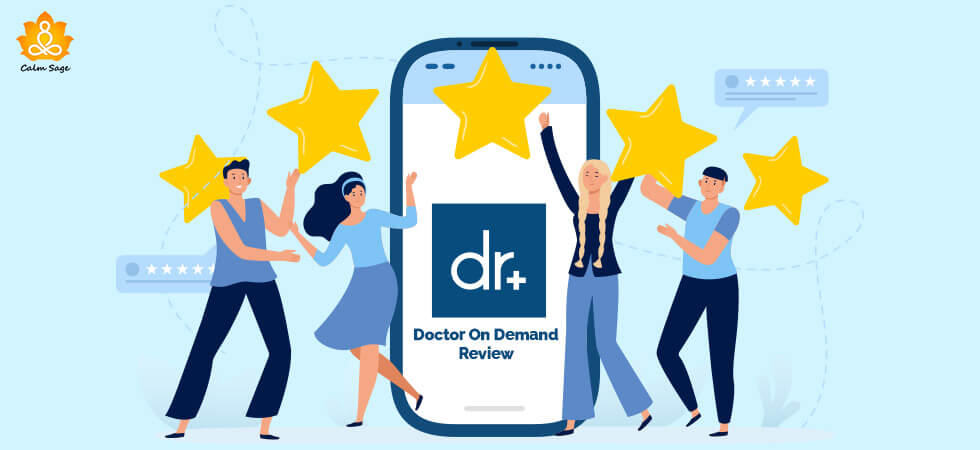 Telehealth services saw a demand in 2020 when the global coronavirus pandemic hit. People were confined to their homes and weren't able to access healthcare services when needed. Telehealth brought medical and mental healthcare services to homes around the globe. People were able to access healthcare services without leaving the comfort and safety of their homes.
One such service that brought healthcare services to homes is 'Doctor On Demand'. Doctor on Demand was founded in 2012 by Phil McGraw, Jay McGraw, and Adam Jackson in California, USA.
Doctor on Demand is one of the many online therapy and healthcare services that provide medical and mental health consultation and assistance without leaving the comfort of one's home.
This blog is a review of Doctor On Demand, the virtual healthcare service, so let's begin!
An Overview Of Doctor On Demand
Product Name: Doctor On Demand

Price: $129

Founded:2012

Mobile Platforms: Android & iOS (4.4 & 11 or newer respectively)

HIPPA Compliant: Yes

Payment Options:Credit Cards (HSA, FSA) & Paypal

Overall Price:$129 - $299
Doctor On Demand Pros and Cons:
Pros:
Live video chat available
No prior subscription needed
Services are available for children and adults, alike
User is free to choose a doctor or therapist of their choice
Around-the-clock appointment available
Medications can be prescribed, if needed
Cons:
Price is higher than other online healthcare services
Treatment options are limited
The sessions highly rely on video and audio
Therapist availability is fewer than those of other services
Only video chat is available
Not available for users outside of the USA
Sign-Up Process: How to Get Started With Doctor On Demand 
---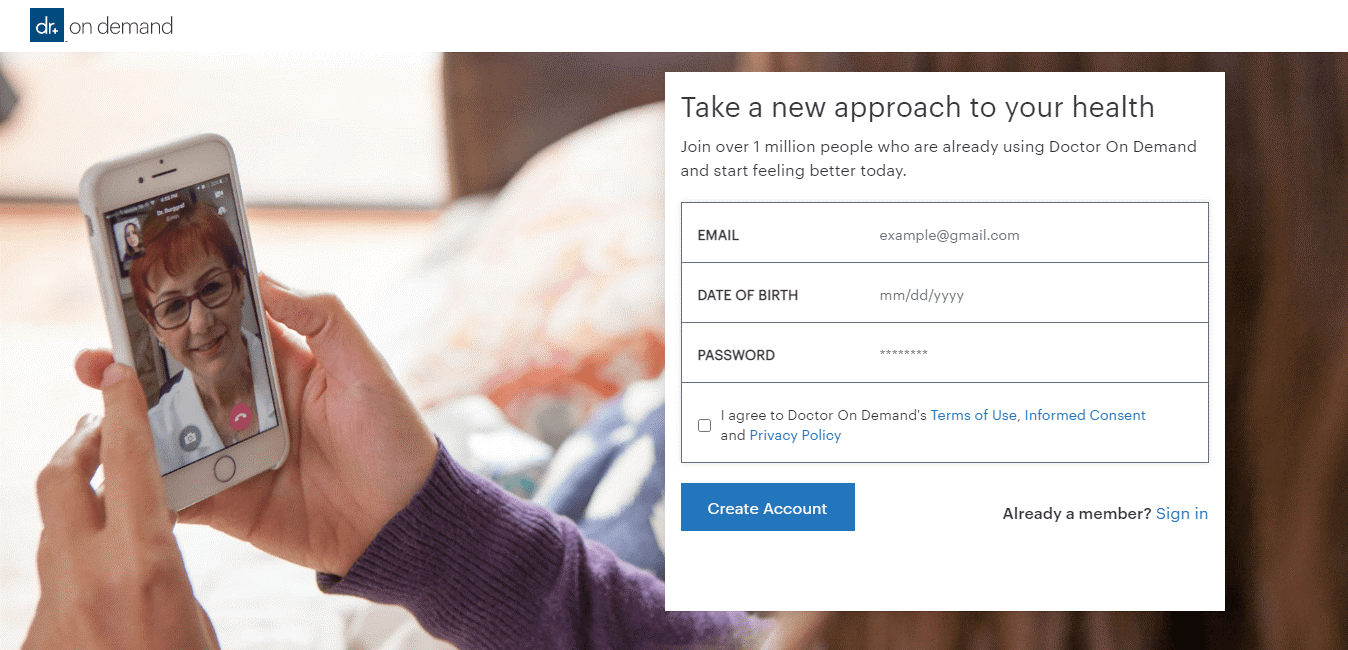 The sign-up process for Doctor On Demand is easy and straightforward. You can either access the website by clicking on the link given below or you can download the app from iTunes or Google Play Store.
During the registration process, you'll be asked to register using your email address, date of birth, and password, only. It's not a lengthy process.
Once registered, you will be asked questions about your symptoms, allergies, and medications if you have any. There are options available to see a doctor 'now' or you can schedule an appointment. The services are available for physical health as well as mental health.
If you choose mental health – you'll be directed to choose either a psychologist or a psychiatrist, whatever your requirements. A psychiatrist is to see when you're considering medications for your disorder while a psychologist is to see when you're considering evidence-based therapy or talk therapy.
Does Doctor on Demand Take Insurance?
---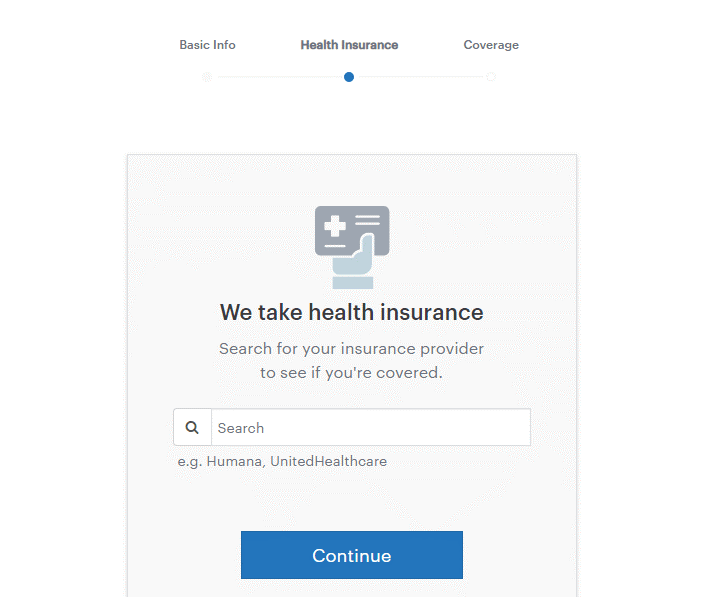 Yes, Doctor on Demand accepts insurance. The services offered by Doctor On Demand are covered by some employers and health insurance plans (available only for USA residents). During registration, you will be asked to add your insurance to find if your health plan supports the services provided by Doctor On Demand.
You can also add your insurance number or employer's details (if they provide such services) after registration as well – accessible both on the mobile app and the website.
Ease Of Use: Doctor on Demand
---

If you're accessing the application via the website, you might run into some technical difficulties such as; there are too many options for treatment available that it might make some users feel overwhelmed. The website is geared towards mental and medical health which might be confusing and take some time to choose the right option.
However, if you're looking for mental healthcare, then there is a mental health assessment available to help you find the right therapist for you and your symptoms. Once you reach the stage where you're required to choose a therapist – the list is comprehensive.
You will be able to view all available therapists in your area (also, the website will ask you to share your location to find you the nearest therapists and doctors).
You will have access to read the therapist's biographies, what treatment they specialize in, and if they can help you. You also have the option to meet with your chosen therapist in the future.
Therapy sessions can be booked before you choose a therapist. The sessions are booked in either a 50-minute session (recommended by Doctor on Demand) or a 25-minute session. One thing that I feel is a disadvantage is that all sessions are done through video chats only. Some people might not find this a viable option.
Areas Covered by Doctor on Demand
---
The service 'Doctor On Demand' offers services in; Urgent care, Preventive Care, and Chronic Care. Other areas covered by Doctor on Demand are:
Anxiety
Depression
Trauma & Loss
Addictions
Cold & Flus
UTIs
Skin issues & rashes
Sinus infections
The service provides 24/7 access to psychiatrists, psychologists, doctors, and other healthcare professionals.
Doctor on Demand Effectiveness:
---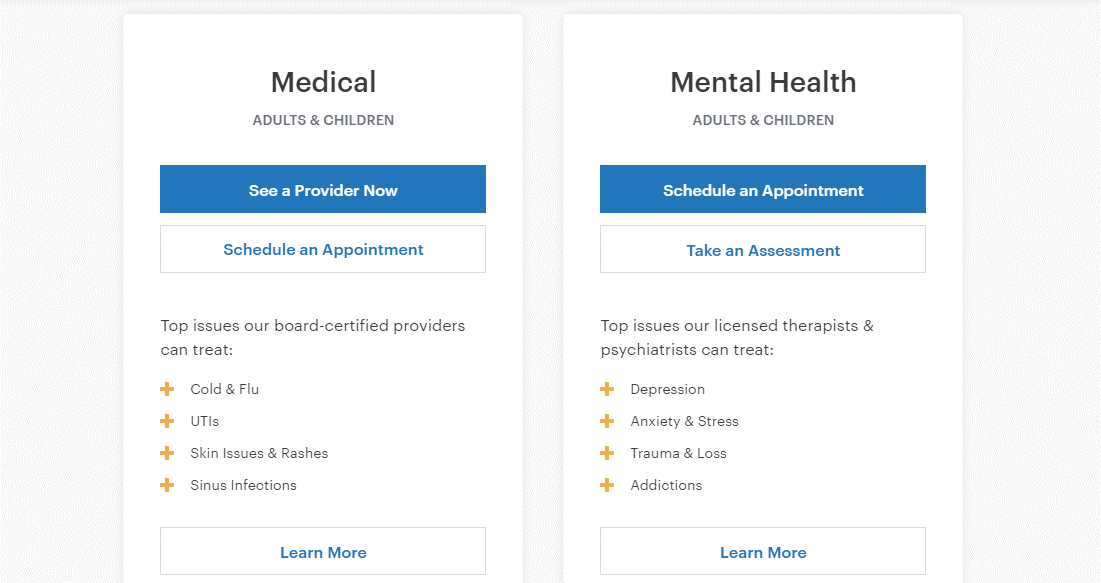 Doctor On Demand doesn't have a very large network of doctors or psychologists available as each person has to go through a meticulous selection process. Doctor on Demand also only offers the services of psychologists and psychiatrists, unlike other online therapy platforms.

The platform has licensed providers with an average of 15 or more years of experience. All of the doctors on the platform are patient and attentive and will create a treatment plan right for you.
Remember, Doctor On Demand isn't an emergency service. If you're in immediate need of help, contact your local helpline number or any suicide prevention helpline number.
Treatment Options Available
---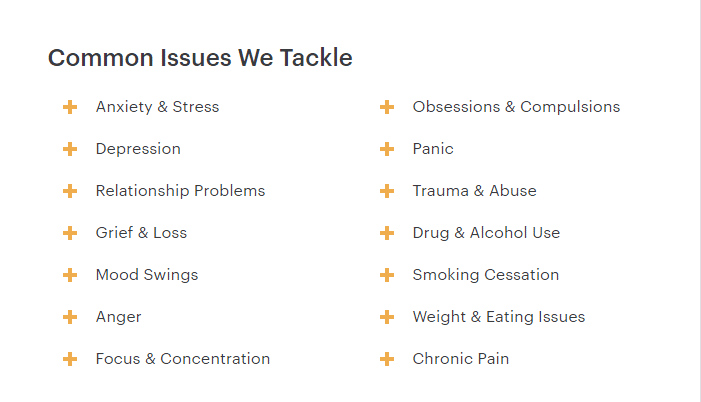 Doctor on Demand platform are trained to treat specific issues such as:
Anxiety
Insomnia
Post-partum depression
Fatigue
Relationship & family issues
Behavioral issues
Privacy Policy of Doctor on Demand:
---

As the services provided by Doctor On Demand are medical and clinical nature, the information provided by the user is encrypted and kept private. The information given by the user is confidential and is kept safe through administrative, physical, and technical means complied with federal and state guidelines.
The information related to the treatment is recorded and the records may include:
Test results
Diagnosis
Medications and therapies (with your response to them, respectively)
Doctor On Demand may disclose this information to doctors, nurses, and labs to help you meet your needs healthcare-wise.
The platform also documents the services provided by them to the user for approval from the insurance company (if you choose insurance to help pay for the services). The platform also reserves the right to share health information to improve the services and get feedback on the services provided to the user.
To read the privacy policy in detail, you can click on this link.
Doctor on Demand Pricing Plan:
---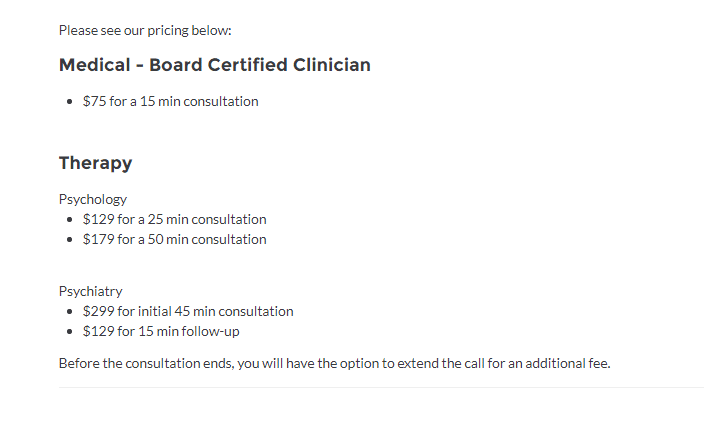 Since Doctor On Demand offers psychotherapy service and psychiatrist service, the price range is different for each:
For Psychotherapy:
A 25-minute session costs $129
The Doctor on Demand recommended 50-minute session costs $179
For Psychiatry:
A 45-minute initial consultation costs $299
A 15-minute follow-up session costs $129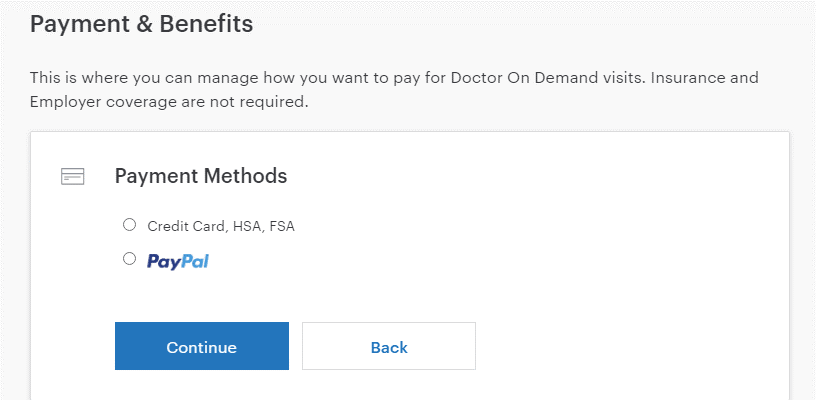 These prices are for users without health insurance. Doctor on Demand accepts health insurance from UnitedHealthcare, Humana, Cigna, and Medicare. The platform accepts credit cards and cards with HSA (Health Savings Accounts) or FSA (Flexible Spending Account)  benefits.
Unlike other online therapy platforms, Doctor On Demand doesn't offer subscription plans. All appointments are scheduled one at a time at your convenience.
Doctor On Demand v/s Teladoc: Which is Better?
---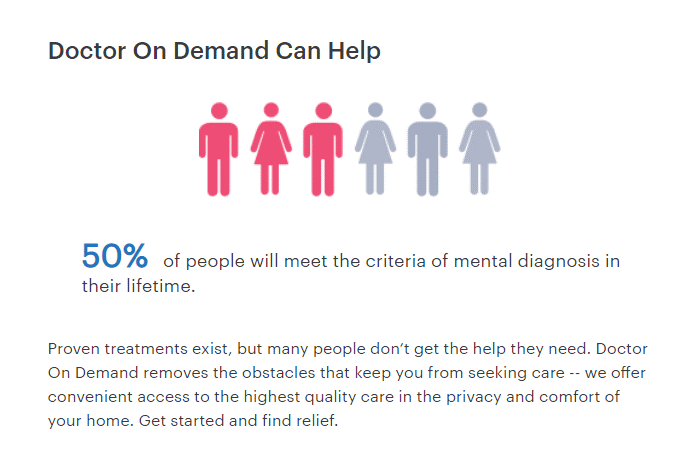 While there are other online therapy platforms such as BetterHelp, Talkspace, Amwell, 7 Cups Of Tea, and ReGain but Teladoc and Doctor on Demand offer similar services.
| Specifications | Doctor On Demand | Teladoc |
| --- | --- | --- |
| Founded | Doctor on Demand was founded in 2012 | Teladoc was founded in 2002 |
| Accessibility | Desktop phone, tablet | Desktop phone, tablet |
| Communication | Available only in video chat | phone and video chat available |
| Pricing | Charges $75 just for an initial consultation and $129 for a 25-minute consultation, and $179 for a 50-minute consultation. | Teladoc pricing starts at $49.00 per feature, as a one-time payment. |
Even though both the platforms specialize in telehealth and telemedicine, each has its own pros and cons. If you're looking for a low-price treatment option then Teladoc is perfect for you and if you're looking for a one-time appointment at a higher cost, choose Doctor On Demand.
Final Verdict
---
Telehealth and telemedicine are becoming a fast-growing market with various platforms coming up in virtual therapy. While doctor on Demand has its pros and cons, it is one of the growing platforms that provide medical and mental health treatment.
What We Like about Doctor on Demand:
One of the positive aspects of Doctor On Demand that caught my attention was the flexibility to schedule an appointment at the user's convenience and also the ability to consult with a psychiatrist with the expertise to prescribe medications if needed.
What We Don't Like about Doctor on Demand:
Some things, I believe, were not on par with what I was looking for such as the price and the mode of communication. The services offered by Doctor on Demand are expensive and not all people are comfortable with a video-only consultation or session.
Even though the platform is expensive, the services provided by Doctor on Demand are worth it. If your insurance covers your healthcare treatment and if you're looking for a one-time consultation from a healthcare expert – sign up with Doctor On Demand, today!
Ready to Get Started?
To know more about telehealth and virtual therapy, you can also write to us at info@calmsage.com.
Take care of yourself – first and foremost!
You Matter!
Next Read: