Parenting
How To Overcome Stay-At-Home Mom Burnout (SAHM): Penned By a Mother!
Last Update on October 12, 2023 : Published on October 13, 2023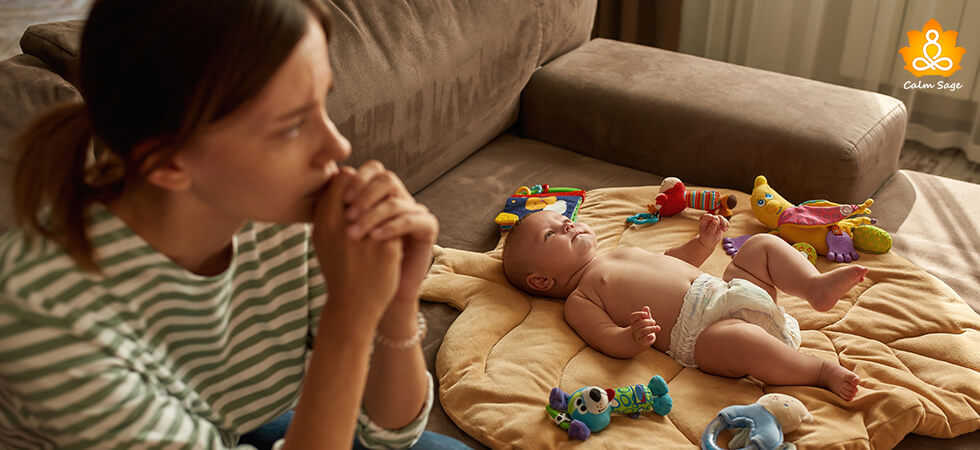 I am not only a full-time caretaker of my 2-year-old toddler but also a full-time caretaker of a family of five. Apart from this, I am a full-time employee and studying masters! Can you imagine how messy and chaotic my life looks? From the outside, it might look like I am handling it all perfectly but deep inside I sometimes lack motivation, feel exhausted, and depressed for not being able to focus on my mental health.
While writing this blog, I am feeling a fully depleted, exhausted, and de-motivated mom who's challenged every day by the roles and responsibilities of a toddler, family, work, and study. Are you also struggling with stay-at-home mom or mommy burnout?
If yes, please applaud yourself for coming this far! I know the road of motherhood is a never-ending road and every day brings new challenges, but that does not mean we are weak! We are strong women taking care of family and children on our own! No wonder, why does everyone call mothers superwomen?
In this blog, let us take a deep look at what is stay-at-home mom burnout and what you can do as a stay-at-home mom to overcome mom burnout. So, let's get started!
What is Stay-At-Home Mom Burnout?
When mothers start taking care of their newborn children alone, they start feeling isolated, demotivated, exhausted, and chronically stressed. Do you know that 95% of moms experience burnout on a regular basis? Sadly, we have no to talk about or to seek support!
As a stay-at-home mom, we have to focus on our children, home, family members, career, goals, and whatnot! And during all of this, we forget to focus on ourselves, our mental health, our fitness, our bodies, or self-care! Such everyday experiences can quickly turn into burnout.
If you're a mom or family member reading out for your mom, please know that it's difficult to spot mom burnout because of stigmas! Being a stay-at-home mom can bring a lot of challenges such as isolation, invalidation, lack of support, suppressed emotions, and more.
Do you know why it is difficult to find mom burnout every day we do some pep-talk, suppress emotions, and simply say, "I should not be stressed, I have to take care of my family, I have to be with my kids, it's easy, every mom is doing this."
Such specific words can deplete a mom's mental health and may result in stay-at-home mom depression. If you think you might be struggling with stay-at-home mom burnout, scroll down to check the symptoms of mom burnout.
How Does Stay-At-Home Mom Burnout Look Like?
In general, stay-at-home mom burnout can cause physical and mental exhaustion which can be clearly seen through fatigue, substance use, disrupted sleeping patterns, and inadequate nutrition. In some cases, it can also lead to parenting stress followed by escape ideations or self-harm.
Below listed are some of the common mental health-related signs and symptoms of stay-at-home mom burnout:
Anxiety
Depression
Escape ideations
Inability to perform regular tasks
Insomnia
Irritability
Isolation or chronic loneliness
Lack of motivation
Mental exhaustion
Mom rage
Overwhelmed
Self-doubt
Substance use
Suicidal ideations
Why Does Stay-At-Home Mom Burnout Develop?
What's the role of a mother? To take care of her baby, herself, and the family members. Amidst all the chaos, sometimes, mothers don't get enough time to take care of themselves. When other family members neglect her problems, suppress her emotions, and don't validate their feelings on time, it can lead to stay-at-home mom burnout. In such cases, constant support, stress management, self-care, and rest are some of the most important factors to resolve exhaustion.
When these demands are not fulfilled regularly, it does not only impact the mom but also impacts the emotional stability of the children negatively. Apart from this, financial struggles can also be the consequence of stay-at-home mom depression. below-listed are some of the common causes of mom burnout:
Financial struggles
Lack of support
Lack of appreciation or reciprocation
Societal pressure or stigmas
Self-judgment
Isolation
Lack of resources
Presence of other mental health conditions
17 Ways To Overcome Stay-At-Home Mom Burnout?
If you're a new stay-at-home mom, please know that taking care of your child and yourself should be your priority. If you have so much on your plate, it can lead to exhaustion, burnout, or even depression. Therefore, always prioritize your tasks accordingly and read the below-mentioned way to cope with stay-at-home mom burnout:
1. Focus on self-care
I know it can be really tough to find time for yourself, try to begin self-care within 5 minutes so that you can focus on your overall well-being. Incorporate your self-care mindfully to find instant relief from anxiety, stress, and depressive thoughts.
2. Prioritize your tasks
Usually, mental exhaustion or burnout develops when we fill so much on our plates and are unable to complete those tasks! At the end of the day, exhaustion reaches its peak level which directly results in disrupted sleeping and eating patterns. Therefore, to avoid this, start prioritizing your tasks and always remember, "it's okay to not achieve everything at once."
3. Enjoy "me-time"
If you're a mom of an infant or a toddler, take the use of some time management skills, and whenever they sleep, use that time for doing an activity that you love. for example, exercising, reading self-help books, or anything that pulls your interest.
4.    Involve your partner
If you're parenting together, try to involve your partner and let them understand their duties too! If you are not able to manage your baby during nighttime, ask them to make bottles or change the diapers.
5. Divide roles and responsibilities
If you live with your parents, partner, or loved ones, try to divide the responsibilities so that everyone can understand your emotions or feelings. Additionally, dividing responsibilities will get you extra free time for "me-time."
6. Focus on your goals along
Amidst a load of responsibilities, avoid pushing your goals under the carpet, instead work on your goals so that every day you can learn or achieve something new.
7. Be a "mindful contributor"
Sometimes, we get so exhausted that we don't understand the importance of parenting. Parenting is all about enjoying time with your children and raising them into positive beings. Whenever you get time to focus on your children, become a "mindful contributor" so that you can follow the path of mindful parenting and raise your children positively.
8. Reach out to other stay-at-home moms
For extended support, you can always reach out to other moms staying or working from home. You can also find a lot of stay-at-home moms through online platforms.
9. Promote positive parenting
One of the best ways to avoid parental stress or single parenting stress is to promote positive parenting or parallel parenting techniques to manage stress or negative thoughts.
10. Avoid excessive social media use
During exhaustive episodes or stressful times, avoid using social media instead try investing your time in mindful activities such as mandala art, painting, exercising, yoga, or meditation to relieve stress and anxiety instantly.
11. Focus on your health and mind
One of the best ways to avoid stay-at-home mom burnout is to start focusing on your health and mind. The fact is, if you improve your physical health, your mental health will be automatically improved, or vice versa. Therefore, focus on becoming more resilient, empowered, and positive.
12. Avoid multitasking
Do you know multitasking can impact your mental health negatively? The majority of the exhaustion comes from multitasking. I know we moms have a lot to do, but it will be completely okay even if we accomplish tasks which are important.
13. Avoid negative people
If you lack support or motivation, start avoiding negative people who don't support you and judge you badly for not being able to complete tasks on time. surround yourself with the people who support you and don't judge every decision you make.
14. Follow a strict eating and sleeping routine
One of the major causes of mental exhaustion is disrupted eating and sleeping routines. Therefore, try to establish a strict routine, take meals regularly, focus on getting maximum nutrients, and maintain sleep hygiene.
15. Learn to say "No"
The fact is that you can't do everything and stop feeling guilty for not having everything at once. You must learn to say "no", limit your tasks, and focus on your mental well-being first to avoid mommy burnout.
16. Let your child learn
If you're parenting toddlers, pre-scholars, scholars, or adolescents, teach them early so that they can understand the pain behind your strong emotions and learn to appreciate and reciprocate.
17. Watch out for your signs and seek help
If your symptoms are excessive, chronic, or constant for more than 6 months, please watch out for your symptoms, and seek professional help as the symptoms can also be related to the presence of other mental health issues.
How To Help A Stay-At-Home Experiencing Burnout?
If you're a spouse, loved one, or a family member of an exhausted mom, here's how you can support mothers avoiding stay-at-home mom burnout:
1. Let them communicate
Begin the self-recovery process, by understanding their emotions, feelings, and thoughts about parenting, roles, or responsibilities. Be a good listener and prepare yourself for reciprocation.
2. Validate their feelings
In order to avoid the risk of mental health issues, you will need to focus on the negative patterns, associated feelings, and suppressed emotions. While listening to their feelings, validate their feelings to make them feel heard, supported, and motivated.
3. Appreciate and reciprocate
During the process, always remember to follow the "appreciate and reciprocate" rule so that you can together build a positive home and raise positive children.
4.    Be a good supporter
After validating her feelings, divide the roles and responsibilities so that she can feel motivated to focus on her well-being.
5. Set up surprises for her
In order to bring the spark in your relationship again, set up surprises for her. For example, you can offer extended help, babysit, book a self-care session, or set up a date night.
6. Watch out for their signs
If you think your partner is still struggling with mental health issues, watch out for symptoms, and connect with a mental health professional. In such situations, you can also look forward to family counseling for effective coping.
Creating A 5-Minute Self-Care Routine for Stay-At-Home Moms
I know how challenging it can be to find some extra time, so here I have jotted down some quick and effective self-care activities to establish a self-care routine:
Eat a healthy and nutritious snack
Stretch for five minutes
Play a sport or dance
Drink plenty of water
Follow a 5-minute workout plan
Make a list of 5 positive things about yourself
Celebrate small victories
Set healthy boundaries
Write 5 things you're grateful for
Practice deep breathing exercises
I hope this blog helps you understand how to overcome mom burnout. Comment down and share your queries related to "mom burnout."
For more such content, connect with us through all social media platforms.
Thanks for reading!