Therapy
Goodbye, Therapy! 5 Tips On How To End Therapy Without Worrying
Last Update on December 24, 2020 : Published on December 27, 2020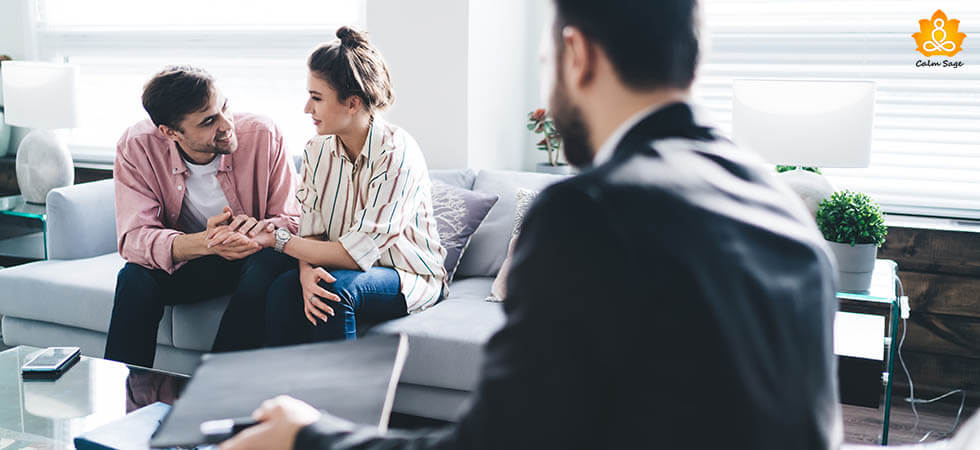 A client can decide to end his therapy anytime, that too on a happy note. Therapists understand that clients may have already achieved their goals, are not satisfied with the sessions or simply need a break to help within themselves. Whatever it is, even therapies are not meant to continue forever and a person shall empower himself with the tips on how to end therapy.
Also Read: Is Therapy Break Taking A Toll? Here is How You Can Cope With Therapy Break
Before you end your therapy, a number of questions keep popping up in the head. What if I ruin my relationship with the therapist? What will my therapist think of me? Will I complicate the process further? Should I abruptly ghost my therapist and not to see him again?
Well, calm down! Although ending therapy before achieving the goals is an unfortunate idea but whatever makes you feel better sails. So, here are some tips that tell you how to end a therapy session without worrying about anything else but You!
Also Read: Difference Between A Therapist And A Psychologist Offering Therapy
Signs That You Want To End The Therapy
There are some signs which boldly tell you that therapies may not be required anymore for now including:
Growing looks like a challenge
Your problem has been resolved
Therapies are hefty for your pocket
Emotional exhaustion is taking place
You cannot see the progress ahead
You want to take a break and have fun with your friends on the beachside, not worrying about the problems for a few days
You want to see other therapist or a life coach
If any of the above challenges or just your mood is not aligned with the therapies, go with the tips below.
5 Tips On How To End Therapy
1. Figuring Out Why You Want To Leave The Therapy
Ask yourself the real reason why you wish to cut out from the therapy. Is it the incompatibility, discomfort or the feeling of being stuck with the therapy? Are you feeling better and no more therapies are required for you? It is important to clear your own mindset before making a decision. You can choose to write a journal to clear your thoughts and figure the reasons beforehand.
Also Read: 5 Best Online Therapy Services For Kids To Protect Their Mental Health
2. Don't Stop The Sessions Abruptly
Even if you have made up your mind to leave the therapy, do not stop it abruptly. Leaving the therapy is also about a process. Your therapist is equally considerate about your feelings with the treatment. Whether you are going through intense pain, anger, guilt or still feeling heartbroken, your therapist has the right to know.
NOTE: Although if you find any ethical misconduct happening, you can certainly end the counseling session immediately. For example, if confidentiality or sexual advances are felt then it is best to leave treatment and complain to the licensing board about it.
3. Speak Directly
Ending your therapy over a message, call or email is not a good idea. It is better to communicate to your therapist face-to-face and show assertive communication. No, you don't have to create a conflict between you two but simply be sure of your feelings. In fact, therapists are also trained to understand your situation and may help you deal with it in an appropriate manner. Stay honest!
4. Ask Your Questions
Indeed, there is another pile of questions inside you as soon as you are clear about terminating the therapy. What if I go back to my old situation? Can I start with the therapy in future? Is there any other psychotherapist you want to recommend? Although a sense of embarrassment might be lingering in your mind, it is better to clear out all the doubts than regretting not asking.
5. Termination Doesn't Mean Ending
Do not confuse your ending with forever termination. Since your decision is the stone for new beginnings, be confident about it. There is no harm in bidding goodbye to your therapist with hugs, notes and handshakes. All good things come to end and so your therapy! So, smile more, grow and embrace the therapeutic relationship you had with your therapist.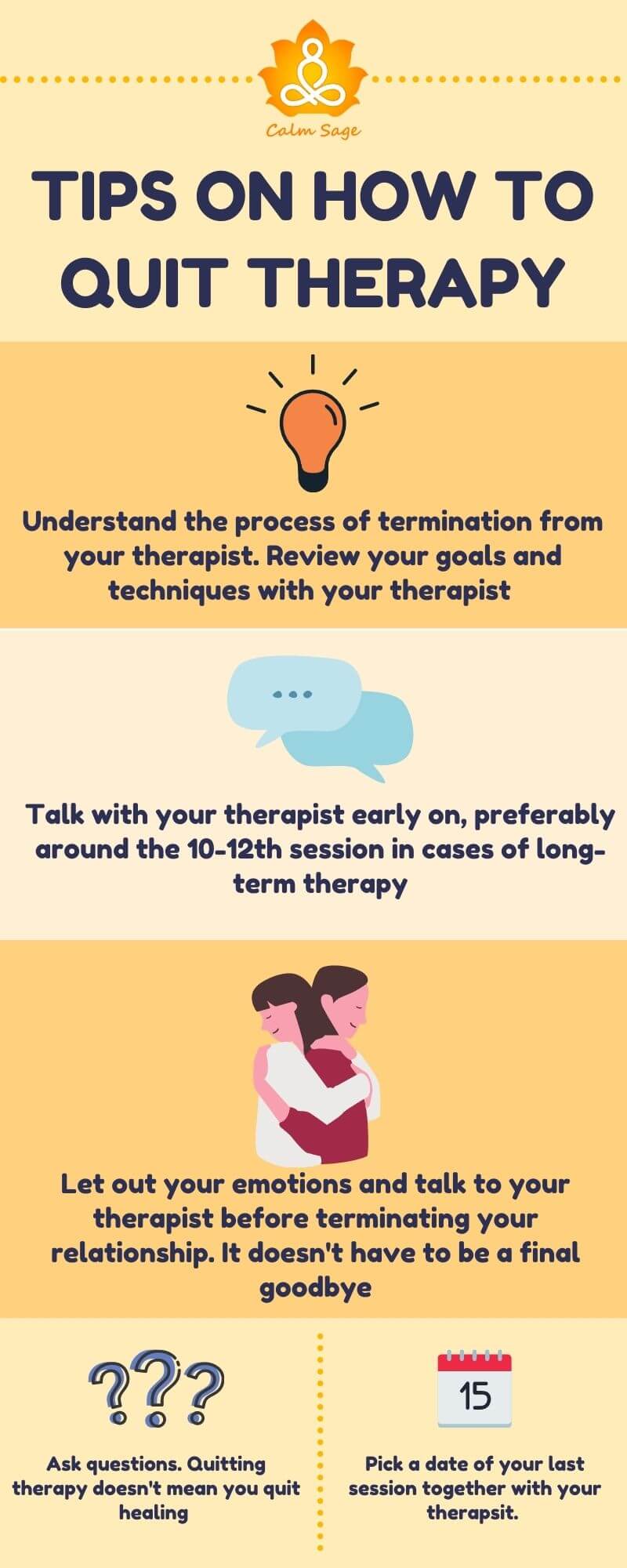 Feelings After Ending Therapy
You may find yourself in a mixed range of emotions after completing the therapy. There could be freedom or happiness at one end but grief and sadness at another. Every person is unique and we just hope that you have gained something meaningful in your therapeutic relationship.
Although we have given you information about how to end a counseling session, we would also like you to ask for help again in the future, if required. All you have to do is drop us an email at info@calmsage.com and tell us where we can help you! Once again, do not hesitate to ask for help for a better you!
There is No Shame in Asking for Help!