Therapy
Is Therapy Break Taking A Toll? Here is How You Can Cope With Therapy Break
Last Update on November 17, 2020 : Published on November 16, 2020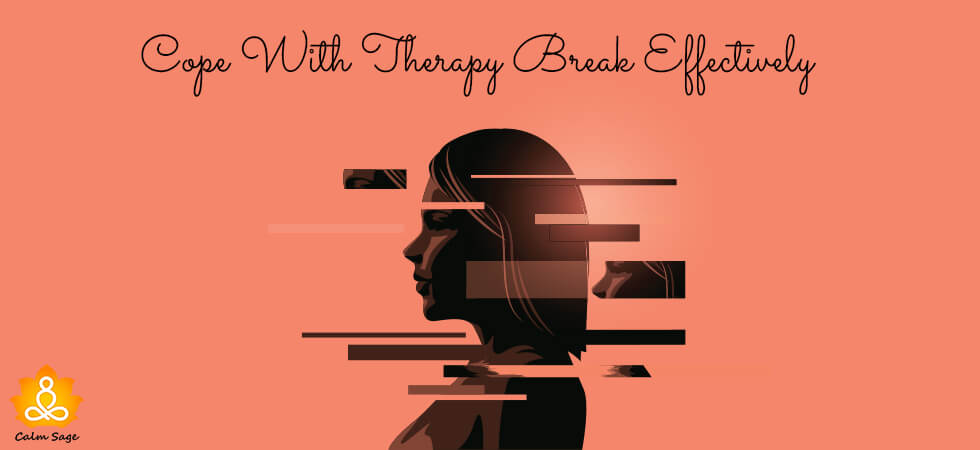 Hey, how are you doing? Is your therapist planning to go on a break?
Well, we understand that when the therapist goes on a break, you are likely to experience different emotions. Reason? You are on the journey of healing, resolving the conflicts, and working on yourself. And in the middle of this, there occurs a therapy break wherein you won't be able to connect with your therapist.
Now, many people think of therapy break as a much-needed pause while others might have a hard time coping up with it. Irrespective of the fact that which side do you fall on, you need to know how you can cope with a therapy break effectively. So, to help you with the same, we are sharing some doable measures.
But, before making a list of ways to cope with therapy break let us get an answer to the big question popping in your head! Why does my therapist have to take a break?
Also Read: Top 10 Online Therapy and Counseling Programs
During my clinical days when I used to take even a day off, next time my clients used to come up to me and ask where I was and why I wasn't available. So, it is normal to feel this way. But, here is why a therapist needs a break- to prevent burnout!
With different clients coming up with different issues, it does become too much to take for a therapist at one point or the other. To make sure that they are still able to deliver their unbiased and unconditional services to you, they need to stay away from exhaustion and burnout. That is why even your therapist needs to take a break.
How Do I Cope With Therapy Break
Generally, the therapy break can be divided into three different phases, each phase will require unique coping from you. These phases are: Preparing before the break, coping during the break, and joining after the break. To turn your therapy break into a learning session here is what you can do.
Planning Before Therapy Break
Before the therapist break starts here are some important points for you to consider.
1. Prepare For Your Break
It is important to prepare yourself mentally and emotionally to be on a break. Start telling yourself that you won't be seeing your therapist and there is a break time coming ahead of you. Also, ask your therapist beforehand if there is a way to connect with them during their vacation. While some therapists have a no-contact policy, others do keep some sources open for communication.
Also Read: Online Therapy: Tips On How Can You Make Best Of It
2. Talk About Your Emotions To The Therapist
How are feelings right after the therapy break news was told to you? Be honest with your feelings and convey them as it is to the therapist. It will help them understand the therapy process better. If you have any worries or concerns like how will you manage without the therapist?
How can you connect with him during the break? What all learning do you need to make a point of? And any other question that pops in your mind just ask it to your therapist. This will help you during the therapy break.
Also Read: Do I Need Therapy? 5 Signs You Need To See A Therapist
3. Create A Close Support Circle
Before the therapy break starts it is recommended to work on your support group. During the therapy, the therapist might be your primary emotional support outlet. But with therapy break coming your way you must work on developing a concrete social circle. Connect with your friends and family members and ask them for emotional support and understanding while your therapist is away.
You can also join a support group during the therapy break. This group can be religious, spiritual, activity-based, or therapeutic in nature.
Also Read: Top Free Online Anxiety Support Groups to Join in 2020
4. During Therapy Break
While you are on a therapy break, these two things have to be done religiously to ensure that you don't go back on the trip of healing.
5. Put Your Skills To Practice
Whatever you have learned so far in the therapeutic process put it to real life practice. Think of the lessons that you have learned so far in the previous sessions and apply them to your current life situations. One day the therapy will terminate and you will be handling your life based on learned skills. So, why not take this therapy break as an opportunity to give it a try?
Also Read: 21 Self Improvement Tips To Change Life
6. Don't Cut On Your Self-Care
It is usual to find it difficult to cope with the life situations when the therapist is not around (and that is okay). You don't have to be hard on yourself. Be easy on yourself and take care of your mental health as well as the physical ones. Here are few things that you should try to work on or add in your self-care kit during the therapy break:
Journal your thoughts.
Use relaxation techniques to keep worries, stress, and other unwanted emotions at bay.
Focus on your physical health.
Involve in activities that keep you occupied, engaged, and productive.
The Post Therapy Break Guide
You can find your complete guide to join back therapy after a break here.
Remember though you have been able to cope well with the therapist away, it doesn't mean that you shouldn't return to the therapy. Your therapy process needed a break, but it doesn't define its end. So, make sure that you join back the therapy for your overall healing.
If you have any concerns regarding therapy break and if something is bothering you please feel free to reach us at info@calmsage.com
Take a therapy break as your time to see how well you are growing and changing.
Sending you more power.