Happiness
30+ Ways to Calm Your Mind in Less Than 5 Minutes
Last Update on August 18, 2020 : Published on July 6, 2020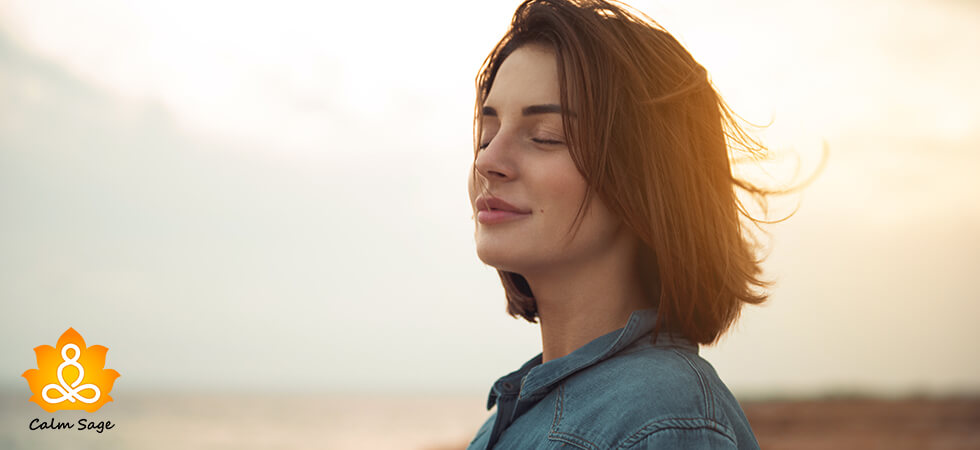 Our mind is often referred to as "Monkey Mind." Because just like a monkey it keeps on hopping from one thought to another. While sometimes it lets the creative juices flow other times it creates chaos. And it is not just our monkey mind but our fast-paced life as well that makes us feel tangled and out of control. That's the time when we wish to have just 5 minutes to ourselves and calm our brain nerves down. While grounding techniques are a great way to feel in control of yourself and untangle the mess in your head, sometimes quick ways can also be preferred.
So, today Calm Sage is sharing with you 30+ ways to stay calm and relaxed. The best part is that this list of ways to stay calm is practical and won't take more than 5 minutes of yours.
Why wait further?
Time to find your Calm with Calm Sage…
How to Keep Your Mind Calm?
1. Listen to happy songs (at least 2)
2. Practice mindfulness even while performing trivial tasks like eating
3. Just breathe in and breathe out for 5 minutes
4. Go for a walk and dip yourself in nature
5. Loosen up your body and release all the tension
6. Repeat a positive mantra to yourself for a minimum of five minutes
7. Light scented candles and enjoy the aroma
8. Clear your mind and meditate for 5 minutes
9. Write three things that you are grateful for
10. Take a 30-minute power nap (if you have a weighted blanket crawl into it)
11. Create a to-do list and strike 3 least prior things from it
12. Take a laughter break for 5 minutes (remember to laugh your heart out)
13. Snuggle with your furry friend
14. Take a warm shower (adding Epsom salt can amplify the impact)
15. Sip on herbal tea (green tea, lavender tea, chamomile tea, or any herb that you love)
16. Take a bite of dark chocolate (or finish the bar)
17. Practice pranayama for a minimum of 5 minutes
18. Visualize what you need or want (just close your eyes and let the imagination flow)
19. Take a tennis ball and gently roll it under your feet (arches)
20. Splash cold water on your face and dab on your pulse points
21. Give a light massage to your scalp
22. Take a squeezy or stress ball, press it for 3 minutes and release it for another 2 minutes (practice it for both the hands)
23. Put your digital devices away and your favorite book while sipping on beans
24. Peep outside the window and let the breeze take all the chaos away
25. Declutter a space or just make your bed
26. Soak yourself up in the sunlight (even few rays will brighten you up)
27. Massage your hands with shiatsu hand massage technique or simply clench and release your fists
28. Keep a piece of gum handy and chomp on it to keep stress away
29. Get your hands dirty and enjoy gardening time (it's a great stress buster)
30. Perform any task that you enjoy thoroughly be it baking, knitting, or painting
31. Keep reading at Calm Sage for your daily dose of calmness and positivity
We are sharing downloadable and printable templates with you. Feel free to pin these images or download them and paste them somewhere you can easily see them. So, that next time when you need relaxation you know exactly what to go for?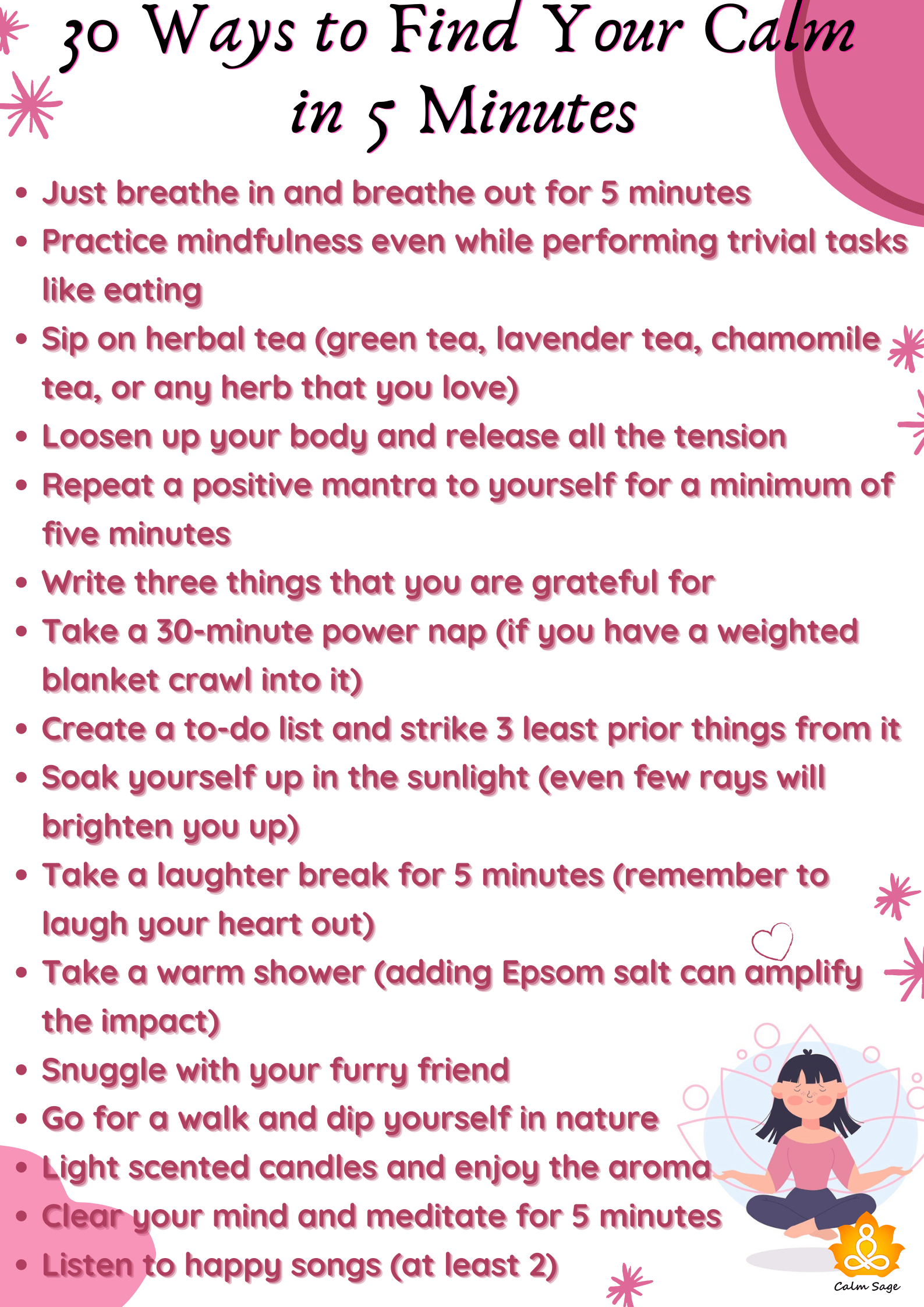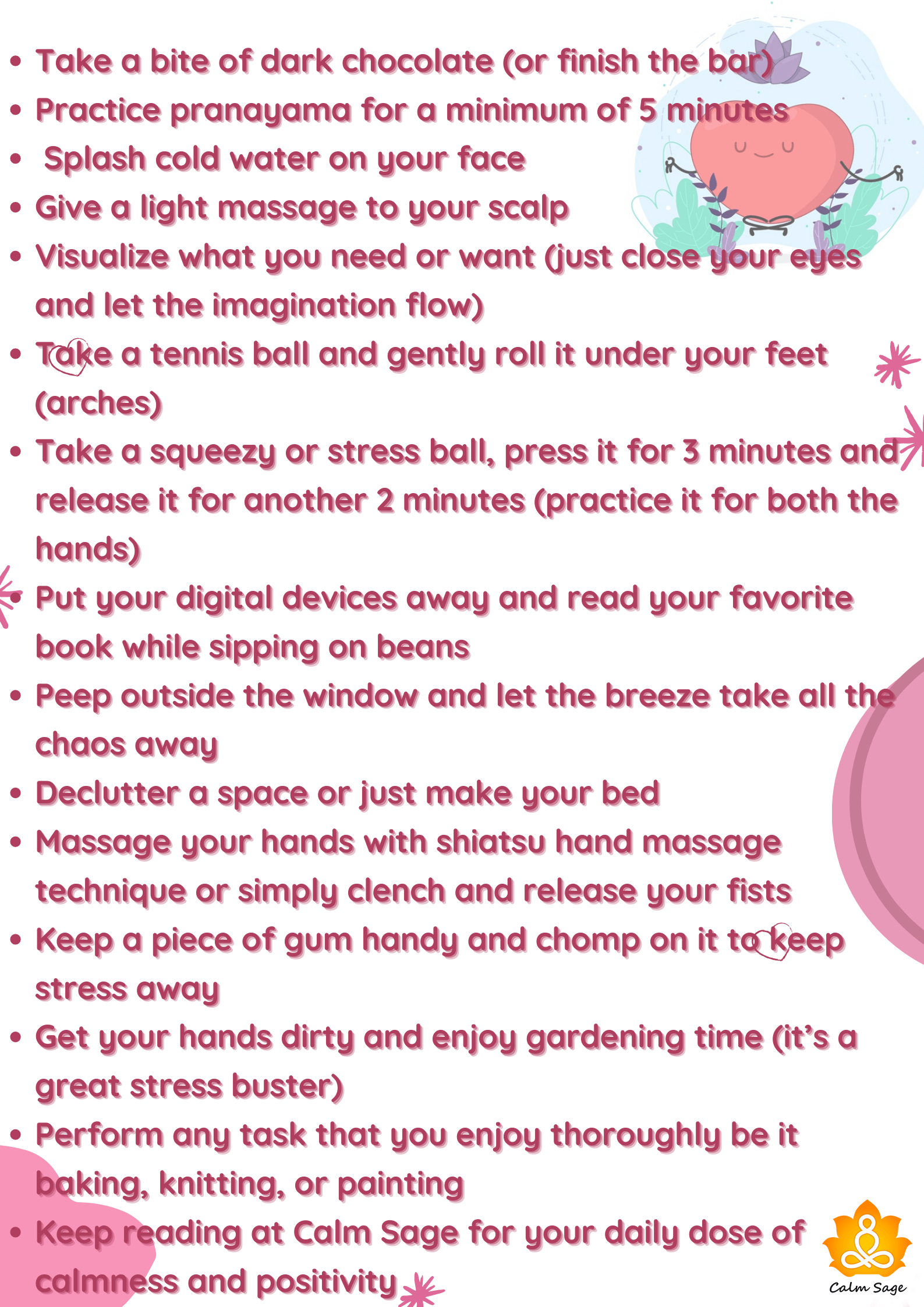 Weren't these some of the easiest ways to find your calm in less than 5 minutes!
Here are some useful blog and video links that will you achieve your goal to stay calm in a stressful situation:
36 Happy Songs To Tune Into and Lift Your Spirits
Let "Be Mindful; Be Happy" The Mantra for Your 2020
Practice Mindfulness Breathing Exercises To Deal With Stress, Anxiety & Anger
Understanding the Role of Nature in Promoting Our Mental Health
Moving From Shallow to Deep Breathing With Pranayama
Stick These 30 Positive Self Affirmations On Your Wall To Keep You Going
How To Clear Your Mind? Things To Do To Clean Your Mind for Meditation
Step-By-Step Guide of Shiatsu Hand Massage
Find Your Calm with This Soothing Video
You can watch this video instead to find your calm in less than 5 min:
Now it is time for you to retrain your mind with these 30+1 ways to stay calm and welcome a calmer life.
Do share with us which ways to stay calm are you going to try next time when the chaos surrounds you.
Wishing you calmness…