LGBTQ
What Is LGBTQ Discrimination? | Ways To Fight Against Discrimination
Last Update on August 10, 2023 : Published on June 20, 2021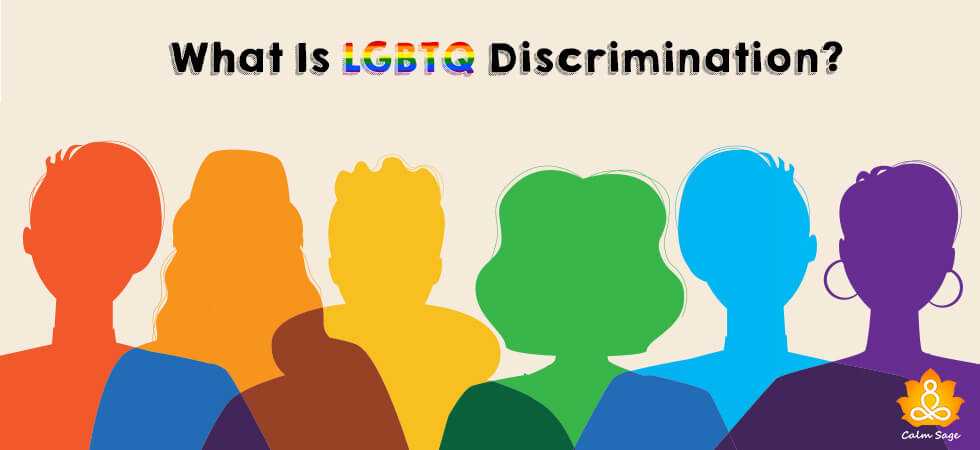 By definition, discrimination means, "an unjust a=treatment of different categories of people or things".
Over the last few decades, the LGBTQ community has fought and won against discrimination in the workplace, healthcare, legal rights, as well as socially but despite the progress, there are still many instances where people of the community are discriminated against and not given equal consideration than their straight counterparts.
Discrimination can be based on factors such as behaviors, the color of skin, race, age, gender, sex, nationality, sexual orientation, gender identity, and even religion. Although, in this blog, we'll explore discrimination against LGBTQ based on factors such as sexual orientation and gender identity.
Read: Understanding Xenophobia: Characteristics, Types, Impact & How-To Deal With It
How Discrimination Affects LGBTQ+ Youths & Adults?
Experiencing prejudice and bias based on one's sexual orientation and gender identity is not something that should be taken lightly. Many people like to ignore such behavior to avoid public confrontation and maintain peace which can be equally wrong as discrimination.
Discrimination against LGBTQ individuals can have drastic effects on:
Physical health
Psychological health
Academics
Career
Social health
Economic health
LGBTQ individuals face more prejudice and troubles when it comes to accessing facilities such as healthcare, legal protection, workplace security, etc. In a study I recently read, I learned that almost 60% of LGBTQ individuals who have experienced discrimination had poor psychological and mental well-being.
LGBTQ Discrimination In Workplace
While nowadays many organizations and companies are accepting when it comes to employees with different gender and sexual identities, there are still workplaces where LGBTQ individuals are treated unfairly.
LGBTQ discrimination in the workplace can be in the forms of:
Unequal pay
Unfair treatment by peers, colleagues, and managers
Offensive behavior
Sexual harassment
Such acts can make an employee feel unsafe and uncomfortable in their workplace.
LGBTQ Discrimination In Healthcare
LGBTQ people can face discrimination in healthcare and can face barriers that prevent them from accessing affordable healthcare or find healthcare providers that cater to their needs – either mental health or other. I have read in many studies that people of the LGBTQ community avoid seeking healthcare fearing mistreatment and abuse.
This kind of treatment can cause severe emotional, physical, and mental health damage. However, there are now insurance companies that cover healthcare of the LGBTQ individuals and support them in seeking treatment.
LGBTQ healthcare discrimination can include:
Refusing care
Inappropriate treatment
Abusive behavior by a professional
Refusal of fertility and sexual care
More often than not, transgender individuals are refused treatment by a medical professional because of their gender and sexual identity. LGBTQ people are more likely to experience mental and physical health concerns than others. Such discriminatory behavior may cause them to seek help in case of severe health concerns.
Read: What Is LGBTQ Therapy And How It Works In LGBTQ Issues?
LGBTQ Discrimination In Legal Setting
People of the LGBTQ community can also face discrimination in the legal environment. While there are laws that protect individuals of the community, there are still instances where LGBTQ individuals face bigotry from lawyers, legal representatives, or attorneys based on their sexual orientation and gender identity.
In a legal environment, an LGBTQ person is more likely to face misrepresentation or under-representation in the court of law.
LGBTQ Discrimination In Social Setting
Discrimination can occur in social settings as well. In places such as schools, community centers, parks, restaurants, bars, etc, people of the LGBTQ community face bigotry and prejudice.
Not having support and acceptance from teachers, community members, parents, or friends can have severe consequences on an individual's quality of life. More often than not, in social settings, discrimination is the result of narrow-minded attitudes and beliefs.
Read: Gender Dysphoria | Symptoms And Treatment | How-To Support
How to Fight Against LGBTQ Discrimination
If you're experiencing discrimination in any of the above-mentioned fields, then here are some steps you can take to fight against discrimination:
1. Seek Legal Guidance
If you're experiencing bias at the workplace or the hospital, you can seek legal guidance from an experienced attorney. Some laws protect you in the workplace, healthcare sector, as well as other sectors. Seeking guidance from an attorney can help you understand the laws that protect your status regardless of your sexual orientation or gender identity.
2. Report The Incident
Methodically collect information about the discriminatory act committed against you. If at the workplace, you are experiencing hate and discrimination, you can report the incident to HR or a supervisor. Staying quiet and ignoring the discrimination is not going to help you in the long term.
3. Seek Professional Help
If you're experiencing discrimination and homophobia at the workplace or any other sector, you can always reach out and ask for help from a professional mental health counselor. Some resources specifically cater to LGBTQ youth and adults. If you're facing discrimination and hate, please reach out for help.
These counselors and therapists are trained and well-experienced in helping struggling LGBTQ individuals.
Read: Best Online Transgender Support Groups of 2021
For further help and support, you can always reach out to us at info@calmsage.com or follow us on social media. We support and accept all sexualities, gender identities, and cultures!
"No person is your friend who demands your silence, or denies your right to grow."  – Alice Walker
You are valid! You are accepted! You are loved!