Therapy
What Is Thought Field Therapy? How Does Thought Field Therapy Work?
Last Update on February 10, 2022 : Published on February 10, 2022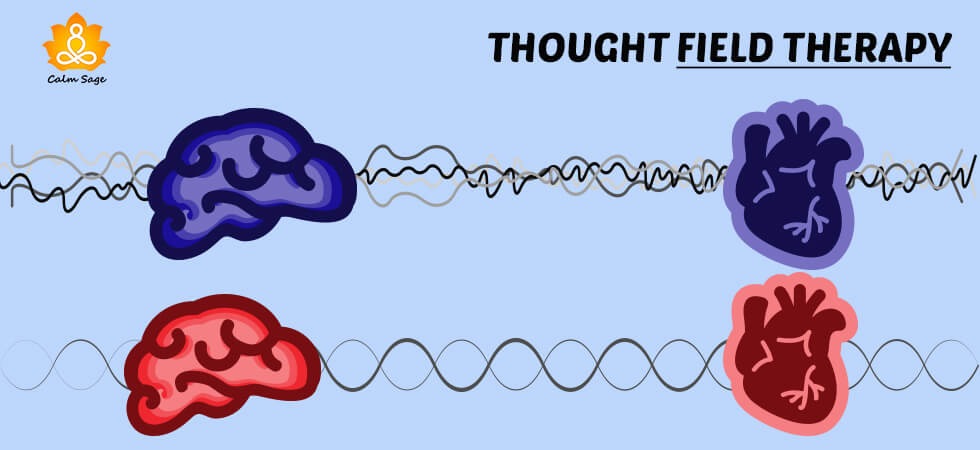 Thought Field Therapy (TFT) is a form of psychotherapy that aims at providing comfort to people suffering from a mental or physical health condition. TFT Therapy uses the energy flow of your body to reduce the symptoms.
Basically if you are dealing with some psychological or physical distress, the flow of energy in your body will be in a certain direction and in a certain frequency. What Thought Field Therapy (TFT) does here is tries to make some changes in that flow of energy.
If you are stressed, you can feel the energy flow in your body. It almost feels like a chaos in your mind and body, your thoughts are racing, your body is sweating/shivering, etc. TFT will help you manage this energy of yours which will eventually reduce the symptoms you are experiencing.
Sounds interesting? Let's dig deeper…
What Is Thought Field Therapy (TFT)?
Thought Field Therapy (TFT) is energy-based psychotherapy that is being widely used to resolve psychological as well as physical issues. The Thought Field Therapists try to manipulate your energy flow in your body so as to reduce the intensity of your symptoms.
According to Thought Field Therapy (TFT), our bodies have a field of energy that helps us lead a balanced life. When this energy field experiences an imbalance, you may go through psychological or physical distress.
Did you know?
Thought Field Therapy (TFT) was developed by an American psychologist Roger Callahan. He combined modern psychotherapy and eastern traditions to formulate TFT. In fact TFT is heavily influenced by Chinese medicinal practices like acupressure and acupuncture.
Thought Field Therapists also claim that these thought imbalances can be brought back to its balanced state by finger tapping particular areas in a specific order or sequence. They say TFT is able to help you restore your health and wellbeing. Its healing process is rapid and long-lasting.
Core Concepts Of Thought Field Therapy (TFT)
According to Callahan, Thought Field Therapy (TFT) our thought field and energy flow are the fundamental concepts of this therapy. Other than these are a few more concepts on which the therapy runs.
Let's take a quick look at TFT's core concepts…
1. Thought field and perturbations: according to TFT the expression of thoughts happens through energy and that energetic field is known as thought field. Energy flows through each thought field and different thoughts and different thought fields.
Sometimes because of some negative/traumatic life event, the energy may get blocked at a thought field. This blockage causes a build-up or perturbation of energy resulting in psychological distress. TFT's job is to remove this blockage.
2. Algorithms: Callahan believed that each body has some meridian points. By tapping on these meridian points in a particular sequence some specific issues can be resolved. There are various algorithms for various issues that can be used.
3. Casual diagnosis: this is when the Thought Field Therapist tries to identify the correct TFT tapping for their specific mental health concern. To find the correct spot for TFT tapping, different muscles are touched and whoever tests the strongest at the point is the correct meridian point to start working on.
4. Psychological Reversal: this is a state which will prevent you from responding to the treatment. It is usually seen in people who tend to have self-sabotaging behavior. This term was coined when Callahan noticed that some people are not responding well to the otherwise effective treatment.
Also read: What is the Emotional Freedom Technique (EFT)?
What Happens In A Thought Field Therapy (TFT) Session?
If you have decided to go for Thought Field Therapy (TFT) or if your therapist has recommended TFT tapping as your treatment option you need not worry at all.
Your therapist will begin by giving you a gist of what the procedure will look like…
You will be asked to relax and calm yourself down while sitting comfortably on a chair.
You will then be asked about something that's bothering you.
Then you will have to rate your distress/discomfort on a scale of 0-10
Now, you will be asked to think or talk about something that is disturbing you
While you express your thoughts and emotions your therapist will look for the correct muscle/meridian point
Your therapist will now start tapping the selected muscle with the help of a finger by either using the predetermined algorithms or might use his own algorithm which works for your condition.
Finally you will again be asked to rate the discomfort and hopefully it will be reduced.
The number of times you will have to take Thought Field Therapy (TFT) completely depends on your condition and on your therapist.
Benefits Of Thought Field Therapy (TFT)
There are a lot of benefits of Thought Field Therapy (TFT). I will be listing a few of the most commonly observed benefits of TFT tapping…
Reduces psychological and physical distress
Helps in managing acute stress
Reduces chronic pain
Reduces symptoms of depression
Increases sense resilience
Reduces effects of traumatic experience
Reduces work stress
Helps in managing the obsessive traits from obsessive-compulsive disorder
Reduces cravings of maladaptive eating, drinking or smoking
Reduces tremor
Reduces parent-child stress
There are a lot more benefits of Thought Field Therapy (TFT). If you are going through a psychological or physiological condition, TFT can be of help. The best part about TFT therapy is that it focuses on both mental and physical wellbeing.
How To Get Started With Thought Field Therapy (TFT)?
By now, I am assuming, you know what happens in a Thought Field Therapy (TFT), what are it's concepts and how the session takes place. There is one thing you still need to know about, how to get started with Thought Field Therapy (TFT)? 
Here are a few tips that you can follow if you wish to give Thought Field Therapy (TFT) a try…
1. Do your research: if you are reading this blog, I am sure you are already a bit acquainted with Thought Field Therapy (TFT). But I suggest, you get in touch with a thought field therapist or someone who has taken Thought Field Therapy (TFT) and get some practical knowledge. 
2. Do a trial run: there are quite a few applications available for smartphones that can help you understand the tapping techniques in Thought Field Therapy (TFT). Download an app and give it a try, if it works you can opt for actual therapy. 
3. Approach with caution: there is no solid proof that shows the efficacy of Thought Field Therapy (TFT). So, it'll be best if you approach it with an open mind and take it just as an activity that will calm you down and might have additional benefits. I am not saying it won't work, I am just saying don't expect too much. 
4. Get a practitioner for advice: it's best to talk to a Thought Field Therapy practitioner because they will know the best. You can ask them to explain the tapping technique practically and if you feel good about it, you can consider taking the therapy. 
5. Look for an expert:  once all your research is done and you are convinced that you want to take Thought Field Therapy (TFT), the first thing you need to do is look for an expert in the field. Select a practitioner of your choice and give the reins in their hands. Now you just have to relax and let your symptoms wear off with each passing session.
That's all for today!
I hope you found this blog interesting. Do share this blog about Thought Field Therapy (TFT) with your friends and family because TFT tapping can benefit people across ages and targets various mental and physical health conditions.
Thanks for reading.
Take care and stay safe.
Next Read: