Meditation
Yoga For Kids! Calming Yoga Poses For Kids & Their Benefits
Last Update on February 26, 2021 : Published on February 26, 2021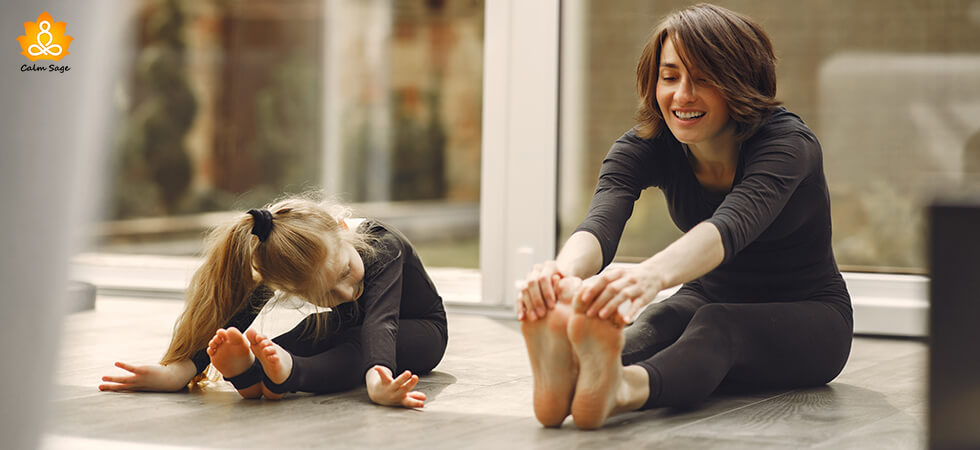 "The nature of yoga is to shine the light of awareness into the darkest corners of the body." — Jason Crandell
Our world in 2020 took a hit which not only increased the rate of mental health problems but also the rate at which stress and anxiety increased. All of us, adults and children, were advised to stay indoors and work/study from the comfort of our homes.
The stress of the pandemic coupled with the stress of our work stressed us out. Now imagine how stressed our kids would have been. Not being able to do anything more than staying indoors was and is stressful to our kids' mental health.
The problem that I see here is that children are not always able to express their stress and feelings. Some warning signs of stress affecting our kids can be:
Lashing out
Trouble with sleeping
Bed-wetting
Becoming socially withdrawn
Stomach aches or headaches
When we know that, for adults, practicing yoga can help them calm down and relax, for children, yoga can do the same.
Benefits Of Yoga For Children
Yoga can help children in many different ways. Some of the benefits can help children:
Nowadays, more and more schools are recognizing the importance of adding yoga into a child's daily routine. Yoga can not only be a physical activity but can also be a positive coping skill for a child to tackle stress.
Calming Yoga Poses For Kids
1. The Warrior Pose
This pose is done in a lunge position with the arms stretched in front. This pose is great in building strength, stamina, and also releases negative energy. This is a stimulating pose and is great for yoga beginners.
2. The Cat-Cow Pose
This pose helps create an emotional balance while relaxing the back and neck muscles. The cat-cow pose also helps in stimulating the digestive organs and the abdominal muscles. Regulating this pose with breathing can help release stress and induce calm.
3. The Downward-Facing Dog Pose
The downward-facing dog pose is a wonderful way to stretch and release tension in the neck and back. It helps in stimulating blood circulation, strengthening the whole body, and calms the mind.
4. The Tree Pose
The tree pose is a balancing pose that helps in enhancing mind-body connection, improves posture, and helps in relaxation. For a child, this pose might be a little difficult but they can put their foot wherever they feel comfortable (on the ground, near the ankles, below, or above their knee). Stretching arms over the head can help with balance.
This pose can help build balance and strengthen the core.
5. The Happy Baby Pose
The happy baby pose is a gentle and relaxing pose that can help in promoting relaxation and increasing flexibility. This pose involves laying on the back on the ground, holding the ankles, and gently rolling sideways. This pose is relatively easy to perform and can help in stretching the spine, fight fatigue, and decrease heart rate.
6. The Sleeping Pose
The sleeping pose or Shavasana is a calming pose that promotes deep breathing and meditation. This pose requires stillness and completely relaxes the body and the mind. Doing this pose helps in lowering anxiety, improving concentration, and increasing energy.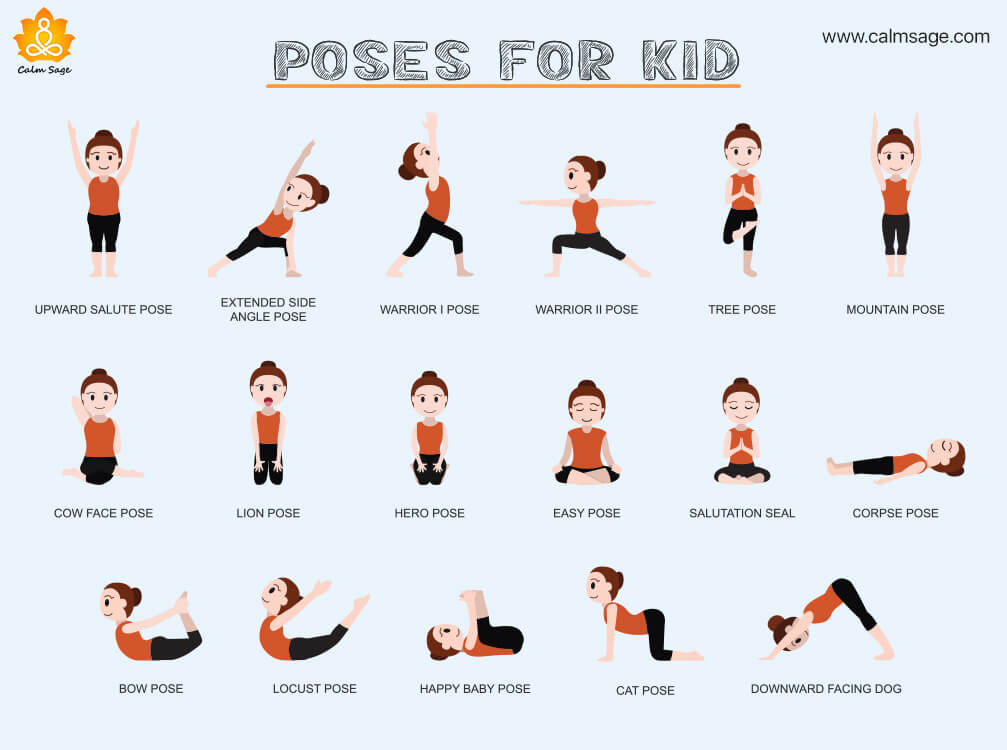 Final Thoughts
Yoga is a practice that can help us connect with the three main aspects of Self – mind, body, and spirit. Practicing yoga can also help us as well as our kids to feel calm, relaxed, and stress-free. Just like we do, kids also experience emotional, mental, and physical challenges that can cause them to feel anxious and stressed.
Kids, especially kids with ADHD, autism, and other special needs can benefit more from yoga. It can help them with conditions such as aggressive behavior, social isolation, and hyperactivity.
With kids practicing yoga, they can improve their breathing, increase concentration, enhance their self-awareness, improve their confidence, and learn to become more inquisitive. Practicing yoga can be fun and easy, too!
Breathe in, breathe out, relax…and have fun!