Mental Health
13 Best Apps For Brain Training Games To Improve Memory & Concentration
Last Update on February 3, 2023 : Published on June 1, 2020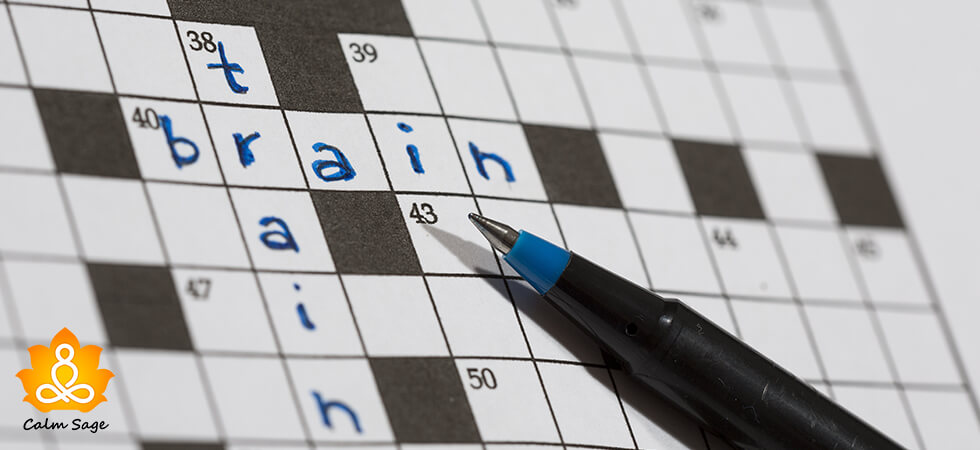 Do you remember the time when you used to sit with a pen and paper to solve a Sudoku puzzle or play crosswords with your friend during the class? All of us have played the best brain games in various manners but may not be continuing them anymore.
However let us tell you that these brain games are helpful for every age group to sharpen memory, improve cognitive skills, and give your brain a fresh workout. In fact, according to research, brain training apps can help in exercising your brain.
Related: Natural Ways On How To Improve Memory & Increase Brain Power
As technology has already made a special space in our lives, we may want to keep down our old pen and paper. Now, downloading some of the best brain training apps is a perfect solution to spend some more time with advanced challenges, playing with multi-players, and sharing the score with everyone.
Ready to explore some of the best memory training or brain training apps? Here we go!
Best Brain Training Apps and Games to Train Your Brain
1. Lumosity : Best Overall
Price: Free (In-App Purchases)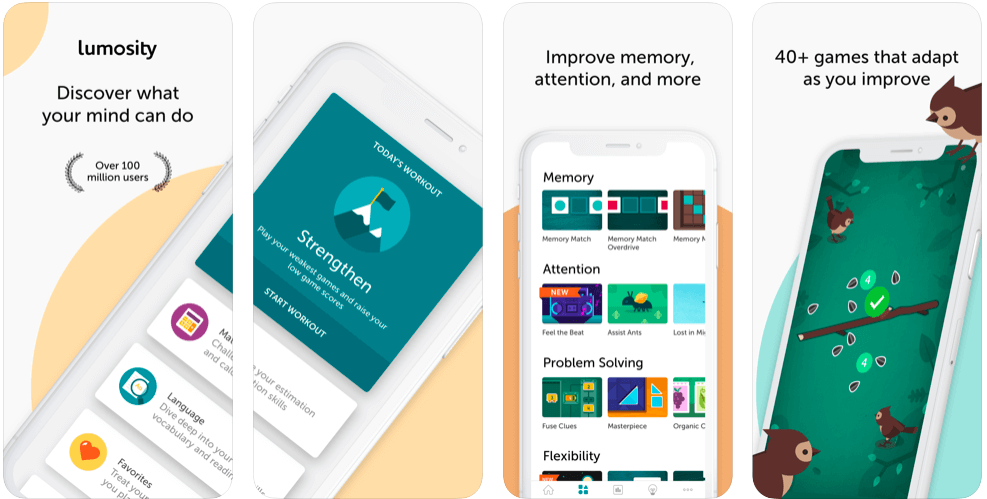 Lumosity tests your brain with multiple challenges that improve your speed of solving problems as well as logical thinking at the same time. Multiple game modes are carefully designed to test you and give you ideas about your strengths and weaknesses. This brain training app includes ever-expanding challenges and each day comes up with ideas to keep your brain moving.
Prices Starting from $14.99 (Monthly Subscription)
Download This App for iOS  | Download This App for Android
2. Elevate : Best for Personalized Training Program
Price: Free (In-App Purchases)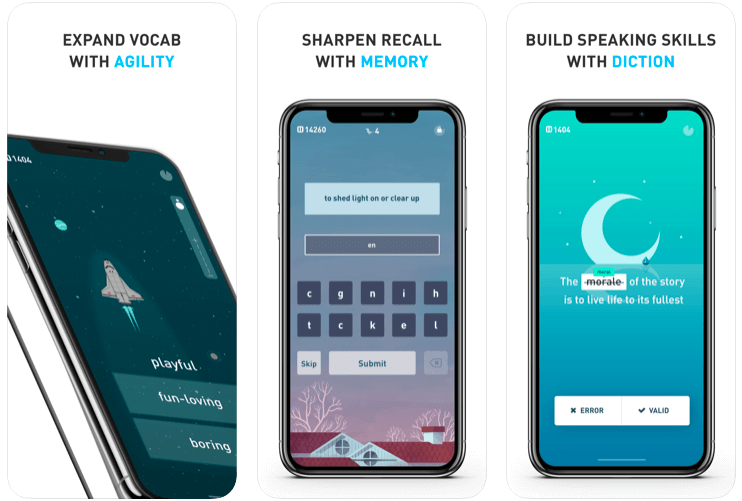 This mind game app revolves around games based on reading, writing, speaking, and solving mathematical puzzles. As you solve the challenges, you keep finding yourself in a better and more confident environment. Moreover, with this brain training app, you can track your progress after adapting to difficult progression. You would love to see personalized brain workouts every day that polish your present skills gracefully.
Prices Per Item Starting From $0.99
Download This App for iOS  | Download This App for Android
3. CogniFit : Free App to Work on Your Cognitive Skills
Price: Free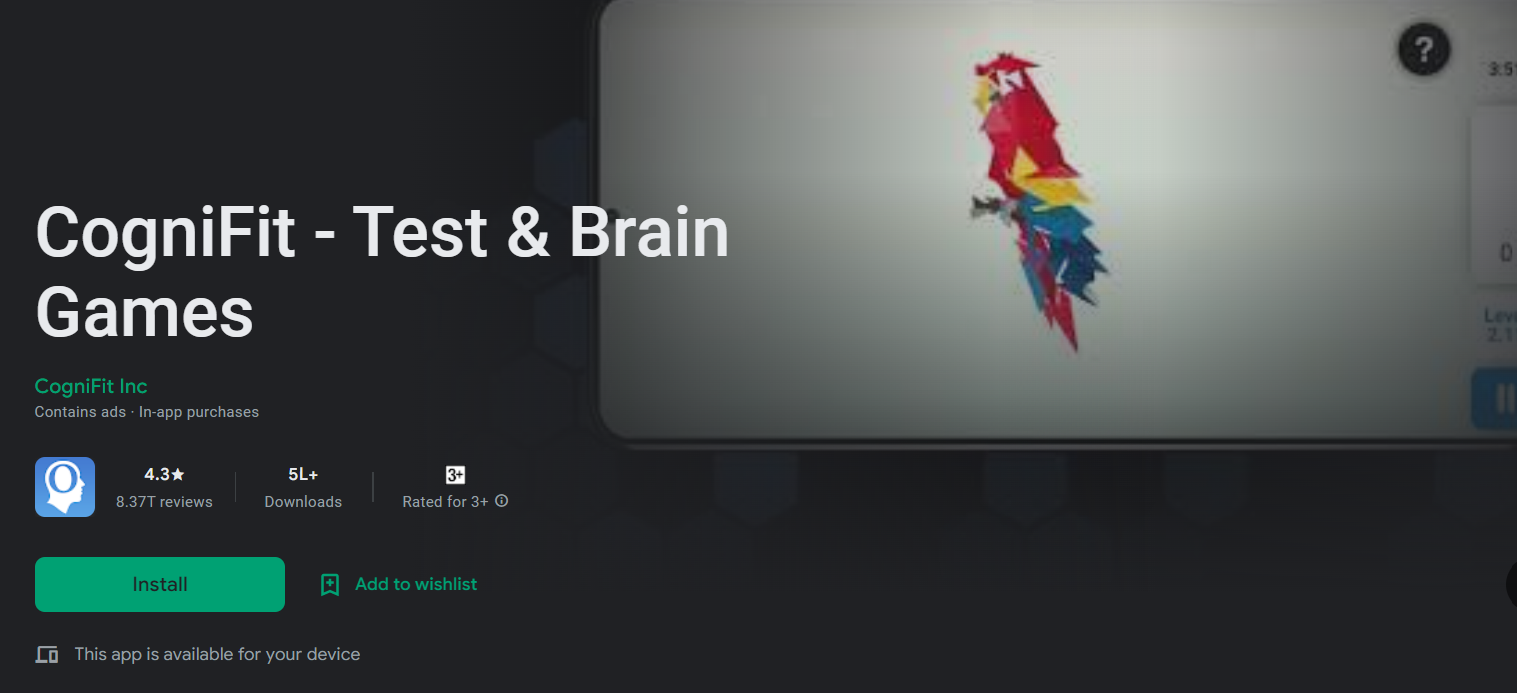 Offering scientifically validated brain solutions, CogniFit is one of those memory training apps that are an experienced and authoritative provider of brain training games. It includes mind challenges, exercises, memory games, mental challenges, and mental agility games. Some of the games are made to train people who suffer from dementia, Parkinson's disease, brain injuries, cancer, or other disorders.
Those who take membership for this brain train app will experience automatic renewal, monthly or yearly.
Download This App for iOS  | Download This App for Android
4. Peak
Price: Free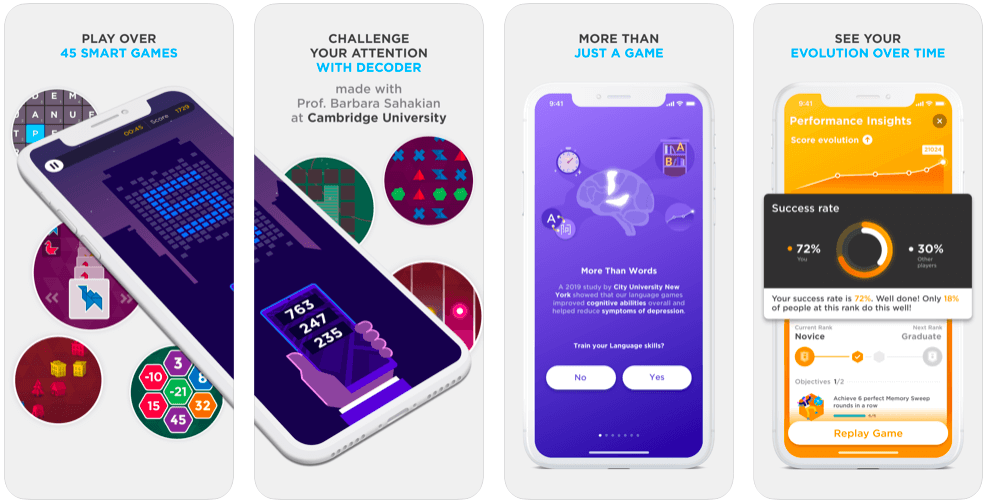 Peak means to make your brain reach its peak with a set of 40 unique games and each of them is developed with the help of neuroscientists. According to the makers of this brain training app, the games here are going to challenge your cognitive skills and push you a step further each day. Coach or personal trainer for your brain assists in finding the right workout for you.
Attention, focus, memory, language coordination, creativity, etc. could be learned smartly using this best brain training game.
Download This App for iOS  | Download This App for Android
5. NeuroNation
Price: Free (In-App Purchases)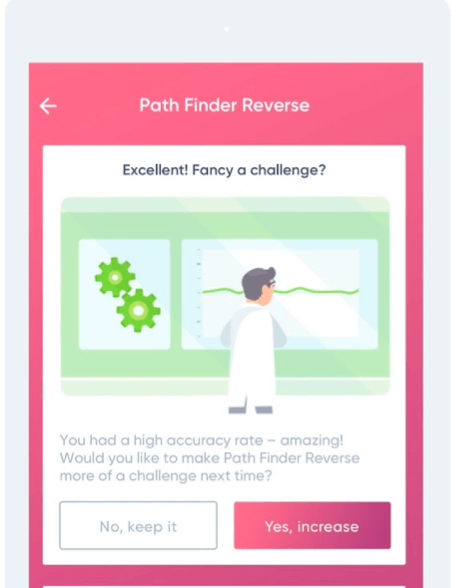 Based on scientific brain training, you have reached the best brain game app for Android. If someone has a weak memory or there are issues in thinking with a focused brain, NeuroNation can certainly be tried out. This memory training app offers 27 exercises available on 250 levels and they overall promote a balance in the brain.
Also Read: Are Video Games Good For Your Mental Health?
Don't worry, you are not just sharpening your brain but also having fun when playing with friends. A must try!
Prices per item starting from $4.49
Download This App for iOS  | Download This App for Android
6. Brain Trainer
Price: Free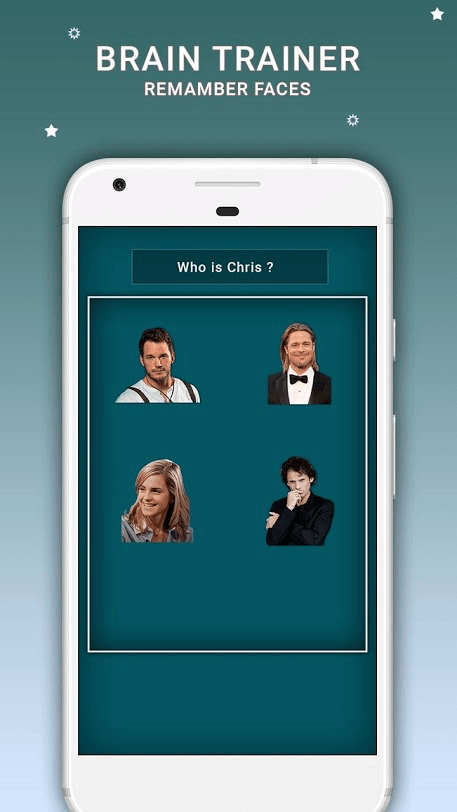 As the name suggests, Brain Trainer has numerous sets of games that are developed for different areas of the brain. Left vs right mind, memory power, recognition, math skills, colors, concentration, quick search, and multiplying are some of the genres you can choose to play the mind games within.
You will like the outstanding colors and interface of the app that definitely improves the mood instantly.
Download This App for iOS  | Download This App for Android
7. Sudoku
Price: Free (In-App Purchases)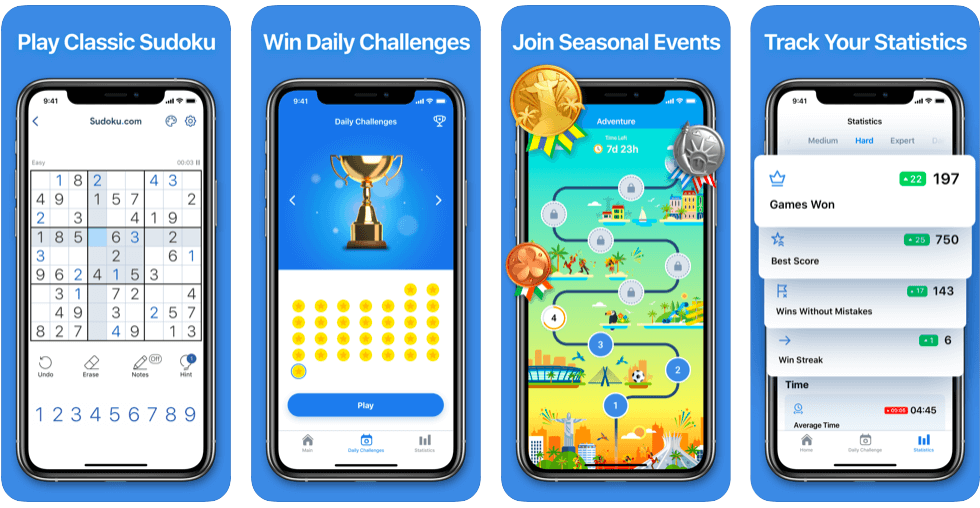 Sudoku puzzles are the best way to get your brain working, and an active mind and a pleasant way to pass time. Thousands of puzzles can be explored using this mind game app and the experience is a notch higher than a pen and paper.
You can also find hints, auto-check, and highlighted duplicates to assist you when you are stuck with a particular puzzle. If you think you are making progress, check out the daily statistics for further information.
You Need to Pay $4.99 to us this App.
Download This App for iOS  | Download This App for Android
8. MentalUP
Price: Free (In-App Purchases)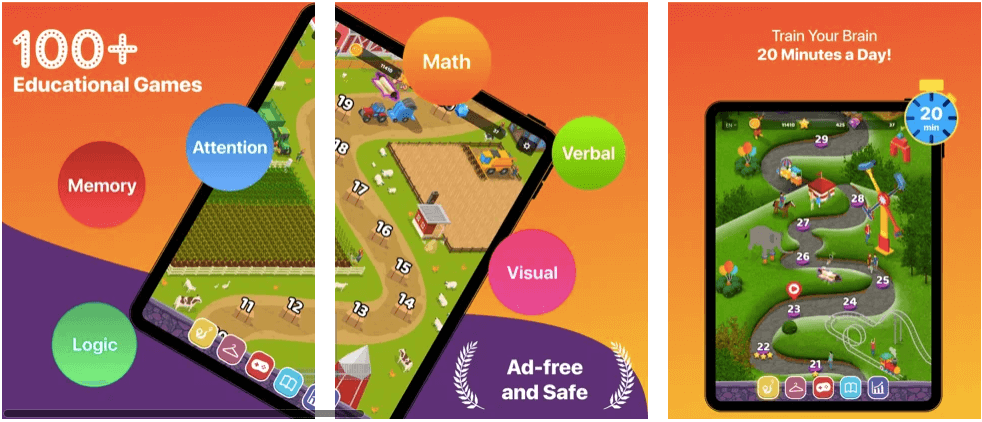 This brain training app contains more than 100 educational games for kids which are meant for improving the learning ability of kids and developing their attention skills. These games are designed by academicians and scientists who help in boosting brain power through puzzle games. Let you or your kid have an improved attention span with focused memory!
If you are purchasing the offer, one account can support the whole family together. Now that it works for 2-year kids as well as adults, they can easily enjoy the session altogether. This brain workout is all about relaxation, play, and having fun!
Premium subscription starting from $13.99
Download This App for iOS  | Download This App for Android
9. Memorado
Price: Free (In-App Purchases)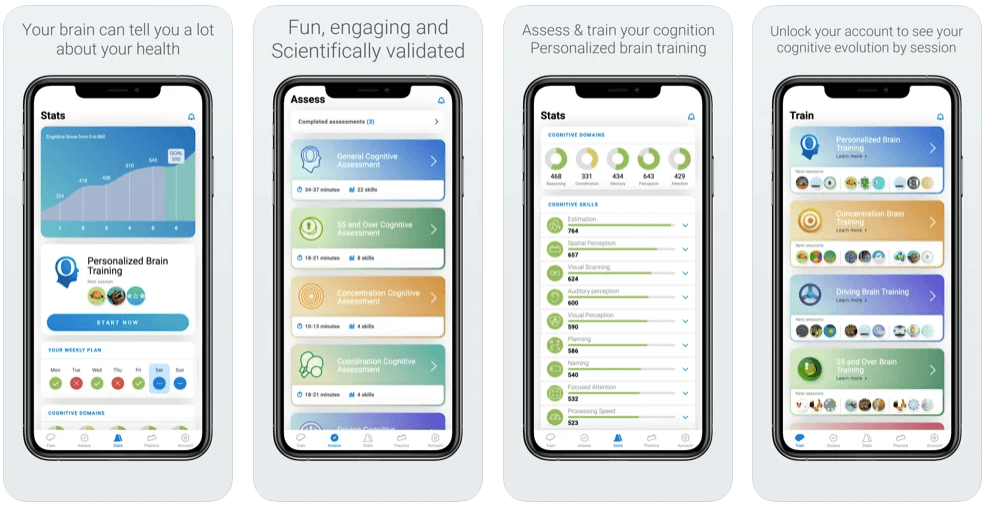 As we know that a stronger brain leads to a better life, Memorado is meant to improve memory, concentration, reaction, logic, mathematical skills, and much more with its 14 fun games that have more than 420 levels. As the games are won, you can track your progress with a statistics chart.
Also Read: Best Habit Tracker Apps 
Not only brain training games, but you can also find 100+ audio meditation sessions to calm your mind. Along with them, find stunning graphics backed up by easy usability. Moreover, you can find personalized workouts that are configured as per your wishes. Believe the neuroscientists for quicker connectivity of brain nerves using these brain training games.
Prices Starting from $0.99
10. Fit Brain Trainer
Price: Free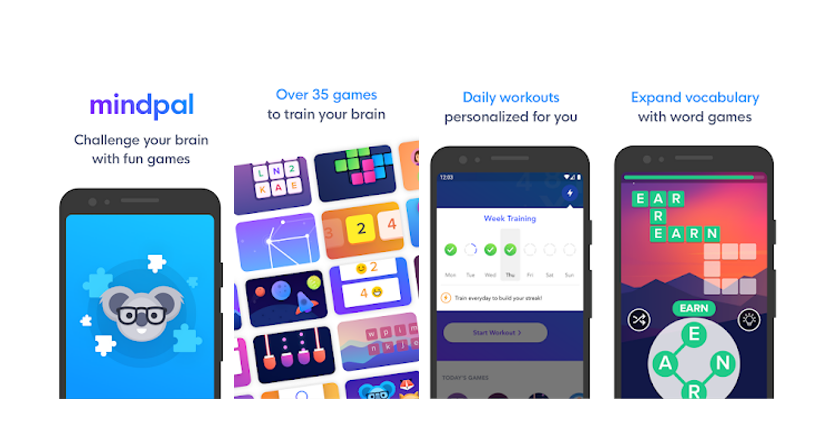 This is one of the best brain training apps as it cultivates good visual memory, logical thinking, and concentration. Anyone can try this app with various levels of difficulty to stimulate the focus that we tend to lose very quickly nowadays. Games like the sum of numbers, passing halves of the circles, and finding associative principles are going to take you on a different side of brain training.
11. Mensa
Price: Free (In-App Purchases)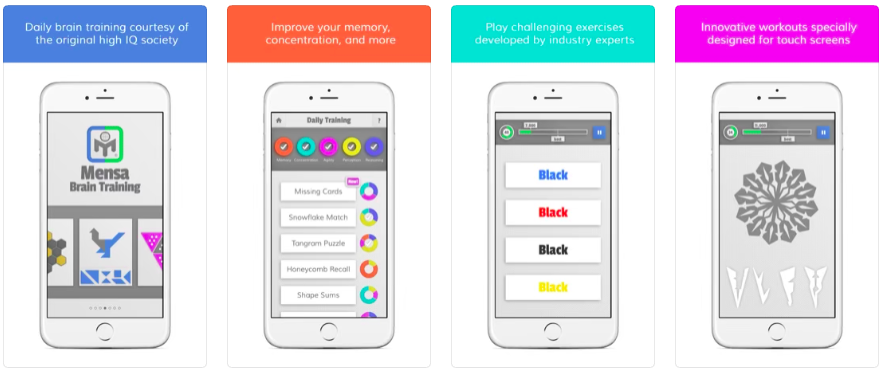 Another one in the list of brain training games comes from the society of high IQ brains. You can tailor your brain in a fun way by playing challenging exercises that are based on 5 rules of discipline. These rules include those areas of the brain where you can improve your memory, concentration, agility, perception, and reasoning. It is capable of enhancing fluid intelligence that becomes the fundamental human ability to reason, detect patterns and learn.
As you grow with Mensa, you can check your MBI or Mensa Brain Index along with the global percentile of other disciplines. Although you need to purchase the subscription to enjoy MBI you would certainly do so to keep your brain fit and active.
Quarterly Subscription Starting from $3.99
12. Mindpal- Brain Training
Price: Free (In-App Purchases)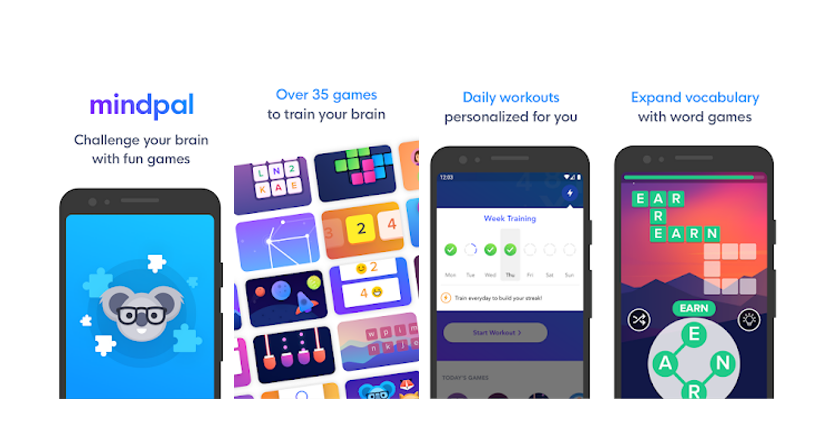 The Mindpal app is one of the highly-rated memory training applications that you can use as a daily brain trainer. This brain training app caters to and challenges your memory, language, attention, and problem-solving skills. You can choose from a range of entertaining mind-training games and work on the skills you want to improve.
The Mindpal mind training app includes a total of 40 educational games. This mind training app focuses on various cognitive abilities like memory, attention, math, flexibility, problem-solving, language, and speed.
Subscriptions:1 month: $7.99, 1 Year: $39.99, Lifetime: $99.99
Download This App for Android | Download This App for iOS
13. BrainHQ
Price: Free (In-App Purchases)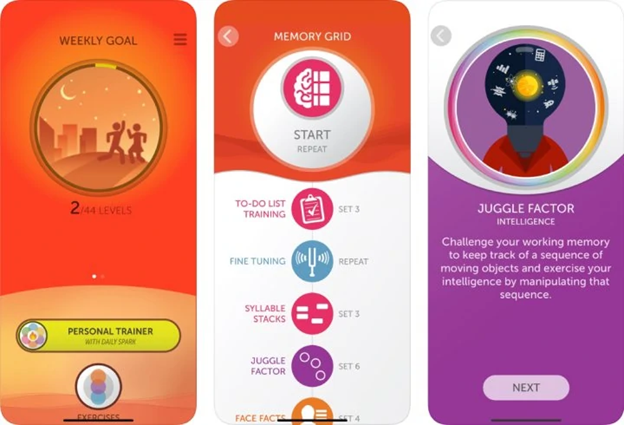 If you want to improve your brain health or train your brain for the skills you might lack, BrainHQ is the brain training app you've been looking for. This brain training app is one rigorous program that has been backed by around 100 scientific papers that prove its worth. The brain training app is representative of more than 30 years of research in neuroscience and brain health.
The exercises and assessments in this memory training app result in cognitive improvements, better memory, increased speed, and improved quality of life. The main focus is on three elements – memory, cognitive function & attention.
Subscriptions: 1 Month: $13.99, 1 Year: $94.99
Download This App for Android | Download This App for iOS
Conclusion
As we have provided you with some of the best brain training games on Android as well as iOS, we are sure that you would be able to enrich your brain with better cognitive skills, memory, and concentration power. Which is the best brain training app for you? Share your views in the comments below.
More to Boost Your Brain Power:
Best Stress-Relieving Games: Online & Offline
Best Meditation Apps for a Relaxed Quarantine