Motivation
Explore the Power of Affirmations and Transform Your Life
Last Update on May 19, 2022 : Published on September 6, 2020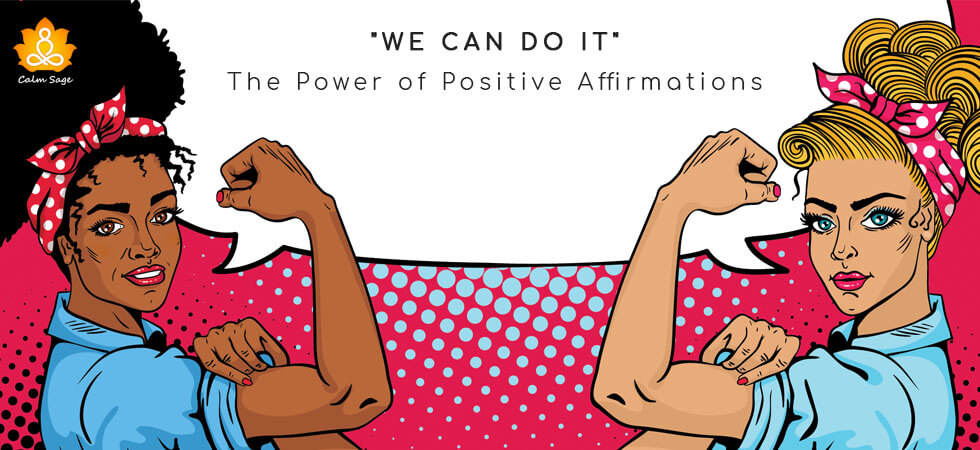 "Words have the power to change us."

~Cassandra Clare
We, humans, are said to have nearly 70,000 thoughts per day and that's honestly a lot! But what are these thoughts filled with? Findings suggest that some of these are memories, some revolve around the future, and majorly they are mind chatter that we speak to ourselves.
Now if you close your eyes and analyze these thoughts you will be surprised by the number of negative self-talk and thoughts that we process each day. No wonder we face difficulty in seeing positive impacts on our lives. That is the power of anything you say or think, that is the power of affirmations. What we think clearly reflects in our life.
What Are Affirmations?
Affirmations are statements describing a desired goal, habit, or situation that we want to achieve or that we believe. Repeating them often directly affects our subconscious mind and triggers into action.
Basically, affirmations are words that when repeated reflect in reality.
Positive affirmations are positive phrases that we repeat to ourselves and challenge the negative thoughts. It is a simple practice with life changing benefits to offer.
Why Do Affirmations Work?
Well, when you repeat an affirmation you start believing in them, and thus positive changes start taking place in your life. They directly activate and influence our subconscious mind and release you from fear, worry, stress, anxiety, and other such issues. By giving direct access to our subconscious mind affirmations are powerful tools to bring important life changes. The process of affirmations is simple and clear.
They change your thoughts and feelings in the first place. With change in your thinking pattern they ultimately change your life.
Science Behind Affirmations
If you are wondering how effective affirmations are, especially the positive ones then let me tell you that the power of affirmations is backed with science. Many experiments and studies have been carried out to find the science behind the magic of affirmations. One experiment from this pool that made me believe in the power of affirmations was "Plants and Affirmations." Let us quickly see what this experiment was all about.
In this experiment, two plants were placed in the same conditions but in two different rooms. Each day the experimenter used to come in and say positive things to one plant such as "You are beautiful" "You are growing."
The second plant on the other hand was told negative things like "You are ugly" "You will not grow."
After a few days, it was noticed that the plant which was spoken to positively was growing beautifully and blooming whereas the plant that was spoken negatively was drying and withering.
This surely proves two things:
Things we tell to ourselves and others has a direct impact on our overall well-being, and
Affirmations are powerful and backed with science.
So you can definitely give affirmations a shot to enjoy positive and healthy changes in your life.
Benefits Of Practicing Affirmations:
If you are wondering why you need affirmations in your life here is a pool of benefits that will help you find an answer!

A Pool Of Positive Affirmation For You To Practice
Here is a list of the most powerful affirmations for you to practice. Pick the ones that suit your needs and start practicing them now.
5 daily positive affirmations
I dream I believe, I receive.
I am limitless and I am
I have the power to create the life I desire.
I will be kind to myself and others.
I am blessed beyond measures.

5 positive affirmations for kids
I am loved/kind/loved/creative/brave/unique.
I will always give my best.
I am important and valuable.
I am a responsible person.
I will always help someone in need.

5 positive affirmations for teens

I am unique and beautiful.
I love the person I see in the person.
I am strong and each day I will make choices that will make me stronger.
I am working on myself each day to be the best version of myself.
I am a capable person and I believe in my capabilities.
5 positive affirmations for men

I can achieve anything that I have set in my mind through my constant efforts and courage.
Even if I fall down I will never give up, I will get up again.
My contributions as an individual are making changes in society at large.
I choose to surround myself with people who are good, supportive, and encouraging.
My goals and desires are valid and worthwhile just like everybody else.
5 positive affirmations for women

My body is amazing, I am amazing just the way I am.
I choose to accept and love myself daily.
I choose to ditch negative thoughts and embrace positive ones.
I am gifted, resilient, brave, and strong.
I am in charge of my thoughts, feelings, circle, and my life.
5 positive affirmations for students

My bad grades motivate me to do better next time.
I am making amazing progress towards my goals. Even if I don't make much progress on some days I am constantly learning.
I am grateful to my school/university, teachers, batchmates, and others because they are always helping me to grow.
I can accomplish my goals by putting in time and effort. I am determined.
I am doing my best.

5 positive affirmations for workplace
I am a resilient person.
I can handle problems with expertise.
I am doing great and I will continue to give my best.
I choose to grow where I am placed.
I do not rely on others' judgment.

5 positive affirmations for stress-reduction
I choose not to stress over things that I cannot control.
I allow myself to take breaks.
I choose the peace of my mind today.
I control my stress. My stress doesn't control me.
I believe everything will work for me. I am strong and confident.

5 positive affirmations for anxiety relief
I am not scared of my feelings.
I am breathing, I am collected, and I am calm.
I am feeling at peace within and nobody can disturb this peacefulness.
I am letting go of all my worries, doubts, and fears.
I recognize that my thoughts are irrational and I will take the charge to stop them.

5 positive affirmations for battling depression
I am in the healing process and getting better each day.
I choose to live my life to the fullest.
I deserve to be happy and I choose to be happy.
I release all past pain and replace it with pure love.

I am stronger than I may realize.

5 positive affirmations for gratitude
I am grateful for all that I have.
I am grateful to be alive and live this day.
I am thankful for the amazing family and friends in my life.
I am grateful for my full belly and warm meals that I enjoyed today.
I am thankful to get another chance to make my life better today.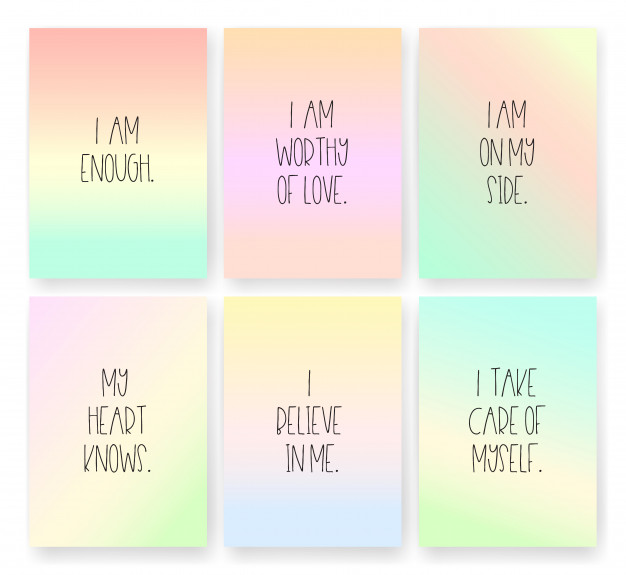 5 positive affirmations for self-love
I am enough.
All is well in my body and mind.
I am a beautiful soul that radiates vibrant and beautiful energy.
I am worthy of all the good things in life.
I release all the doubts and insecurities about myself.

5 positive affirmations to manifest your dream life
My income is increasing and I am wealthy beyond my wildest dreams.
I am equipped with all the tools to live the life I want.
I attract beautiful things in my life.
I am in exactly the right place and it's getting better and better every day.
I am a positive person who attracts positive situations for success.

5 positive affirmations for sleep
I will have a restful and relaxing sleep tonight.
I release the day.
My dreams are happy and harmonious.
I deserve this rest.
I am looking forward to tomorrow and the new opportunities it brings.
Positive affirmations mobile wallpaper

If you want constant reminders of positive affirmations, you can check our freebies. You download and also print them to make positive affirmation cards to carry with yourself or paste on your desk. And even through positive affirmations cards, you can enjoy the power of affirmations.
Popular FAQs on Power of Affirmations
How do you read affirmations? Or How to enjoy the power of affirmation?
Although there is no set process of reading and applying affirmations in your life but to make the most out of it here is a step-by-step guide for you.
Step 1: Take three deep breaths.
Step 2: Stand in front of the mirror and look yourself in the eyes.
Step 3: Say the positive affirmation aloud, slowly, and clearly to yourself.
Step 4: Repeat the affirmation while focusing on the words for 3-5 times.
How long do affirmations take to work?
There is no set time when the power of affirmations come to play! For some people, results might simply appear in a week but for others, it might take months. It completely depends on your faith, strength of desire, feelings towards the affirmations, and the goal you are after. Ideally, it takes 26-30 days for affirmations to change your belief and attract new desires. But again it is a very subjective phenomenon.
How many times a day should you say affirmations?
The basic rule of practicing and unleashing the power of affirmations is 3*30. Which means you should practice affirmations 3 times for 30 days. These three times are once an early morning, once anytime throughout the day, and once right before bed. Well, you can definitely say it more times as it only has good to offer and causes no harm.
Do affirmations work while you sleep?
Surprisingly when we feel drowsy and sleepy our subconscious mind absorbs affirmations even more easily. So, yes you can listen to affirmations even while sleeping. It will definitely bring changes to your life.
What if I have negative thoughts while practicing affirmations?
If you are repeating affirmations for a few minutes three times a day, and then let negative thinking take over the control, the effect of your positive words get neutralized. So, it is advised that you should occupy your mind with positive minds to see the positive results in your life.
What are the three golden rules to make affirmations work?
The three golden rules that will amplify the power of affirmations are:
Affirm mindfully and not absentmindedly.
Affirm with faith.
Affirm with positive feelings.
Apply these golden rules of affirmations and see the changes in your life.
Can I form my own affirmations?
YES! You can form your own affirmations depending on your needs, desires, goals, and life state. Just make sure that they incorporate the 3 P's rule of affirmations.
To empower yourself with the affirmation that you are repeating you can incorporate the 3 P's in it. These 3 P's of affirmations are:
They should be framed in the present tense(telling that they are already happening).
They should have a personal touchto them (making sure that they relate to us).
They should be positive (of course).
Now it is time for you to unfold the power of affirmations in your life and enjoy its benefits.
If you plan to practice affirmations or you are already practicing them in your life please do share your personal story. We would love to hear from you.
Don't forget to share your favorite positive affirmation with us in the comments section.
Remember your words carry tremendous power so start speaking positive words to yourself to experience a transformed life. The one you always wanted to live.
Never stop believing in yourself!!!
More Interesting Reads:
Powerful Words for Inspiration and Motivation
Listen To These Best Motivational Podcasts & Follow Them For Good
No Motivation to do anything! 21 ways to Find Motivation in life