Therapy
Calmerry Review: Is It The Right Choice For You?
Last Update on July 18, 2023 : Published on May 3, 2023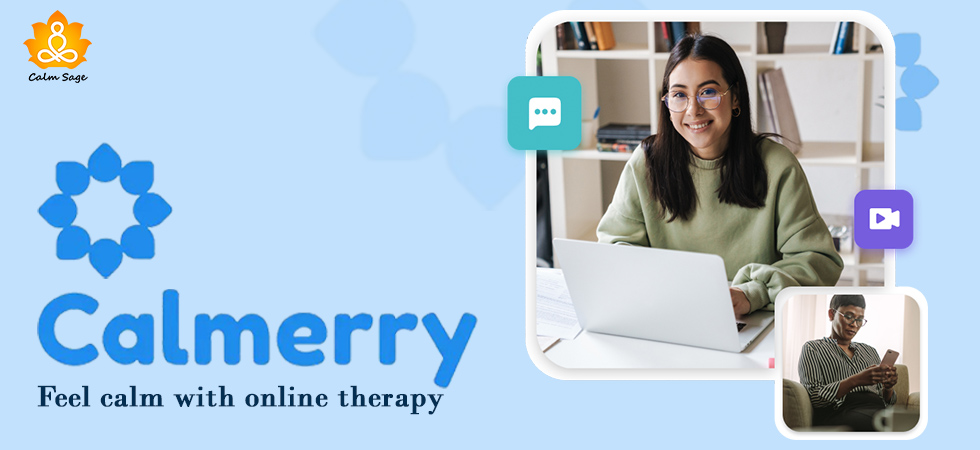 With so many e-counseling platforms it is becoming harder to pick the right, legit, and affordable one, isn't it? While many online therapy services have been in the market for decades, some new ones are catching up to the big names. Calmerry is one of them!
Launched in May 2020 by tech entrepreneur Alex Vitchenko, Calmerry aims to provide easily accessible and affordable online therapy and counseling to all those in need.
In this blog, I'll be reviewing Calmerry's services provided, affordability, accessibility, and how it measures up to other leaders in online therapy.
Disclaimer: This review of Calmerry and its services is based on my experience with the platform. Any discrepancies in my review and the services offered are mine alone and are not meant to disrespect any party(s).
Overview Of Calmerry
Product Name 
Calmerry Counseling & Therapy
Session Type
Live sessions, text, and audio messages
HIPAA Compliant
Yes
Year Founded
2020
Price
From $50 per week (Depend upon Plan )
Usability
Mobile app (iOS & Android) + Web
Insurance Accepted
No
Online Psychiatry Offered
No
How to Sign Up for Calmerry?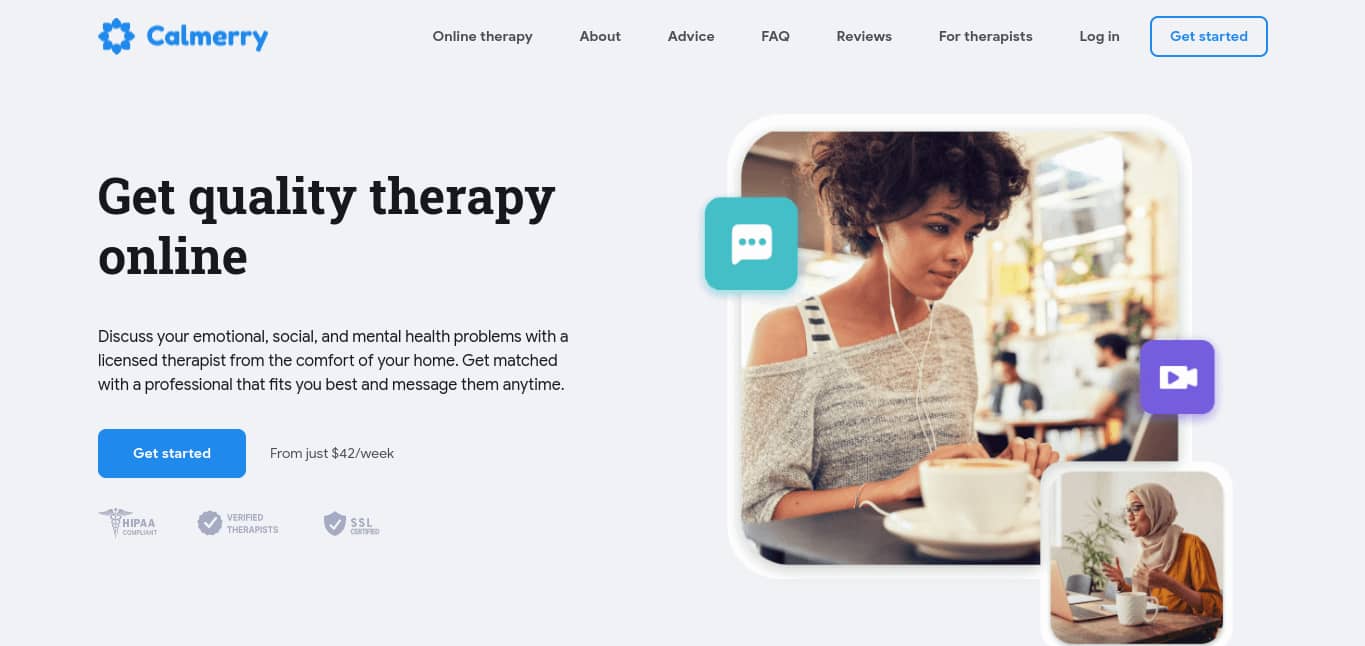 Apply Code "CARE" to Get 30% Off 
1. When you click on the "Get Started" button on the homepage, you'll be directed to another tab where you can enter your email address and password to create an account. You'll be asked to verify your email address so be ready.
2. After you've verified your email, you'll be asked to fill out a short questionnaire to provide some general (and anonymous) background about yourself and the issues you'd like to deal with.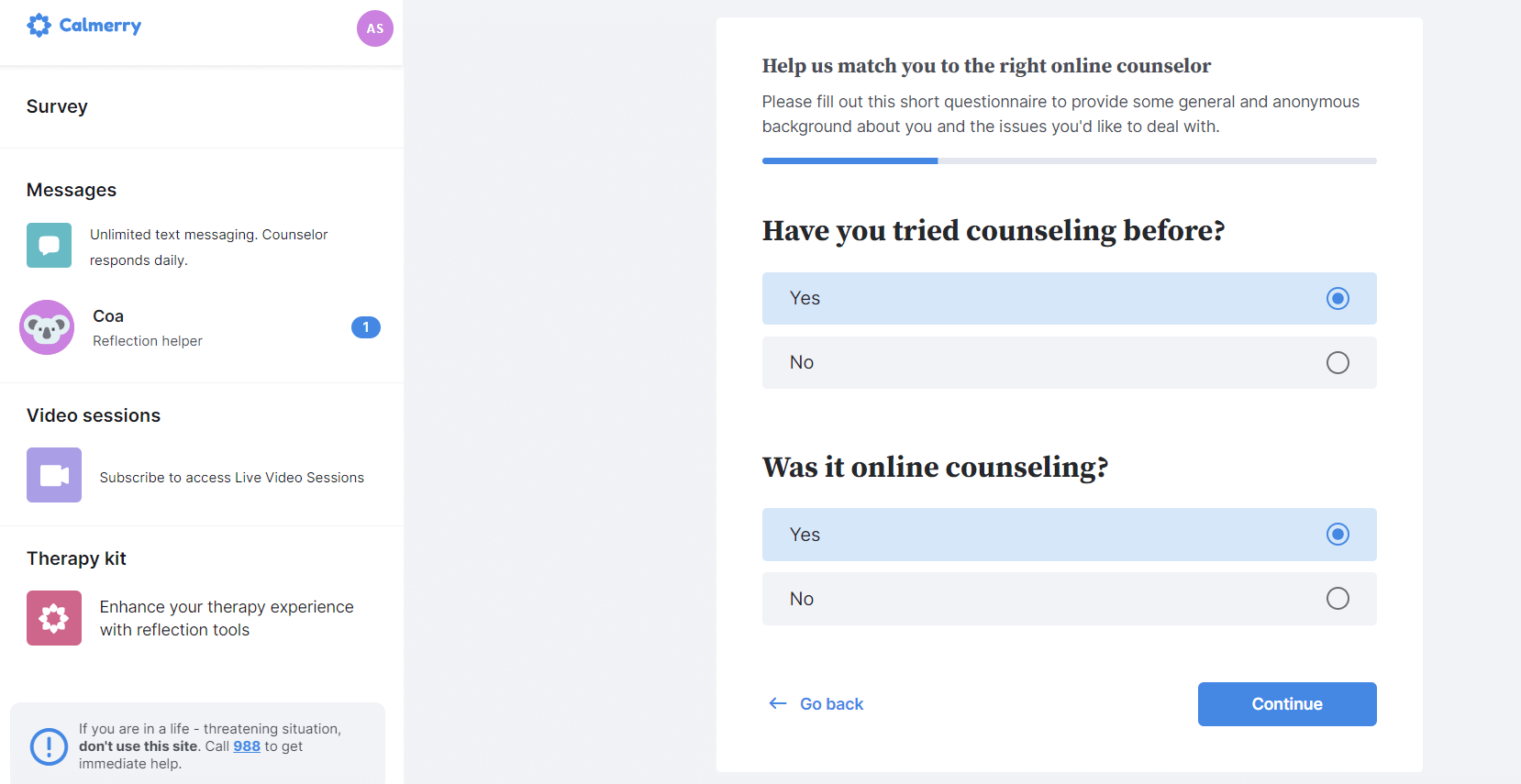 3. You'll also be asked to rate your mental and physical health status, your goals, and your preferences for a therapist. All this is needed so you can be matched with the right therapist. The process doesn't take more than 5 minutes.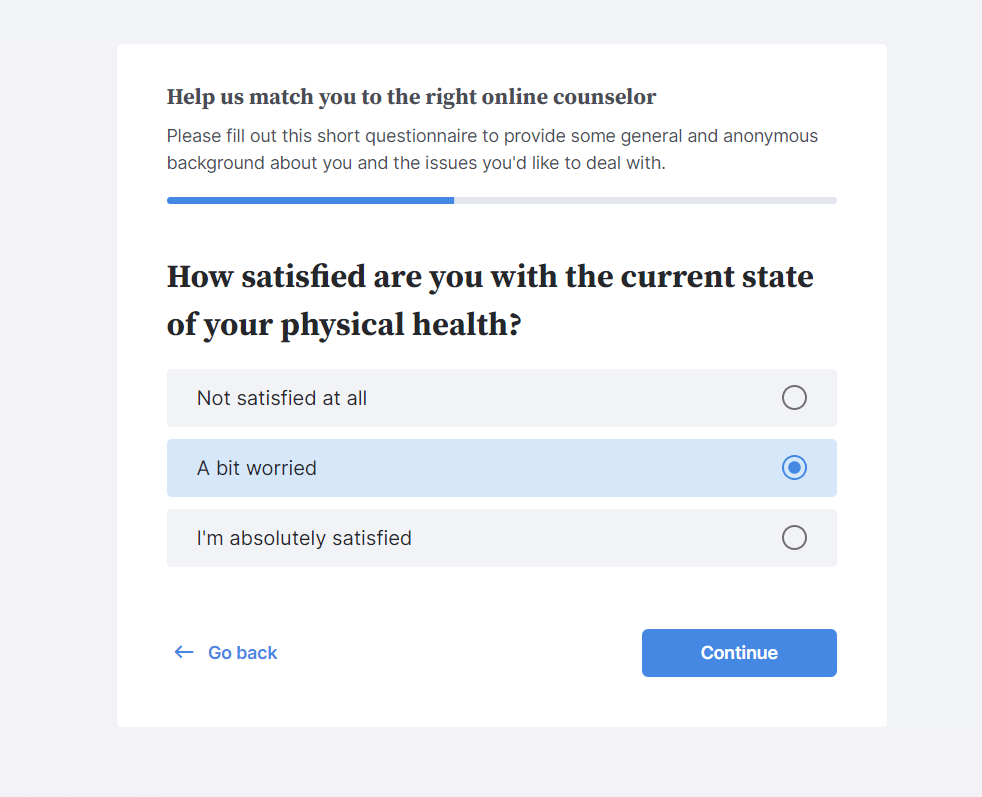 4. After you fill out the survey, you'll be given a personal Mental health summary of your answers that will tell you your current emotional well-being score and your projected progress (plus your success rate with Calmerry online therapy!)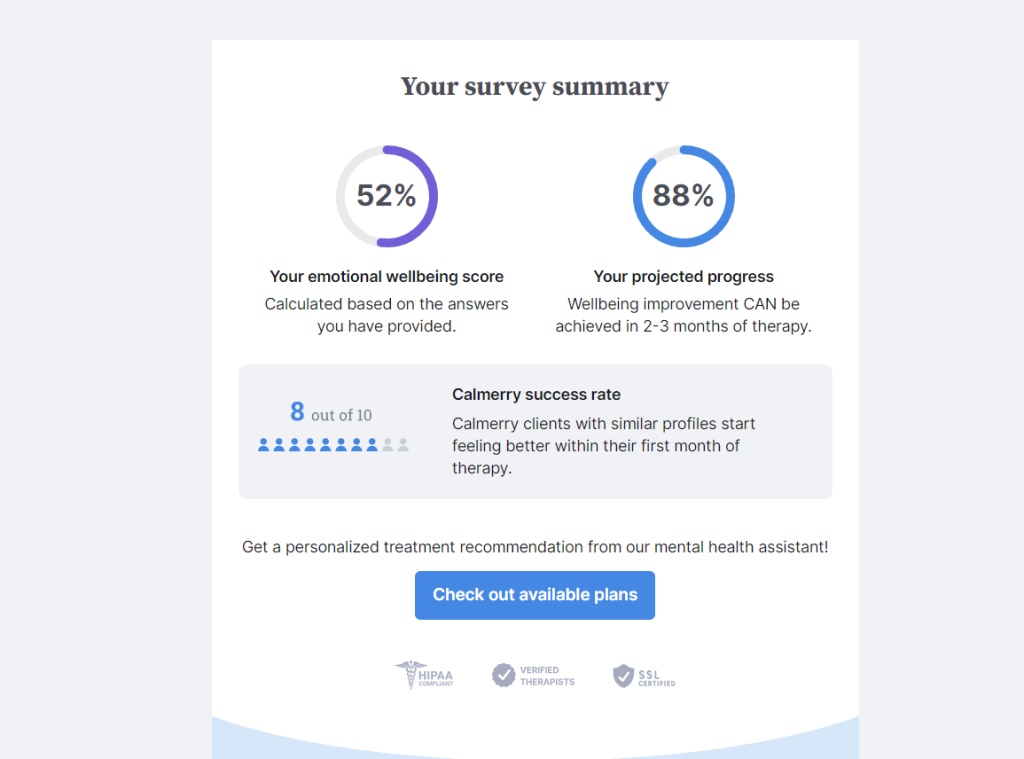 5. Next, you'll be asked to choose your subscription plan once you enter your payment details. Calmerry provides you with a personal matching agent, who will suggest you the best counselor according to your preferences. You'll get a message from a matching agent who will ask you your preference (video or chat sessions). The estimated matching time with your therapist is 1 hour.
Expect to hear from your matched therapist in 24 hours. Although, sometimes it may take a few days for your therapist to reply. I was matched with a therapist within a few hours after the initial sign-up, but in some cases, it might take more than that for a therapist to be matched with you.
My advice; Be Patient!
Calmerry Features
1. Messages
As the feature suggests, it's where your messages with your therapist will appear as well as "Coa Reflection Helper". On the web version, you'll find these features on the left-side panel. Coa Reflection Helper is an AI bot that will help you journal (and share with your therapist, at your discretion) your daily reflections. All you have to do is click on "Start a daily check-in" and wait for the next prompt, "How are you feeling right now?" and so on. All you have to do is keep clicking on the prompts offered.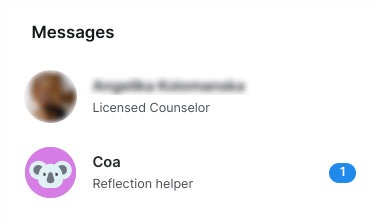 At the end of your daily check-in, Coa will ask you if you want to create a reflection note. You can do so if you wish or you can skip it. It'll also ask you if you'd like to share your entry with your counselor. Again, you can do so if you wish or decline.
In this section, your chat box with your therapist will also appear, so you don't have to worry about navigating the website for the messaging tab!
Please note that before starting therapy, you'll need to give your consent for the therapy. This step will need to be done after you'll be matched with a therapist, so keep an eye out for that.
2. Video Sessions
In this section, your available balance for video sessions will be shown. At first, I was shown my allotted 30 minutes, but as soon as I finished my session, my available balance was back to 0. When you click on this tab, you'll be redirected to the Video Session and Request page where you can select a suitable time slot to schedule your session.
Times are shown in your time zone, so please be aware of that! You can also schedule your video session less than an hour before, but it's recommended (by Calmerry and from a user's perspective) that you talk to your counselor beforehand about scheduling a session.
Once your 30-minute video session is scheduled, all you have to do is show up on time and get to know the therapist you'll be working with!
3. Therapy Kit
This is where you'll find all the reflection tools at your fingertips! In this tab, you can find four additional tabs – Assessment, Therapy Plan, Mood, and Journal. In the Assessment tab, there are currently two assessments that you can access;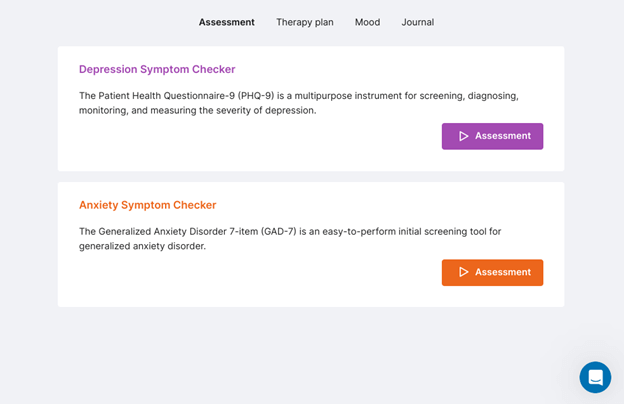 Depression Symptom Checker: Calmerry uses the Patient Health Questionnaire-9 (PHQ-9), a multipurpose instrument for screening, diagnosing, monitoring, and measuring the severity of depression.
Anxiety Symptom Checker: Calmerry uses the Generalized Anxiety Disorder 7-item (GAD-7), an easy-to-perform initial screening tool for generalized anxiety disorder.
If you click on the Therapy Plan, you'll see your problems and objectives listed there. When you click on active objectives, you find the interventions suggested by your therapist as well as the measurable uses listed there. Your therapy plan at your convenience.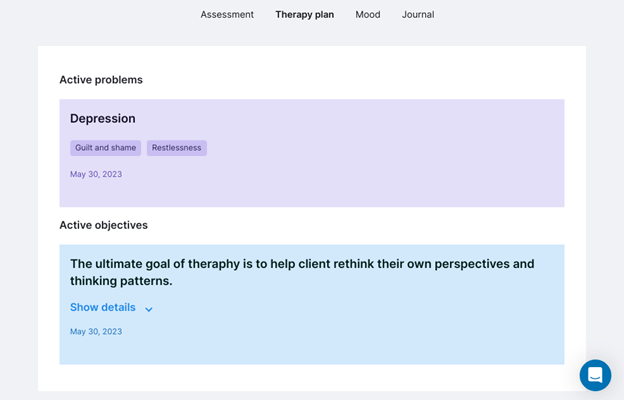 Moving on to Mood, this is where you'll find your daily reflection, well…reflected. Your mood is an important indicator of your well-being and with this tab, you can keep a daily record of your moods that you can further use to identify patterns and recognize triggers.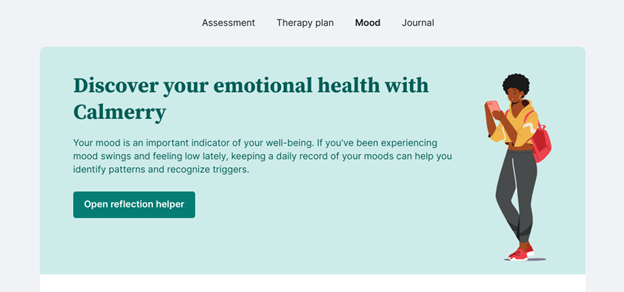 Through the Journal tab, you can keep a record of your thoughts and feelings. Journaling for mental health works by helping you let out emotions rather than stuff them down. This tab acts as your digital journal where you can record your thoughts daily and come back to them when you need them.
The three-step journaling process will allow you to;
Make notes about your current emotional and mental state
Share your journal with a counselor to find your coping mechanisms
Learn to manage your emotions, thoughts, and feelings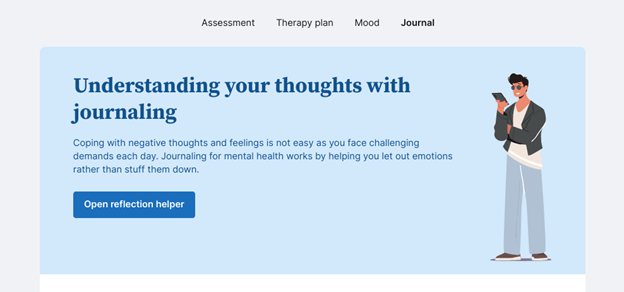 4. Self-help Tips
In this section, you can easily access Courses, Worksheets, and Journaling Prompts that you may find helpful, or your therapist may recommend. In the Courses tab, there are only three available – Anxiety, Depression, and Relationships. In each course, you can find articles that can help you understand the aforementioned conditions, insights, strategies, exercises, tools, and other coping tips.

Clicking on the Worksheets tab will provide you with Calmerry and therapist-approved guidelines and worksheets tailored to help you understand the treatment, the therapy approach, and your current thought and emotional pattern better. My therapist suggested I read "Cognitive Distortions" and "Grounding Techniques" as homework and also gave me a worksheet on "Low Self-Esteem" to complete.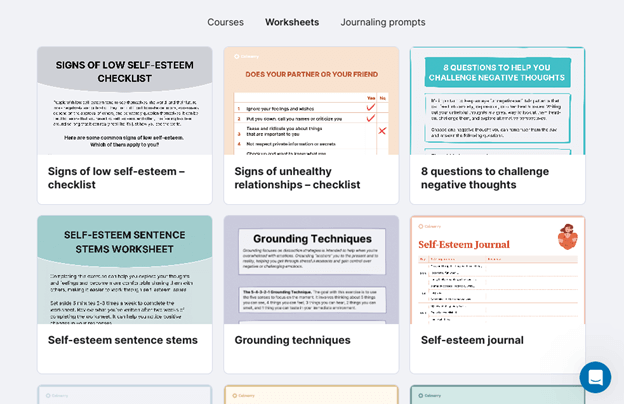 What I found most intriguing about the Journaling Prompts tab was that it came with voice prompts! When I clicked on the prompts, I was expecting a page with prompts listed, but Calmerry offers a unique twist to this feature.
When I clicked on the prompts, for example, I chose the "Exploring Your Personality Traits" prompt. For 35 seconds, a pleasant voice described the prompt for me and guided me on what to do with the said prompt. This was by far the most detailed journaling prompt I received.
Pricing Details of Calmerry.com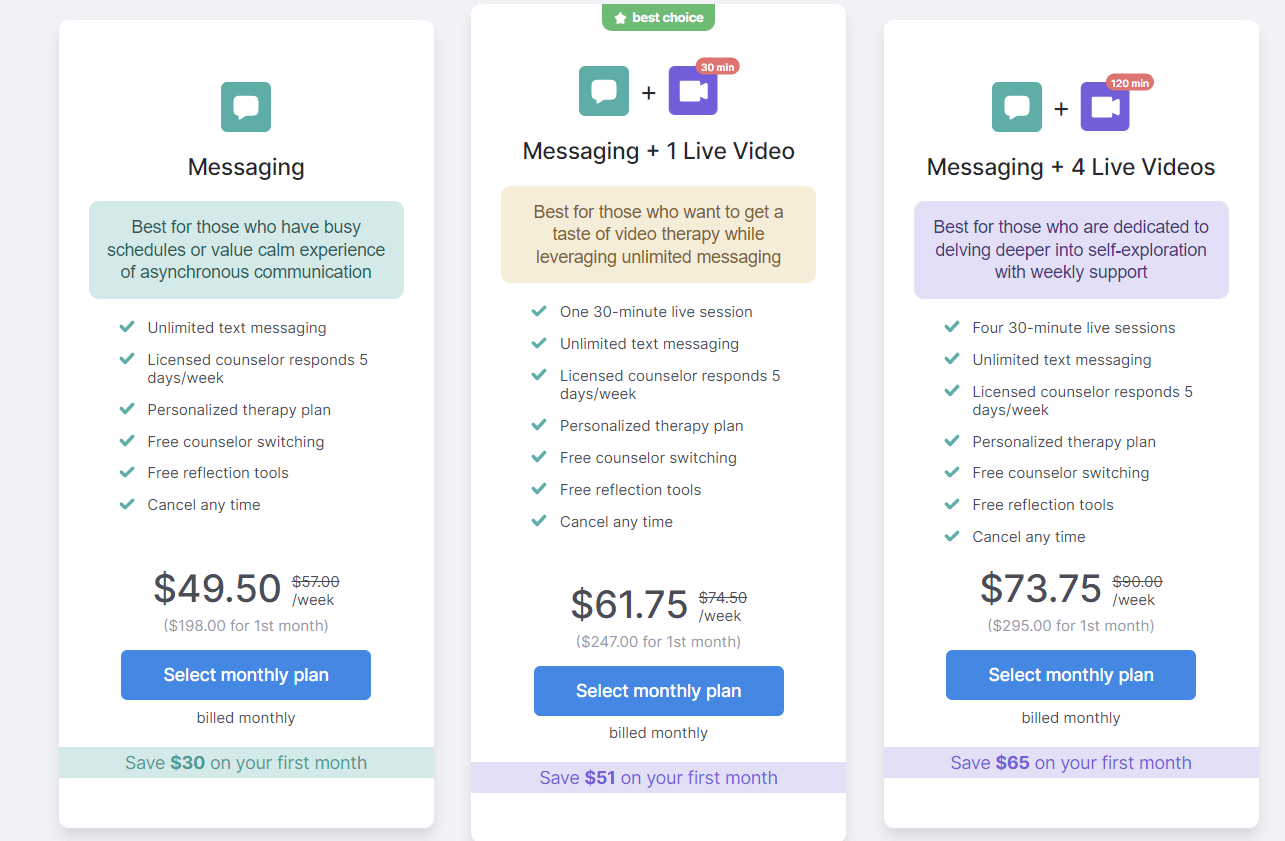 Calmerry offers different subscription options that you can choose from after the sign-up process is complete. I picked the most recommended one so keep an eye on that one.
The pricing plan of Calmerry is as follows:
1. Messaging: $49.50/ week (billed monthly)
In this plan, you get unlimited text messaging, your licensed counselor responds 5 days/week, a personalized therapy plan, free reflection tools + the option to cancel anytime.
2. Messaging + 1 Live Video: $61.75/week (billed monthly) – Recommended
This is the one I chose and in this plan, I got ONE 30-minute live session, unlimited chat sessions, a personalized therapy plan, licensed counselor response 5 days/week, counselor switching for free, and free reflection tools + the option to cancel the subscription anytime.
Based on my experience, this plan worked well as I got unlimited texts and one video call session, however short it was. The continuous texting before the call helped me get familiar with the therapist's approach and through the call, I got to meet and explore more about my therapy goals, approach, rules, homework process and so much more.
The only slight I felt during this was that the available balance for the video session was just 30 minutes (as compared to other mental health platforms 45 minutes to 1 hour). However, if you want to add more minutes to your plan, there's an additional cost.
3. Messaging + 4 Live Video: $73.75/week (billed monthly)
In this plan, you get FOUR 30-minute live sessions with your therapist who responds 5 days/week, a personalized therapy plan, your licensed counselor response 5 days/week, counselor switching for free, and free reflection tools + the option to cancel the subscription anytime.
4. Messaging + Live Video Weekly plan: $64.99/week (billed weekly)
In this special plan, you get to start your therapy journey with Calmerry and enjoy all benefits of messaging and live session therapy with a weekly billing plan.
 Apply Code "CARE" to Get 30% Off 
Ease Of Use
Calmerry is easy-to-use and user-friendly (whether you use it on the web or the app). I used the Calmerry app as well but found out that I preferred the web version as through the app, the texting was a hassle because the app lagged a lot. Through the web version, the unlimited texting was simple, plus access to worksheets and reflection kits was easier.
You can stay in touch with your therapist through your portal. There you can even manage your account details, subscription details, messages, therapy schedules, and performance.
If you want to switch your therapist, you can simply submit a request to customer service via your portal. I had no reason to use this service as the therapist I was matched with fulfilled the therapist criteria I had. But, if you wish to change your therapist or counselor, all you need to do is drop an email to customer service and they'll reply as soon as they can with your request.
Therapies Offered By Calmerry
Calmerry offers therapy services to help address:
Anxiety & stress
Childhood abuse
Chronic pain management
Grief & trauma
Mood disorders
OCD
Relationship
Self-esteem
Career counseling
Adoption counseling
Codependency therapy
Neurodiversity-affirming care
Pregnancy, prenatal, postpartum counseling
Self-harm and suicidal ideation treatment
Violence & abuse counseling
Calmerry offers therapy by licensed and qualified therapists, daily mental health support, flexible scheduling, low-cost therapy, live video sessions, digital worksheets, and so much more!
My therapist was kind enough to share the week's appropriate worksheets and prompts with me via our chat box. If you find yourself wanting to learn more about the therapy approach your therapist is working with, then you can go to the Self Help Tips section in the left-side panel of your dashboard and access the right resources from there. My therapist introduced me to CBT (cognitive-behavioral therapy) so any worksheet and homework I was required to fulfill, I could find there if I couldn't access it via the chat box.
While the services provided by Calmerry are easily accessible and affordable, they are only available to adults (18+). They also offer couples and family therapy. However, they do not offer psychiatry services or therapies where medications can be prescribed, nor do they offer therapy for teens.
Pros & Cons of Calmerry
Pros:
You can schedule live sessions when you need
Multiple subscription plans are available
Has licensed therapists
You can choose your communication mode (multiple options are available)
Offers individual as well as couples therapy
Easy sign-up and user-friendly
Works well on the web as well as the app
You get a discount for the first month
A Match made by Calmerry staff
Cons:
No free trials are available at this point
You can't choose a therapist
Doesn't provide psychiatry help or prescribe medications
Short live sessions
Do not accept insurance
Not available for teens
Calmerry Privacy Policy
Calmerry is owned and operated by Mental Fuel Inc., however, you won't find any reference to Mental Fuel anywhere else on the website. The website server and management system routinely collect information about the origin and site navigation and the data might include technical information (e.g., your processor type, processor speed, operating system type, browser type, etc.)
The website states that the technical information is not linked to any of your personal information. Mental Fuel Inc. only collects personal information if you expressly provide it to them.
The website uses cookies to collect information about your browsing and may use the personal information you share with them. They may use the information if you choose to receive information on their services, to improve the website experience, and to create a non-personal summary for market analysis. Mental Fuel Inc. won't sell or lease your information.
Calmerry stresses confidentiality, so you don't need to provide your real name. However, the company will still need your legal name to charge your credit card.
With Calmerry or Mental Fuel Inc., you have the option to opt out of communication. If you don't wish to receive materials from them, you can contact customer service. For some web browsers, a "Do Not Track" feature is also available if you do not want the website to track your online activity.
Please note: If you are in a life-threatening situation, don't use Calmerry. Call 988 to get immediate help. You can also contact your nearest helpline number or the emergency number for help.
Is Calmerry The Right Choice For You?
Calmerry offers different communication modes to choose from when you need to talk to your therapist. This can especially be helpful when you're struggling with social anxiety and need to communicate using text messaging.
Some people may prefer messaging over audio or video calls so that's a plus. Calmerry, unlike BetterHelp or Talkspace, offers four weekly sessions. And it's affordable! If you want to contact your therapist regularly, you can with Calmerry (without paying extra).
Calmerry online therapy also offers family and couples therapy so if you're looking for a joint session with your partner or family, you can!
One drawback that I found was that Calmerry only offers 30-minute live sessions which is shorter than other online therapy providers. Also, there are no psychiatrists or doctors to provide a diagnosis or prescribe medications. Although, the assessments Calmerry uses are The Patient Health Questionnaire-9 (PHQ-9) for depression and The Generalized Anxiety Disorder 7-item (GAD-7) for anxiety.
Calmerry might not be the right choice for you if you're struggling with a serious mental or psychotic disorder such as severe depression, bipolar disorder, or mood disorders.
Frequently Asked Questions
Q1. Does Calmerry offer a free trial?
No, Calmerry does not offer free trials at this moment, however, it seems that the company offered free consultations during Mental Health Awareness Month (May), so you can wait and see if the offer comes up again.
Q2. Does Calmerry accept insurance?
At this point, Calmerry does not accept insurance but it offers to ask for a receipt that you can submit to your insurance company and see if you're eligible for partial reimbursement.
Q3. Can you cancel your Calmerry subscription?
Yes! You can cancel your subscription anytime. All you need to do is contact customer service and they'll help with the refund.
Q4. Does Calmerry offer discounted prices?
Yes, Apply Coupon Code "CARE" to Get 30% Off.  Clamerry claims to be affordable so it does not offer any financial aid either at this moment.
Final Verdict
Calmerry is certainly a good and affordable online therapy platform when you're looking for a mental health service provider that offers more than one communication option. If you prefer messaging over video sessions, then Calmerry might be the right choice for you (although you have the option to choose both).
You also get a subscription plan with four sessions per week which is new and not what others have offered, yet. While Calmerry might be good and effective for emotional support and well-being, it might not be best if you're looking for a serious treatment (major depressive disorders, psychotic disorders, etc) or treatments that require medications.
Overall, Calmerry is a user-friendly, easy to navigate, and affordable online therapy platform, albeit newly launched, but can prove to be the one for you!
Please note that this review is completely based on my experience with Calmerry. For more information, you can write to us at info@calmsage.com or DM us on social media.
I hope this review helped you understand how Calmerry works and if it's the right choice for you.
Let me know what you think about Calmerry in the comments below!
Take Care!
Next Read:
BetterHelp Review : Is BetterHelp Therapy Legit?
10 Best Alternative to BetterHelp you must try