Meditation
Establish Inner Peace with Water Meditation
Last Update on November 7, 2021 : Published on June 14, 2020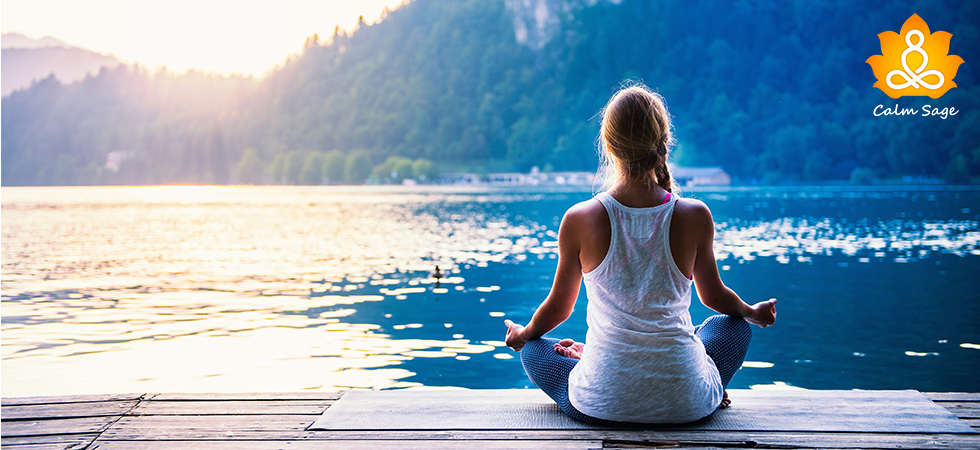 Water meditation is the simplest solution whenever you feel restless, troubled, anxious, or stressed. You all might be thinking how. All you have to do is sit near the shore of the lake or sea or river. In order to experience water meditation, you can sit on a rock or bench, in the sand or you can take your mat as well.
Begin the water meditation by simply watching the water, the ripples, and the waves. Observing is all you need to do in the beginning. Additionally, while observing do not think of anything instead enjoy the calm and serene view. Focus on the waves… focus on the sound the water makes when it reaches the shore.
A peaceful and calm environment will bring inner peace in your body and mind. This environmental effect has a relaxing effect on the mind. We even go to the beaches and enjoy sunset… never thought this can turn out in a form of meditation. The mesmerizing sound of the waves cleans our mind from the unwanted thoughts and as an outcome brings a sense of peace and calmness. This type of meditation is referred to as Water Meditation.
So, let's see how we can practice water meditation.
How to do Water Guided Meditation
Follow the below-mentioned steps to practice water meditation:
1. The first step is to find a quiet and silent place near the river, the beach, or the sea. Now, find a place to sit like a stone, sand, or a bench.
2. After finding your comfy place… now observe the serene view of nature and relax your tensed muscles.
3. While observing, focus on the water waves, ripples, the breeze, sounds birds and trees… everything. Observe and enjoy nature, peace, and calmness.
4. Whenever you feel like your mind is diverted… direct your mind again on the waves, ripples, and the breeze.
5. You can sit and enjoy the meditation till the time you feel relaxed and calm. If you are a beginner at meditation at least sit in the lap of nature for at least 10 minutes.
Water meditation is a type of meditation that does not take a lot of effort. Additionally, the results are really very effective. Water healing meditation provides mental and physical relaxation. Personally, whenever I practice the water meditation it makes me feel refreshing, calms my mind, and provides inner peace to my mind.
Additionally, I was explaining this process to my friend and my friend asked me what if we do not have any water bodies nearby. So, my answer is, if you do not have any water body nearby, you can still practice water meditation. Let me explain to you how.
All you have to do is… find a place in the garden or in the park. Sit there and relax look at nature. Additionally, you can play water waves music in the background and put earphones on. In this way, you can enjoy nature and the sound of the water too. Although, this is not the permanent fix for water meditation. But at least this alternative form of meditation also improves the mental and physical state. Try it and let me know if it works or not.
Moreover, you can also learn to meditate with chocolate… Read here!
Benefits of Chocolate as a stress reducer
I hope you like this blog. Comment down and let us know which form of meditation is your favorite like mine is water and chocolate meditation.
Additionally, do not forget to subscribe and follow Calm Sage on all social media platforms.
Thanks for reading and be positive!
Recommended Articles: 
1. Best Foods That Help To Reduce Anxiety
2. Step Into The Light- Acceptance Is The Key
3. Change Your Mindset And Reduce Anxiety