Therapy
Faithful Counseling Review : Best Online Christian Therapy
Last Update on November 8, 2022 : Published on January 24, 2021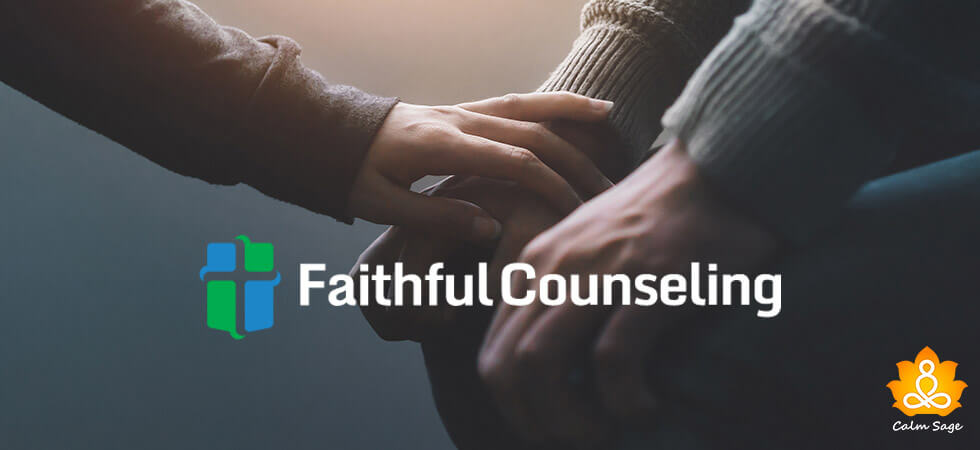 Faithful counseling is a part of Christian counseling especially designed for people who are looking for someone who practices the same faith. Faithful counseling has over 1,000 counselors available on the website that helps in creating treatment plans.
The conversation or treatment plans prescribed by the counselors are effective and also related to religion's beliefs and values. I have personally used this site along with my Friends to check the ability of faithful online mental health treatment services.
Also Read: Best Online Therapy for Kids To Protect Their Mental Health
My friends and I started from the beginning and tested all the processes like sign-up, speed of therapist matching, price, ability to switch, effectiveness, treatments offered, cancellation policies, and more.
Read this blog to see our review on Faithful Counseling to help you find your viable option for mental health treatment and related therapy options. So, let's get started.
Faithful Counseling Overview
Key Features

Mobile Platforms: Android and iOS
HIPPA- Compliant: Yes
Payment Options: Credit Card or PayPal
Price: Mostly begins with $60 to $90 per session

Overall Rating: 8/10
Pros and Cons of Faithful Counseling:
Pros:
You can personally opt for the degree of religion to be involved in your therapy.
Non-followers and believers can also opt for the services.
Instantly matched to a therapist even before payment.
Free seven days trial.
Financial aid is provided
Video sessions, live chats, audio calls, and messaging services are available.
Easy to use.
Offers free-of-cost educational seminars.
Cons:
Response from a therapist can be slow sometimes.
Some therapists provide generic worksheets.
Automated sign-up process (no human interaction).
There is no guarantee that you'll be matched to a therapist upon your request.
You have to complete the assessment before interacting with the therapist.
Sign-Up Process:
The sign-Up process of faithful counseling begins with a short questionnaire. The automated system may ask you to write down your symptoms and also may ask some questions related to spiritual beliefs.
You can select your degree of religion by selecting some of the relevant questions of your choice. The short questionnaire takes about 8-10 minutes. The questions and answers are used to match you with a therapist of your religious level.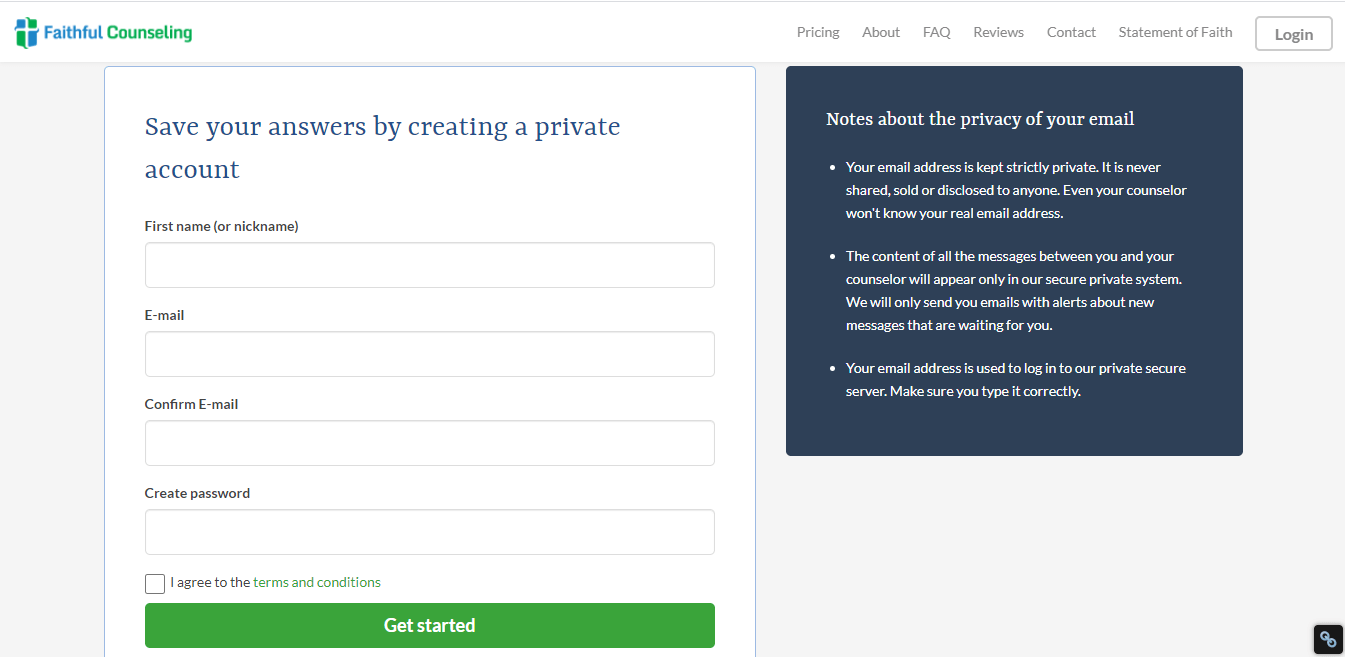 After this, you'll receive a notification in your email regarding the match with your therapist. Once your therapist is assigned, you can use the information and will be able to contact your therapist right after receiving an email from the website. I personally feel that the process is instant and quite simple.
However, one of my colleagues felt that she was not assigned to the therapist she wanted. I have read one of the reviews from the website that stated,
"While the questionnaire was ok, when it comes to religion and spirituality, having a customer service agent interact with the patient to get a good sense of their needs would be far more effective than just an automated questionnaire."
Therefore, I again logged into the website and checked this thing personally. I think the statement is not surprising as therapy is different for everyone and everyone has a different point of view related to their therapists.
Additionally, the site has clearly stated that you do not have to be Christian or religious to use the services which means that non-believers can also use this website.
Ease of Use: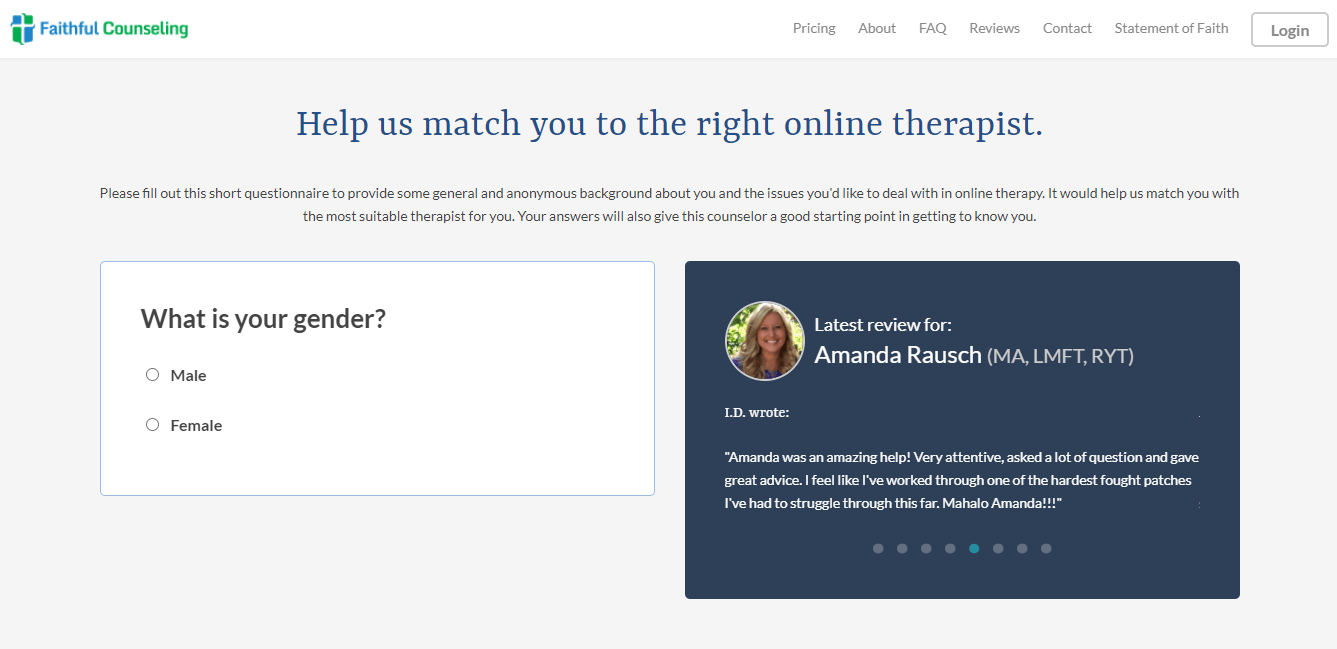 Once you're matched with your therapist, you'll be receiving a link to a private chat room wherein you can send direct messages to your counselor. Your counselor will be replying to your messages via the same platform.
Also, if you're not available on the screen, you'll receive a notification of the reply (make sure you're logged in to the site).
You can also choose other modes of communication to interact with your counselor. You'll be provided instructions to switch communication mode. You and your counselor can see what you're typing in real-time in live chat sessions.
Areas Covered: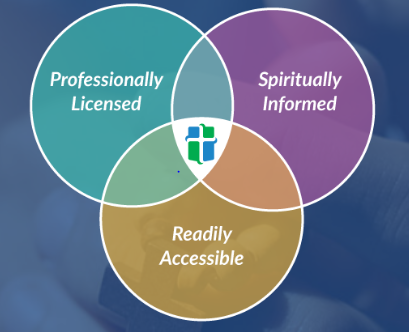 The counselors are certified and are trained to handle various problems related to mental health from the perspective of religion. The counselors of faithful counseling help people for dealing with any kind of issues that hinders happiness and peace.
The counselors of faithful counseling treat problems like:
Anxiety disorders
Relationship issues
Parenting problems
Addictions
Depression
Eating disorders
Stress
Sleep disorders
Trauma
Family conflicts
Grief
Religion issues
Anger
Self-esteem
LGBTQ matters
Effectiveness:
All of the counselors are certified and experienced. Faithful counseling is part of the Betterhelp platform. The counselors of faithful counseling services are clinical social workers, psychologists, marriage or family therapists, or licensed professional counselors.
Talking about effectiveness, I personally felt that the therapist used generic forms. The therapist took time to reply to a message and insisted to schedule a live session. I also felt that some of the responses were slow and one-liner statements. However, I observed that all the counselors practice religion.
Types of Treatment Available:
Faithful counseling provides treatment like other websites and clinics. All of the counselors of faithful counseling services are trained to perform Therapies ranging from Cognitive Behavioral Therapy (CBT) to other psychodynamic approaches used by everyone.
There are four ways to contact your counselor:
1. Private Room:
You can leave messages in the private room similar to emails. You can use a private room 24*7.
2. Live Chat:
You can coordinate with your counselor and schedule a live chat wherein you can discuss and have a conversation via messages.
3. Call:
You can schedule a call with your counselor.
4. Video conferencing:
You can also schedule a video conferencing with your therapist.
Privacy Policy
Privacy is always a top priority of faithful counseling. The confidential standards of faithful counseling are as required by the law. You can stay anonymous if you do not wish to reveal your real information. However, you will be asked to fill in your information along with an emergency contact.
The best part I liked about the website is that they have provided a "shred" button to hit so that the people you don't want to see will disappear from your account. All the messages between you and your counselor are encrypted by banking-grade 256-bit encryption.
Price Details of Faithful Counselling: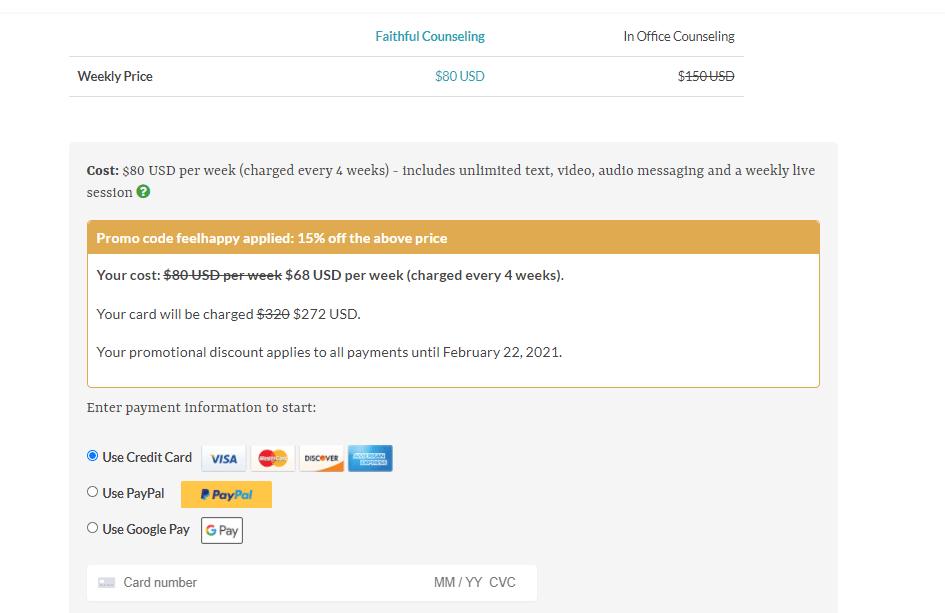 Below-mentioned is the price and subscription plans:
$80\week billed weekly: unlimited messages and live sessions for seven days
$65\week billed monthly: 4 weeks unlimited messages and weekly live sessions for $260.
$45\week billed quarterly: 3 months unlimited messages and weekly live sessions for $540.
$35\week billed yearly: 12 months unlimited messages and weekly live sessions for $1820
Services provided by Faithful have not covered medical health insurance or Medicare. Financial aid is provided to people in need. The prices include all types of modes of communication.
Click Here to Read Price-Related FAQs
Does Faithful Counseling Take Insurance?
Neither faithful counseling or its therapist does not work with insurance companies. But if you want to claim your insurance you can ask to your therapist they can provide you bill so you can claim it yourself.
Competition: Faithful Counseling vs Christian Therapist on Demand
Other than Faithful counseling, there are other websites as well offering Christian counselors. However, most of the sites are limited in the areas. The biggest competitor I have observed is "Christian Therapist on Demand." The site is affordable than Faithful if you do not wish to have phone or video sessions.
The prices go high if you wish to receive counseling through phone or video. After observing the prices and service, I personally think Faithful is better than other religion-based services.
As Faithful counseling is owned by Betterhelp, it does have better services, sophisticated customer services, along with online functionality. If I had to choose between Faithful and other competitors, I will blindly choose Faithful counseling services.
Final Verdict
Faithful counseling is a good option for anyone who is looking for a Christian counselor. While I experienced some concerns with the connectivity. It was overall a good experience. I absolutely loved the free seven-day trial services.
Connect With Faithful Counseling
Disclaimer: As BetterHelp Affiliate, We may receive compensation from BetterHelp or other sources if you purchase products or services through the links provided on this page.
Bottom line
Faithful counseling is for those who are looking for a Christian counselor. However, non-believers and followers can also use their services. Prices of faithful counseling are affordable.
They also provide financial aid for those in need. All the counselors are registered, certified, and experienced. You can connect with the counselors through the private room, live chat, video calling, or audio calling.