Depression
Say Bye-Bye To Post Holiday Blues In Just 5 Simple Ways!
Last Update on January 2, 2023 : Published on January 2, 2023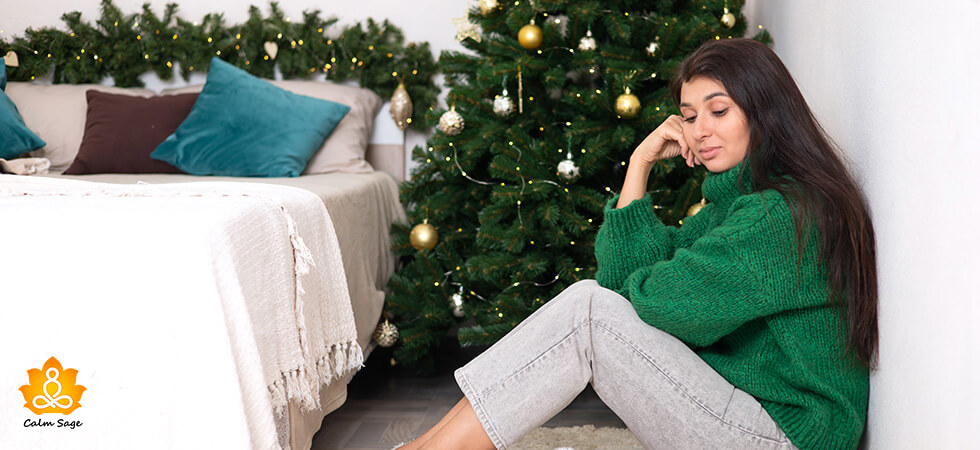 As we bid farewell to the holidays at the end of 2022, there's a wave of sadness and anxiety when welcoming the new year. For many of us, the holidays are all about bringing excitement and joy, but for others, holidays can be reminiscent of past trauma, estranged family, and even grief.
During the holidays, emotions are already heightened, so it's not surprising that the period brings feelings of loneliness and sadness to the forefront. Emotions can be hard to manage, especially when it's the holidays or in our case, post-holidays.
What we experience, emotionally, during the period after the holidays can be termed "Post-holiday blues". While it's not long-term and can be easily managed, post-holiday blues can leave us feeling off-kilter.
Let's take a look at some of the common causes of post-holiday blues and how you can end holiday blues in 5 simple ways.
What Are Post-Holiday Blues?
Post-holiday blues can be described as feelings of anxiety, sadness, and worry you experience that linger after the holiday season ends. In a survey, it was reported that more than 60% of adults experience post-holiday blues.
Psychologists believe that the end of holiday blues is temporary and holds within a series of emotional responses that often surface after the holidays are over. It could also look similar to seasonal affective disorder because, in end-of-holiday blues, you also experience a lack of sleep, low energy, and wavering focus.
After the holidays are over, going back to your routine can feel anxiety-inducing and even stressful.
Here are some common signs of post-holiday blues to look out for;
You feel anxious
You feel unmotivated
You are in a bad mood
You are irritable
You feel stressed
You feel depressed
You experience sleep troubles
You worry about finances
You ruminate on negative thoughts and memories
Are There Any Causes For Post Holiday Blues?
Nothing happens without a reason. Here are some common reasons why you might feel depressed after the holidays are over;
1. Daylight Saving: Adjusting to daylight savings can affect your body, and it might take more than normal, sometimes, to adjust to the new time and routine, causing you to feel stressed during and post-holidays.
2. Drinking Alcohol: Alcohol is more often than not a huge part of the celebrations and whether you like it or not consuming alcohol can affect your emotions and how you process them.
3. Overeating: Holidays aren't complete without food and where there is food there's a risk of over-indulging or overeating. In a 2019 study, it was found that mindless or unhealthy eating can lower your mood and make you feel down.
4. Staying Busy: Because it's the holidays, you're more likely to stay busy organizing parties or going to parties. When you RSVP to every invitation you get, it can soon become overwhelming and leave you feeling more stressed than you can manage.
5. Not Getting Enough Sleep: If you're not getting enough sleep – whether the causes are endless parties, activities, buying gifts, holiday excitement, etc. – everything can look stressful and can mess with your rest.
6. Others: Other causes of post-holiday blues can include financial instability, grief over the death of a loved one, loneliness, chronic illnesses, etc.
How To Overcome The End Of Holiday Blues?
There's a chance you might feel better as the holiday season fades but for many people, not having anything interesting to look forward to post-holidays can increase helplessness, hopelessness, and sadness.
To prevent post-holiday blues from taking over your life (even for a while) you need to understand that post-holiday blues are a thing. That you get it. When you're aware of the phenomenon, it becomes easier to fight them.
As a preventive measure, you can do the following;
Plan some downtime for yourself
Arrange a family weekend getaway
Rearrange how you spend your time after work
You need to plan how you can manage the lull in the excitement after the holidays in your post-holiday routine. Other simple ways to cope with post-holiday blues can include;
1. Focus On Self-Care
You need to prioritize your needs and focus on doing things that feel good to you. You can try the following;
Getting enough sleep
Staying hydrated
Setting boundaries
Spending some time in solitude
Exercising regularly
Not overexerting your body
2. Stay With A Routine
Make sure you wake up and sleep at the same time every day and even eat your meals at the same time to avoid any change pre- and post-holidays. When your routine remains the same, it won't become harder to adjust to the period after the holidays end.
3. RSVP "NO" When Needed
Avoid RSVPing to all invitations you receive. While it can be good to meet and greet others during the holidays, overdoing and saying "YES" to all invitations can become overwhelming. So instead of enjoying those events, it all becomes an obligation.
4. Stick To A Budget
To prevent post-holiday blues, you need to start early. Even before the holidays begin, set a budget and stick to them. This way you can know where to spend and where to cut back. This will prevent you from worrying about finances when the season ends.
5. Know That It's Temporary
I know that I might feel that the depression won't go away, but it's important to remember (and tell yourself) that it's all temporary. Post-holiday blues might feel permanent, but remembering that all these feelings are temporary will help you work through the feelings with a light mind and heart.
Final Thoughts…
Even in this, you're not alone. Holidays can be complicated for your emotions but understanding where those emotions come from can help you take care of them. If your end-of-holiday blues are not getting any better or worsening your mood, then you can seek help from a professional counselor.
If you'd like to connect with a mental health professional, you can click the link below to connect with a BetterHelp counselor.
I hope this article will help you say bye-bye to post-holiday blues. If you need more information, you can write to us at info@calmsage.com or DM us on social media.
You can also share your favorite tips and ways to fight the end of the holiday blues with us in the comments below.
Take Care!