Happiness
Become a More Joyful Person in 30 Days With Our Happiness Challenge
Last Update on September 19, 2022 : Published on May 7, 2022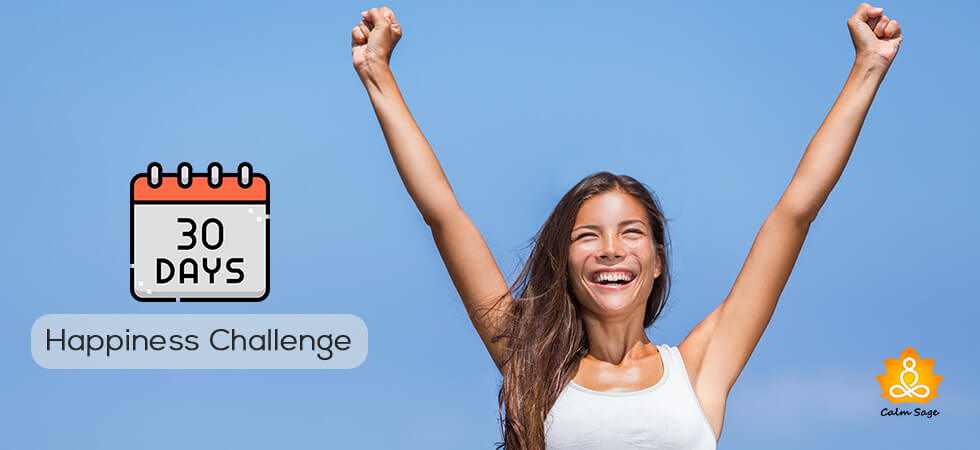 What is happiness to you? To me it's the feeling of peace and calm, it's being comfortable, it's having the time to sit in my garden and be with my plants, it's so many more things and there are so many different types of happiness. But, am I doing even one of these a day? Are you doing things that make you happy everyday?
No? That's why we have a 30-day happiness challenge just for you. We will give you 30 daily happiness challenges, all you have to do is complete these challenges, and trust me the results are going to make you want to do more of such happiness challenges.
We are all running the rat race, each day running a bit faster from the last just to achieve the goal. We often forget the ultimate goal (i.e. To be happy), what's the point of working so hard when you don't even have the time to be happy and celebrate your tiny wins?
Now, without wasting any more time, let's get to our happiness challenge!
Are you ready to be challenged?
30 Days Happiness Challenge
These daily happiness challenges are to make you feel good at the end of the day. If you like some of these happiness challenges you can continue doing them for 30 or more days. Remember, the main aim of the 30-day happiness challenge is to make you feel relaxed and happy. There is no pressure but you need to put some effort into regaining your happiness.
Let's begin with the challenge;
Day 1. Make Your Bed
Even though making your bed seems like a meaningless task, trust me it will make you happy. When your bed is made your room looks clean, which reduces anxiety and chaos. When you come home tired from work, a clean, pre-made bed is sure to make you happy.
Day 2. Meditate for 20 minutes
Once you have woken up from sleep, freshen up a bit and sit to meditate for at least 20 minutes. If you can't do it in the morning, do it any time of the day you feel comfortable but meditate for at least 20 minutes in a day.
Day 3. Eat healthy food throughout the day
Food can have a huge impact on our mood. Eating healthy food leaves you energized and active for a long time whereas junk food makes you feel lazy, irritable and bloated.
Day 4. Watch the sun today
The sun has its own beauty. It's an undeniable fact that watching the sun rise or set is soothing to the mind and the body. It's so peaceful! Give it a try!
Day 5. Explore a new place today
Our mind is curious and it craves exploring new things. Feed your mind's curiosity with the excitement of exploring a new place and it will feed you with happiness.
Day 6. Clean your living space today
The day I clean my house, I am the happiest. Everything is neat and tidy and in the correct order. To see that is such a joy. Give it a try!
Day 7. Listen to the nature today
Pick up a chair and sit on your balcony, porch or garden and just listen to the sound of nature. Sound of dry leaves, the chirping of birds, etc.
Day 8. Make yourself a fancy meal today
Making yourself feel special is the best thing you can do to yourself. Cook your favorite meal and make it fancy. Set up a table for yourself, place your favorite crockery and enjoy your meal.
Day 9. Make something from scratch today
You have been investing your time in doing a lot of things and today is the day you make something from scratch. Choose your field of expertise and decide what you want to make. I once tried to make bread from scratch and trust me, it made me so happy that I haven't stopped making bread since then.
Day 10. Exercise today
Exercising regularly has various mental and physical health benefits. Today you spend your day doing the type of exercise you always wanted to do but did not find the time to.
Day 11. Celebrate small wins today
Everyday we do little things that make a huge difference in our lives but we forget to acknowledge them. Today is the day we celebrate all our accomplishments (all the tiny ones especially)
Day 12. Upgrade something you've been meaning to, today.
There are a lot of things that we need to upgrade but we skip doing that only because of lack of time or energy. Today we do the upgrading, it can be anything from upgrading your computer to your socks collection.
Day 13. It's yoga day today
 Yoga has N number of benefits, spiritually, mentally, emotionally and physically. Try engaging in some gentle yoga practices today. Here are some yoga practices for you!
Day 14. Start a journal today
There are various benefits of journaling like it reduces stress, anxiety and depression. Helps you manage your life and keep a track of your emotions and feelings. Here's how you can start journaling for mental health
Day 15. Help someone today
There are various studies that claim, helping someone can boost your happiness. Therefore, in order to make yourself happy today, you need to help someone without wanting anything in return.
Day 16. Learn a new skill today
Although you can't learn anything in a day, you can begin learning a new skill today. You can choose anything that interests you, be it painting, driving, gardening, etc.
Day 17. Add something new to your knowledge today
Adding something to your knowledge is always a good idea. Read about something that always intrigued you. For example, you can read about life of pirates or spiritual healing, color psychology, etc.
Day 18. Read a book today
Again, if you're not a regular reader, finishing a book in a single day might be a little difficult but you can start reading a book today and try to finish it in the coming days.
Also read: 10 Self-Improvement Books You Can't Afford To Miss (For A Positive Life)
Day 19. Talk to a long-lost friend today
Talking to old friends can bring back lots of happy memories. Call someone you really miss and make this conversation count.
Day 20. Take a walk today
Walking is a great way to relax your mind and body. Try to take a walk in the morning in a park or garden or in nature, it's sure to boost your happiness level.
Day 21. Bake a cake today
Who doesn't love cakes? If you have never baked a cake on your own, do it now! To eat a warm freshly baked cake is like tasting happiness.
Day 22. Make a 'things I love' Poster today
Try to compile all the things that you love and enjoy doing in the form of a poster and stick it on your frequently viewed wall. It will remind you of things you love and motivate you to engage in them.
Day 23. Take a nice warm bubble bath today
After a long hectic day, a nice warm bath is all your stressed mind and body needs. Once you are done with all your work, just jump into that tub filled with warm water, light some candles and some music to accompany.
Day 24. Be Creative today
Let's treat the brain today, engage in some creative activity. It can be anything like painting a fall with your favorite character, building a tiny house, redecorating your room, etc. just be creative today.
Day 25. Treat yourself today
Go on a date with yourself today, you can choose your favorite restaurant and treat yourself with your favorite meal and don't forget to order dessert!
Day 26. Let's dance today
Your today's challenge is to dance like no one's watching. Put on your favorite set of songs, turn on the party light and dance like a free soul.
Day 27. Compliment important people in your life today
Today, let's take out some time to compliment and appreciate the important people in your life. Let them know you cherish, value and love them.
Day 28. Get yourself some chocolates/flowers today
It's good to pamper yourself once in a while, buy yourself some good smelling flowers or your favorite chocolates to celebrate your happiness.
Day 29. Listen to your school time songs today
Listening to the songs from our school and college days brings nostalgia accompanied by a lot of happiness from the past. Let's cherish and revisit those happy memories.
Day 30. Have a self-care day today
Since this is the last day of our happiness challenge, let's dedicate it to self-care. Get a massage or go for a relaxing therapy session or take a salon trip or stay at home in your pajamas and just relax.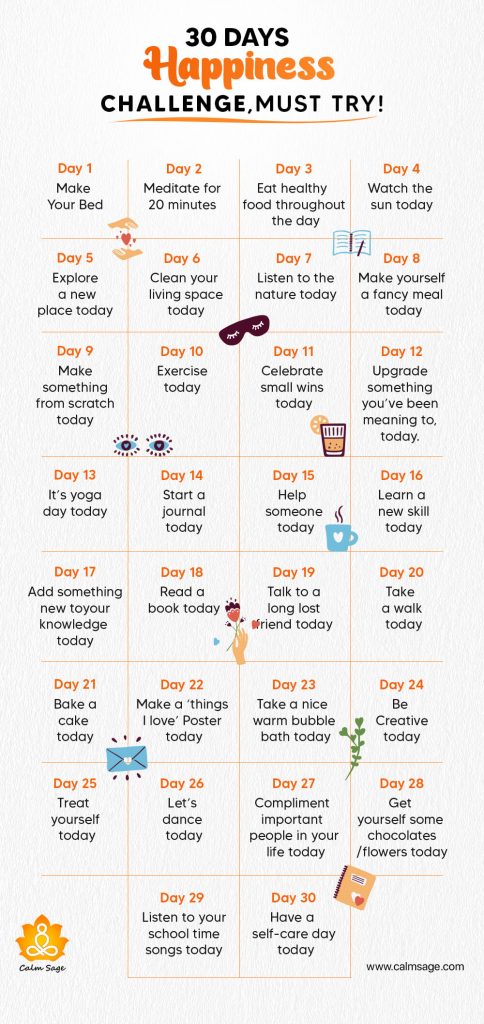 That's All Folks!
Here's your 30-day happiness challenge. Make sure you do not miss even a single day because all of these things are just some tiny things that can make a huge difference in your life, if you like some of these challenges you can continue doing them even after the challenge is over.
Our aim for this 30 day happiness challenge is to boost happiness through small things in life. Do share this blog with your friends and family and challenge them as well.
Do come back after 30 days and share your experience in the comment section below!
Thanks for reading.
Take care and stay happy!
Next Read: