Therapy
15+ Celebrities Who Have Taken Therapy and Shared Its Power Openly
Last Update on December 18, 2020 : Published on December 19, 2020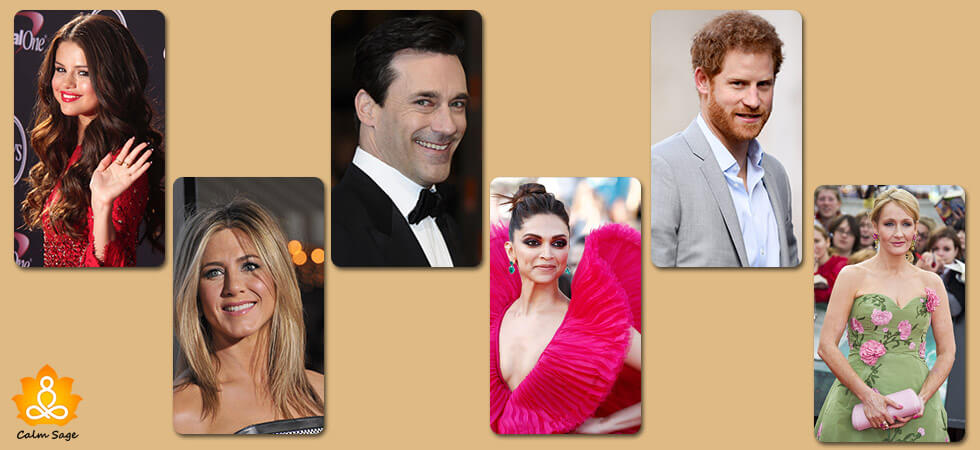 Practicing self-care is different for people. For some, it might be sipping on coffee while reading their favorite book after work hours while for others it might be all about taking care of their mental health.
To take care of mental health some people do move beyond their own zone and step into professional healing by seeking therapy. Some of us are really willing to take this step but are still waiting for that push, that motivation, that gets us going.
So, Calm Sage is here to give you the perfect dose of motivation as we are presenting you a list of celebrities who took therapy and have been vocal about its power in their life. Let them motivate you and help you take care of your mental health (like they did)!
Here is a list of 15+ celebrities who took therapy, opened up about it, and shared their healing journey with the world to inspire them.
15+ Celebrities Who Took Therapy
1. Jennifer Aniston
The famous, bold, and beautiful actress from the sitcom F.R.I.E.N.D.S has been through a depressive phase in her life. After her divorce with Brad Pitt and later with Justin Theroux she revealed that she has been taking therapy for years.
She also told the core benefits of therapy to Glamours. She said,
"Go to therapy. Clean up all of the shit. Clean up all of the toxins and the noise. Understand who you are. Educate yourself on the self… You can undo a lot of things. If you're not happy, you can become happy. Happiness is a choice. That's the thing I really feel."
View this post on Instagram
2. Jon Hamm
Jon Hamm shared how the loss of his father at an early age took a toll on his mental health. He struggled with chronic depression after this incident. But, instead of letting depression ride on his wellness, he took the healing route. He shared the roles of therapy and medication in coming out of the loop of depression.
He told The Guardian in September that,
"I did therapy and antidepressants for a brief period, which helped me. Which is what therapy does: it gives you another perspective when you are so lost in your own spiral, your own bull—. It helps."
3. Deepika Padukone
One of the first few actresses from India who opened up about her mental health issues (depression) and the therapy process is Deepika Padukone. She normalized the need for therapy in an interview with a journalist by breaking the myth that therapy is for the weak only.
She told in her exclusive interview with THE WEEK that,
"I think it's very important for people to see a therapist irrespective of whether they feel like they need it emotionally or not. That is my personal opinion. I feel it is very important to make it a part of our lifestyle. The same way people have started going to the gym regularly or have started taking care of their physical health, irrespective of whether they have put on weight or not. You go to a gym because it makes you feel good or feel fit. Similarly, it is important to visit a therapist regularly, irrespective of whether there's been a trigger or you've been feeling symptoms of depression."
View this post on Instagram
4. Prince Harry
Prince Harry has been through the grief phase for almost 20 years of his life. He went into the grief phase after the demise of her mother Princess Diana. He ended up visiting that event again and again. It was in 2017 when he first publicly discussed the impact of loss on his mental health on the podcast "Mad World" run by Bryony Gordon. Later that year he shared with Telegraph his therapy experience.
"I've done [therapy] a couple of times, more than a couple of times, but it's great. The experience that I have is that once you start talking about it, you suddenly realize that actually you're part of quite a big club, and everybody's gagging to talk about it."
5. Brooke Shields
Postpartum depression is real. Although it often goes unnoticed, model Brooke Shield took to the internet to share her diagnosis of postpartum depression after giving birth to her eldest daughter Rowan. She broke the myths around postpartum depression by telling the media that, "Once we admit that postpartum is a serious medical condition, then the treatment becomes more available and socially acceptable."
She also told the New York Times about how therapy helped her. She shared,
"I couldn't believe it when my doctor told me that I was suffering from postpartum depression and gave me a prescription for the antidepressant *****. I wasn't thrilled to be taking drugs. In fact, I prematurely stopped taking them and had a relapse that almost led me to drive my car into a wall with Rowan in the backseat. But the drugs, along with weekly therapy sessions, are what saved me – and my family."
View this post on Instagram
6. Gabrielle Union
Up until 2017 this young star never really opened up about her tough childhood days. But her memoir, "We're Going To Need More Wine," opened up about her life experiences.
Her therapy experience in her own words quoted:
"You need to find a way to talk about the darkest parts of your life. I've been in therapy for the last 25 years. Whatever path you need to take to heal, it's the best one."
View this post on Instagram
7. Demi Lovato
Demi Lovato fought the addiction beast and bipolar disorder with the help of therapy. She has been religious with her therapy sessions, meetings, and medications. No wonder she has seen such positive changes in her life. Demi Lovato in her interview with The Huffington Post debunked one of the most common myths around therapy that therapy is only for the ones who have some mental health conditions.
She told them,
"Therapy is something everyone should try. I think that whether you have a mental health condition or not it's good to talk to somebody― especially someone who is a licensed professional."
View this post on Instagram
8. JK Rowling
Success is that piece of cake in our lives that tempts us all. But sometimes the aftermath of getting that piece of cake (success) can turn life upside down. The same was experienced by the prolific "Harry Potter" author who from being not known to many suddenly became the focus of the public eye. To overcome this feeling of overwhelmedness she took the therapy route.
She told The Telegraph,
"And I had to [go to therapy] again when my life was changing so suddenly—and it really helped. I'm a big fan of it, it helped me a lot."
View this post on Instagram
9. Jessica Williams
The youngest "Daily Show" correspondent and the star from 2 Dope Queens is doing great in her life now. But, it wasn't a smooth start for her, early rejections in her career made her feel drowned in emotions. That's when she decided to take therapy. She has always been vocal about the power of therapy.
In 2019 she opened up about her therapy experience with OprahMag.com as well.
"I've found my voice just from hanging out with my good girlfriends, and therapy has really helped me. It allows me to process and regulate what is coming in because I can easily get overwhelmed by all the different elements coming at me."
View this post on Instagram
10. Lady Gaga
Lady Gaga has never been shy talking about her mental illness. She has admitted in her interview that she has been into a long battle with depression and anxiety. In another interview with Oprah, Gaga talked about how medication, support from loved ones and DBT has helped her through her journey of healing. She is one of the celebrities who took DBT and witnessed positive changes in her life.
"I think that DBT is a wonderful, wonderful way to deal with mental health issues."
11. Selena Gomez
From the early days of her mental health concerns, Selena has been vocal about her treatment process. She has empowered many to take therapy. She discussed in a podcast with Coach's Dream It Real how her childhood situations with all the fame, cameras, and the news took a toll on her mental health. Apart from that therapy also helped her build a better relationship with herself and get over her breakup with Justin.
"I am a believer of therapy … I wish I could have done a lot of things and experienced things maybe a little differently," she continued. "I go to therapy. It's just one of the most important things — to get to know yourself. Not saying everyone in the world has to do it! But I do think that it's helped me understand myself and my childhood a lot better."
View this post on Instagram
12. Brad Pitt
Breakups and divorce do hurt. Many famous celebrities have taken therapy to overcome this hard phase in their life and Brad Pitt has been on this list. After her divorce from Angelina Jolie, he sought help from professionals. Interestingly, while sharing his experience he threw light on one of the major aspects of therapy, that is, you have to find a perfect therapist. Plus, it is okay to switch the therapist!
Brad Pitt told GQ Style in May 2017,
"I just started therapy. I love it, I love it. I went through two therapists to get to the right one."
13. Channing Tatum
Since his childhood, Channing Tatum has been on drugs that helped her in the recovery process of his learning disabilities. But this in turn led to a depression phase in his life. He recently revealed about him being in therapy. He took over his Instagram and told me that he is taking therapy and encouraged others for the same.
" I was just in therapy yesterday – yeah I'm in therapy, whatever. Everybody should be in therapy."
14. Kerry Washington
Battling with depression and having an abusive relationship with exercise and food from her college days were the two major mental health concerns that made Kerry begin the journey of therapy. In her interview with Essence magazine, she vividly discussed the power of therapy.
"Learning how to love myself and my body is a lifelong process. But I definitely don't struggle the way I used to. Therapy helped me realize that maybe it's okay for me to communicate my feelings. Instead of literally stuffing them down with food, maybe it's okay for me to express myself."
She has also worked actively to remove the stigmatization around mental health. She even told Glamour magazine, "I think it's really important to take the stigma away from mental health."
View this post on Instagram
15. Anushka Sharma
Anushka Sharma is an Indian actress who has opened up about her mental health issues (anxiety) and the genetic factors linked with it. She is now a mental health advocate and is supporting people to get out of their shell and accept themselves as they are. She recently took twitter to normalize and promote the mantra that "mental health is as important as physical health." She tweeted,
"I have anxiety. And I'm treating my anxiety. I'm on medication for my anxiety. Why am I saying this? Because it's a completely normal thing. It's A biological problem. In my family there have been cases of depression. More and more people should talk openly about it. There is nothing shameful about it or something to hide. If you had constant stomach pain, wouldn't you go to the doctor? It's that simple. I want to make this my mission, to take any shame out of this, to educate people about this."
16. Katty Perry
Katty Perry took a revolutionary step to promote therapy. She streamed her live session with the therapist on her YouTube. She opened up about her personal struggles during childhood days and her relationships. She also shared views on therapy and popularized the idea to seek help from professionals.
"I've been going to therapy for about five years and I think it has really helped my mental health incredibly," she said. "And it's a really wonderful thing to be able to talk to someone who doesn't judge you because I don't think a lot of people have that. I encourage it."
View this post on Instagram
Different faces; different stories, each inspiring with their journey. Now it is time for you to get inspired and seek help. Remember therapy is meant to help you.
Who inspired you the most from this of celebs who took therapy? Share it with us in the comments section.
"Stop waiting for Sunday and start making the most of the moment you are in now."

~Anjali S.
A big warm hug to you…
Meta Description: