Anger
11 Effective Techniques to Help Manage Anxiety-Induced Anger
Last Update on April 19, 2023 : Published on April 19, 2023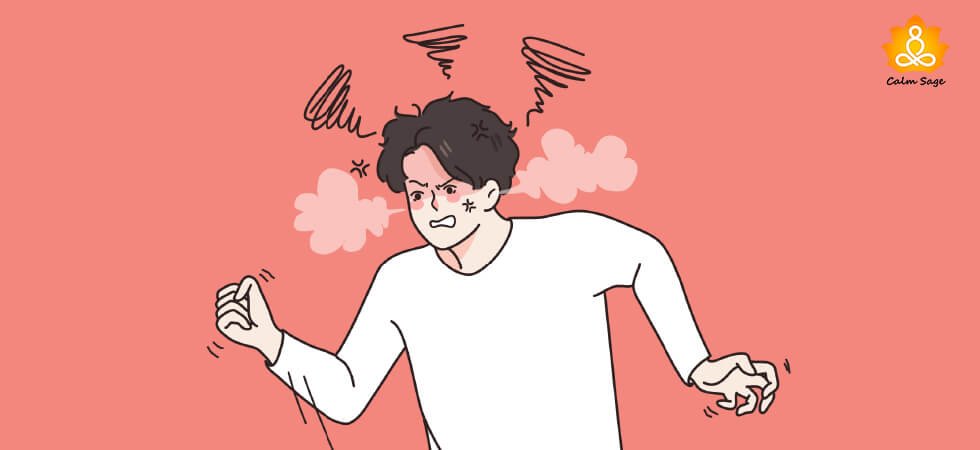 Human emotions are one of the most interesting of them all. The myriad of emotions we experience almost daily is astonishing and likely to be underestimated by many. And yet, we forget that each emotion we experience is somehow connected with other emotions too. One of the most common connections of them all is between anxiety and anger.
Anxiety is the response to worry and fear that we give in front of a perceived threat or danger. Anger, on the other hand, is a similar response but instead of danger, the response is against annoyance or frustration.
Anxiety and anger play a major role in our ability to understand, comprehend, and respond to a threat – superficial or not. And yet, a few questions remain; Can anxiety cause anger? And if yes, then How to control anxiety-induced anger?
Keep reading to explore the surprising (or not so surprising) link between anxiety and anger and some effective tips to deal with anxiety-induced anger and rage.
The Link Between Anxiety And Anger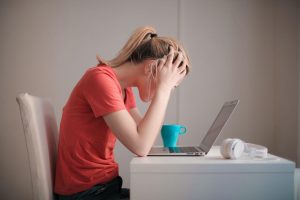 When we look at these two emotions – anger and anxiety – we can see the faint connection between them. Both of these emotions are reactions to intense situations and can cause physical reactions by activating certain hormones in your brain and blood. How? Let's take a look;
1.  We all get angry. It's a natural response, after all. And we all get anxious too. There are times when anxiety might even be rational and anger, an appropriate reaction. During some highly stressful situations, where tensions run high and wild, our emotions can be amplified and anxiety and anger might even look normal.
2.  Anger and anxiety, both, cause similar physiological reactions as well. When you're angry or anxious, your body releases chemicals such as cortisol and adrenaline to help you either fight or flee. In the middle of anxiety and anger issues, you may experience;
 Rapid heart rate
Chest pain or tightness
Muscle tension
A rush of heat
Stomach issues
Tension headaches, or migraines
3.  Another common link between anger and anxiety issues is that they both cause a sense of loss of control. When you face a trigger, you feel a loss of control and become anxious. You feel threatened and that anxiety you feel can turn into anger, quite quickly. Many psychologists believe that anger is just a hormonal-charged version of anxiety.
4.  Anger and anxiety can also have almost similar effects on your health. It is understood that high anger issues can cause anxiety disorder or depression. In some studies, it is found that high levels of anger and anxiety can cause or worsen asthma, headaches, heart issues, fatigue, blood pressure, sleep disorders, and more.
How to Deal with Anger Anxiety?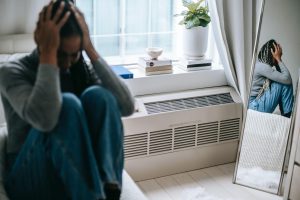 If you can relate to the above-listed effects of anxiety-induced anger, then here are some effective techniques to help you manage your anger anxiety;
1. Stay quiet or walk out.
It might not be the healthiest way to cope with anger anxiety but it can help you clear your head, think rationally, and come back to the situation at hand for a resolution. This can also help you avoid snapping at others.
2. Take a shower.
Sometimes when you're overwhelmed, it can turn into anxiety. When that happens, it means that your emotions are running high and it won't take much time for your anxiety to turn into anger. In this case, take a shower to cool down (literally). A mindful bath or shower can help you relax too.
3. Pause and take note of your feelings.
When you fear that your anxiety is turning into anger, pause, and take note of what you're feeling. You can remind yourself that you're angry because you can't understand your feelings. Taking a pause here can help you dial your emotions down a bit and see what emotion you need to work on.
4.  Take a step back and sit alone for a while.
Anxiety can often turn into anger or a similar emotion when you don't allow yourself to accept your anxious feelings. When you fear this, take a step back and go sit with yourself alone.
Let your loved ones know that it's not their fault but you need some time to yourself to come to terms with your anxiety. This will prevent any unnecessary rage or angry outbursts.
5.  Take deep breaths.
When you feel your anger and anxiety getting out of hand, take deep breaths. Just a simple "breathe in, breathe out" can help you relax. You can try other variations of deep breathing techniques such as 4-7-8 breathing, box breathing, or belly breathing.
6.  Acknowledge your feelings.
If you can't walk out of the situation or work with your heightened emotions, then at least try to acknowledge your feelings. Acknowledge that it is anxiety that you're experiencing and not anger and then try to identify what caused your anxiety. Once you know this, you can take the right steps to control your anxiety before it turns into anger.
7.  Listen to music or go on a run.
When nothing seems to be working, plug in your headphones and listen to music. You can choose your favorite playlist or pick some calming tunes to help you relax. If you want to work through the cortisol and adrenaline, then you can also consider going on a run. Running can help you express your emotions and release the adrenaline that might be worsening your emotions.
8.  Write in a journal.
You can use a digital journal or a hardcover journal to record your emotions. Whenever your anxiety takes a hike, write about it in your journal. The same goes for anger. It's one of the easiest and healthiest ways to express emotions. When you write your unfiltered emotions and thoughts, you get an insight into what might have triggered them and take the steps required to remove the trigger.
9.  Hang out with your pet.
This is another effective way to manage anger anxiety. Cuddling with pets is said to release oxytocin in the brain, one of the happy hormones. Oxytocin can help you lower cortisol levels, increasing mood and relaxation.
10.  Do something productive.
When you feel anxiety-induced anger taking over your mind and body, redirect the emotions to something more productive. For example, you can expend energy cleaning the house. This activity can help you focus on something other than what's making you feel angry or anxious.
11.  Reach out for help.
When your anger anxiety refuses to calm, then you can consider reaching out to a professional for support. If not a professional, then you can seek help from a loved one who can help you break down your thoughts and emotions until you can see what is causing your emotions to flare up like this. A professional, on the other hand, can help you reframe your thoughts and provide you with effective coping strategies to deal with anxiety-induced rage.
Want to connect with a professional today? Click the link below!
Anger and anxiety are two emotions that are closely connected. While both these responses might be normal in dangerous situations, they can also provoke each other. I hope this article helped you understand how anger and anxiety issues are related to each other and how you can deal with anxiety-induced anger.
For more, feel free to write to us at info@calmsage.com or leave us a message on our social media. You can also add your tips to deal with anger anxiety in the comments below.
Take Care!