Mental Health
Forest Bathing: New Meditation For You to Try and Regain Your Calm
Last Update on November 3, 2023 : Published on July 9, 2020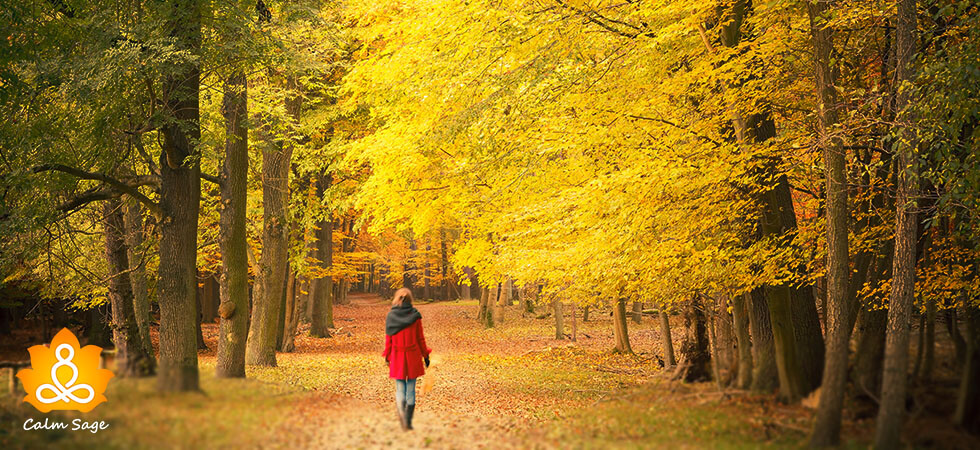 Often we think of meditation as a task to sit down in a comfortable position at a peaceful place, focus on our breath and that's it! But does it hold true?
Well, if you ask me… it's a 50-50 condition! It depends on the type of meditation that you are opting for. And with different meditation styles being introduced frequently there is a pool of meditation styles for you to choose from. Where some focus on your breath while others bring your senses into play.
So, today I am introducing you with a new meditation called Forest Bathing that is a natural take on traditional meditation!
(If you don't like sitting at a place and mediate this is the perfect meditation for you).
What is Forest Bathing?
Before I tell you what forest bathing is let us first understand what it is not!
Forest bathing does not mean you have to take a bath in the forest.
Forest bathing does not mean hiking on mountain tracks.
Now, let us see what forest bathing really is!
Mother nature has always offered us the best and hasn't disappointed us in finding our calm as well. Forest bathing is an exception to traditional meditation practices. Rather than asking you to sit comfortably and focus on your breath, it calls forth active participation of all your senses.
Forest bathing is a Japanese practice, also known as Shinrin-Yoku. In the current era where we are technology-driven and nature deficit, it is a great way to disconnect with the world of technology and connect with nature. It involves walking in the green, acknowledging the atmosphere through all your senses, and enjoying its benefits.
Even if you don't have access to forests or woods a little planter in the corner of your room will also do! As long as it's something green and linked with mother nature!
Who can Practice Forest Breathing?
Anyone and everyone who wants to lead a healthier and happier life can practice forest bathing. It might come as a surprise but we humans are hardwired to connect with nature, it is our biological need to be connected with the natural world. So, if you want to enjoy the positive impact of nature on your health just practice forest bathing.
How to Practice Forest Bathing?
To cherish the healing power of the forest and practice forest bathing here are the guidelines,
1. Hunt a Spot!
Identify woods near you in which you can walk in. If there is no forest area near you, you may start with a park or garden area. As long as it is green and shouts nature, it will do!
2. Appreciate (Sshh)
If you are lucky enough to find a no-noise zone, appreciate it and let silence do its restorative function. If there are nature's sounds (running water, birdsong, others), tune into them.
3. Let Body Take the Lead
Let your body be your guide, let it take you anywhere (everywhere). All you have to do is… go with the flow!
4. Sync Your Senses
Now it is time to sync your senses with nature. Listen to the sounds of the forest, count the different sounds in your head. Look for things you can see and not hear, alternatively listen to the elements of nature that you can't see (but can hear). Touch different elements of nature and acknowledge its texture, temperature, and other elements.
5. Go Slow…
Don't hurry up! Go slow while walking into greens, syncing your senses, and appreciating the silence. Good things take time! And for you to enjoy the benefits of forest bathing you have to go slow and steady.
The golden rule of Forest Bathing: Go in silence and go slow!
6. Bye-Bye Excuses:
If you can't go out in woods or there is no green area around you may sit in your comfortable place, use essential tree oils, and visualize the forest. It will provide you with the benefits of forest bathing!
Benefits of Forest Breathing
When you soak yourself into nature and practice forest breathing it offers various benefits (backed with science). These benefits are likely to boost an individual's mental and physical health!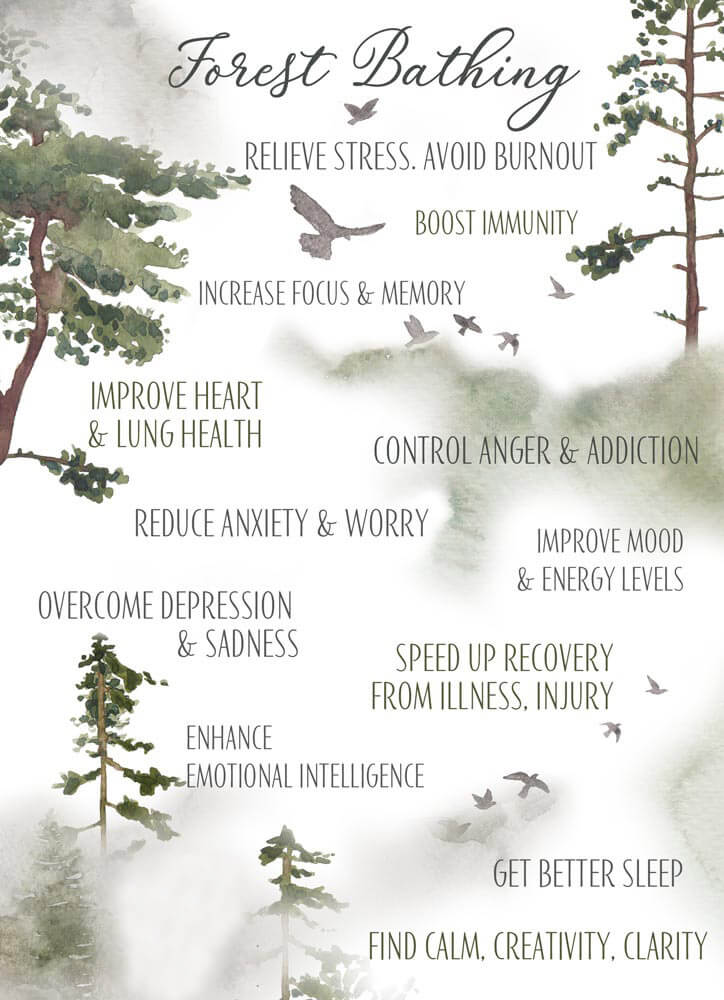 With this pool of benefit that Forest Bathing has to offer it is "Time to unwind and connect with nature."
Video on Forest Bathing to Understand it Better:
1. What is Japanese "forest bathing" and how can it improve your health
2. Shinrin Yoku: The Art of Forest Bathing
3. Forest Bathing | Shinrin-Yoku | Healing in Nature | Short Documentary
Books that will guide you with Forest Bathing:
1. Your Guide to Forest Bathing: Experience the Healing Power of Nature by M. Amos Clifford
Buy here
2. Braiding Sweetgrass: Indigenous Wisdom, Scientific Knowledge and the Teachings of Plants by Robin Wall Kimmerer
Buy here
3. The Nature Fix by Florence Williams
Buy here
4. The Hidden Life of Trees: What They Feel, How They Communicate―Discoveries from a Secret World by Peter Wohlleben
Buy here
Now it is time for you to dip in the forest and enjoy its meditational impact. Do share your meditational experience with us.
Happy forest bathing to you…