Therapy
What is Internal Family Systems (IFS) Therapy
Last Update on August 28, 2023 : Published on August 30, 2023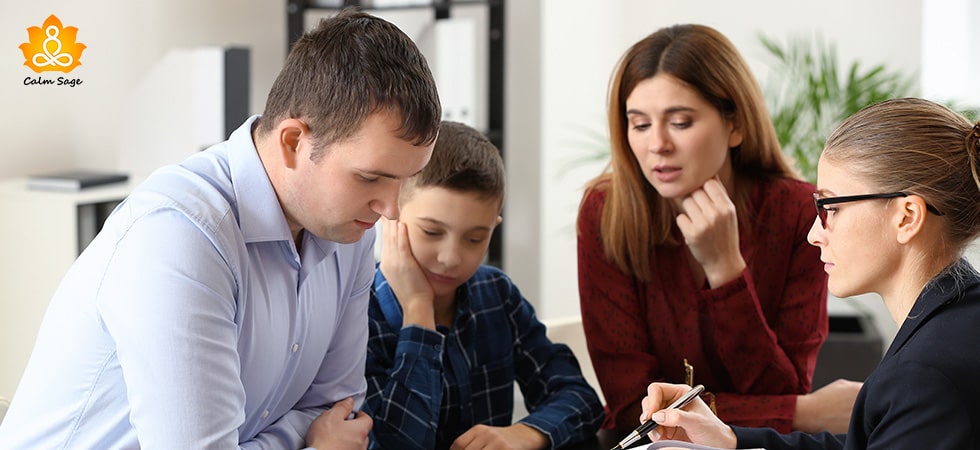 The content in this article is thoroughly researched and written based on the extensive testing and reviewing by a reviews team and does not reflect the viewpoints of the Calm Sage editorial team. Calm Sage could receive a commission from product purchased mentioned or featured in this article.
A family is a group of people with multiple personalities, sometimes, we don't meet their expectations which results in clashes. Well, there's no doubt every family goes through their own ups and downs but sometimes, we need professional help to get in sync with a family wherein different personalities, mindsets, and perspectives exist.
Similarly, our mind consists of different sub-personalities and families which consist of traumas or wounded parts such as shame, resentment, anger, and more. These sub-personalities often cause conflicts within. Herein, IFS therapy comes in and helps in curing the wounded parts and restoring the balance within.
In this blog, we are going to take a deep look at the IFS therapy which is based on different sub-personalities and drawn from narrative, Bowenian, strategic, and structural types of therapy. In this blog, let us take a deep look at internal family systems (IFS) therapy. So, let's get started!
What is Internal Family Systems (IFS) Therapy?
Internal family systems (IFS) therapy is a type of psychotherapy specially developed to identify and address multiple families or sub-personalities within everyone's mental system that cause conflict. IFS therapy helps restore balance and heal the wounded parts.
This effective therapy was developed by Richard Schwartz. He mentioned that during family therapy sessions he often observed some patterns that described the inner lives of people.
In the description of this therapy, he described our mind as a family and when different parts of family members interact with each other, there's a possibility of clashes or wounds which can be identified with the help of "Self" in the IFS therapy system.
5 Assumptions and Principles of IFS Therapy
IFS therapy was developed based on five assumptions:
Our mind is considered to be subdivided into "sub-personalities" or "parts."
The sub-personalities involve the Self and the self can help identify the sub-personalities.
 The sub-personalities are not considered to be "negative" or "bad" but they help in identifying the impact on the whole system.
Sub-personalities take different forms as we grow and the emotions associated with them keep on getting complex with time. Herein, the therapist assumed that we can reorganize these when parts or interactions change.
Environment (external) and self (internal) are connected and when something affects each other, both of them tend to be changed.
Goals of IFS Therapy
There are four basic goals of IFS therapy outlined by Schwartz:
The Self in IFS Therapy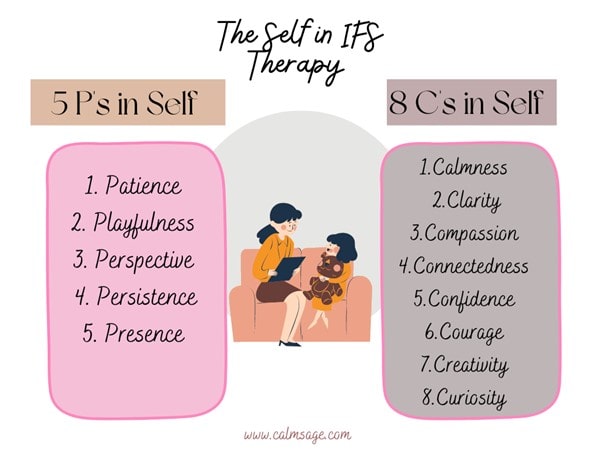 According to the IFS therapy system, the self reflects your true self. On the basis of self, the therapist works on healing, improving trust, and more. The self in IFS therapy includes the five P's and eight C's. The P's in IFS therapy make up the self meanwhile, the eight C's helps in the coordination. Following are the five P's of the IFS therapy:
Patience
Playfulness
Perspective
Persistence
Presence
Following are the eight C's of the IFS therapy:
Calmness
Clarity
Compassion
Connectedness
Confidence
Courage
Creativity
Curiosity
Techniques Used in IFS Therapy
There are three types of techniques used in IFS therapy, firefighters, exiles, and managers. Let's take a quick look at the three types of techniques used in IFS therapy:
1. Firefighters
The firefighter part reflects the activated protectors whenever a trigger is seen. For example, suppose your family member is reminded of a memory that triggers the pain out of them. The "fire" reflects the triggers or the pain.
2. Managers
The manager strategy helps in teaching "managing situations" to the clients with the help of intense planning so that they can avoid fire or deep pain.
3. Exile
The role of the manager and firefighter is to work to keep the exile from flooding and emerging with the memories of trauma and pain.
How Does IFS Therapy Work?
Herein, an IFS therapist uses a six-step process that helps in finding the three types and releasing their burdens.
Step 1: Find
The first step is to draw your attention more internally so that you can pay attention to the sensations. Herein, an IFS therapist is likely to ask you to meditate so that they can identify the part they need to work with.
For example, suppose you are being stressed for days, with the help of meditation, your therapist will ask you to understand the connection between mind and body and how emotions impact our body and mind.
Step 2: Focus
In the second step, your therapist is likely to ask you to turn your focus to understanding your emotions more deeply.
Step 3: Flesh Out
After finding the pain and focusing on the pain, the third step involves fleshing it out. Fleshing out means finding out what else we can learn from it, what kind of emotions are related to our pain, or why we often relate ourselves to it.
Step 4: Feel Toward
During step four, your therapist is likely to ask you some questions related to your feelings and emotions. Herein, your therapist will also provide a brief description of the minor and major impacts.
Step 5: Befriend
After this, you might have to go through a challenging step. In step five, you will get to know more about your emotions and how they shape your life. It also includes acceptance, but it doesn't mean that you'll have to stay there. Move on to the last step to know what happens when we understand our triggers.
Step 6: Fear
The last process of the IFS therapy is where you're going to discover the fears associated with your pain. Your therapist is likely to focus on the presence of fears in your life.
Uses of IFS Therapy
Research shows that IFS therapy can effectively help with relationship issues, grief, resilience counseling, self-esteem, and more. Apart from this, it can also be used for treating issues such as:
Benefits of IFS Therapy
Below listed are some of the benefits of IFS therapy:
Effectiveness of IFS Therapy
According to studies and evidence available over the internet, I could find a few studies that prove:
What to Expect during IFS Sessions and How to Find an IFS Therapist?
During an IFS session, your therapist will offer you basic information related to the therapy. Additionally, they will also ask about your background and past so that they can understand you better and you can enjoy better results when you get out of IFS therapy.
During all of this, the most important step is to maintain a therapeutic relationship for the success of therapy. After this, your therapist is likely to identify the self and connection with the components. According to my viewpoints, I think IFS therapy is really helpful in recovering memories from repressed trauma.
If you're interested in IFS therapy, here's how you can find an IFS-trained therapist:
To connect with a mental health professional through online platforms, refer to:
Key Takeaway: Can We Practice IFS Therapy on Our Own?
The internal family therapy (IFS) system is designed to identify the multiple part of our brain that protects us from conflicts, wounds, and trauma. IFS therapy is more based on the components of self-compassion which helps in encouraging the suppressed parts of our personalities such as emotions, beliefs, and memories. IFS therapy is really effective in healing trauma, accessing self-energy, and forming deep connections with the "self."
A lot of our readers asked whether they can perform IFS therapy on their own or not. Well, I have mentioned the steps in the blogs and yes, you can try it. But in cases of intense or severe emotions, we will always suggest you connect with an IFS-trained therapist.
IFS therapy might look simply but it can be complex sometimes as well because it's quite easy to identify suppressed emotions but it can be challenging to overcome them or heal them. an IFS trained therapist can help you regain control and find harmony and balance within.
Frequently Asked Questions
1. What are parts of IFS Therapy?
The IFS therapy approaches the mind as a group of subpersonalities that are led by the Self, the part that is considered to be the hold of your essence, consciousness, and beliefs.
2. How does IFS understand the Self?
According to the principles of IFS therapy, everyone has a self which can be observed as our true self or true personality. IFS therapy states that no matter how challenging a situation can be, our self will always be the same. Self is considered to be constant.
3. What is IFS for?
IFS is really helpful in breaking cycles related to the past. It helps in healing trauma, family abuse, or the wounded past by understanding the triggers and teaching preventive and healthy ways to relax.
4. Is IFS evidence-based therapy?
Research shows that IFS was listed as an evidenced-based therapy option in 2015 but later it got suspended. This therapy is no longer considered to be the mainstream therapy option by psychotherapists.
I hope this blog helps you understand everything you want to know about internal family systems (IFS) therapy. Comment down your views on the same.
For more such content, connect with us through all social media platforms.
Thanks for reading!