Happiness
The Top 10 Traits of Truly Happy People | Are You One of Them?
Last Update on April 20, 2023 : Published on April 20, 2023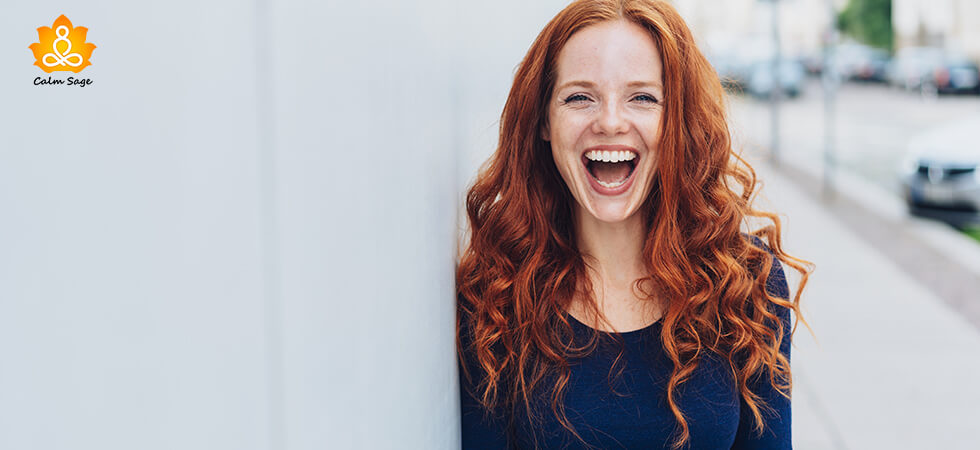 "I love happy people; they're like smile magnets." – Richelle E. Goodrich
Finding happiness these days is covered and not easy to come by. We work every day relentlessly to move forward in life and achieve that lasting happiness but many times we end up pursuing the wrong things and we're left feeling emptier and listless than we began. Even after witnessing it all, we see other people living in bliss; feeling happy.
So, what's the secret of happiness? Why are so many people truly happy? What traits do they have that make them "happy people"?
Let's start with the basic quality of happy people; they always look at the optimistic side of life and always find meaning in everything that's near them. Gratitude is another name for it. But, that can't be all, can it?
Of course, each of us has a different definition of happiness and joy and equally different ways of pursuing it. If we define happiness, it can go something like this, "the state of being happy." It's as simple as that. In psychological terms, happiness can be defined as an emotion that brings satisfaction and bliss, which can contribute to our overall well-being.
Even then, there are certain traits of happy people that we fail to notice and we can learn some meaningful lessons from them. Let's take a look at the signs of a happy person;
10 Personality Traits of Happy People
So, what are the characteristics of a happy person? Take a look!
1. They never shy away from humor
From making jokes to being able to laugh at themselves silly, a happy person never shies away from humor. Whatever life throws their way, they can find humor amidst all, relax, and enjoy without taking their life too seriously. So, the first secret to happiness is to have fun! It's all about "live, love, and laugh" with us.
2. It's the little things that matter to them
Some people don't need to look for too many things to be happy. It's the little things that matter to truly happy people. They don't care much about materialistic things or gestures that are too grand, and a simple compliment or a smile can make them feel appreciated in life. And that's what they strive to be for others too. Want to be a happy person? Just celebrate small wins in your life!
3. They always see the good in others
Another quality of a happy person is that they always see the good in others and you'll never find them hurting anyone intentionally. They have warm personalities and are too kind. They always see the best version of others and always want others to look at the good within themselves. Accept others as they are and always strive to create a meaningful relationship with everyone you meet.
4. They recognize toxicity and stay away from it
The behavior of a happy person that attracts me the most is that they are capable of recognizing toxic people and toxicity around them and know to stay away from them.
They are quick to notice the red flags in others and know who to keep around and who to let go of to maintain healthy mental peace. Try to surround yourself with positive people and you'll unlock the true secret of being a happy person.
5. Comparison is their biggest foe
In an age and day when we're all competing with each other, it's inevitable that we draw comparisons. Because of this behavior, it's hard to keep our mental peace and let go of things that might be holding us back from being happy.
A Truly happy person is aware that comparing themselves with others is a roadblock to their happiness and at the heart of it all, it's about living true to yourself and being happy with who you are.
6. They live in the present moment
Another characteristic of a happy person is that they live in the present moment and understand that life is too short to keep regrets. They live their life with mindful ease and never dwell too much on the past or worry too much about the future.
If you want this mindful ease in your life, spend more time with your loved ones, take breaks, and just do what you love without thinking too much about the negative experiences you've previously had.
7. They are always on the side of optimism
Happy people are always optimistic. To them, it's the "glass half-full" perspective that catches their eye and drives their life. You'll always find a happy person looking at the bright side of things even if their current situation is against them. You can also live your life as a happy person if you change your mindset and become optimistic.
8. They know their value
Another personality trait of happy people is that they know their values. And I'm talking about self-esteem here. Self-esteem is something more than positive self-talk or positive thinking. It is about your relationship with the world, with yourself, and with how you view yourself. Even if a happy person has had a bad day, they won't let it diminish their value as an individual, regardless of others' words.
9. Gratitude is always on their tongues
There's a simple formula that all happy people follow; Gratitude + Kindness = Happiness. For a truly happy person, it's the regular gratitude that keeps them always smiling and joyous. They appreciate what life has to offer and return it with kindness, tenfold.
They acknowledge each moment and experience that life has to offer. So, simple words of gratitude every day can make you feel grateful and truly happy, get it? Well then, try it!
10. They find happiness within themselves
One of the simplest traits of happy people that I find the most intriguing is that they are always quick to find happiness within themselves. We all have our dreams and aspirations but what keeps happy people together is that they never run out of their sense of identity and worth.
They know that there are things that they can't control and never allow the things they can't control, to control them.
"There'll be happiness after you
But there was happiness because of you
Both of these things can be true
There is happiness…"
There are always ups and downs in life but when you become a happy person, you don't let those ups and downs control how you live as you are. Once you know that happiness is always within your reach, you too can become a happy person.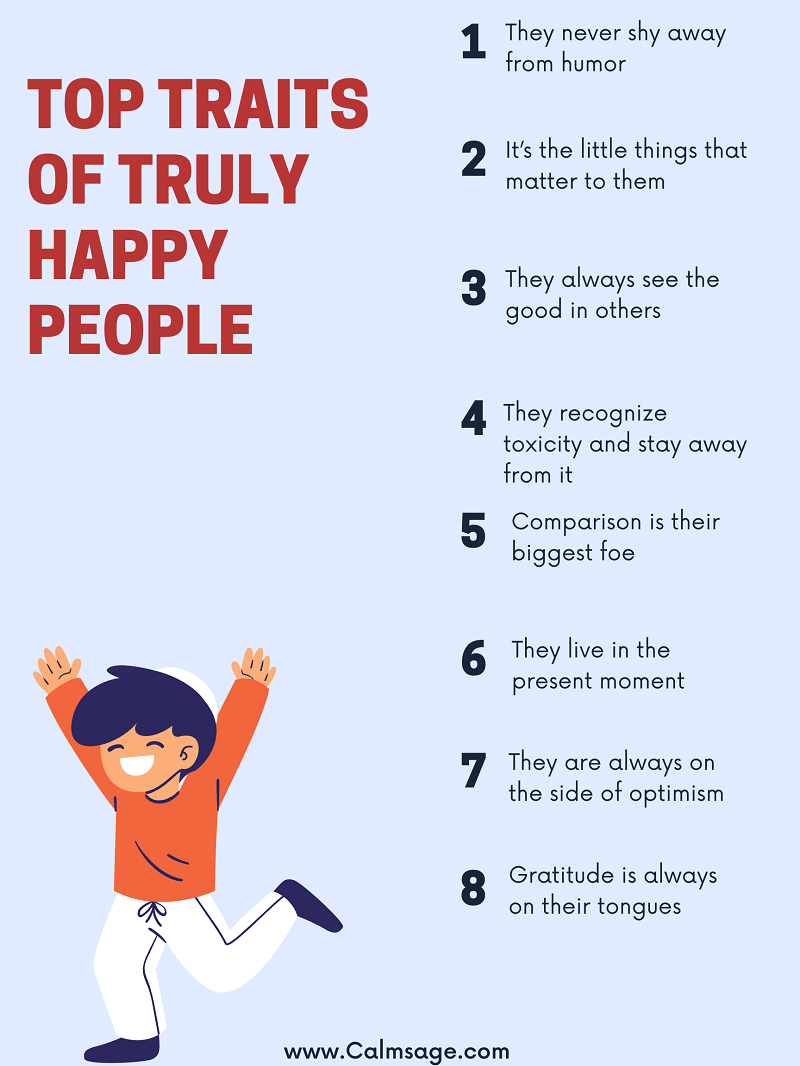 If you want to see how happy you are or if you want to be a more joyful person, take our 30-Day Happiness Challenge TODAY!
I hope you found this article interesting to read. Do let me know if you relate to the above signs of a happy person in the comments below. You can also share your thoughts and views with us by writing to us at info@calmsage.com.
Always Be Happy!