Motivation
Top 21+Uplifting, Inspiring and Feel-Good Latest Movies on Amazon Prime (2023)
Last Update on April 25, 2023 : Published on April 22, 2020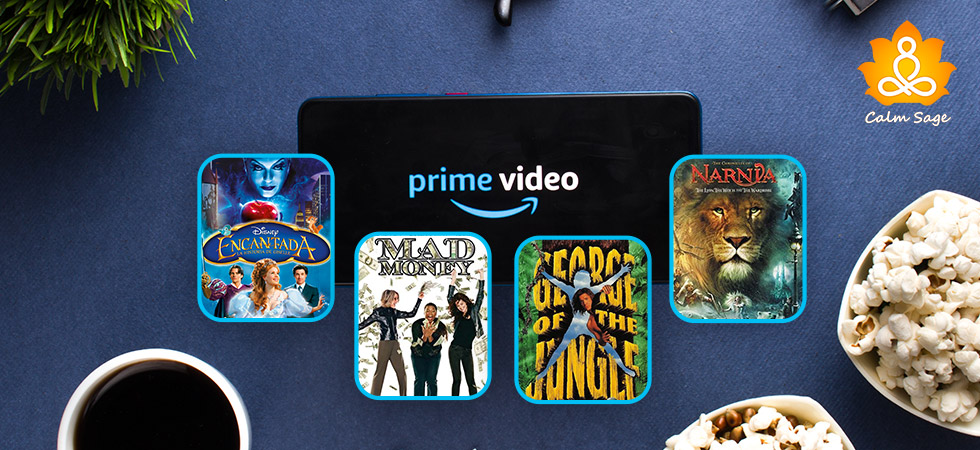 Who doesn't love to watch a flick featuring their favorite stars? Movies, indeed are a way to have a gala time with friends and family. But, sometimes movies go much beyond enjoyment. Some movies teach you life lessons, motivate you so that you get a reason to charge back up.
Suggested: Best 51 Motivational Songs to Inspire you in Life
There are movies that you can watch when you are exhausted, when you are low on your spirits and when your mind and heart seems to have shut off to situations. So, here are some uplifting, inspirational, and feel-good movies on Amazon prime which will give you a new perspective to deal with things. We are sure that after watching these movies, you'll be filled with a renewed spirit to tackle whatever it is that comes to you.
Best Uplifting, Motivational, and Feel Good Movies on Amazon Prime:
1. Sylvie's Love (2020)
Directed by: Eugene Ashe
IMDb Rating:6.8/10
Star Cast: Tessa Thompson, Nnamdi Asomugha, Eva Longoria
Watch Trailer:
Set in the 1950s, Sylvia's Love is an uplifting story that follows a young woman, Sylvie Parker, who meets and falls in love with an aspiring saxophonist, Robert. But when Sylvie's engagement threatens to unravel her new love and life, can she survive the time and their budding careers? If you're stuck on a path in life, then watching Sylvie's Love will make you feel less alone in your struggles.
Also Read: Best Inspirational Movies on Netflix to Motivate You
2. Lady Bird (2017)
Directed by – Greta Gerwig
IMDb – 7.4/10
Star Cast: Saoirse Ronan, Laurie Metcalf, Tracy Letts
Awards: Golden Globe Award for Best Motion Picture (2018), New York Film Critics Circle Award for Best Film (2017)
Watch Trailer:
Lady Bird truly celebrates the message of womanhood and individuality which is why it is placed amongst the most positive movies on Amazon Prime. The movie shows the struggle of a mother whose husband has lost his job and how she works tirelessly to make ends meet.
It even shows her turbulent yet loving relationship with her teenage daughter. In the end, Lady Bird is able to fulfill her dreams of getting accepted in a university of her dreams and she eventually thanks her mother for everything she has done for her.
3. Happy Gilmore (1996)
Directed by – Dennis Dugan
IMDb – 7/10
Star Cast: Adam Sandler, Christopher Mcdonald, Julie Bowen
Watch Trailer: 
Coming from The Comedic Legend Adam Sandler, Happy Gilmore can be nothing but a fun and feel-good movie, right? Well, Happy, a former hockey player, uses his talent and joins a golf tournament to help his grandmother pay her mortgage. If you're a fan of Adam Sandler and his effortless comedy, the Happy Gilmore will make you happy, indeed.
4. My Big Fat Greek Wedding (2002)
Directed by – Joel Zwick
IMDb – 6.6/10
Star Cast: Nia Vardalos, John Corbett, Lainie Kazan
Watch Trailer:
One of my favorite feel-good and comfort movies, My Big Fat Greek Wedding, follows Toula, a young woman from a traditional Greek family, and her love, Ian, as they convince their respective families to allow their union. This movie has everything – from family conflicts, familial love, fun wedding planning, and everything in between. It's also a good movie to watch with your family.
Also Read: How Important Is Motivation And What Is its Role In Your Life?
5. Paddington (2014)
Directed by: Paul King
IMDb Rating:7.3/10
Star Cast: Hugh Bonneville, Sally Hawkins, Julie Walters
Watch Trailer:
Paddington Bear is a famous personality in itself and this movie from 2014 follows Paddington as he moves from the Jungles of Peru to London city. Watch how this adorable and lovable bear wins the hearts of everyone he meets. This feel-good movie should be on everyone's watch list
6. The Theory of Everything (2014)
Directed by: James Marsh
IMDb Rating: 7.7/10
Star Cast: Eddie Redmayne, Tom Prior, Felicity Jones
Award: Academy Award For Best Actor (2015), Golden Globe Award For Best Original Score (2015)
Watch Trailer:
Looking for Amazon Prime movies that help you feel good? Take inspiration from Stephen hawking, the greatest physicist, cosmologist and author of our times. Despite being subjected to fatal illness at 21, he excelled both in his professional and family life. He married his college sweetheart Jane Wilde and even went on to become a lecturer at the University of Cambridge.
But, the movie is not just about the highs in the life of Stephen Hawking; they even enumerate instances when his relationship with his wife was tested because of his condition and how he overcame such difficulties and went on to author his book "A brief history of time".
7. We Are The Millers (2013)
Directed by – Rawson Marshall Thurber
IMDb – 7.0/10
Watch Trailer: 

This lighthearted comedy apart from being an out and out entertainer teaches you that no good deed that you do goes unpunished. A small time pot dealer creates a fake family but eventually forges a family like bond and learns to understand the value of people.
8. Lemony Snicket's A Series Of Unfortunate Events (2004)
Directed by: Brad Silberling
IMDb Rating:6.8/10
Star Cast: Jim Carrey, Liam Aiken, Emily Browning
Watch Trailer:
You can never go wrong with Jim Carrey in the main lead. Bringing "A Series of Unfortunate Events" to life, watch Jim Carrey and the ensemble as they partake in adventures, mystery, and everything else. This is one of my earliest favorites of all time and should be watched at least once in your life.
Also Read: Intrinsic Motivation: The Power Within
9. Instant Family (2018)
Directed by: Sean Anders
IMDb Rating: 7.3/10
Star Cast: Mark Wahlberg, Rose Byrne, Isabela Merced
Awards:  Best Feature Film And Best Actress – Feature Film At Imagen Foundation Awards (2019)
Watch Trailer:
Instant Family is amongst those movies that will make you happy instantly. Feeling an obvious void in their married life, Ellie and Pete decide to go for the option of adopting kids. On their way of adopting kids, they stumble on the potentiality of adopting a teenage girl and go on adopting her two more siblings.
All the three kids are of different temperament and teach Ellie and Pete the ropes of raising foster kids as their own children and give them the hope of becoming a family.
10. Into The Wild (2007)
Directed by: Sean Penn
IMDb Rating: 8.1/10
Star Cast: Emile Hirsch, Marcia Gay Harden, William Hurt, Jena Malone, Catherine Keener, Vince Vaughn, Hal Holbrook, and more
Awards: Gotham Independent Film Award for Best Feature
Watch Trailer:
Another movie based on a 1996 novel with the same name, Into The Wild, follows Christopher McCandless, a graduate who decides to give up his possessions and hitchhike his way across North America. During his adventure, he encounters situations that change his perspective. Into The Wild is an introspective and thought-provoking movie that will motivate and uplift your spirits.
11. Good Will Hunting (1997)
Directed by: Gus Van Sant
IMDb Rating: 8.3/10
Star Cast: Robin Williams, Matt Damon, Ben Affleck, Stellan Skarsgård, Minnie Driver
Awards: BFCA Critics' Choice Award for Best Breakthrough Performer, and more
This 1997 film written by Ben Affleck and Matt Damon is another uplifting and feel-good movie on our list. Will Hunting is a mathematician and a genius, however, when he faces an emotional crisis, he seeks help from Dr. Sean Maguireto, a psychiatrist.
With the help of Dr. Maguireto, Will recovers smoothly and learns many lessons along the way. Praised globally for its star cast and story, Good Will Hunting is a must-watch.
12. Forrest Gump
Directed by: Robert Zemeckis
IMDb Rating: 8.8/10
Star Cast: Tom Hanks, Robin Wright, Gary Sinise, Mykelti Williamson, Sally Field
Awards: Academy Award for Best Actor in a Leading Role, and more
Watch Trailer:  
Based on a 1986 novel with the same name, Forrest Gump is one of my personal recommendations when it comes to uplifting and feel-good movies. Forrest, a simple man with low IQ, narrates his early years when he found himself in the middle of many key historical events in the United States.
During his life, Forrest encounters friendships, heartbreak, grief, and love. This movie will take you on an amazing journey with Forrest, his friends, and his childhood sweetheart Jenny.
13. A Brilliant Young Mind (2014)
Directed by: Morgan Matthews
IMDb Rating: 7.1/10
Star Cast: Asa Butterfield, Rafe Spall, Sally Hawkins
Watch Trailer:
One of the most recommended movies on Amazon Prime, 'A Brilliant Young Mind' at its core tells you that every individual is special. The protagonist of the movie, Nathan is a socially awkward teenager who finds it hard to comprehend the world. It is for this reason that he even isn't able to understand people around him.
But, what he understands is numbers and he therefore develops an unusual camaraderie with an unconventional teacher, Mr. Humphreys and lands a place in British squad at the International Mathematics Olympiad.
14. Up (2009)
Directed by – Pete Docter
IMDb – 8.2/10
Watch Trailer:
The movie focuses on the relationships we have with people. And, it is only after they are gone do we realize their importance in life. It is not just with people, we even tend to undervalue things in life. It is one of the most feel good movies on Amazon Prime where a retired balloon salesman forges a bond with the young wilderness explorer and they together embark on an adventure up in the air.
Also Read: 20 Best Motivational Speakers
15. The Upside (2017)
Directed by: Neil Burger
IMDb Rating: 6.9/10
Star Cast: Kevin Hart, Bryan Cranston, Nocile Kidman
Watch Trailer: 
The Upside is an Amazon prime movie that will surely help you feel good with its comedic humor and the inherent message. It shows us that despite coming from two very different worlds, two people (here one is a quadriplegic billionaire and the other is a parolee) can forge a bond of friendship.
The second thing that the movie teaches us is that no matter how hard the situations in life are, you should never ever give up. Both the characters of the movie for instance are dealing with one or the other shortcoming and both eventually emerge victorious.
16. Freedom Writers (2007)
Directed by – Richard LaGravenese
IMDb – 7.5/10
Watch Trailer: 

The role of a teacher in a student's life is crucial. Having said that, a teacher should also understand his or her students' immaterial of what others think of them. Which is why Freedom writers is one of the most motivational movies on Amazon Prime.
It's how a dedicated teacher doesn't give up on her students who are otherwise considered incapable. She encourages them by assigning them reading materials that resonate with their lives and even encourages them to journal their thoughts. Freedom writers is also one of the best uplifting movies on Amazon Prime since it beautifully touches the issue of racism as well.
17. Invictus
Directed by – Clint Eastwood
IMDb – 7.3/10
Watch Trailer: 

It's so wonderful to see how a sport of rugby can help unite a country. The movie is based on the true historic story of Nelson Mandela and how he joined forces with the captain of the South African rugby team in an effort to unite the country. The themes in the movie also touch integrity and compassion which one must possess. The movie also delivers an inspiring message which implies that if you have the will and determination, you can even change your fate.
18. Fisherman's friends (2019)
Directed by : Chris Foggin
IMDb Rating: 6.9/10
Star Cast: James Purefoy, Meadow Nobrega, David Hayman
Fisherman's friends are one of the best feel good movies on Amazon Prime which makes you understand the value of community and friendship over fame and fortune. The movie showcases how a cynical fast lying music executive is pranked into signing a group of fishermen and how he is able to fill them with enthusiasm and gain their respect. He doesn't just get the respect of the fishermen but their families as well. During this journey he even realizes what success actually means.
19. Bruce Almighty (2003)
Directed by – Tom Shadyac
IMDb – 6.7/10
Watch Trailer: 

Haven't we all at one point in time complained the almighty for not treating us rightly? Bruce Almighty is just a hilarious take on that. After having given the powers by almighty himself, Bruce realises that he just cannot answer all the prayers. Broadly, the movie teaches us some really simple things. First, never complain about small things and be happy not for yourself but also for others as well.
Also Read: Top Instagram Accounts For Daily Inspiration
20. Princess Diaries (2001)
Directed by – Garry Marshall
IMDb – 6.3/10
Watch Trailer: 

Though it is a light hearted coming off age teen comedy, it goes without saying that it is also one of the most uplifting movies on Amazon Prime. It journeys the transformation of Amelia "Mia" Thermopolis from a shy high school girl to a princess. As one of the most motivational movies on Amazon prime, it underlines a very important aspect that we all should learn that courage is certainly not the absence of fear but believing that there are things which are more important than the fear itself. It also teaches that you never know where your destiny might take you.
21. The Longest Yard
Directed by – Peter Segal
IMDb – 6.4/10
Watch Trailer: 

It's never too late to redeem whatever wrong you have done in life. After a disgraced pro football quarterback, Paul Crewe is sent to jail, he is manipulatively recruited to lead a crew of inmates against corrupt prison guards. With his determination he forges a bond of brotherhood with other inmates and gets over the bloodthirstiness of the opposition.
More Inspiring and Feel Good Movies of All Time:
22. The Company Men (2010)
Directed by – John Wells
IMDb: 6.7/10
Watch Trailer: 
You would probably find this as one of the most feel good movies on Amazon prime if you have kind of hit the rock bottom in your career. Don't worry if that has happened, watch this movie and you'll learn a great lesson on adaptability which is extremely important if you wish to be successful during your career run or after it.
23. Chef (2014)
Directed by – Jon Favreau
IMDb: 7.3/10
Watch Trailer: 

Chef's a heartwarming movie about a popular chef who loses his job after receiving bad reviews. In that process he even loses respect. He then opens a food truck to show the world that he still has got it and simultaneously tries to make amends with his broken family. After watching this movie you'll be all pumped up to cook, travel and even love your family more than ever.
Also Read: 21 Keep Calm Quotes To Help Your Mind Stay Calm
24. School Of Rock (2003)
Directed by – Richard Linklater
IMDb: 7.1/10
Watch Trailer: 

Every individual is special and it's all about nurturing their talent and most part of the movie is all about that. The movie disguised as a comedy talks about an accidental teacher who forms a band out of students in a classroom. While you might consider it as far-fetched, the movie also focuses on how important it is for the students to have a real life experience if they wish to learn something deeply.
25. The Intern
Directed by – Nancy Meyers
IMDb: 7.1/10
Watch Trailer: 

The intern is one of the most inspiring movies on amazon prime that conveys strong messages surrounding team value, age, integrity and a healthy purview of a work environment. This movie can especially be a great experience for all those who are working at a place where people from several generations work. Or, it can even be a great motivator for people who are building their business from the start.
26. Billy Elliot
Directed by – Stephen Daldry
IMDb: 7.7/10
Watch Trailer: 
Billy Elliot beautifully deals with issues such as gender stereotypes and social classes. The movie conveys a beautiful message to stay true to yourself no matter what others tell you. You might face opposition even from your near and dear ones, you might be ridiculed in the society but that shouldn't stop you from pursuing your passion.
27. The Social Network (2010)
Directed by: David Fincher
IMDb Rating: 7.8/10
Star Cast: Jesse Eisenberg, Andrew Garfield, Justin Timberlake, Armie Hammer, Max Minghella
Awards: Academy Award for Best Writing (Adapted Screenplay), and more
A 2010 biographical drama, The Social Network, is adapted from Ben Mezrich's 2009 book The Accidental Billionaires and follows Mark Zuckerberg (played by Jesse Eisenberg). Mark Zuckerberg with his friend Eduardo (played by Andrew Garfield) creates the social media site Facebook.
While Facebook turns out to be a success, Mark struggles and severs ties with many people along the way. This movie remains a motivational movie to date and is a must-watch for all.
28. Dead Poets Society (1989)
Directed by – Peter Weir
IMDb: 8.1/10
Watch Trailer: 

If you are looking for life lessons, this is one movie you should definitely watch. The movie revolves around how an English teacher inspires his students to break free from conformity present in their lives. Through the movie, you learn that no matter what people say, you have the capacity to change the world. All that is required is to think out of the box.
29. It's A Wonderful Life (1946)
Directed by: Frank Capra
IMDb Rating: 8.6/10
Star Cast: James Stewart, Donna Reed, Lionel Barrymore, Thomas Mitchell, and more
Awards: Golden Globe Award for Best Director – Motion Picture
Another one of my personal favorites, It's A Wonderful Life is a 1946 American Fantasy Drama that you need to add to your feel-good movie list and Christmas movie list. Frustrated businessman George Bailey becomes suicidal so an angel from heaven, Clarence, is sent to help him see his worth and importance.
What the angel shows George changes his life and changes his heart. This movie is an all-time classic and will lift your spirits in no time.
30. My Bodyguard
Directed by –  Tony Bill
IMDb Rating: 7.1/10
Watch Trailer: 

Bullying is an issue which is quite prominent in schools and colleges. Not just in schools and colleges, everywhere there is one or the other miscreant who tries to overpower people and make life hell for them. If you are in that situation and need motivation to fight back, My Bodyguard is one of those feel good movies on Amazon prime movies you should definitely watch.
The movie towards the end even delivers a great message that sometimes you have to fight your own battles. And, in the end the earlier bullied protagonist is able to put the bully in place.
31. Midnight In Paris (2011)
Directed by – Woody Allen
IMDb Rating: 7.7/10
Watch Trailer: 

Everyone has a past and there are many whose past is much better than the present. It is good to learn the past but it's not good to romanticize the past at the expense of the present. That's exactly why Midnight in Paris is one of the most inspiring movies on Amazon Prime as it teaches you that any "present' can become a dull "present". The best way is to embrace it. 
32. The Map Of Tiny Perfect Things (2021)
Directed By: Ian Samuels 
IMDb Rating: 6.8/10
Star Cast: Kathryn Newton, Kyle Allen, Jermaine Harris, Anna Mikami, Josh Hamilton, Al Madrigal
Awards: Nominated in Broadcast Film Critics Association Awards 
This movie is one of the highly-rated movies available on Amazon Prime. The movie revolves around the magnetic partnership of Mark and Margaret. The movie is about setting up tiny things to make days perfect. It is a love story followed by an amazing twist. This movie reflects how they struggle and escape the never-ending day. 
33. Pele: Birth Of A Legend (2016)
Directed By: Jeff Zimbalist, Michael Zimbalist
IMDb Rating: 7.2/10
Star Cast: Vincent D'Onofrio, Rodrigo Santoro, Diego Boneta
As the title of the movie implies, "Birth of a legend", this movie revolves around a footballer named "Pele" who won three World Cups by playing an extravagant and exciting form of football named "Ginga." Pele was a poor boy and did menial jobs to support his family. After all of the struggles, he still continued to play football and became a national icon. 
That's It, Folks!
If ever you feel let down and want to recharge yourself again, pick up from one of the feel-good movies on Amazon prime like the ones mentioned above.
How did you like the list and which one of the above movies is your favorite? Do let us know in the comments section below. For more content on mental wellbeing keep reading Calm Sage.
You May Like These Also:
Top Movies About Psychological Disorders
Top Popular Dissociative Identity Disorder Movies