Mental Health
Top 25 Best motivational Speakers in The World (2023)
Last Update on December 12, 2022 : Published on May 24, 2020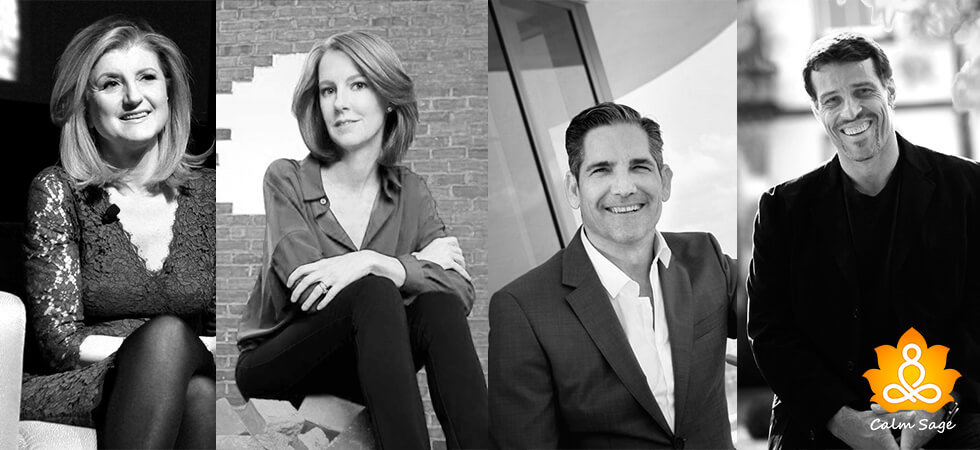 Some motivational speakers are blessed with powerful and convincing oration skills that their words leave a deep impression on our minds. We feel more confident, inspired and take up new challenges once again with a new perspective. Indeed, the positivity and happy vibes transfer when we begin to follow the leads of the best motivational speakers.
We encourage you to listen to what these famous inspirational speakers have to say about living your life. You may be able to fight the monotony, loneliness, anxiety, depression, disorders, and other challenges that are gripping your head for a long time.
So without further ado, let's find out the famous male and female motivational speakers who will definitely help you to divert the course of life towards a positive stream.
Top Motivational Speakers Around The World:
| | |
| --- | --- |
|   Top 10 Motivational Speakers (Male)   |  Top 10 Motivational Speakers (Female)   |
| Tony Robbins | Arianna Huffington |
| Nick Vujicic | Oprah Winfrey |
| Robin Sharma | Mel Robbins |
| Brian Tracy | Iyanla Vanzant |
| Gary Vaynerchuk | Amy Purdy |
| Grant Cardone | Brene Brown |
| David Goggins | Bethany Hamilton |
| Shawn Anchor | Rachel Hollis |
| Deepak Chopra | Gabby Bernstein |
| Eric Thomas | Robyn Benincasa |
| Jack Canfield | Molly Fletcher |
| Les Brown | Muniba Mazari |
Top 10 Motivational Speakers (Male)
Here is the List of Top Male Motivational Speakers Around the World.
1. Tony Robbins
"It is in your moments of decision that your destiny is shaped."
Author of 6 international bestselling books, philanthropist, and best motivational speaker, Tony Robbins is transforming the minds with his amazing coaching methods. He is simply asking the world to make life a challenging masterpiece by improving your own mindset.
Whether you want to improve your business or personal life, his method to take you on a journey of decision making is simply commendable that helps you achieve your dreams. Interestingly, his work has even touched the lives of celebrities like Pitbull, Serena Williams alongside members from Aerosmith as well.
Follow on Instagram: @tonyrobbins
2. Nick Vujicic
"If God can use a man without arms and legs to be His hands and feet, then He will certainly use any willing heart."
Can you imagine yourself without hands and legs? Now look at this best male motivational speaker who has defied all the negativities within himself to become a success today. Your courage to fight the differences make you stronger and Nick has proved the same very well. Looking at his rare condition, he was born with Tetra-Amelia syndrome in which limbs are not developed in full form. Despite this, he is motivating the world to cross all the obstacles gracefully, just with the right attitude.
Follow on Instagram: @nickvujicic
3. Robin Sharma
"Leadership is not a title. It's a behavior. Live it."
Best known for his book 'The Monk who sold his Ferrari', Robin is a leadership guru who is constantly working for billions of people to ignite the power of self-motivation. Many people have an opinion that he is better known as a motivational writer but listening to his podcasts and training programs may change their thoughts. He is the best motivational speaker for teaching leadership mastery, business mindset and how to get your productivity better every day.
Follow on Instagram: @robinsharma
4. Brian Tracy
"You have within you right now, everything you need to deal with, whatever the world can throw at you."
When someone helps you achieve your personal and professional goals faster than ever, there couldn't be anything greater than the same. Well, thanks to this famous motivational speaker whose research in various fields is immense, and his talks about self-esteem, strategy, goals, leadership, and creativity are just mind-blowing. Get a powerful dose of inspiration with his books as well as speeches that will not even let you think negatively about yourself.
Follow on Instagram : @thebriantracy
5. Gary Vaynerchuk
"Life shrinks and expands on the proportion of your willingness to take risks and try new things."
The motivational speech by which Gary is based on one solid concept, work hard and be patient. Though he says that he is not a motivational speaker but just someone who wants people to make their own bridges, millions love to hear him out. His awareness is also based on understanding self-worth without the fear of being judged by others. This fear may want to stop you but the universe wants you to explore your life with full potential.
Follow on Instagram: @garyvee
6. Grant Cardone
"Never lower your target. Increase your actions."
One needs to work hard every day to reach what is being aimed. This top motivational speaker does not forget to push this message whenever he is on the stage for his speech. He also teaches you to value money because money can never indicate aesthetics of our own. Also, you must learn how to save enough money first and spend it later on luxury rather than following a reverse path. Moreover, he tells you to spend more time with family and friends rather than collecting tangible items.
Follow on Instagram: @garyvee
7. David Goggins
"It's so easy to be great nowadays because everyone else is weak."
This quote may offend some people but those who wish to become strong would always take it in a positive manner to become even stronger. His idea of mastering the mind and defying odds revolve around the concept that 'you can't hurt me until I want to get hurt.' Isn't that even correct? These words of wisdom come straight from a retired Navy SEAL who also once held the Guinness World Record for pull ups. He also says, 'The pain that you are willing to endure is measured by how bad you want it.'
Follow on Instagram: @davidgoggins
8. Shawn Anchor
"If we can study what is merely average, we will remain merely average."
This famous male motivational speaker has delivered his speeches in more than 50 countries by now and is still counting. With a huge smile on face, he delivers the power of positive thinking, self-confidence, positive education and sustainable positive changes within self. His famous Orange Frog workshop speaks about methods to become better leaders in your own businesses and companies.
Follow on Instagram: @shawnachor
9. Deepak Chopra
"The less you open your heart to others, the more your heart suffers."
Writing and talking about self-healing, research, education and self-empowerment for years, Deepak Chopra is also a powerful and best motivational speaker. He looks at the world with a combination of science and spirituality and tells all of to feel your own emotions fully. If one can realize himself from the depth of soul, he will always cherish the beauty and opportunities that life throws at you.
Follow on Instagram: @deepakchopra
10. Eric Thomas
"When you want to succeed as bad as you want to breathe…then you'll be successful."
A young motivational speaker from America is sending happiness and positivity to the people in an unconventional manner. Also called as 'ET', his own childhood sufferings turned him into a positive man and he decided to share the same energy with others. After his motivational video got viral on the internet, he decided to inspire everyone to stay focused & determined on your goal as if it is the air you wish to breathe to survive. Your own consistency and never-losing hope is the reason you will finally be cherishing the taste of success.
Follow on Instagram: @etthehiphoppreacher
11. Chris Gardner

"I Was homeless but I wasn't hopeless. I knew a better day was coming."
Author of 'The Pursuit Of Happyness', Chris Gardner is one of the sought inspirational speakers worldwide. He faced extreme issues like homelessness while he was raising a child on his own. However, now he is known as CEO of Happyness and now inspires everyone to tell that power of choice matters. He is spreading the word that says you can do anything you want. If you have a plan and there is a commitment for success then you are likely to achieve it anyway. 
Follow on Instagram : @ceoofhappyness
12. Jack Canfield

"Successful people maintain a positive focus in life, no matter what is going around them."
Famous for 'Chicken Soup for the Soul' series, Jack Canfield is named as 'America's #1 Success Coach' for a reason. His motivational words have topics like learning principles of success, how to program your mind for success, how to believe in yourself and a new transformation is definitely guaranteed. He has helped others achieve their dreams and has conducted more than 2500 workshops and events all over the world. The joy, fulfilment, and meaning of life, everything is within you. Just let it get explored with this best motivational speaker.
Follow on Instagram : @jackcanfield_official
13. Les Brown

"When your why is big enough, you will find your how."
Les is strictly saying that only that story is possible in the world in which you believe. Les Brown is one of the best male motivational speakers who uses his energy to motivate people so that they make new challenges and meet with them. His speech is helping out professionals like CEOs, small business owners, community leaders, etc. to expand their opportunities and master the hidden talent inside.
Follow on Instagram: @thelesbrown
Top 10 Motivational Speakers (Female)
Here is the List of Top FeMale Motivational Speaker.
 1. Arianna Huffington
"You have to do what you dream of doing even while you're afraid."
Founder and CEO of Thrive Global, Arianna is an author, businesswoman and one of the best motivational speakers of today. She explains the Science-based solutions for increasing productivity, importance of health and methods to boost business productivity. Famous for her book called Sleep Revolution, she sends the message of importance of good sleep in the hustle and bustle of routine life.
Follow on Instagram : @ariannahuff
2. Oprah Winfrey
"Be thankful for what you have; you'll end up having more. If you concentrate on what you don't have, you will never, ever have enough."
One of the most famous female motivational speakers, Oprah Winfrey is known for hosting talks shows. After quitting the famous 'The Oprah Winfrey Show', she launched her own television network. You may not particularly agree with her as a public speaker but her speeches are always thought provoking and inspirational for her listeners. In fact, her books revolve around the concept of deep connection with oneself that inspires people to the core.
Follow on Instagram: @oprah
3. Mel Robbins
"Your life comes down to your decisions. If you change your decisions, you'll change your life."
Mel Robbins is a motivational speaker, author and a TV host whose energy and humor is just beautiful for her listeners. Her own experience of facing tough times and decision to step up for herself is what brought her to this stage where she can finally spread the word of wisdom. Her theory of 5-4-3-2-1 helped her to launch like a rocket while closing the gap between thinking and doing. A highly recommended theory for everyone!
Follow on Instagram: @melrobbins
4. Iyanla Vanzant
"Your willingness to look at the darkness is what empowers you to change."
From a mother to bestselling author, Lyanla has dedicated herself to the growth of human consciousness. She believes that human skin is pretty thick but this is what acts as the powerful spirit for oneself. Her workshops and video lectures help in healing the past and let one move towards powerful growth. She especially teaches about the power of forgiveness through a journaling workbook which in turn is a way to achieve peace within. Listen to this best female motivational speaker and find your truths hidden within you.
Follow on Instagram : @iyanlavanzant
5. Amy Purdy
"If you want something bad enough and you work hard enough, anything is possible."
After losing her feet at the age of 19 due to meningitis infection, Amy proved to everyone that will and motivation are more than enough to achieve the dreams. She not only is the top motivational speaker today but also a Paralympic snowboarder who is successfully showing the world that disability cannot control your life. The book called "On My Own Two Feet" is the guiding light for so many people who think disability may stop them.
Follow on Instagram: @amypurdygurl
6. Brene Brown
"You either walk inside your story or own it or you stand outside your story and hustle for your worthlessness."
Unlock what's hidden inside with the help of this smiling and amazing motivational speaker of all the time. She is the author of 5 New York bestsellers and an active research professor who also appeared on TedTalk & Oprah's show. She straightaway tells you that you have to walk over your vulnerabilities to gain the courage as 'Courage comes over comfort'. Apart from listening to her shows and podcasts, you can pick any of her crafted books for inspiration.
Follow on Instagram: @brenebrown
7. Bethany Hamilton
"I think that if I can help people find hope in God then that is what worth losing my arm for."
Even after facing the tragedy of losing an arm by Tiger Shark, Hamilton is a rising star in the field of surfing. Many might lose the hope by such a case but she was riding the waves 3 weeks later. Inspiring right? Now her messages talk about compassion, courage and healthy mind iced with her cheerful smile. Watch her to get inspired for life!
Follow on Instagram : @bethanyhamilton
8. Rachel Hollis
"Know this one truth: You are in control of your own life."
Known for her book 'Girl, wash your face' inspired the young women to overstep the hurdles and rise high in life. Interestingly, her approach is pretty much new and she is even proud of the same. She is constantly trying to make many lives happier with uniqueness. Her website also talks about essentials like beauty, family, recipes, home, etc.
Follow on Instagram : @msrachelhollis
9. Gabby Bernstein
"I am working my happiness like a full-time job."
Giving out a loud message of becoming the happiest person you ever know, Gabby is a famous inspirational speaker who happens to promote meditation equally. She tells you that you will always attract what you are within. So if you are positive within, there is no way negative can hit you. Apart from her speeches, her blogs on health are wonderful to read.
Follow on Instagram : @gabbybernstein
10. Robyn Benincasa
"You don't inspire your teammates by showing them how amazing you are. You inspire them by showing them how amazing you are."
Guinness World Record holder, full time firefighter and world time champion in adventure racing, Robyn is a true inspirational speaker for all of us. She is constantly teaching leadership and management from her own experiences and this has made her very popular amongst the business community. Your performance, collaboration and leadership culture could improve after hearing her, so don't forget to listen to Robyn right now.
Follow on Instagram: @robynbenincasa
11. Molly Fletcher

"We cannot be fearless without taking ownership of the things in our lives."
Molly Fletcher is a keynote speaker who inspires her audience to achieve peak performance, unleash the hidden potential and be fearless at your work. She is keeping the sports world absolutely enthralled by the power of speech where real-life experiences are shared along with recipes for success. Give your ears to this female motivational speaker and we bet you don't leave your chair uninspired.
Follow on Instagram: @mollywfletcher
12. Muniba Mazari

"Success is not how well people know you, success is how well you know yourself."
This female motivational speaker was born in Pakistan and got married at the age of 18. Her life turned upside down when she met with an accident that left her paraplegic. While she was in her hospital bed, she started painting after which her paintings were displayed in the gallery. She slowly got into the world of motivational speaking and till now has spoken at TED Talks, Leaders' Summit, Young Presidents' Organization, VCon Malaysia, VCon Dubai, etc. A budding speaker, Muniba Mazari is looked up by young people today.
Follow on Instagram: @muniba.mazari
Which One Is Your Favorite Motivational Speaker?
After learning about the top 20 best motivational speakers around the world, we certainly hope that one of them has successfully made your inner soul positive. If it is so, let us know which inspirational speaker could do that in the comment section below.
You May Like These Also:
7 Simple Ways to Be a Good Listener