Anxiety
Relationship Anxiety: Why Do They Occur & How To Overcome It?
Last Update on February 4, 2022 : Published on September 1, 2020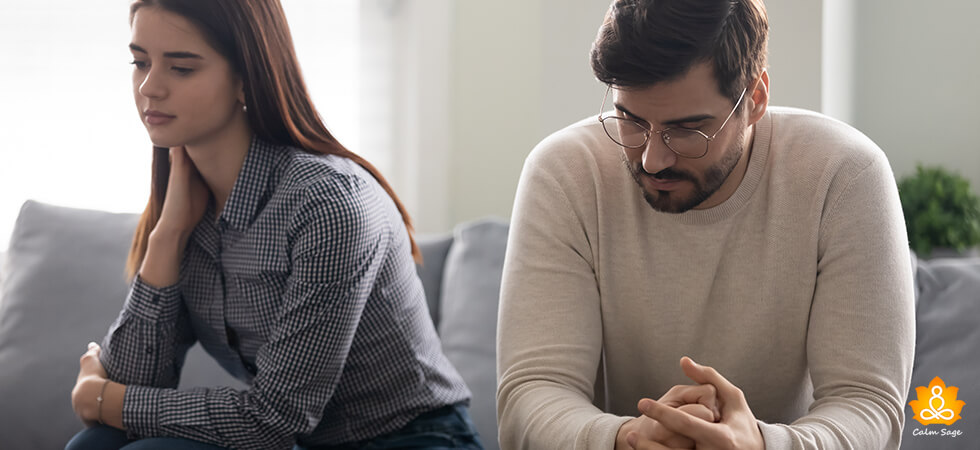 Dating and loving your partner is beautiful. Building trust, communicating your thoughts and pampering each other is indeed the best feeling but relationship anxiety is one thing that lingers within many of us due to worries like 'if' and 'how' for the near future. In fact, many single people develop relationship anxiety due to fear of commitment and become stressful about the insecurity or worries that relationships come with. Let's figure out this emotion here!
What Is Relationship Anxiety?
When a new relationship is at its novice state, an individual constantly thinks about if their partner is equally interested in them or not, will the relationship work out in future, should he/she slow down or if the partner is even ready for a commitment or not.
Such thoughts can lead to emotional distress, motivation issues, and emotional exhaustion that even lead to physical problems. One may not impact the relationship directly with their anxiety but their behavior can have a substantial impact on the future of their relationship. This does require you to know how to overcome relationship anxiety.
Why Relationship Anxiety Occurs?
When a person is brought up in an insecure environment where his/her parents had a strained relationship, he may have the concern of understanding deep and meaningful relationships.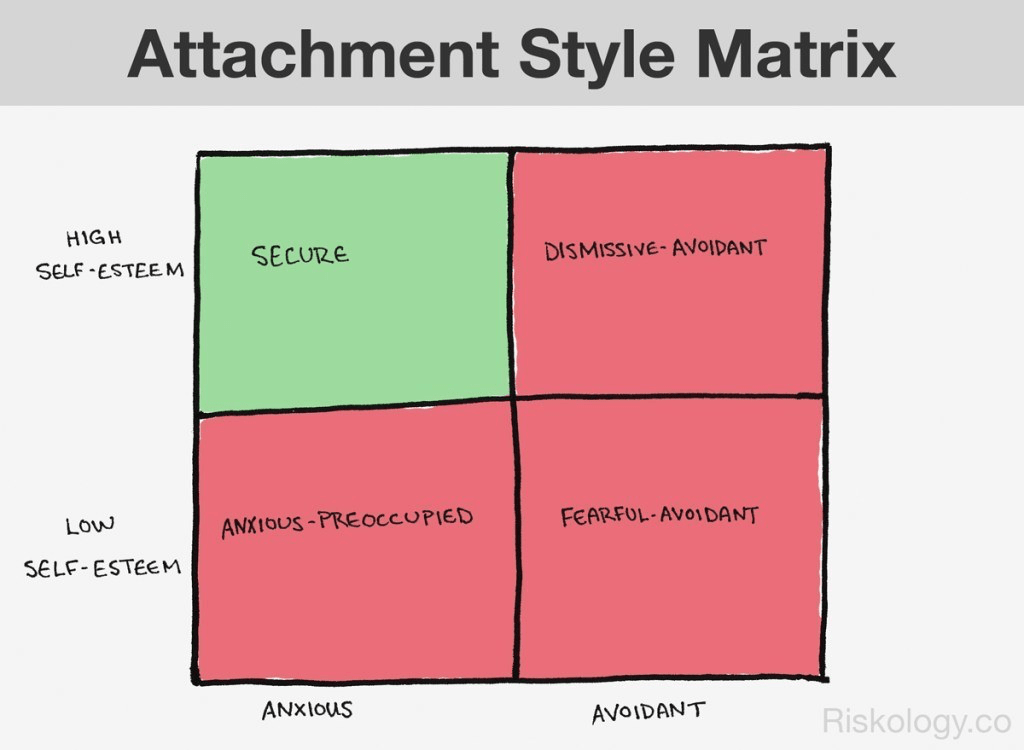 If we understand the 'Attachment Style Matrix' mentioned above by Riskology, we find that Dr. Lisa Firestone has explained 4 styles of attachment to uncover relationship anxiety.
Secure Attachment: Those who had a safe childhood attachment with their parents have an inner satisfaction and they feel comfortable in expressing their feelings to the partner. They do not face anxiety in expressing themselves and handle the relationships in a calm state.
Anxious Preoccupied Attachment: Such people are fearful of their relationship as their needs were not comforted when they were growing up. They tend to get angry very easily and usually become overwhelmed during the relationship.
Dismissed Avoidant Attachment: People from this category completely avoid the needs of their loved ones and don't much care about the growth of relationships.
Fearful Avoidant Attachment: Such relationship anxiety let a person fall in love with others but they are fearful to let their partner come close to them. They think that intimacy and love thoughts will only bring disappointment in their life.
Apart from the above explanation for relationship anxiety, there are other reasons why relationship phobia occurs. For example, sudden or unexpected breakup, constant lying, cheating in the past, breaking of trust, manipulation or being dishonest can provoke anxiety and issues in the new relationship.
Signs Of Relationship Anxiety
One thing is for sure, you are not alone in the group of anxiety and relationships and many people around you go through the same phase. However, it can show up differently with the variety of people. When you know about them, you can know better how to help in relationship anxiety. For example:
Thoughts like 'Do I even matter to him?' or 'No, he doesn't really love me' prompt in their heads constantly.
Trying to adjust your behavior even when you don't like certain things about your partner.
Overemphasizing your partner's choices but later wanting to establish your own choices.
Trying to sabotage your relationship by picking a fight or doubting their loyalty for you.
Overthinking about each and every word they speak or every single action they perform.
Being insecure about the relationship and focusing on your requirements more than anyone.
Instead of enjoying the present moment with each other, you are missing the good times.
How To Overcome Relationship Anxiety?
We understand that you have gone through rough times in the past but it is again your responsibility to make your relationship fruitful for the future. So here are some tips following which you can make sure that relationship is beautiful, happy and flowing with joy and how to overcome anxiety.
Acknowledge your problem: If you acknowledge your feelings and understand that there has been some confusion with you, things could turn for better.
Practice mindfulness meditation: Most people think about the needs of their partner and try to mould themselves into a person they want. But it is important to sit alone in peace and learn about yourself first in order to help yourself with relationship anxiety.
Maintain your identity: It is important to aware yourself with the same identity or individuality as you have so that you understand about opening every window slowly for your partner. There is a great possibility that your partner loves you for who you are and if you try to sabotage your identity for the same without being mindful, your anxiety will hike up.
Communicate yourself: When you practice good communication skills with your partner, they also put their efforts to understand you and even help with the issues you dealt with earlier and today. Get ready to overcome relationship anxiety with ease.
Consult with a therapist: Even though you think you can deal with all your problems alone, there is no harm in asking for help from a therapist on how to overcome anxiety by dropping a message at info@calmsage.com. A lot of people commit the same mistake of not looking for help and go through negative circumstances.
Frequently Asked Questions
Q1. What triggers relationship anxiety?
A. There are various reasons for relationship anxiety like past relationship issues, use of mean language in the relationship, hiding things from each other, etc.
Q2. Can relationship anxiety ruin a relationship?
A. Yes, anxiety can ruin a relationship because it enters between the two people and creates negative patterns and poor beliefs.
Be Courageous!

"Anxiety does not empty tomorrow of its sorrows, but only empties today of its strength."
It is important to understand that no relationship is certain. Even the longest marriages need help from online marriage counseling programs to sustain togetherness, you can try coping up with relationship anxiety from today. It may take some time to be at ease when dating anxiety hits you but your self-assurance and willingness to make it work balances it out all. Promise yourself to make your life beautiful together and don't forget to learn about 7 key ideas to build a strong relationship.
More Interesting Reads:
How To Stop Being Insecure In A Relationship? First, Trust Yourself.

Types of Psychotherapy For Anxiety Disorders: Explained
15 Most Common Cognitive Distortions For Anxiety And Depression