Top 20 Calming iPhone Wallpaper To Relax Your Mind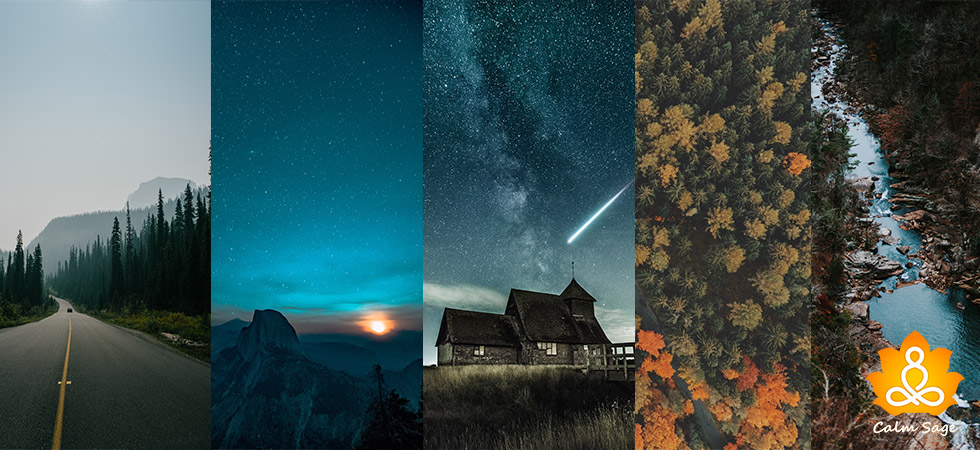 Why do you need a calming wallpaper for iPhone?
Do you look at the iPhone day in and day out all because you have to pick up calls, answer texts, edit documents and what not?  Does your iPhone stress you out and constantly remind you of your work pressure? Time to spice it up! Here are some relaxing and calm iPhone wallpapers which will refresh your mind. You can download them for free.
Just when you think you can no longer pick your phone and look at the beeping screen, you could instead look at a soothing iPhone wallpaper which could be a serene scenery or a magnificent matte painting of a universe and get all pumped up. You would instantly get mesmerized by awesome visuals and enchanting color schemes.
It goes without saying that a calming iPhone wallpaper is capable of taking your mind and even heart of all the stress that you are going through.
Top 20 Calm iPhone Wallpapers
Here is the list of iPhone wallpapers to calm your mind: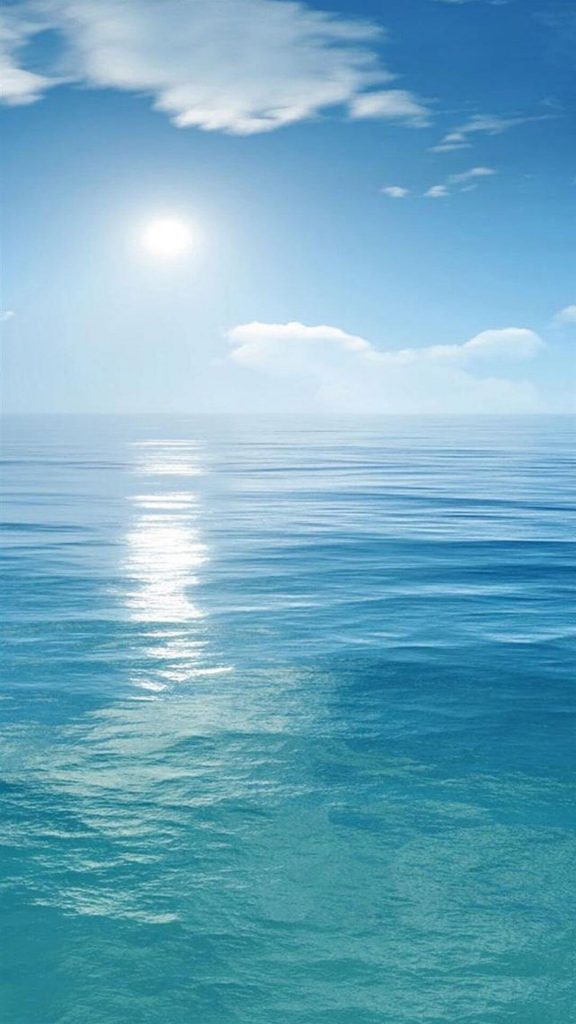 This one's a simple image that portrays a lot. It is a calming and serene image of cool blue waters with the sun smiling from the top. The whole composition would immediately refresh your mind.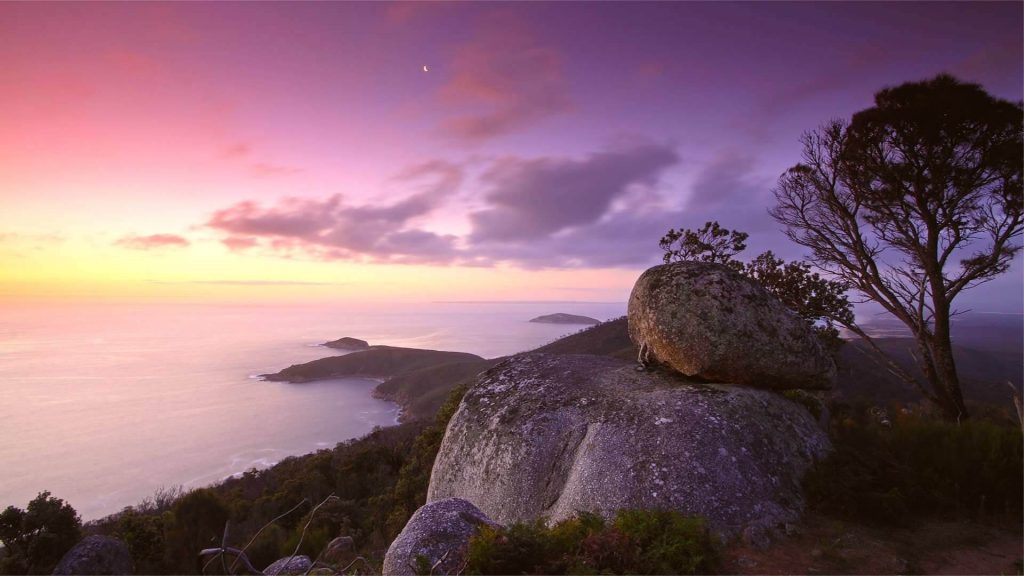 A beautiful relaxing iPhone wallpaper of a sea or riverside scene. The serene color combination with visuals of greenery all around and rocks beautifully snapped is sure to mesmerize you.
Read More: Calm Backgrounds For Desktop You Should Not Miss On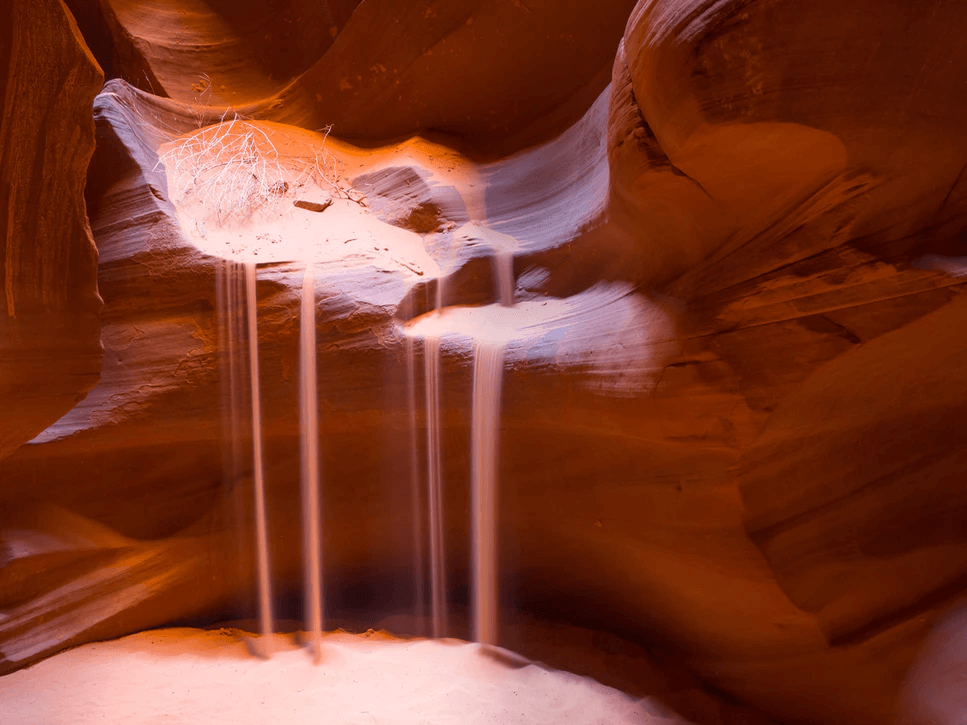 This image is open to thousand interpretations or maybe even more. The calming iPhone wallpaper probably depicts an image of a recess in a cave where sand is pouring down. It could also be sun rays which are beautifully pouring down through a whole like sand. Undoubtedly a soothing iPhone wallpaper to revitalize your soul.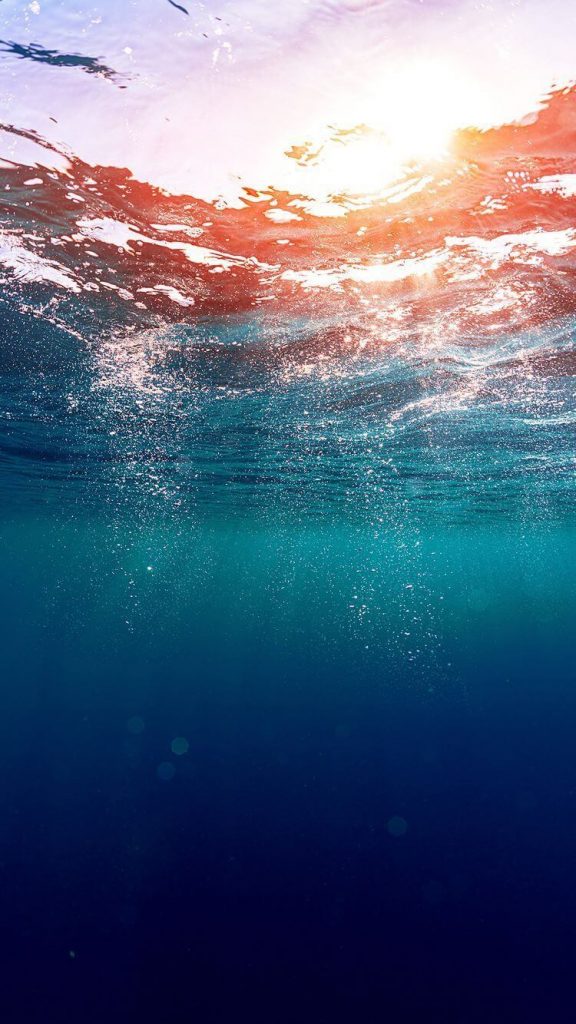 A vibrant and a captivating image of sun rays diving right underwater. The image further encapsulates by showing small specs of rays of light as if snowing down.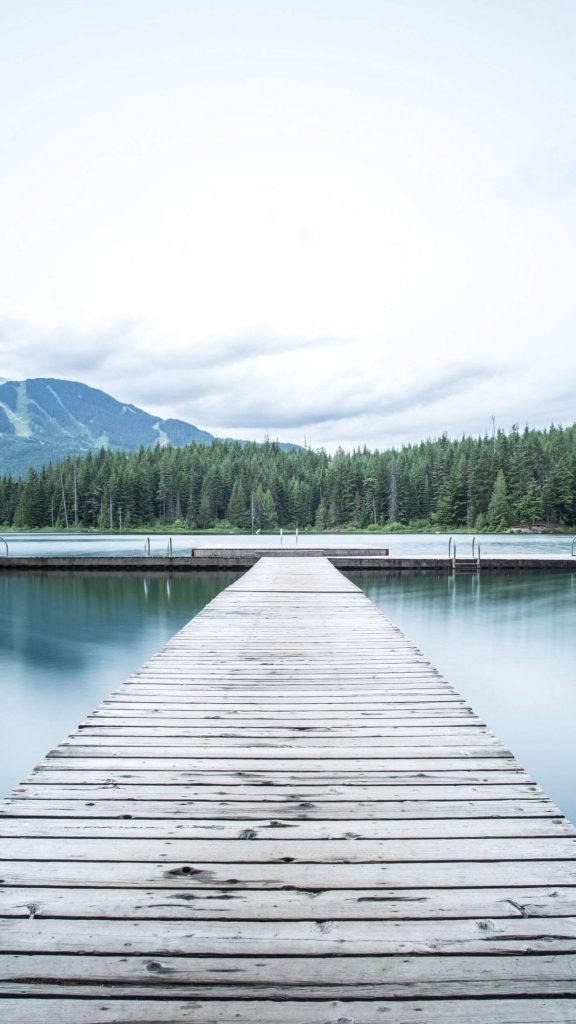 Looking at this wallpaper you would for sure be reminded of a vacation. Take a gander at the serene mountains and lush greenery in the backdrop, while you are sitting on this board with water on each side. Truly a magical image that'll sway you off your feet and move you away from the humdrum of daily chores.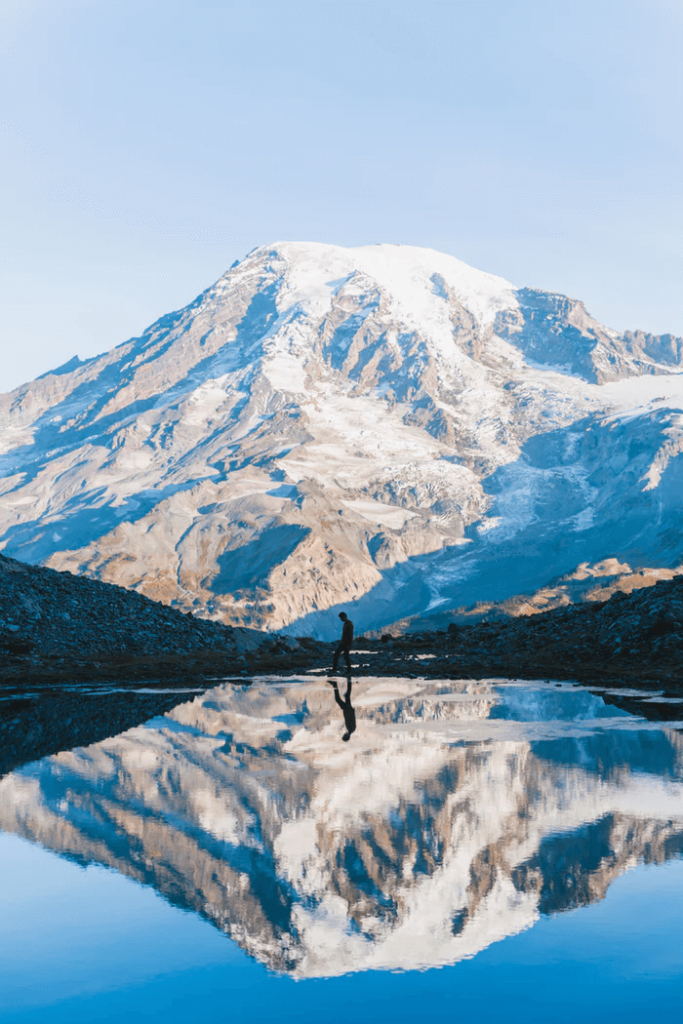 Ah! White mountains! Get away from the monotonous urban life by looking at this wallpaper which shows you gigantic White Mountains in the background and a person's silhouette and rocky surface in the foreground. This person might as well be you, what say?
7. Fall In Love With Yourself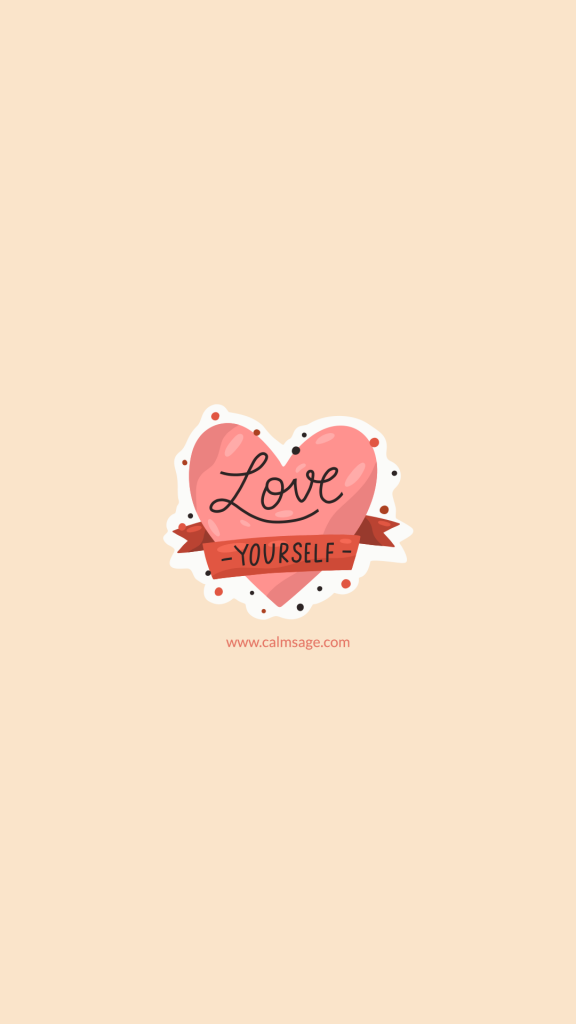 Love has a feeling of calm and warmth combined and this calming iPhone wallpaper exhibits just that fact. The wallpaper is simple yet beautifully designed. The whole concept would motivate you to fall in love with yourself.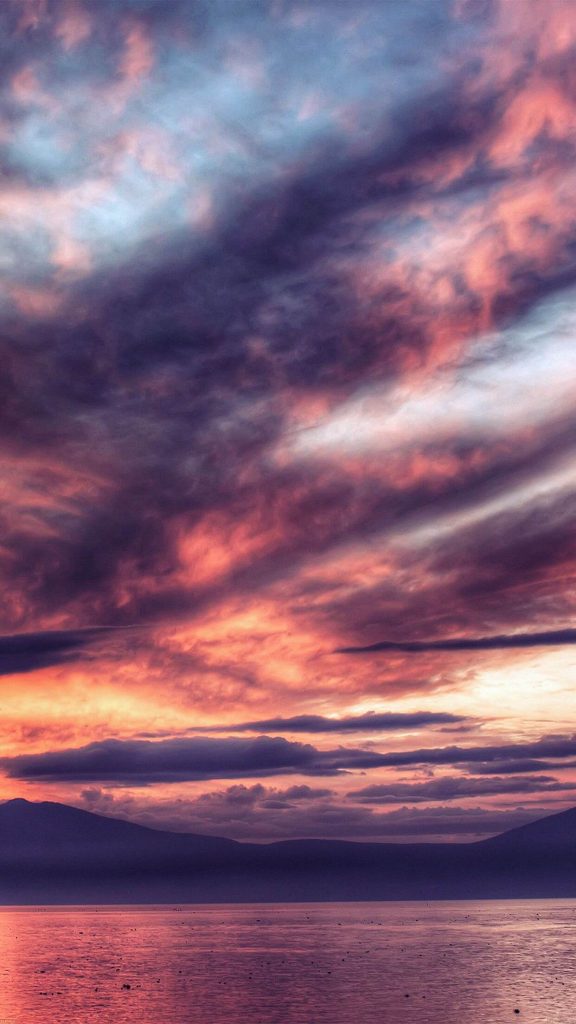 In this soothing iPhone wallpaper there are three components – a cloudy sky, misty mountains and a river. The whole color scheme is a little dark but visually it is appealing and something that'll easily help you unwind.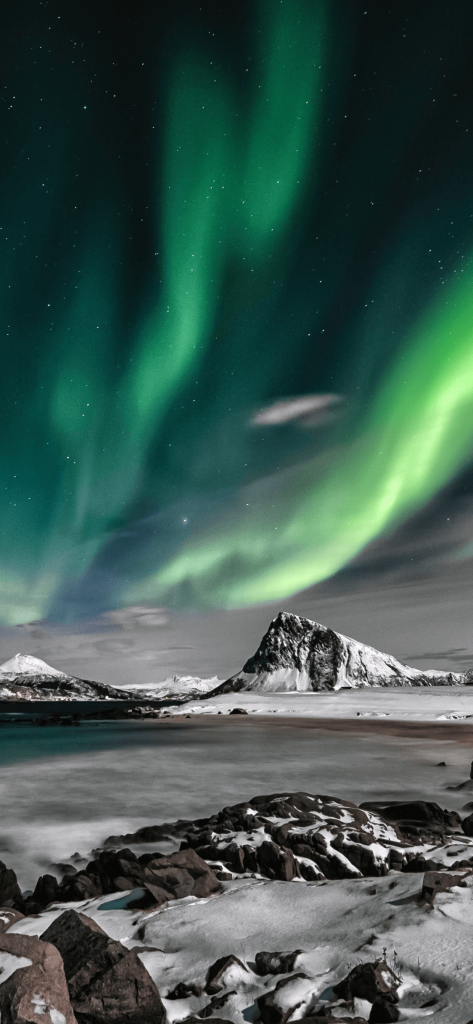 We hope that you have a chance to be a spectator to the wonderful Aurora Borealis. But, till then why  not have this soothing and calming iPhone wallpaper which will virtually take you to the location itself.
Read More: Top 10 Uplifting Movies On Netflix That Could Change Your Life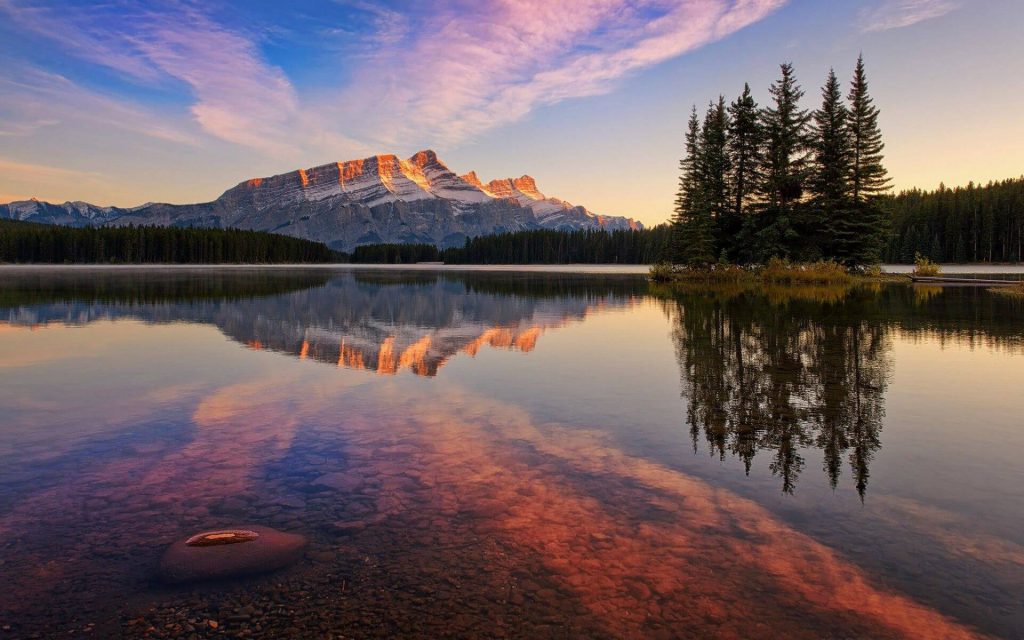 What can be more pleasing to the eyes than waterfront pine trees? It's a scene that you would probably want to see every morning. And, now you can view this scene anytime you want. All you have to do is spice up your iPhone screen by downloading this wallpaper.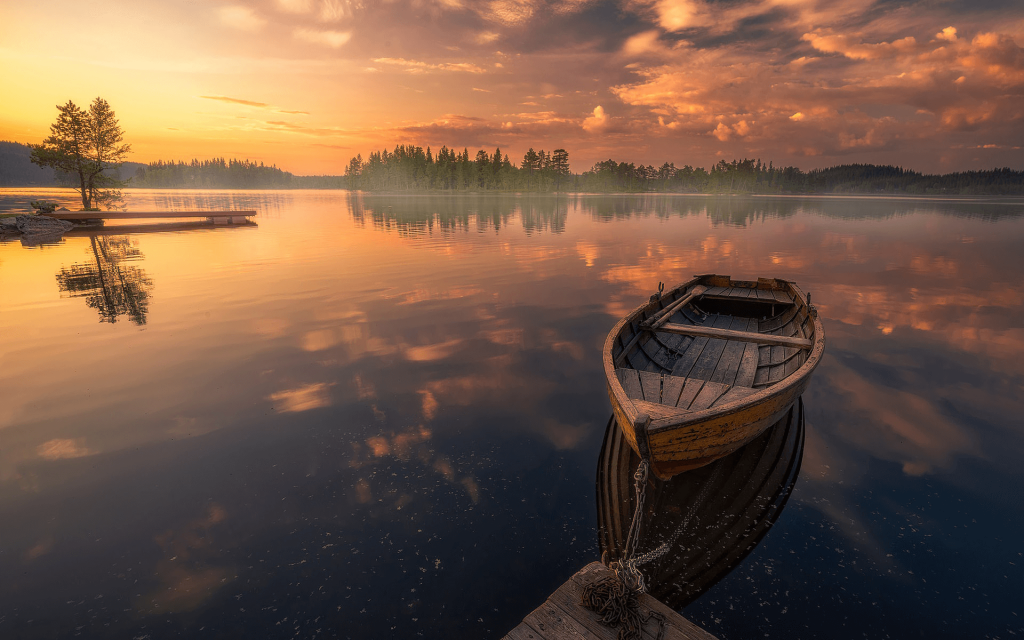 This calming iPhone wallpaper will make you want to hop on to this boat and take a good round in the waters that ensue. Afar you can also see some trees and not to mention, there is a clear sky to enhance the grandeur of the scene. What adds even more is the misty demeanor of this wallpaper.
12. There Is A World Of Knowledge Beneath That Conscience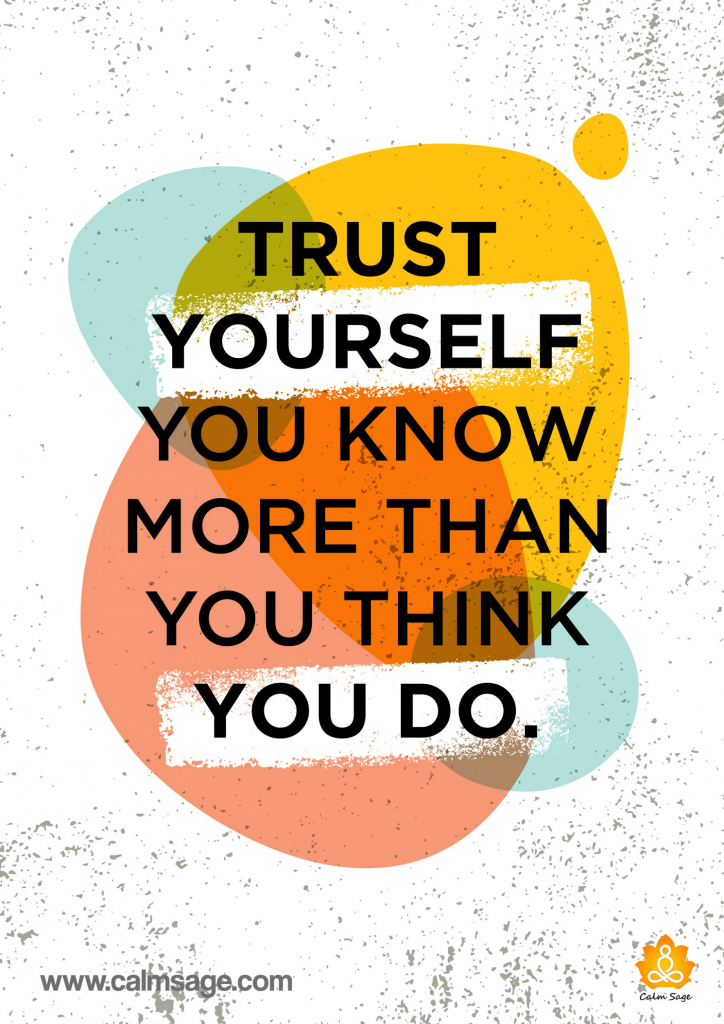 How about a wallpaper on your iPhone screen which keeps reminding you of the fact that you are capable of way more than what you think you are. There is a world of knowledge inside you. Once you believe in that, you'll be able to unleash power which until now was hidden.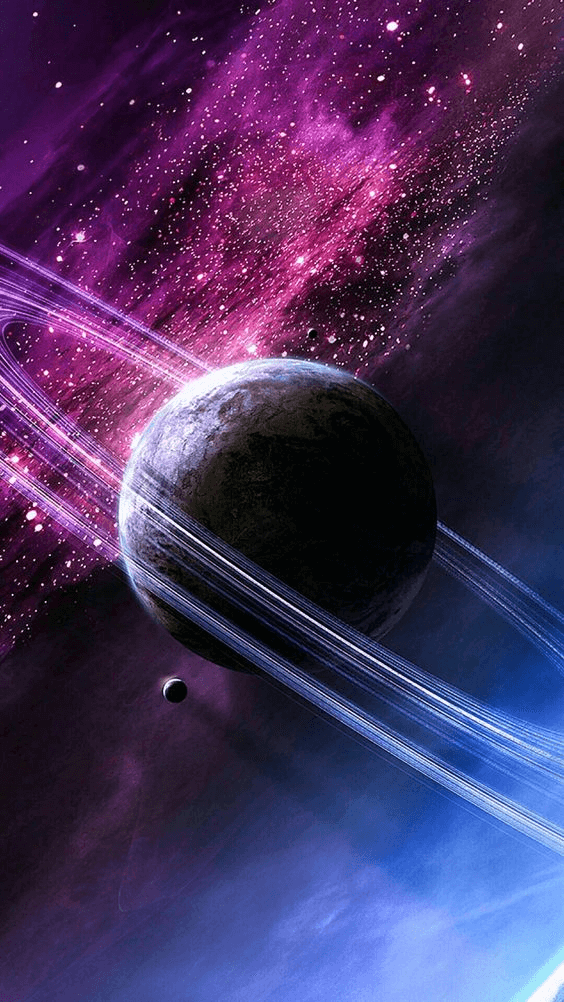 What could be more enchanting than the rings of Saturn? The relaxing iPhone wallpaper gives you a peep into this wonderful planet and not to forget the other aspects – which are probably the stars, the million other galaxies and what not? You can capture all this right inside your device.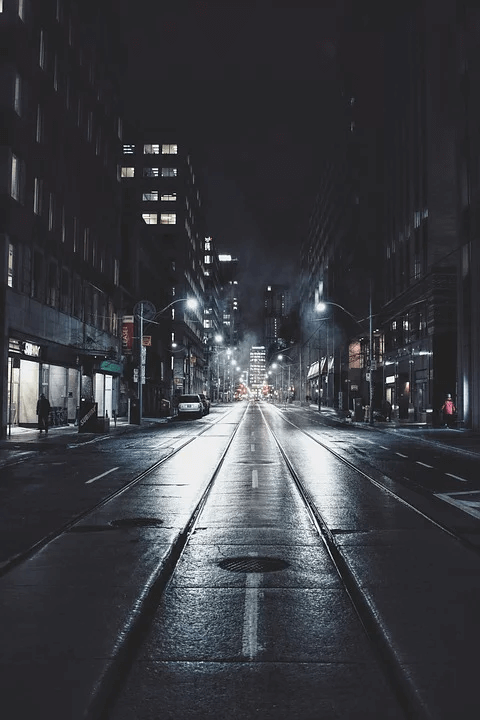 A peaceful night walk in the city is probably the best way to release stress. It would probably be the time when everyone around would be asleep. There won't be any vehicles or people bustling around like swarms of bees. It would be just you and your city – calm, quiet and beautiful.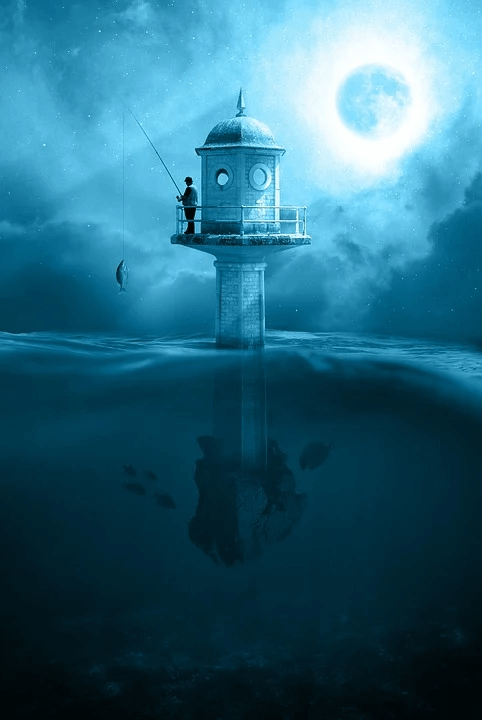 Love fishing? Wouldn't you want to grab your fishing rod and fish in an area like this? Imagine standing atop a building partially immersed in an ocean with the vibrant blue light of the moon shining and enlightening the whole ocean.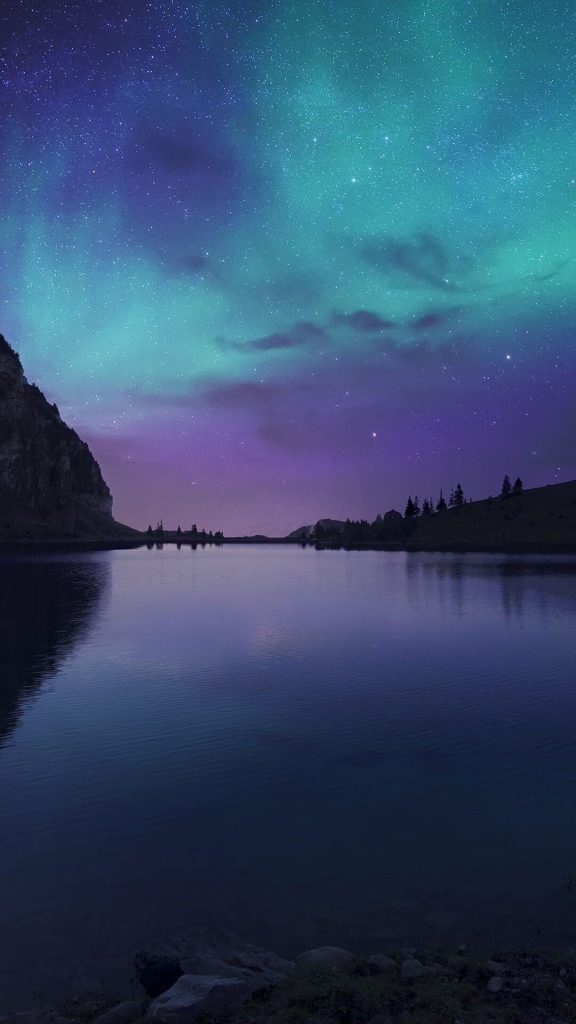 Imagine sitting by the night sky and being a spectator to this visual; with water in front of you and mountains and greenery all around. Wow! It is truly a calming scene of a night sky. Surely it's a brilliant and vibrant color scheme and awesome foreground and background images.
17. Breathe In The Air Of Confidence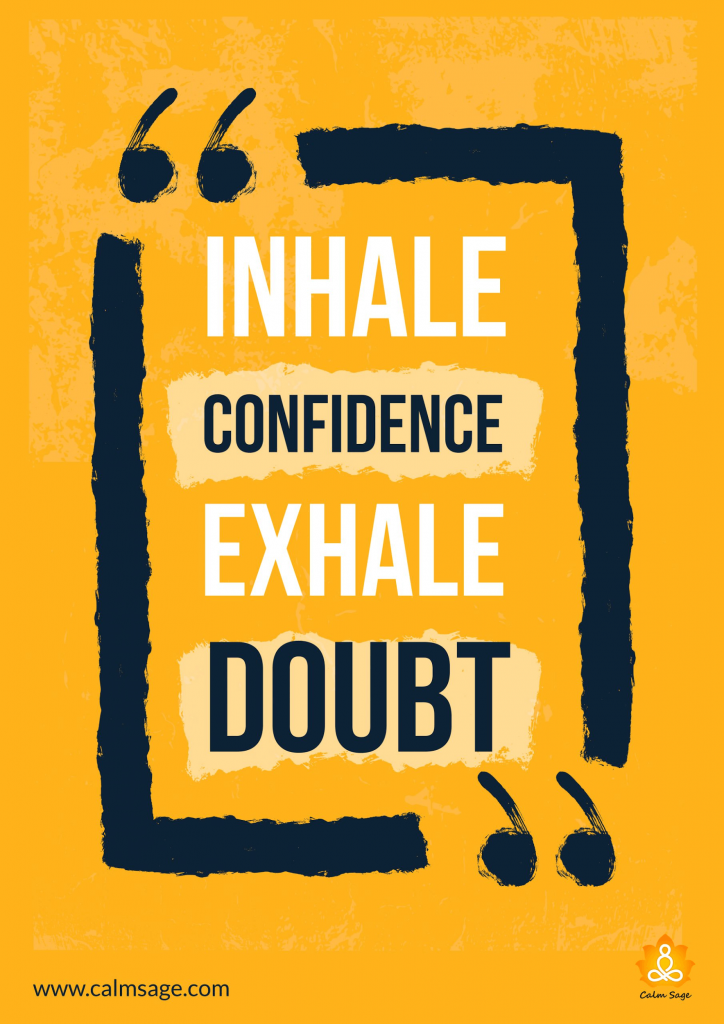 Maybe you often breathe in and out to calm yourself down. Here's something that'll take your inner power to a whole new level, next time when you breathe, breathe in as much confidence as you have and exhale any doubts that are stopping you from moving ahead.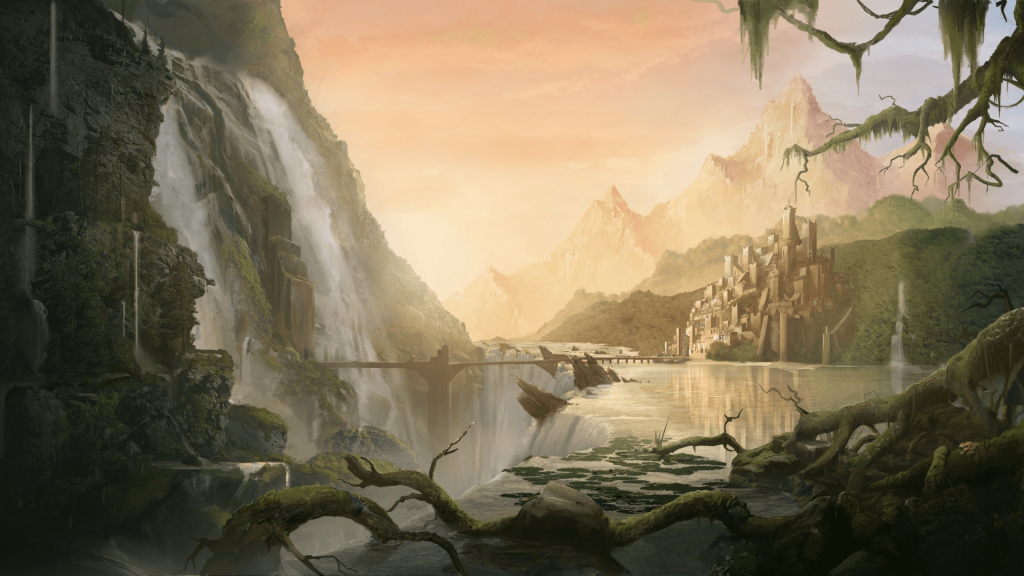 Looks like a kingdom which once bloomed with happy souls. Their happiness still smiles through the clear water and the lush greenery. Having this soothing wallpaper will take you to an era which probably exists in one's imagination.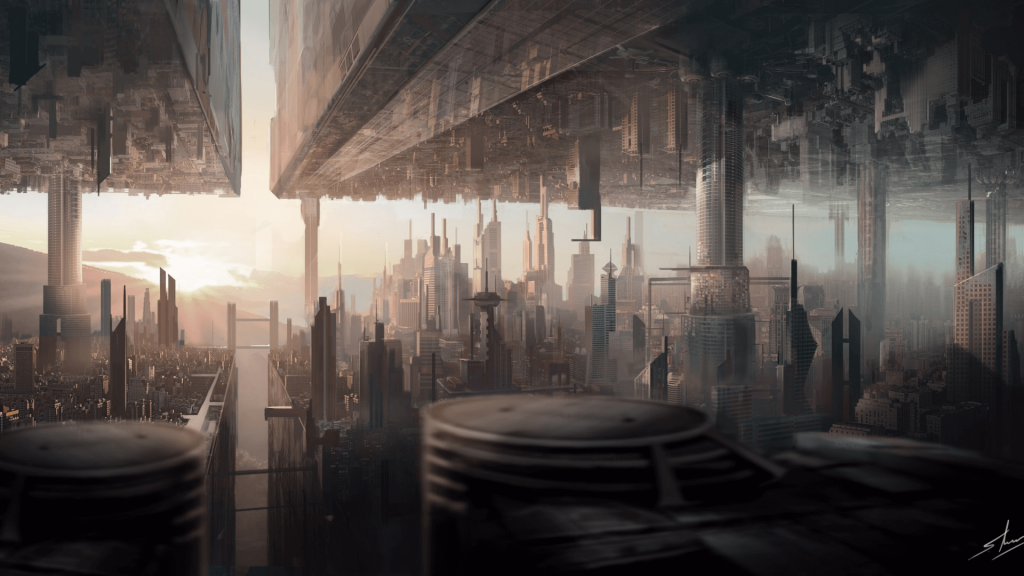 How about a relaxing iPhone wallpaper gives you a picture which you might have not imagined in your dreams. Ever thought your city could look like this? This is the magic of matte painting. This soothing iPhone wallpaper won't just calm you but surprise you to the core.
20. Yes You Surely Are Enough !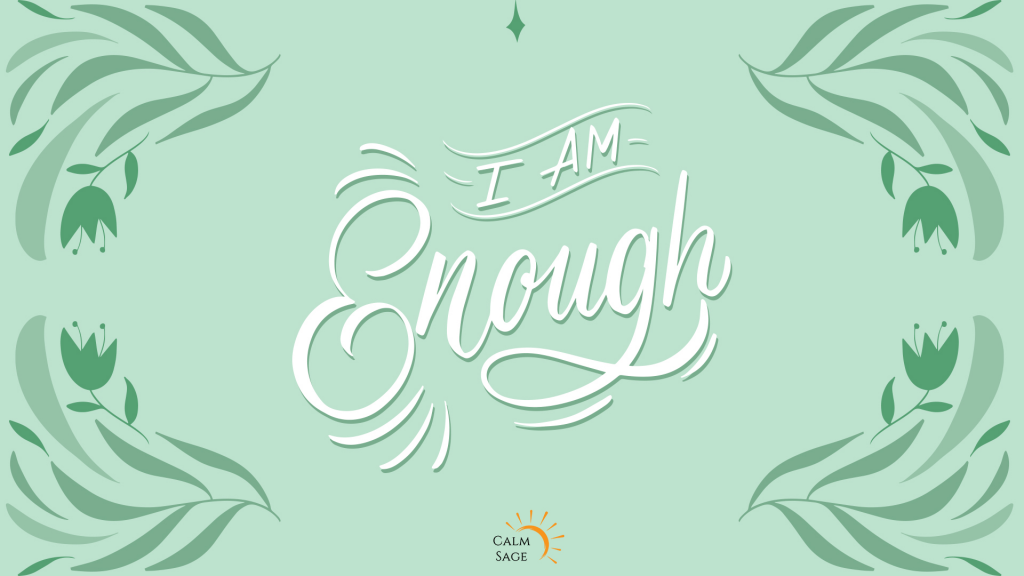 A wallpaper which doesn't just calm you down but gives you immense strength to stand strong under all circumstances. If nothing else is calming you down and you are all boggled by things around you, believe that you are the biggest force. Even if not now, you will for sure be able to get through the toughest of the situations.
Why Do You Need A Calm iPhone Wallpaper
Let's face it when there is too much stress around, sometimes our mind gets blocked. Then we are not able to focus on anything. You might try listening to music or watching a video but still the visuals happening around may distract you. And we cannot stress enough on the fact that how important is to calm down?
Calming down is very important in order to rejuvenate yourself. To get your focus back, a calm iPhone wallpaper can instantly help you rejuvenate and not just you it can also motivate others around you as well.
Which Wallpaper Did You Like?
We are sure that just by having a mere glance at the above relaxing iPhone wallpapers you are now filled with renewed energy and are all set to get back to whatever it is you are doing.
How do you keep yourself calm?  How do you de-stress when you are completely worn out and need to take a break? and which of the above calm iPhone wallpapers did you like ? Do let us know in the comment section below. For more such enriching content, keep reading Calm Sage. You can also follow us on all social media platforms, the links of which are mentioned below.
You May Like These Also:
Top 10 Popular Dissociative Identity Disorder Movies
What Are Different Types Of Anxiety Disorders?