Therapy
Everything You Need To Know About Couples Therapy
Last Update on April 2, 2021 : Published on April 3, 2021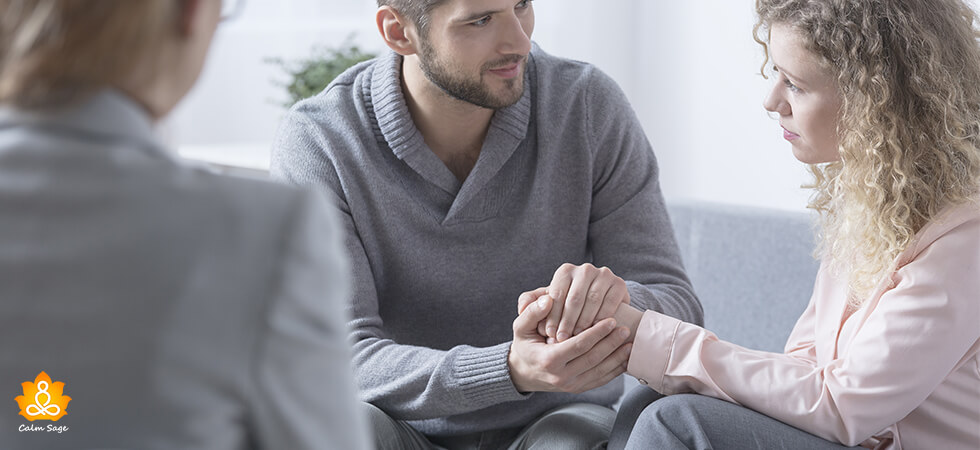 We all cannot deny the fact that marriage or romantic relationships are not easy. They require trust, regular maintenance, romance, happiness to make it successful. If you're thinking about what to do when these things begin to cause problems in your relationship…then the only solution is to repair it right away to avoid further complications.
We often try to repair it ourselves but despite our efforts, it looks impossible to make it right. However, the help of a licensed therapist who is trained for handling such issues can be really effective. Couple therapists do not only repair the relationship but also strengthens the relationship so that it can be converted into a successful marriage or relationship and for avoiding future complications.
Also Read: Best Online Marriage Counseling Programs To Revive The Relationship
This blog covers everything you need to know about Couples Therapy. So, let's get started.
What is Couples Therapy?
Couples therapy is a form of psychotherapy wherein a therapist with full training works on couples to help people involved in a marriage or relationship. Couples therapist basically gains insight into their relationship, resolves conflict, and improves the relationship with the utilization of various forms of therapeutic interventions.
The theoretical orientation of every couple's therapist varies and depends on the situation. Below are the general elements which every couple therapist involves in the therapy sessions:
1. Focusing on specific problems (for example intimacy, addiction, jealousy)
2. Actively participating in the treatment of relationships. Avoiding individual working.
3. Focusing more on solutions with the help of change-oriented interventions.
4. Clearly establishing an objective for effective treatment.
Expectations from Couples Therapy
Sessions of couple's therapy basically begin with an interview related to the history and exploration of values, origin, and cultural background. In some cases, the therapist also might use initial sessions for crisis intervention. Later, the therapist assigns the couple for the identification of the issues so that he/she can focus on the treatment and establishment of treatment goals along with planning a structure for further treatment.
Further, the therapist helps the couple to gain insight into the relationship dynamics which causes the problem during the treatment phase. It helps both partners in understanding each other, their roles towards each other, and the reason behind dysfunctional interactions. This also helps in changing the way both partners perceive their relationship or marriage.
Along with gaining insight, the couple therapist also works on ways of interactions and changing behavior so that they can identify issues and work on them even after therapy. The couple therapist also assigns homework for the application of skills they have learned during the sessions. It helps in learning to live a positive life after therapy sessions end.
Considering Couples Therapy
Couples therapy is for any relationship which involves:
Gay or straight relationships
Interracial relationships
College or teen relationships
Relationships with an age gap
Relationships including engaged, dating, or married
Also, if you're engaged, you can opt for premarital counseling which is an invaluable opportunity for addressing expectations before getting married.
Couple therapist works on fixing current issues along with preventing an exacerbation of problems so that the couple can be known as a "happy couple".
Common areas of issues addressed by Couple Therapist are:
Money
Sex
Parenting
Infidelity
In-laws
Health issues
Gambling
Substance use
Infertility
Attachment
Emotional distance
Other conflicts
Divorce or counseling? Which way should I go?
If you're going through problems in your married life or relationship, I will clearly say that divorce should never be your option if you really want to be with your partner. Couples therapy can help in salvaging a marriage or a relationship.
If you really want to stay with your spouse, you must opt for couple therapy. Couples therapy heals wounds and helps in starting fresh. Couples therapy is a way of restoring the foundation of marriage and instead of taking inappropriate decisions like divorce.
Opting for Online Couples Therapy
If I talk about online couple therapy, online platforms not only revolutionize practices involved in couples therapy, but also works on reducing the stigma of receiving therapy. Online platforms have made couple therapy more affordable and accessible.
There are several advantages of online couple therapy that are quite similar to face-to-face traditional therapy.
First of all, there is an opportunity for more communication with the ability to share as much as you can without causing any interruptions. It also provides an ability to process thoughts along with communication skills so that the relationship can go more smoothly.
Format of couple therapy provides space and time for processing problems and reflecting on them with full focus. It increases intimacy, honesty, and trust. If you're also battling with relationship issues, then give couples therapy a try without a second thought.
I hope this blog helps you in understanding couples therapy in brief. For more such content, follow Calm Sage on all social media platforms.
Thanks for reading.
Next Read:
5 Effective Ways To Deal With A Toxic Marriage
10 Best Online Divorce Support Groups to Approach
Top 15 Couples Therapy Exercises To Try At Home
10 Relationship Hacks Unfurled By Couples Therapists
Post-Marriage Depression: Most Ignored And Untreated Reality