Mental Health
10 Best Online Divorce Support Groups to Approach
Last Update on May 18, 2022 : Published on March 26, 2021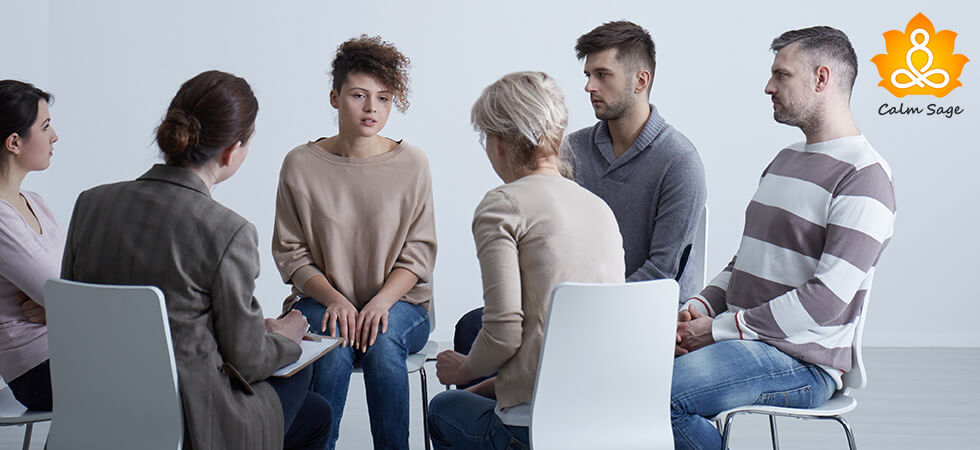 Going through a divorce is never easy. There are so many things that one becomes liable to do, hundreds of people to meet, thousands of questions to answer, tons of formalities, and yes, how can one forget all the mental stress and trauma. All the tension one goes through before they decide to finally end all of it.
In this busy world, it is hard to find people who really care about you. Even if you do there is no guarantee that they would be near you or available to lend you a shoulder to lean on. That is when Online Divorce support groups work, an online community where you can share your problem and people who had similar or professional will support you.
People who have never experienced it don't know what toll it can take on a person's confidence and overall behavior and if proper support is not provided at the right time then the suffering can last for a very long period.
In this blog, we'll help you explore a few online divorce support groups where you can find other people going through the same as you. These online divorce support forums will help you find the help and support you need from the comfort of your couch.
10 Best Divorce Support Groups Online:
Just like physical support groups you can join some of the best online support groups from the comfort of your home. Some of the best are:
1. Psych Central

First in the List of Divorce Support Groups Online is Psych Central. Psych Central was founded in 1995 and is run by mental health professionals. The website has a variety of articles and resources to offer on a varied range of mental health concerns. There are at least 250 online support forums on the site that offer help to people struggling with issues such as anxiety, depression, addiction, etc.
One of those Divorce forums provides help and support to people going through divorce or separation. Each of these forums is moderated by mental health professionals. One of the best features of Psych Central support forums is that they ask users to identify their post features such as any potential triggers, information about rape, violence, or abuse before posting.
Why Psych Central:
In addition to providing sources on divorce and separation, Psyche Central also offers support on
other mental health disorders
, treatment, and other self-care strategies.
2. Dailystrength.org
DailyStrength is a website that offers various support groups as well as Divorce community groups. If you're looking for support or just wanting to join a community, you can find it here at DailyStrength. Community groups can be started by the members themselves.
This online open forum has around 11,000 members and the topics on the forum can range from general conflicts, other mental health concerns, and how to resolve them. After agreeing to the terms and conditions, you can join DailyStrength for free.
The website is clear on its rules; so read the rules carefully before you register.
The divorce support groups on the website are however not moderated and members can report any events of abuse or harassment that happen in the forums. DailyStrength does not have mental health professionals to monitor the forums and while the discussions on the forums may revolve around mental health concerns, likely, the advice given on the site by others may not be accurate.
If you're looking for support on self-improvement, relationships, and mental health concerns, then you can visit this website and even find it helpful.
Why DailyStrength: DailyStrength covers and offers a wide range of topics and support – from relationships and general conflicts to depression and other mental health disorders. Also offers community groups to interact with people who have similar interests as you.
3. LoveShack.org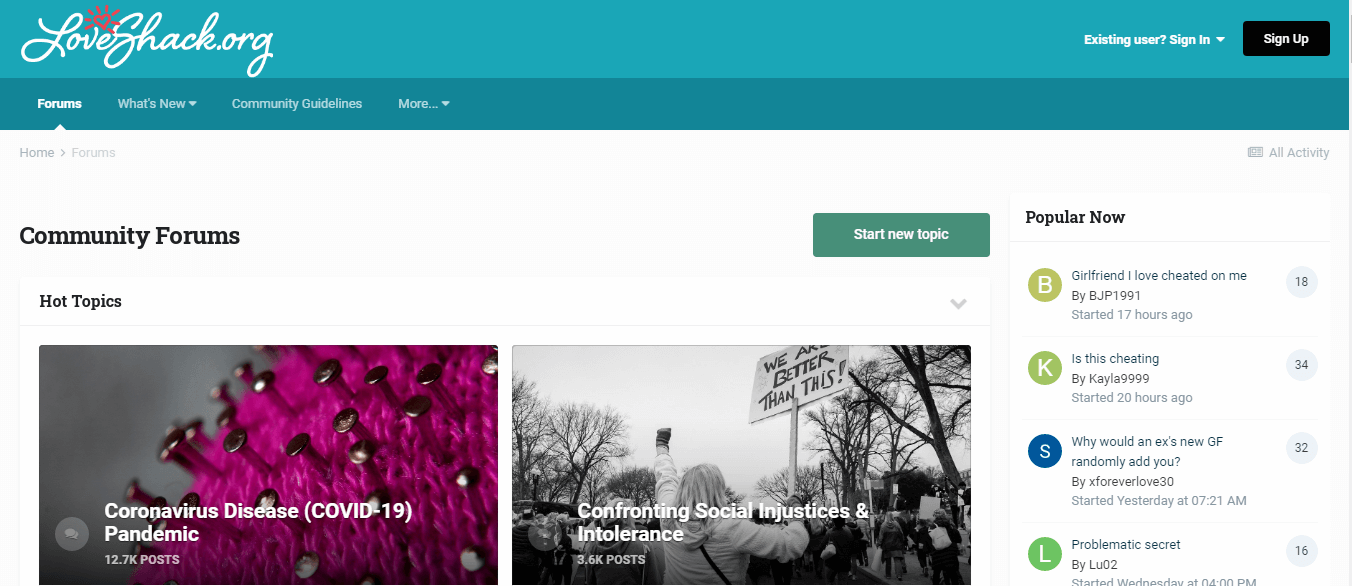 One of the best peer-to-peer communication websites, LoveShack.org was designed as a public forum where people can come and talk about their relationship problems and post solutions to help others. While it is not maintained or moderated by mental health professionals, the solutions are provided by people who've been through similar problems and trauma.
You can even connect with people via live chat who have been through similar challenges as you. Not only you can gather information and guidelines but you can also save all of it in journals.
Yes, the site offers you "journals" where you can write entries – similar to blog posts. People can read and comment on each other's posts.
Why LoveShack.org:
LoveShack.org is one of the best online Separation support forums to visit if you need
relationship advice
. Offers a space to talk about relationships, divorce, and other general topics with like-minded people.
4. Talk About Marriage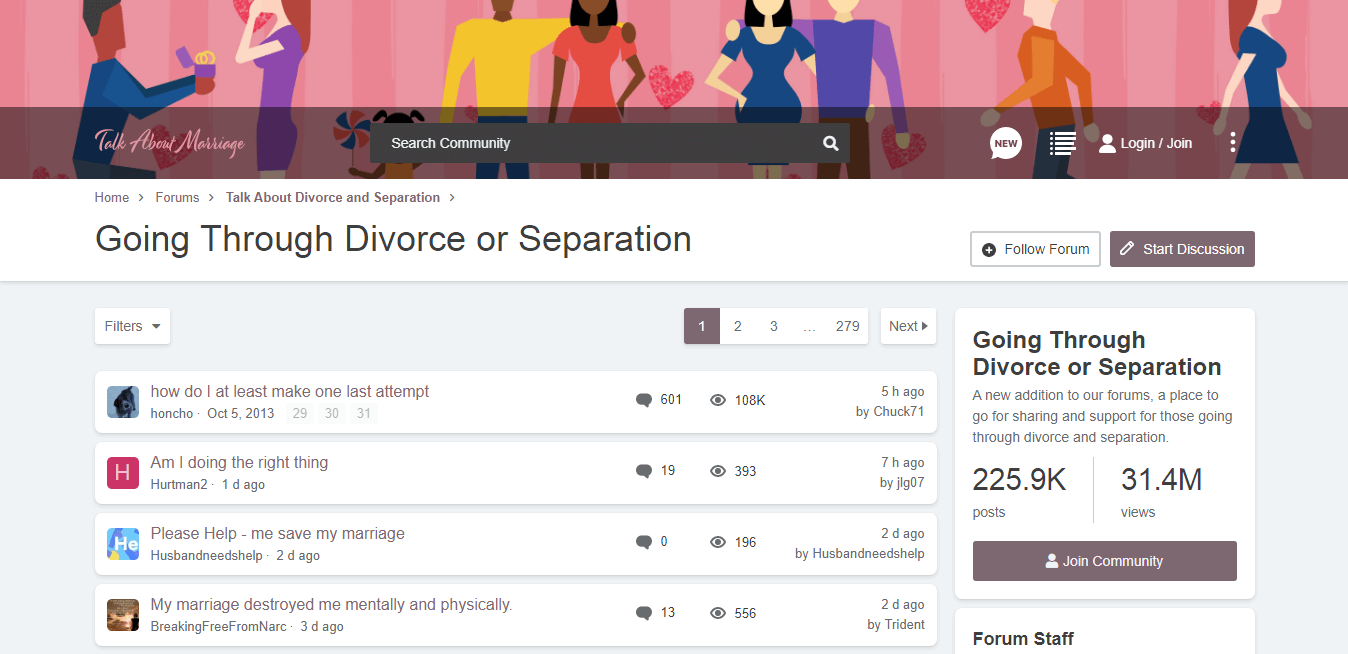 One of the most active online divorce support forums, Talk About Marriage is also one of the best websites you can log in for support. Not just about marriage, you can seek almost any kind of support from relationship advice to solutions to various problems. You can also read blogs, discuss on the forums, and so much more.
If you're looking for a discreet group then you can log in from your ID and can share experiences with others. There are few volunteers and experienced moderators that ensure the flow of conversations and also keep a lookout for fake news, advice, and spam.
With more than 90,000 members, this community has millions of posts, answers, and queries that you can use for yourself. From divorce and separation to other relationship issues, this website offers a lot of insight.
Why Talk About Marriage:
It is one of the most active online forums there is. Along with divorce support group, there are other contents that you can peruse such as sex, infidelity, and other general
relationship issues
. You also have the option to narrow your search by using keywords.
5. Men's Divorce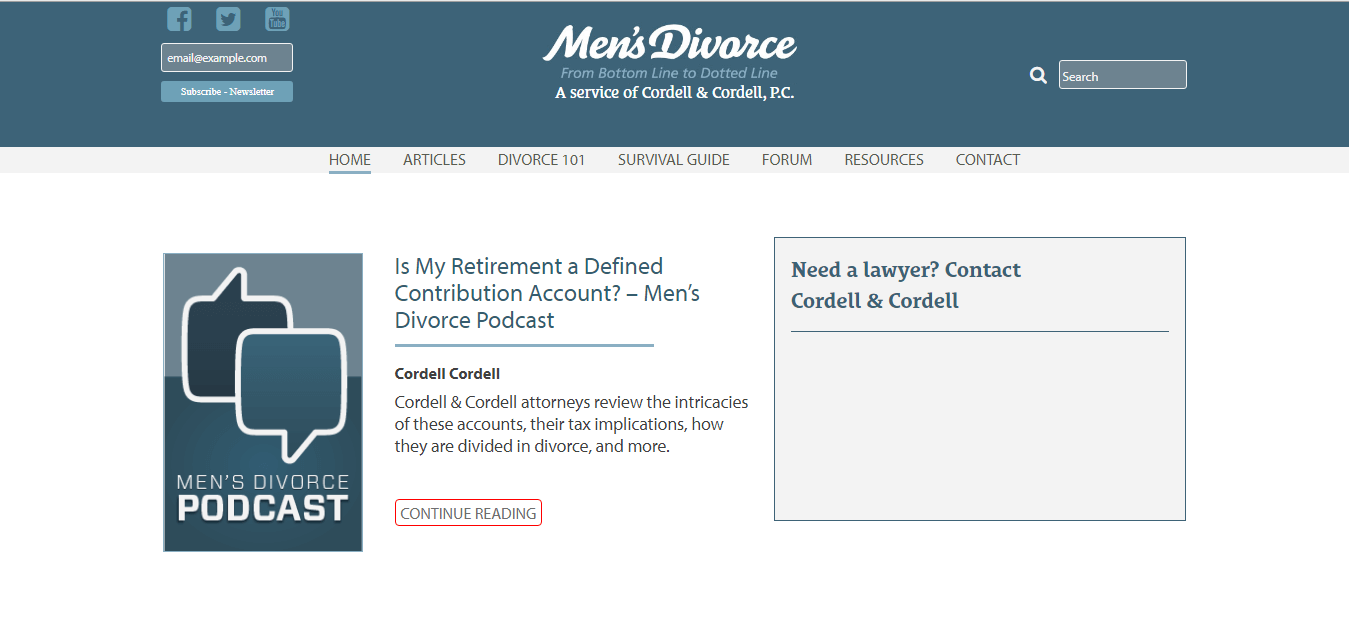 This website was created by a law firm that specializes in addressing the various aspects of divorce for men. Men's Divorce, as the name suggests, offers a variety of resources – from child support calculators to survival guide to divorce.
They also have a forum that allows members to discuss divorce-related problems and custody-related issues with each other. Men's Divorce can help men (or dads) learn more about the legalities of divorce and custody issues. You can also find articles on divorce and divorce-related legal issues here.
The forum is not run or moderated by mental health professionals but is moderated by volunteers and legal professionals.
Why Men's Divorce: It is one of the best online support forums designed for men. Men can find help and support in all legal matters related to divorce and custody assignments here. You can also find articles that can help you understand the legalities of divorce from a male perspective.
6. WomansDivorce.com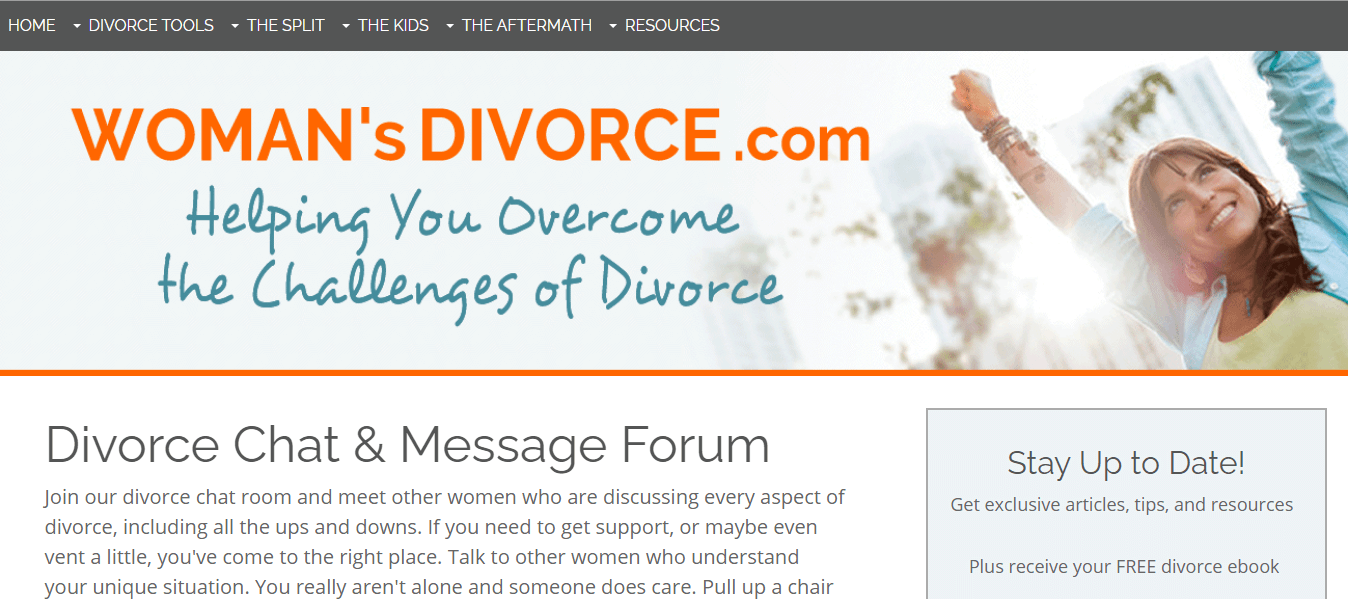 WomansDivorce is a website created specifically to cater to women and to discuss the problems and issues a woman goes through during a divorce. Women users are encouraged to give and receive support and also share their experiences with others.
The website helps address issues such as; how to deal with exes or soon-to-be exes, how to help a child struggling with adjusting to divorce or separation, or how to deal with child support problems.
WomansDivorce is a public divorce forum online where others can read and reply to your posts. Women can also find lawyers or counselors via the website. The website also has a section where you can ask questions from a legal professional and where you can find answers to common divorce or separation-related questions.
Why WomansDivorce.com: WomansDivorce is an online public forum where women going through a divorce can seek support from other women going through the same as well as legal professionals. You can get support from how to start the divorce process to how to tackle what happens after the divorce is final.
7. Marriage Builders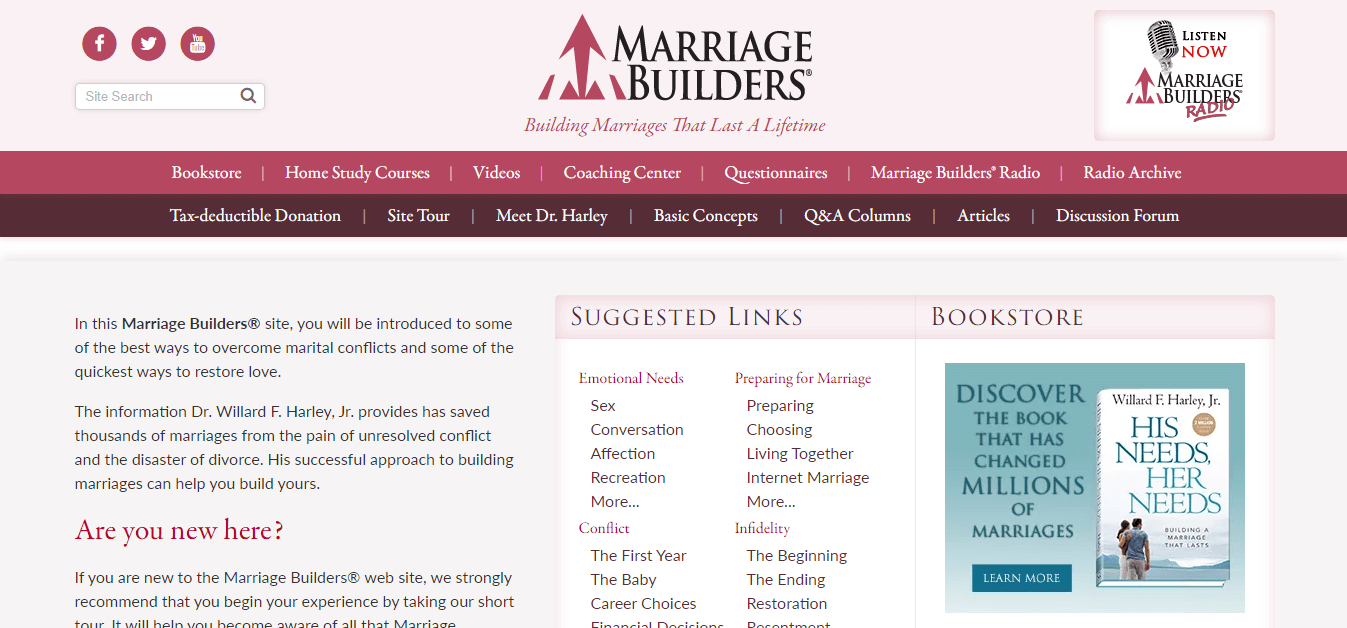 Marriage Builders provides support to couples who face problems in their marriage and want to fix them. As the name suggests, Marriage Builders works on reconciling couples and helping them get back together.
On the website, you can find articles, links and podcasts to help you and your partner. From infidelity to ignoring small conflicts, the website has it all. But keep in mind, the forum is open to the public.
If you're looking for more focused support then you can check out their dedicated phone sessions with Steve Harley, who works with couples all over the world, resolving the conflicts between them. Here, you can also find a section that can help you with post-divorce grief and pre-divorce conflict.
Why Marriage Builders: This is the best website that is dedicated to helping couples reconcile. Marriage Builders can help you find some common ground in your relationship. It also offers relationship and dating forums. If you're looking to get back together with your partner/spouse, then this website is for you!
8. Grieving.com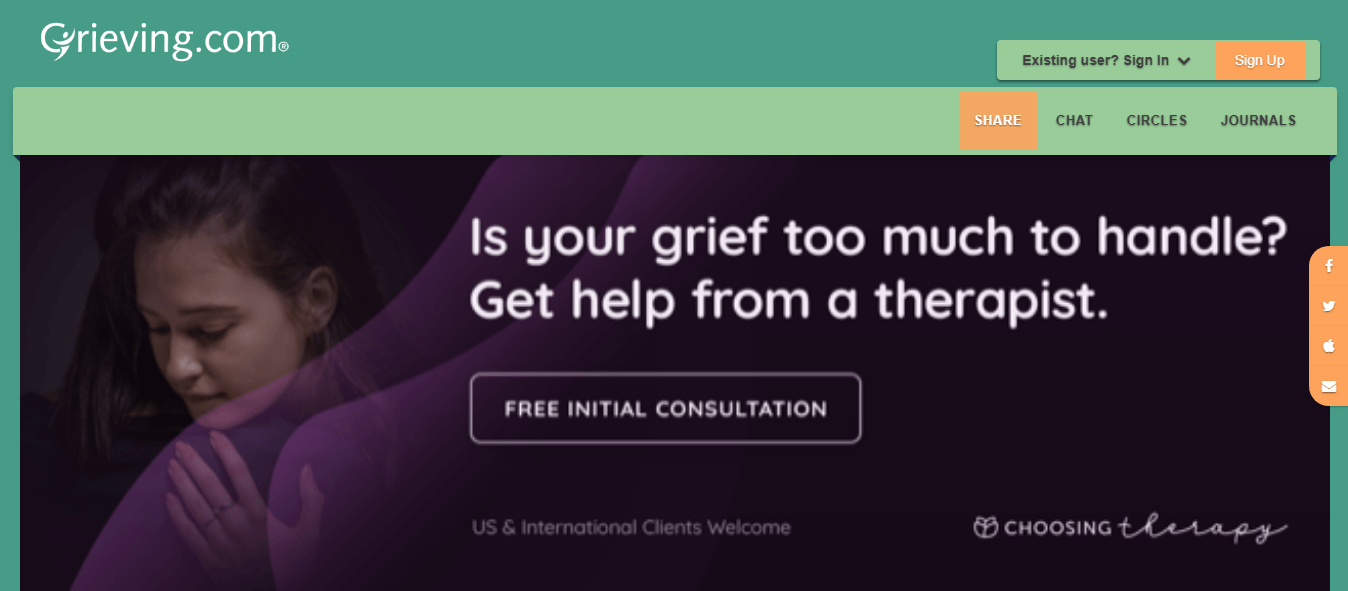 Grieving.com is an online divorce support forum where you can get help and support if you're dealing with the grief associated with losing your spouse/partner through a divorce. This website is an active and public forum that is moderated by mostly the members and users.
Grieving.com is an online bereavement forum where you can find support on topics like loss of a partner, loss of a child (through miscarriage or others), loss of a sibling, or loss of a pet. You can also get support if you're struggling with difficult times, caregiving or terminal illness, and spiritual/religious beliefs.
Why Grieving.com: Not only you will get support on non-death-related issues such as how to cope with losing a relationship or partner/spouse through divorce but you also get support on other grief-related issues from people who've been through a loss.
9. Divorce Source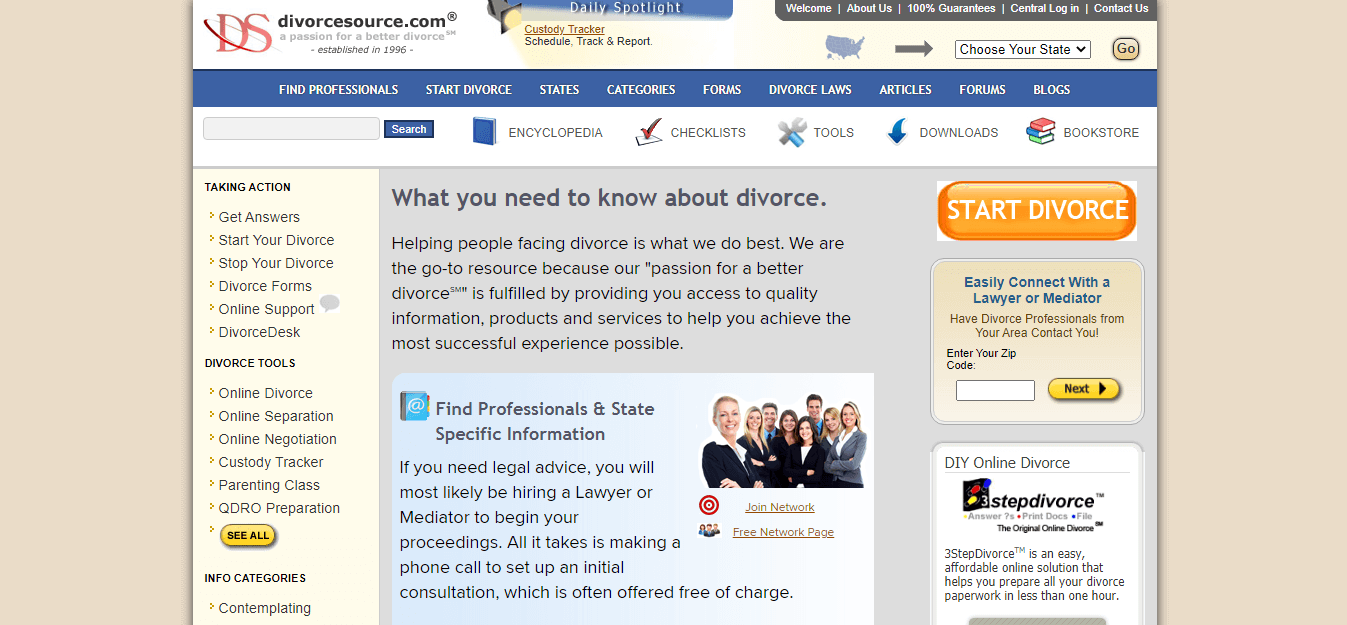 Divorce Source is an online forum that you can access for free and is focused on the legal aspects of divorce proceedings. While the website does not provide legal counsel, a member can, however, find "friendly advice" on the site.
This online forum also offers various resources for legal advice, consultations, and guidance. This is an active forum.
You can also find legal support by selecting your state and category such as affairs and divorce, children and divorce, parenting and divorce, divorce process, and divorce recovery, among others.
Why Divorce Source: This is an active website that provides support, guidance, and consultations on numerous divorce-related topics. Here you can get legal support as well according to the state you reside in.
10. Divorce Support Group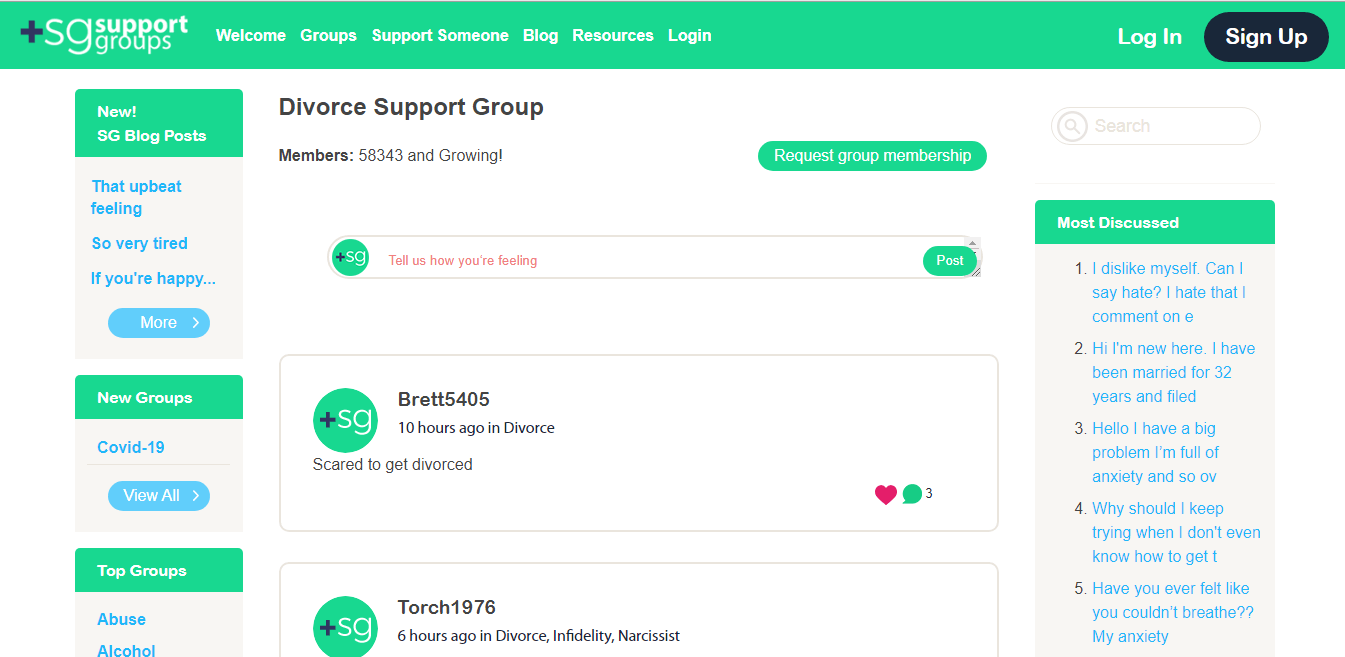 Divorce Support Group is a sub-category of Support Groups. It is an active forum and has over 58,000 members and is moderated by volunteers. The posts here can be categorized by topics such as infidelity, family, loneliness, single parents, co-parenting, divorce, and dating. You can also get support for depression, anxiety, and other mental health disorders. The tags can help to navigate the forum easier.
Divorce Support Group offers a large variety of resources to help people going through a divorce and the conversations are active and supportive. This is an online forum that you can join for free.
Why Divorce Support Group: Along with divorce, DSG offers support and resources on other relationship-related topics such as single parenting, loneliness, online dating, and infidelity. You can also join other support groups that help people with other mental health concerns as well.
Frequently Asked Questions:
1. Are Divorce Support Groups Helpful?
A support group can provide you with support from people with shared experiences. They also offer useful advice to people going through emotional troubles and can provide them with relevant resources and information that can be helpful.
2. What are The Five Stages of a Divorce?
The five stages of divorce are similar to the five stages of grief; denial, anger, bargaining, depression, and acceptance. A couple going through a divorce can experience these stages differently and individually. People move through divorce differently and understanding how to move with the grief can make the process manageable if not less difficult.
3. How Do You Help Someone Who is Struggling With a Divorce?
Supporting someone going through a divorce can be difficult, not to mention, challenging. You can support your friend or family member by;
Actively listening to them and offering support or advice only when needed
Stay in touch with your friend or family member even after the divorce is final
Help them remember their big milestones – anniversaries, birthdays, special days, etc.
Provide them with emotional as well as mental support
Make them feel involved in the things you do. Involving them in small events can help them move on a little better and make them feel less alone.
4. Would I be Happier After Divorce? 
Divorce doesn't lead you to a better life, however, some people feel happy and relieved as a result of a divorce. Ending a marriage can be a difficult decision but if you're in an unhappy marriage, that cannot be resolved with couples counseling, then divorce may make you feel happy and even relieved. But when people in low-conflict marriages get a divorce, it can make them feel unhappy.
Whether you're happy or not after a divorce depends solely on your marriage and the circumstances that lead up to the divorce.
5. Is it Better to Get a Divorce or Stay Married? 
While it may be difficult to deal with conflicts in a marriage, many researchers suggest that couples who can remain together despite struggles can be happier down the road than couples who choose to divorce. Although, getting a divorce if you're in an abusive or unhappy marriage can make your life better if not happier.
Divorce may not make your life better or happier but staying in a loveless or abusive marriage isn't healthy. As I said before, divorce depends solely on your marriage and the circumstances that lead to the divorce.
Moving On…
So these were some of the best online divorce support groups that I wanted to share with you. Processing grief, sadness, trauma can take longer and may even develop into something worse if proper support is not provided.
The groups mentioned above are filled with resources and knowledge from around the world. If you are facing problems with your relationship and want to process them, then giving them a try won't hurt.
Hope it helps.
Thanks for reading!
Next Read:
Best Online Bipolar Disorder Support Groups
5 Best Depression Support Groups In 2021
Best Online Transgender Support Groups of 2021
The Best Online Grief Support Groups Of 2021 | Ask For Help
Eating Disorder Online Support Groups and Where to find them