Therapy
Gay Couples Counseling: Revitalize The Love And Trust Again
Last Update on March 5, 2021 : Published on March 7, 2021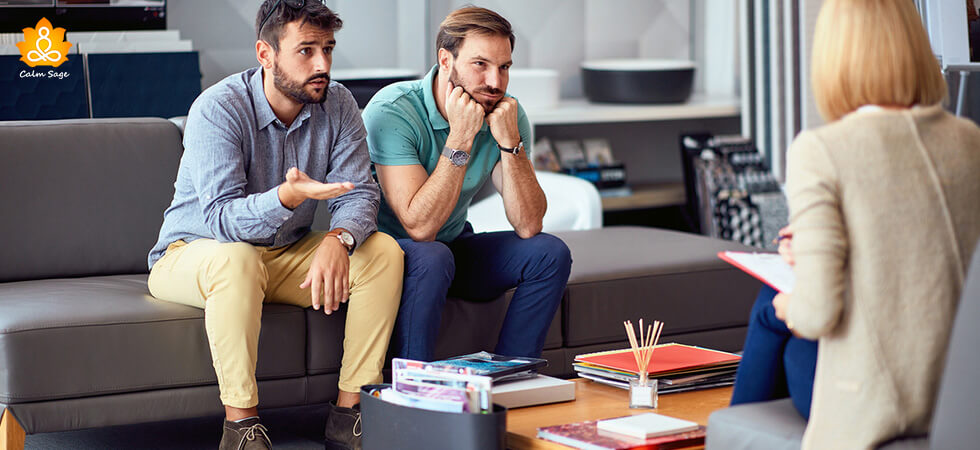 For how long you're feeling disconnected from your spouse or partner? Are you also missing the old times when you both used to have intimate and safe communication with each other? If you're worried about your growing emotional and physical gap, consider having gay couples counseling.
Indeed, life is full of ups and downs so is the relationship with a partner or spouse. Wondering if your relationship can have that essence again? Then trust me, you can revive the love and trust again in your relationship or marriage.
Related read: Best Online Transgender Support Groups
If you're going through infidelity, click on the link to read about it. Don't worry everything can be revived again if handled and managed properly. To help you through with this phase, gay couples counseling is one of the best and effective ways.
This blog covers an overview of gay couples counseling. So, let's get started.
Every Relationship has Problems:
From open relationship issues to infidelity in a relationship, every relationship has problems and every problem comes with a solution. The capability of advocating peacefully and positively is provided to counselors. And, the reason you should opt for the counselor is that they teach us the way to live positively and happily with our partner. A bit of personal advice from someone close can never take the place of therapy.
The major reason behind conflicts and issues is poor communication. Whenever someone feels guilty, ashamed, or betrayed, the right words and sentences help in describing their feelings. This skill helps everyone to grow their relationship wider. Good and effective communication is really important for any healthy marriage or relationship.
Also Read: Communication And Mental Health: Why Is It The Key To Mental Wellness
Specifically, good communication is required in open relationships to avoid conflicts and confusion. Negotiation of terms and conditions requires a different level of vulnerability that many couples do not and are not prepared for.
Couples experiencing difficulties in their relationship and vulnerability might take the help of avoiding issues. Trust me; every couple is not capable of handling the complexities of a relationship especially when it comes to same-sex.
However, gay couples counseling AKA LGBTQ couples counseling may help in finding renewed possibilities when working together for establishing new levels of effective communication.
Check these top 3 counseling platforms for the LGBTQ community.
Additionally, there some toxic masculinity stigmas in our culture that make gay couples open about their feelings and issues in their relationship. I have observed various gay couples carrying internalized baggage or shame from past and judgments.
The good news is that you don't have to live like this forever, gay couples counselors are here to help and your partner reviving the love and trust again. Therefore, keep reading to check how gay couples counselor helps in restoring the relationship.
Related read: What is LGBTQ Therapy
Revitalizing your Relationship with Gay Couples Counseling
Vulnerable emotions and unspoken feelings are the other major reason behind conflicts. Gay couples counseling teaches you the identification of you and your partner's feelings. Counselor also talks about those subjects which are the reason behind your issues.
All the therapists believe that communication is the major factor for the restorement of relationships again. Communication skills do not only benefit your personal life, but it also improves your professional life.
Additionally, productive communication skills are the key to building a healthy and improved intimate life with your partner. The practice of gay couple counselors is skill-based and results-oriented. The therapy or counseling begins with teaching new and effective communication skills along with addressing past issues that might influence the ability to focus on your relationship and present.
Gay couple counselors are licensed and experts in LGBTQ counseling. The counselors are best-equipped to help you towards better today and tomorrow. All the spaces created for the LGBTQ community are shame-free and judgment-free that are perfect for starting your journey of restoration and healing.
Related read: How to find an LGBTQ friendly therapist
Tips for Finding the Gay Couples Counselor
If you're looking for a therapist who works for gay counseling or LBGTQ counseling, you can check these below-mentioned tips for finding:
1. Ask direct questions related to the LBGTQ community, counseling, and mental health stigmas.
2. You can also ask your peers to suggest a good therapist for counseling.
3. Check how the staff treats you when you enter the premises. If you're looking for a counselor online, check their services before paying them.
Also, check our review on Pride counseling from here.
I hope this blog helps you to understand everything wanted to know about gay couples counseling.
Comment down and share your experiences with gay couples counseling with us. For more such content, follow Calm Sage on all social media platforms.
Thanks for reading.
More power to you!