Happiness
35+ Invaluable Lessons To Learn From The Mistakes
Last Update on February 18, 2021 : Published on February 19, 2021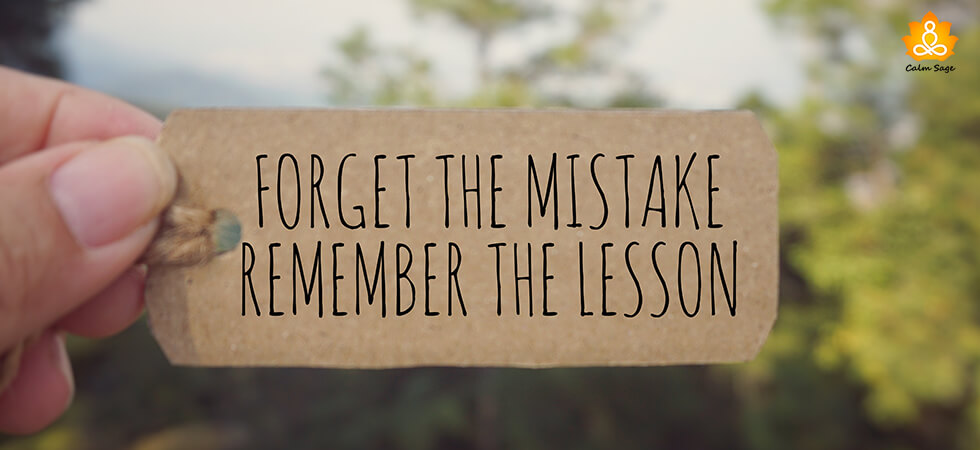 Everyone makes mistakes…isn't it?
Nobody is perfect and we should all learn to embrace our imperfect perfections.
Indeed, making mistakes is an inevitable part of life. However, the art comes when we begin to learn invaluable lessons from our mistakes. Also, making mistakes sometimes become dangerous when you lack the vision of consequences.
According to the history of human evolutions, our mistakes are counted under a variety of reasons like vulnerability, dangers, ignorance, and order. Learning the art of embracing the reality of mistakes can make our vision clear and creative for living a positive and insightful life.
Want to learn how to learn lessons from your mistakes…keep reading and scroll down till the end. This blog covers 35+ invaluable lessons to learn from your mistakes. So, let's get started.
Making Mistakes is Part of Life
Some people are living their life based on, "making mistakes is an aberration, a mistake if you will." Some people name this perfectionism, however, some name this as a substantial problem. Eliminating mistakes and living an optimistic life is often observed as a fixed place.
Also Read: Life has more lessons than you think.
Everything constantly changes and making mistakes is a part of life. Changes are constant, our bodies are always changing constantly, the earth is constantly changing, cultural and economic are constantly changing! Everything changing is a constant state of flux. Similarly, our evolution is based on an adaption of changes.
It is human nature to bend according to reality rather than fighting changes. Getting normal with adaptation and bending towards change helps us in minimizing unnecessary mistakes. Therefore, learning from mistakes should be adapted to live a golden life. Let's read invaluable lessons from the mistakes that we usually make in our lives.
Invaluable Lessons to Learn from Mistakes:
Life is full of variability and uncertainty which makes mistakes an inevitable part of life. Below are lessons that you can learn from your mistakes:
Always work on extending your knowledge.
Always focus on something that the world doesn't know about; embrace your research and knowledge.
Always work on revealing the gradation.
Work on enhancing your skill power and levels.
Help the world see the reality, instead of digging the reality into the ground.
Inform people more about values and worth of peace and happiness
Teach values and skills to other people
Identify circumstances that might lead to consequences.
Keep informing people what does not work and what works as per situations.
Teach and remind people of humanity.
Motivate people to work better and do better.
Promote self-compassion through self-awareness and become an inspiration for everyone.
Promote self-forgiveness and letting go of negative emotions and thoughts.
Help people to pace up themselves.
Provide better opportunities to people and become an inspiration.
Motivate people to be experimental in regards to their career and growth.
Keep sharing your insights with people so that they can suggest better things related to it.
Always suggest new options and keep on experimenting with new things.
Warn people when they are going off track.
Keep on showing fault lines to people so that they can become more productive in their lives.
Guide structures and patterns of life to the young generation.
Always keen on learning more things about life and your growth.
Remind people to be more productive and help them with their career and development.
Practice kindness and humbleness towards everyone.
Help people in rectifying or clarifying issues or injustices in their lives.
If you know how to balance it, teach others as well.
Encourage others to move on from their past and do better in their lives.
Reveal what you're passionate about and never underestimate the power of reaching goals.
Solve problems in your relationship instantly; do not let them grow bigger.
Keep sharing your feelings with your loved ones.
Do not misjudge people (such a toxic behavior to carry around).
Show people the right path and do not let them go into the darkness.
Be a good listener, do not ignore warning signs.
Work upon your authentic self.
Do not create distance from your loved ones.
Keep revealing the blind spots.
I hope this blog helps you to understand invaluable lessons to learn from the mistakes you often make in your life. Comment down if I have left any invaluable lessons to learn from mistakes. For more such inspiring content, follow Calm Sage on all social media platforms.
Thanks for reading.
More power to you.