Motivation
S.M.A.R.T. Goals The Key To Achieve Your Aim, Manage Time, and More
Last Update on January 8, 2021 : Published on January 9, 2021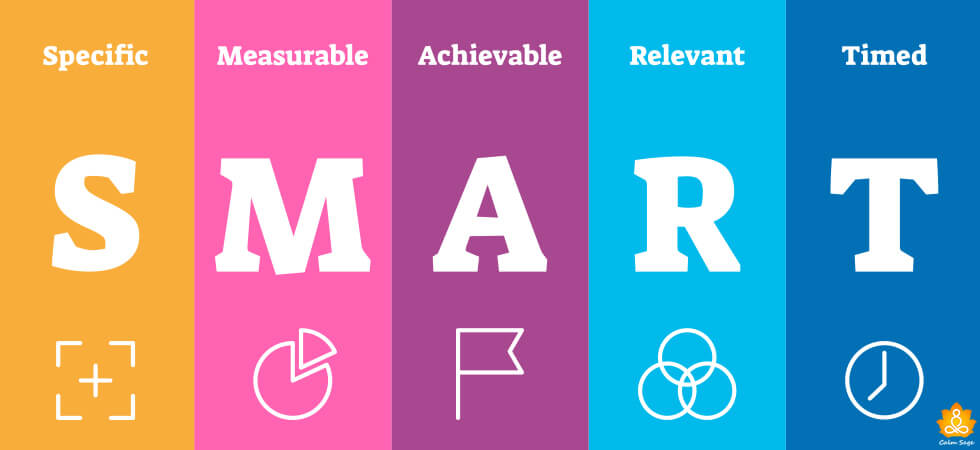 Do you have a goal in your life that keeps you going or drives you to be unstoppable? I bet we all have at least one goal in our life that we wish to achieve in this lifetime.
But "How To Achieve It" this goal is the biggest hurdle to cross. What if I tell you that there is one such method that can help you achieve your goal.
This method is known as S.M.A.R.T. Goals. Before understanding what this method is and how you can implement it, we shall quickly see the magic behind this method by answering some important questions.
[ Related: STOP DOING These 8 Things If You Want To Achieve BIG GOALS ]
Do S.M.A.R.T. Goals Work?
S.M.A.R.T. goals have been found to work incredibly well in helping an individual define and implement his intentions. It has been found to work effectively in different settings ranging from healthcare settings to business and educational ones.
Through this method an individual looks at all the factors that are involved in achieving the goals, making it a doable task. It is one of the best ways that is consistently used to understand a goal and achieve it.
Why are S.M.A.R.T. Goals Effective
S.M.A.R.T. Goals method works effectively as it doesn't push you to go far and beyond to achieve your goal. Instead, this method guides you to get a sense of direction and helps you get organized to achieve your goal. By increasing your sense of ownership and creating personal importance it makes the goal achievable.
[ Related: How to fulfill your Dreams: 7 Easy Steps to reach your goals ]
What are S.M.A.R.T. Goals?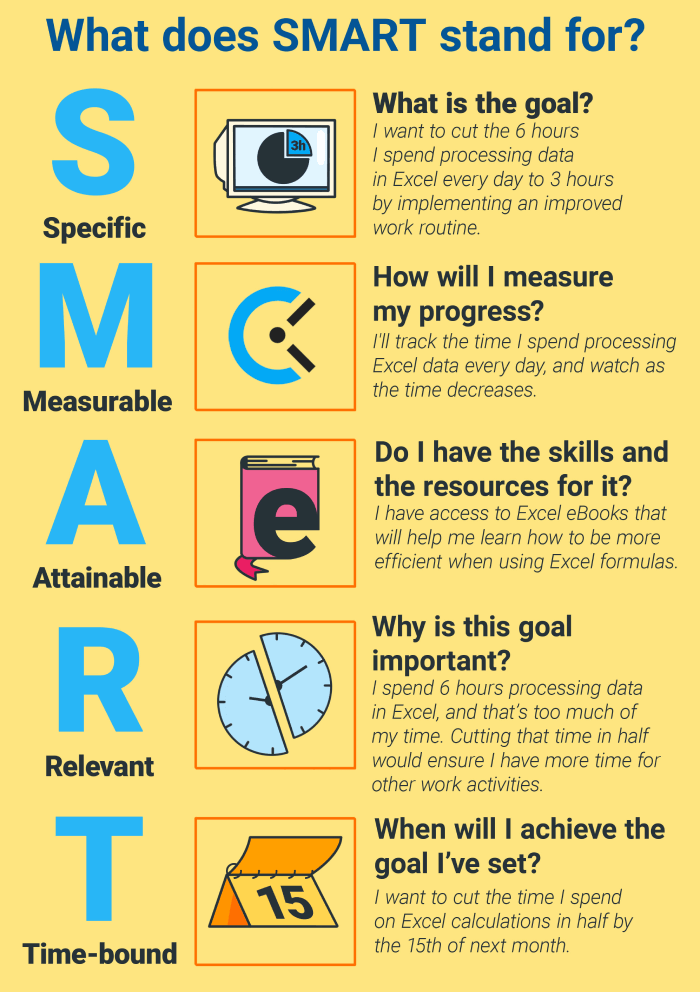 S.M.A.R.T. Goals is a method where we identify our goals and create a pathway to achieve these goals. It is a psychological tool for increasing productivity, achieving goals, managing time, and bringing important lifestyle changes. This rule was coined by George T. Doran in 1981 in one of his management research papers.
How To Implement S.M.A.R.T. Goals
To implement S.M.A.R.T. Goals we have to first understand what S.M.A.R.T. stands for.
Now let us understand each element of S.M.A.R.T. Goals one by one!
S.M.A.R.T. Goals
S: Specific
To start with you have to cut off the ambiguity and bring on the clarity. It is important to have a clear idea of what your goal is. Ask yourself what you want. At first, there might be some sentences like I want to be healthy, I want to increase my physical activity, I want to start practicing yoga, and more.
Now diverge these statements into a single specific goal. Which might be either of the two "I will have salad in my meal" or "I will exercise for 30 minutes daily." By defining your goal clearly, you make your pathway leading to it clean.
Pro Tip: Make a goal that denotes achievement and not avoidance, instead of saying avoiding toxic people write accepting positive people.
M: Measurable
Next comes, keeping a track of your progress towards achieving your goal. This helps you in two ways:
it motivates you to take another step and it allows you to set milestones, on achieving that you can celebrate. To make this work adding measurable criteria to your goal is suggested.
For example, if your goal is reducing screen time by 10% daily then you can keep a tracker for the same via inbuilt features or use apps like a social fever. By looking at the progress that you make each day you are sure to feel happy.
It is important to note here setting measurable goals also allows you to see where you are lagging. This further helps you make crucial changes in your goals or in the path that you have laid to achieve them.
So, if the quantity of your goal is not in line with your expectations or benchmark, don't be disheartened! Instead, look for ways to make it happen. Because you can!
Pro Tip: If there is no app available for you to track your goal, create your own tracker. For example, if your goal is to feel less stressed and happier, you can create a mood tracker.
A: Attainable
A major loophole in goal setting and achieving it is, aiming too high that you end up missing the target. In simpler words, setting unattainable goals. And when the goals are not attained they soon replace the feeling of motivation with a feeling of failure. For you to be pumped with confidence it is important to have achievable goals on your list. Along with making a goal attainable make sure that you have a plan B ready, just in case things don't go out the way you expected them.
For example, if you decide to go to the gym daily for a minimum of 30 minutes, but due to lockdown, you weren't able to achieve it. Here, it requires you to change your pathway.
Now you redefine your goal as exercising at home for 30 minutes daily. Making the goal still attainable with just a few modifications.
Pro Tip: After setting a goal break it into smaller achievable goals. Now check if all these little goals can be worked through. If yes, keep moving. If no, pause, think over, and make the goal achievable.
R: Relevant
Here is the point where you add your essence to the goal on one hand and tests how realistic it is on the other. When we say add your essence we are suggesting you pick a pathway that you enjoy.
For example, to reduce stress in your life you may choose between yoga, mindfulness, therapy, lifestyle changes, and more. The decision simply relies on what you connect with the most or you enjoy doing.
Next comes the realistic aspect. Is this goal aligned with your current life goals, and are you truly getting benefit out of it? If yes, then the goal is a realistic one that you should go on and pursue.
Pro Tip: When you set a goal ask yourself two simple questions: what and why. While the answer to what will give you clarity, why will help you check the relevancy of your goal in your life. This will further be your driving force throughout the process.
T: Time-Bound
Do you know when you can achieve your goals and reach success with full efficiency? Well, when you put a little fence around it. The fence that we are addressing is Time-Bound. An element of time will make you more goal-focused and will also motivate you to strive towards its accomplishment. Plus, with that targeted date in your mind, you are sure to put more effort into achieving it.
Pro Tip: Choose a time that is in near future and not too far. Also, keep it real. For example, setting a goal that I will practice swimming 2 or 3 hours for 10 weeks, can be an exhausting and uneasy time-bound. So, keep it real and in near future.
S.M.A.R.T. Goals Template:
Now go download this template and start working on it by applying the S.M.A.R.T. Goals. If this method of achieving goals and reaching success works for you do share your achievement story with us in the comments section.
Good Luck!
Make Your Goals Smarter With These Tips:
Personal Development Goals to Achieve Desired Objectives
10 Powerful Ways To Overcome Self-Doubt ( Give Your Best Shot)