Therapy
Best Online Premarital Counseling Programs For You!
Last Update on February 2, 2022 : Published on April 14, 2021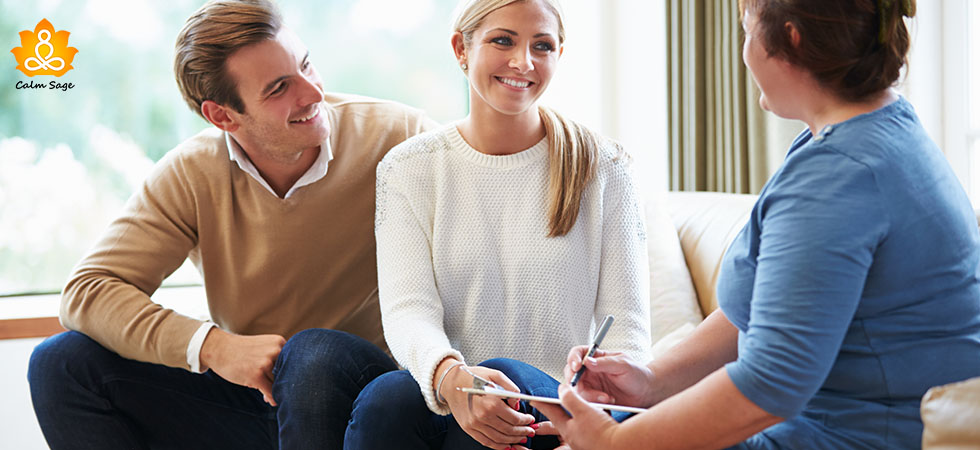 Marriage is a huge step. It not only marks a new chapter of your life but it cements your commitment to a long-term relationship. Married couples have it tough and if you're in a serious relationship, you might think that marriage is a lot of work, and getting married might change the relationship you have with your partner. Premarital counseling programs help you challenge those thoughts and move forward.
Premarital counseling programs are a new and interesting trend that has seen a pleasant rise in the last few years. Engaged couples or couples who are serious about their future together may benefit a lot from premarital counseling.
While pre-marriage counseling is a part of many cultural beliefs – and is a necessity in some faiths – in more recent times, it has become somewhat of a prerequisite.
But before we dive into the best online premarital counseling programs the world has to offer, let's take a quick look at what is premarital counseling, what its types are, and who it benefits.
What Is Premarital Counseling?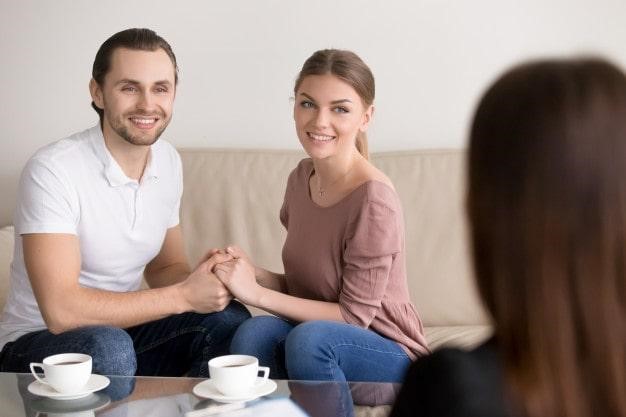 Alike other counseling services, premarital counseling helps a couple understand behaviors, build effective tools, and prepare them for their future together. Premarital counseling, like other mental health counseling programs, helps a couple build strong communication skills, improve relationship skills, and nurture a better attachment with each other.
If you and your partner are going through a tough time creating a plan or are facing issues regarding your engagement or relationship, many online premarital counseling programs can help you figure things out.
For premarital counseling to work, both you and your partner need to commit to premarital counseling sessions. Premarital counseling programs share some similarities with other counseling programs. It can be offered as individual counseling sessions or couples counseling sessions. There are also online group premarital counseling sessions that you can participate in.
Couples entering premarital counseling can address issues such as financial concerns, wedding planning, or any other disagreements they may have. Premarital counseling is more than just figuring out how to move forward in the relationship, it also allows couples to work together with a licensed counselor to understand their relationship.
Premarital counseling addresses issues such as communication skills, conflict management, personality issues, in-law relationships, parenting concerns, finance management, and a couples' overall relationship.
Related: 10 Keys Secrets To a Successful Marriage
Types Of Premarital Counseling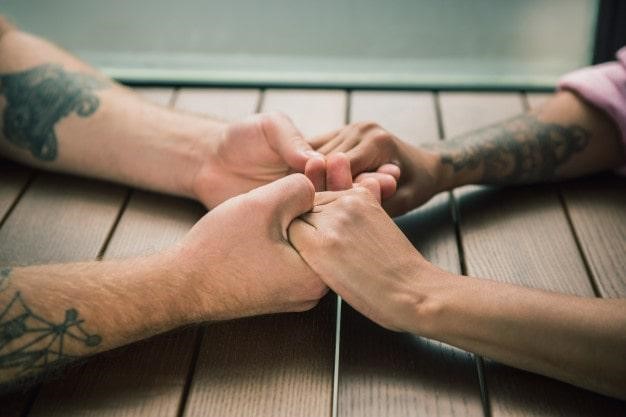 Counseling is an experience that is more often than not personalized depending on the couples' needs and priorities. Many couples prefer an online premarital counseling program that suits their needs while most couples want to include their religious beliefs while addressing premarital issues.
Some couples may find it easier to address their issues in group therapy while some couples may want to go for individual counseling.
Also Read: Gay Couples Counseling: Revitalize The Love And Trust Again
There are many types of premarital counseling programs available to help couples who are looking to take the next serious step in their future.
Some of them can be:
One-on-one premarital counseling
Individual premarital couple counseling
Religious premarital counseling
Online premarital counseling
Group premarital counseling
Group couples retreat or meetings
Financial premarital counseling
Legal premarital counseling
Also Read: 9 Best Online Christian Counseling Services Of 2021
Who Can Benefit From Premarital Counseling?
While premarital counseling might suggest counseling for engaged couples and/or couples looking to get married soon, it is not limited to those. Any couple – regardless of their relationship status – can and should go at least once for premarital counseling.
Counseling can help couples work through any past trauma to prevent any toxic patterns in their relationship going forward. Working with a licensed and trained marriage counselor can also help couples living together domestically but are not married.
Premarital counseling helps couples develop emotional trust and closeness while addressing issues that might become a hindrance if they plan on living together or getting married.
Best Online Premarital Counseling Programs
1. ReGain

Price: Online pre-marriage counseling/couples counseling on ReGain costs around $60-$90 per week which is billed every four weeks. The cost depends on your location, preference, and the availability of the therapist. The membership can be canceled at any time.
ReGain is a flexible couples counseling option. An online relationship counseling platform, ReGain is easily accessible and also affordable. With services such as individual counseling, couples counseling via text, audio, or video calls, couples visiting ReGain can connect with licensed and trained counselors/therapists.
After a quick sign-up process, couples can share their needs and will be matched with a licensed counselor. From there, couples can sign in together for an online chat (via audio or video call). ReGain offers a flexible scheduling option that can help work couples and couples who have other pressing matters to attend to.
One downside of ReGain is that it doesn't provide services covered by insurance.
Also Read: Regain Counseling: An Honest Review of The Renowned Couple Counseling Service
Why ReGain: ReGain offers a flexible schedule option and is the best bet for couples who are busy. Along with premarital counseling, ReGain also offers counseling on issues such as communication, relationship concerns, marriage, and divorce.
2. OurRelationship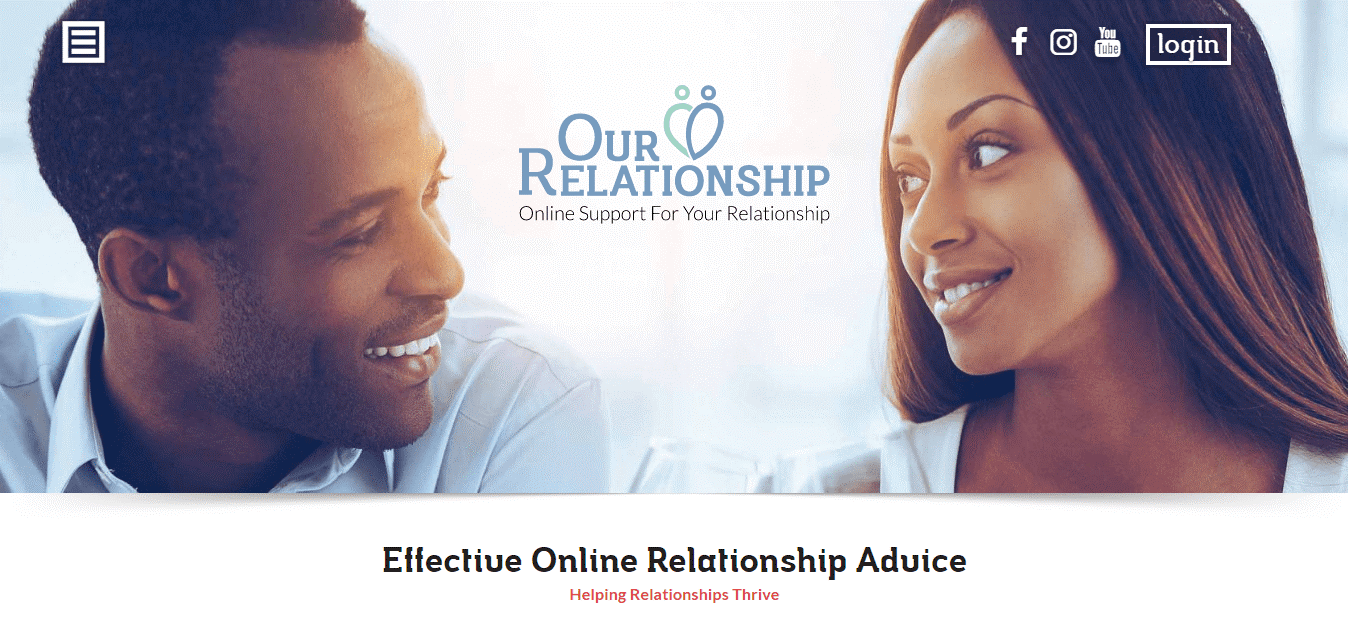 Price: The couples and individual counseling programs cost $150 with a coach. If you opt for the program without a coach, it'll cost you $50. The fee is one-time only.
OurRelationship is an online premarital counseling program that offers aid to couples as well as individuals. The platform helps couples learn how to better communicate with their partner and discuss issues without judgment from either side. OurRelationship also helps couples learn or regain emotional bonding and trust.
The platform has a self-guided program that features videos and activities for couples and individuals (solo activities offered) to help people focus on their relationship.
OurRelationship targets different types of couples from heterosexual couples to same-sex couples to military or veteran couples. The platform is also funded by the Administration For Children and Families.
Why OurRelationship: OurRelationship is an online premarital/couples counseling platform with a self-guided program. It offers help regarding issues such as relationship satisfaction, emotional and sexual intimacy, emotional support and trust, communication among others.
3. Couples Therapy, Inc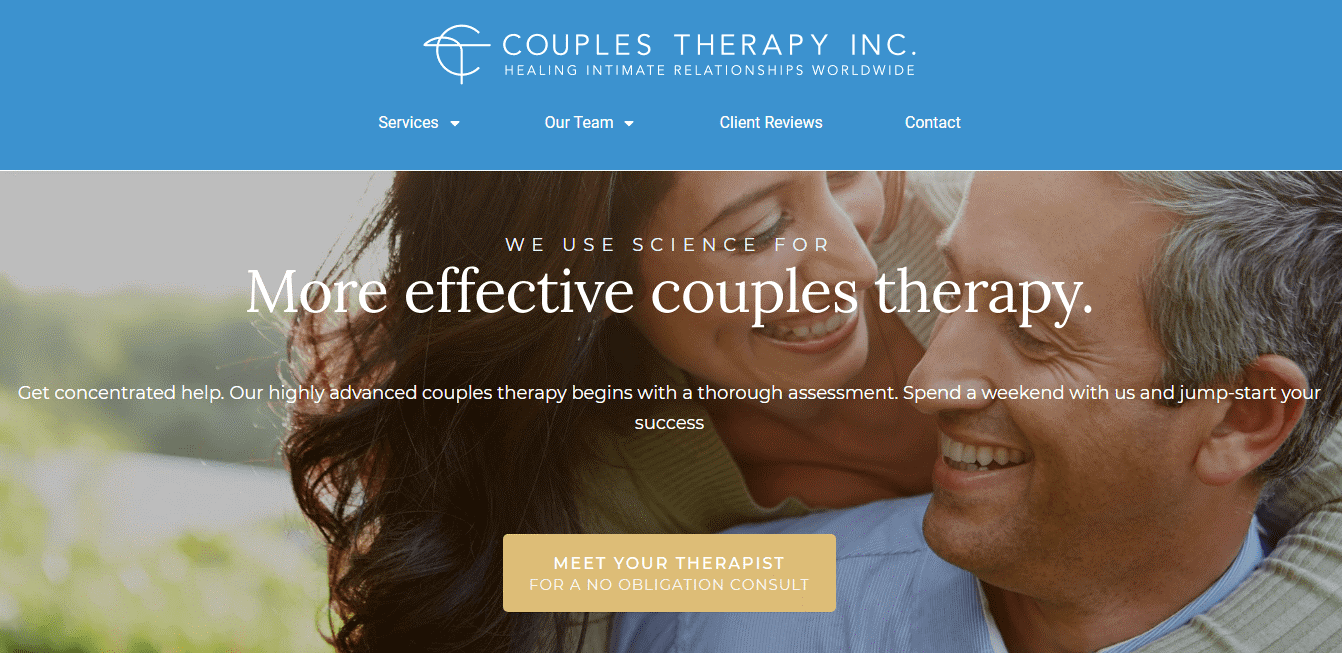 Price: Couples Therapy, Inc has a six-hour assessment that can cost $119, $159, or $199 per hour, depending on the experience and the degree of the therapist you're working with.
Couples Therapy, Inc is an online couples counseling platform for couples who are facing troubles understanding where their relationship is going wrong. An assessment can be provided to such couples with the help of a professional counselor.
With over 40 licensed counselors, Couples Therapy, Inc features an online premarital counseling program and assessment for couples that can help them understand the therapeutic process. The journey starts with Couples Therapy providing an in-depth picture of a couples' relationship.
Couples Therapy, Inc does not take any health insurance.
Why Couples Therapy, Inc: If you're starting with couples therapy or premarital counseling, Couple Therapy is your best option. They provide an in-depth assessment of your relationship that is called the "Big Book" during consultation.
Visit Couples Therapy, Inc Here
4. Talkspace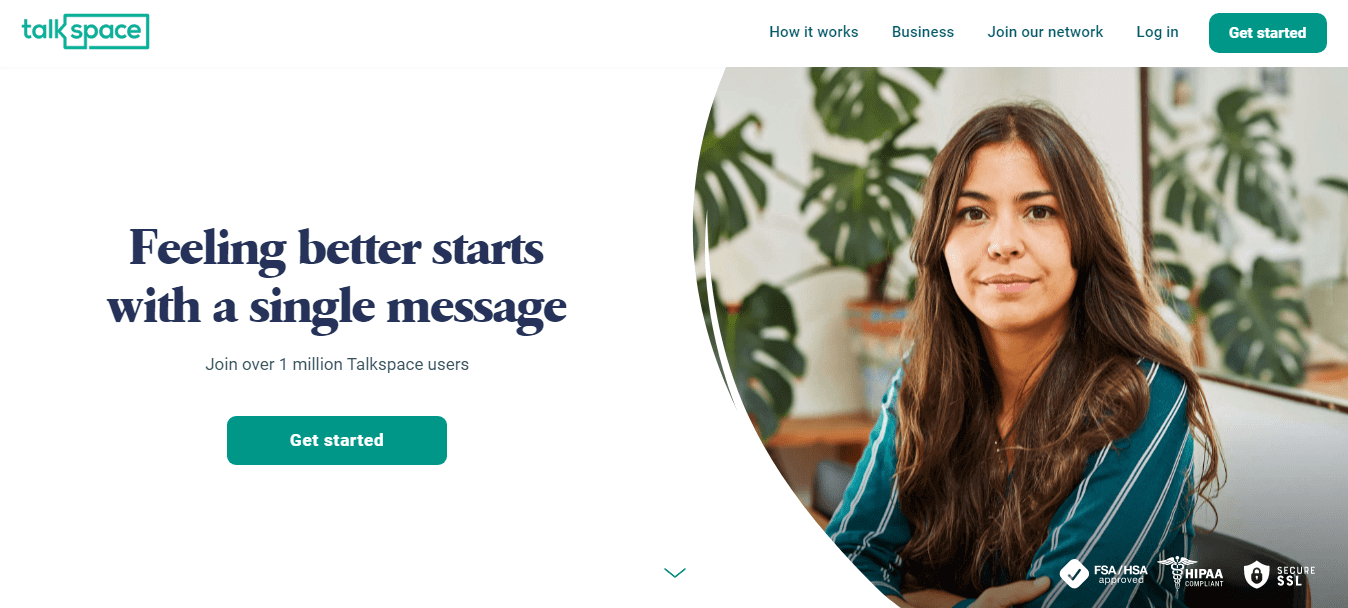 Price: $99 per week on a subscription basis.
Talkspace is another popular online counseling platform that has over 1 million users. On Talkspace, people can talk to their licensed and trained counselors via text, video, and audio messages. Talkspace has a 24/7 reach with no prior commitment needed.
With this online therapy/counseling platform, couples looking for easy access to online therapy and counseling can benefit. Couples with issues such as trust, relationship satisfaction, empathy and more, can take a quick assessment and pick a therapist to help them.
Talkspace offers couples options such as live video sessions and unlimited messaging as well. However, Talkspace does not take insurance.
Why Talkspace: If you're looking for a service with unlimited messaging and access to therapists and counselors to help you with relationship issues such as trust, intimacy, conflict resolution, vulnerability issues, and empathy, Talkspace is a wonderful option.
Related: Talkspace vs. BetterHelp vs. Regain: Which is The Best Online Therapy Platform
5. Lasting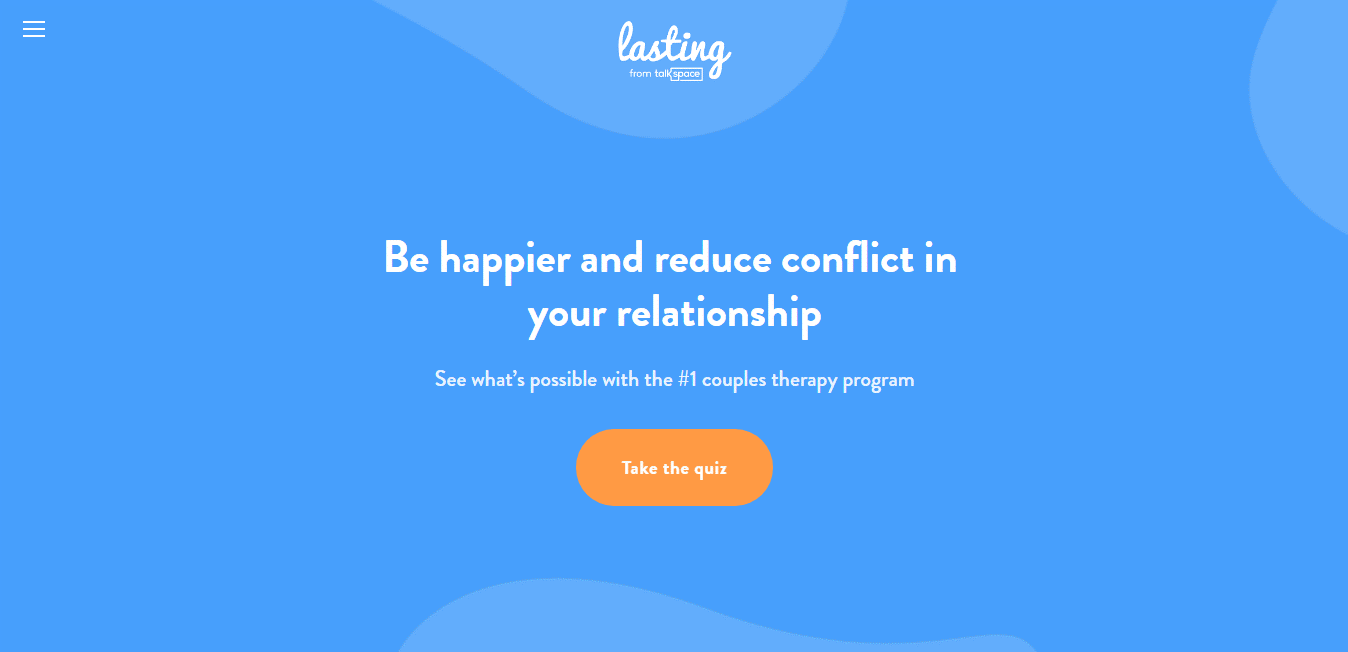 Price: Lasting offers subscriptions at $23.36 per month, $57.39 per three months, and $104.10 per six months. The app also offers a 7-day free trial with your partner. The above cost is for 2 users.
Lasting is an app that provides great help to couples wanting to make counseling a part of their life – even after their marriage. The app is available on Android and iOS and was started by relationship advisor Steve Dziedzic.
Lasting is backed by Talkspace and largely caters to couples in need of marriage counseling. While the app does not have one-on-one counseling, the programs can be done individually or with a counselor. The Lasting app also provides an option where you can pair with your partner's app and take a session together among other benefits.
The app has had more than 500,000 downloads and is rated 4.5 on Google Play Store and 4.7 on App Store. Lasting does not accept insurance but can offer assistance to those seeking financial help.
Why Lasting: Lasting is one of the best couples counseling apps that can be continued even after marriage. The app is user-friendly and provides an option to pair with your partner's app. Together, you can join in the guided sessions, answer questions, and participate in activities.
6. Growing Self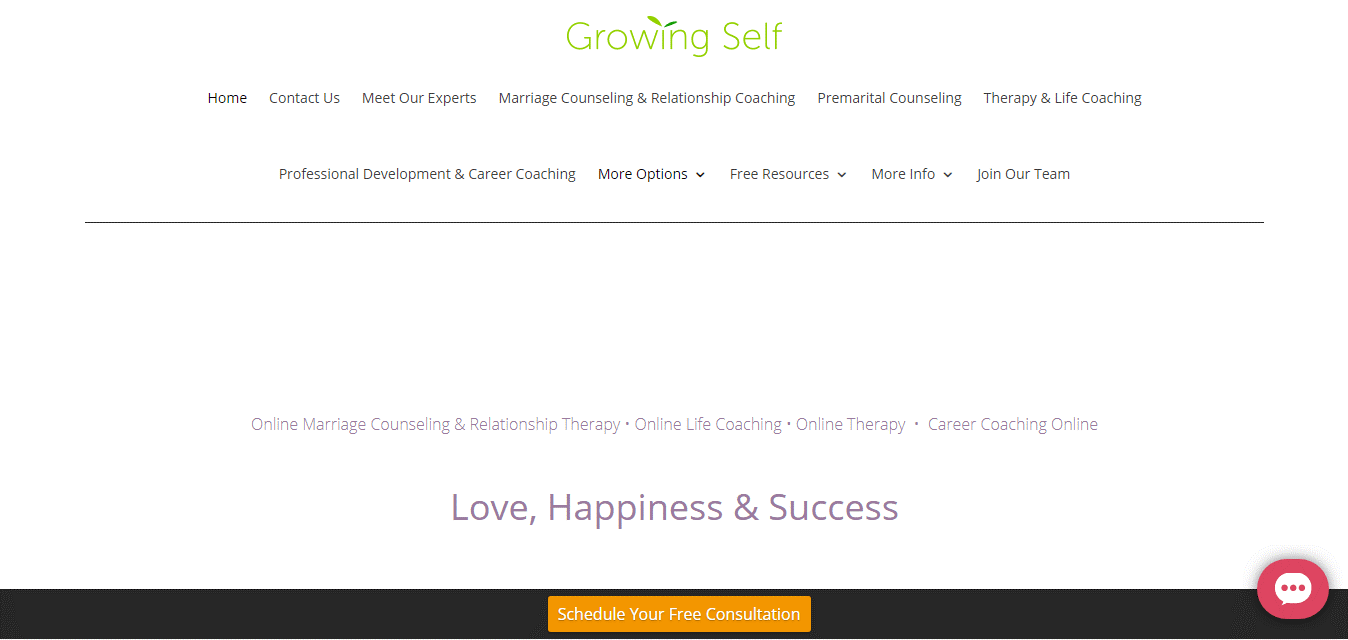 Price: The cost of the premarital counseling session depends on the therapist you're working with, how many sessions you need, and the duration of your session. If you're working with their advanced counselors, then the cost would be $125 for a 45-minute session if you're working with one of their master level counselors, then the cost would be $105 for a 45-minute session or less depending on the counseling session.
With a variety of premarital counseling programs which includes private premarital counseling, Growing Self is an online couples counseling program with licensed counselors to help couples focus on their addressed issues. The program offered by Growing Self is flexible and open-ended without any limit on time and structure.
Growing Self also provides a structured online program and class of 45-minute sessions for couples.
If you're looking for an onsite consultation, Growing Self has offices in Colorado, California, and Arkansas or if you're not comfortable visiting the onsite offices, you can schedule a free consultation online.
Why Growing Self:
One of the best online programs for solution-based needs, Growing Self helps couples and individuals alike improve their relationships, marriages, confidence, self-awareness,
emotional intelligence
among others.
7. Happily Ever After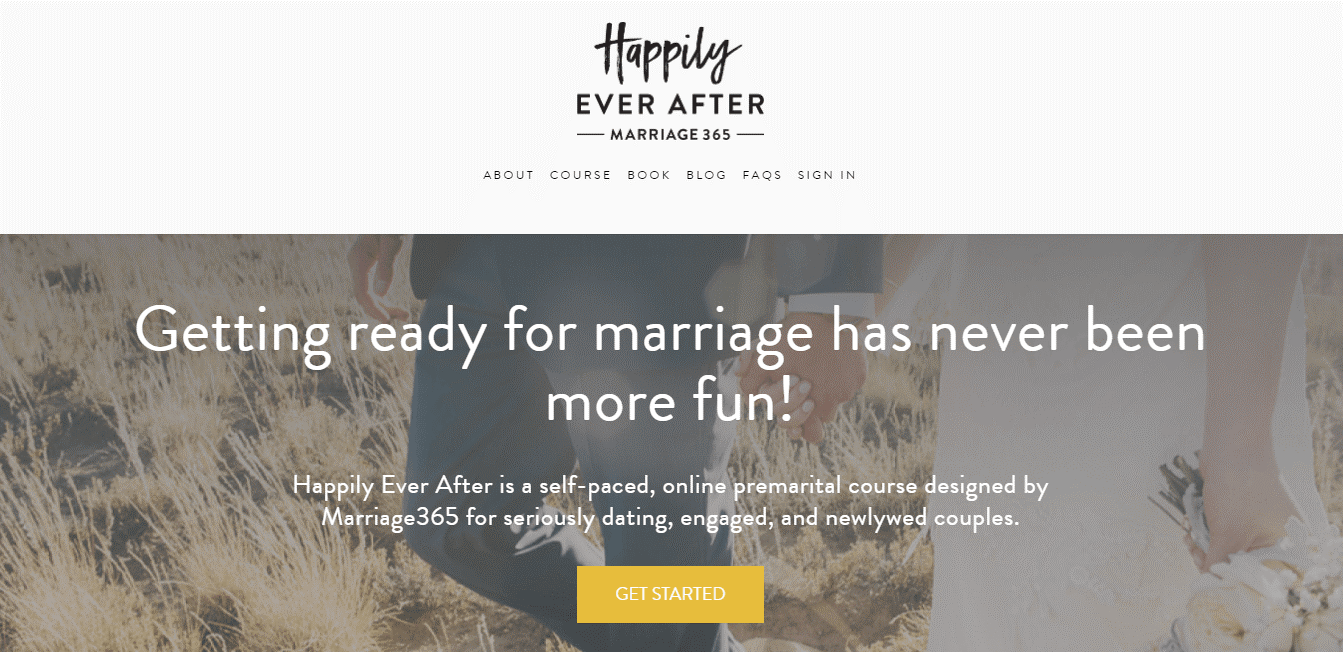 Price: $97
Founded by Casey, a wedding officiant, and Meygan, a life coach, Happily Ever After is a non-profit organization dedicated to providing resources to couples regardless of their relationship status. The online premarital program offered by Happily Ever After isn't exactly counseling but more a self-guided program that covers concerns on financial planning, intimacy, communication skills, conflict management, and in-laws relationships.
The online pre-marriage counseling  program features an assessment, videos, and worksheet that can be easily accessed online at any time. The program is fun, practical, authentic, and affordable.
Why Happily Ever After: Happily Ever After is a budget-friendly option for couples seeking premarital or marital counseling. The platform also offers services regarding relationship issues, finance management, in-law relationships, and communication skills.
8. Relationship Hero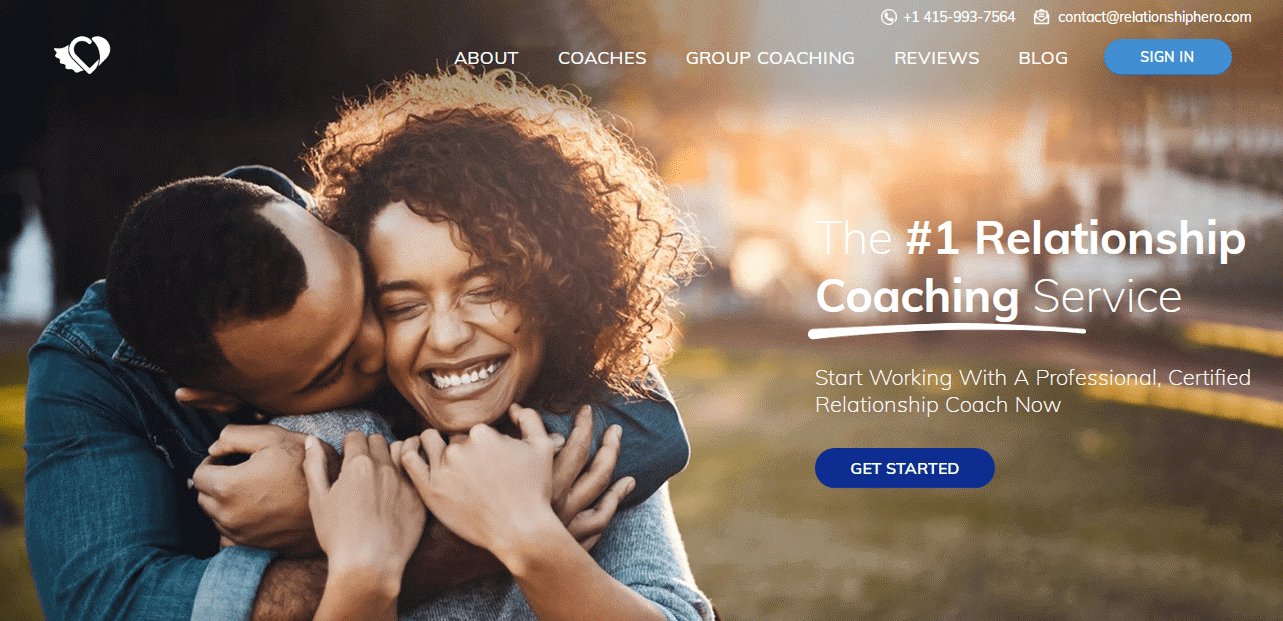 Price: They offer an introductory one-hour session for $100. You can also purchase credits for coaching sessions or subscribe at a discounted rate.
With over 100,000 clients satisfies, Relationship Hero has coaches available 24/7. Please keep in mind that this site is coaching support and NOT therapy. Relationship Hero offers individual coaching and group coaching on issues such as the five love languages and what can you do if you want a thriving relationship.
As opposed to therapy, Relationship Hero does not take a psychological approach to pre-marriage counseling but instead offers relationship coaching and advice. Relationship Hero does not accept insurance but can provide couples seeking coaching with documents to submit to their respective insurance agencies.
Also Read: Life Coaching and Psychotherapy: What's The Difference?
Why Relationship Hero: Relationship Hero offers group counseling along with individual or couples counseling. The platform has a team of experienced full-time coaches to help with your relationship problems and conflicts.
In Conclusion
Premarital counseling is a trendy and interesting program for couples seeking counseling to help build communication skills, fight relationship stressors, and foster their relationship. With the help of these online premarital counseling programs, you and your partner can learn to communicate effectively, address issues, learn to manage conflicts, and build stronger relationships before tying the knot.
I hope these online premarital counseling programs will help you and your partner with understanding each other a little better and learn how to manage disagreements before you begin the new and exciting chapter of your life titled – marriage.
For more information, you can always contact us at info@calmsage.com or connect with us on our social media pages.
Live happily, love heartily!
Stay safe!
Next Read: 
Top 10 Online Therapy and Counseling Programs 2021
Best Online Marriage Counseling Programs To Revive The Relationship