Therapy
6 Ways On How To Prepare For Couples Counseling
Last Update on August 26, 2021 : Published on April 29, 2021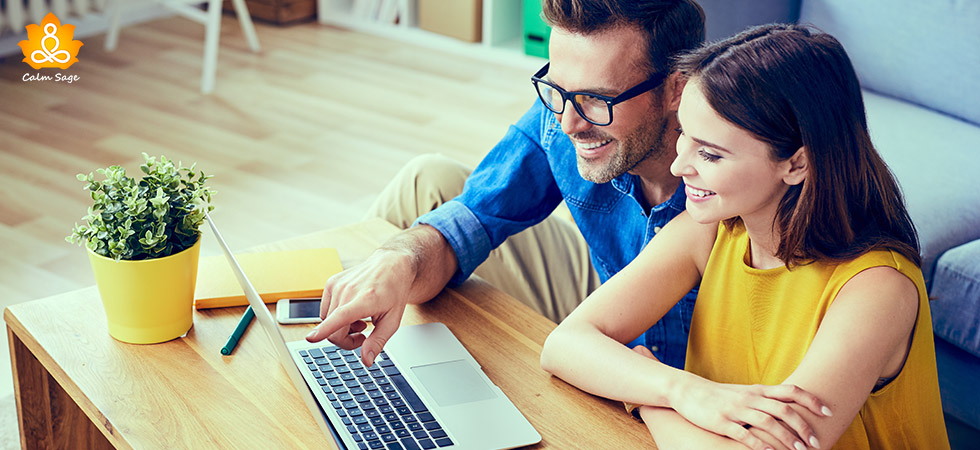 Seeking marriage counseling might be considered questionable but did you know that nearly 50% of married couples have been to couples counseling? Or that couples counseling have a success rate of almost 70%?
Some couples find seeking counseling in their relationship no big deal but many couples feel that seeking counseling means that they have somehow failed in their relationship.
Also Read: Signs Your Relationship Needs Couples Counseling
I agree, opening up to a stranger about your relationship with your partner/spouse is difficult but sometimes it can be a better option than opening up to a friend and receiving the wrong advice. Counseling is important, not only for your relationship but also for your and your partner's peace and well-being.
In this article, we'll explore what couples counseling is and how to prepare for couples counseling.
Related: Everything You Need To Know About Couples Therapy
What Is Couples Counseling?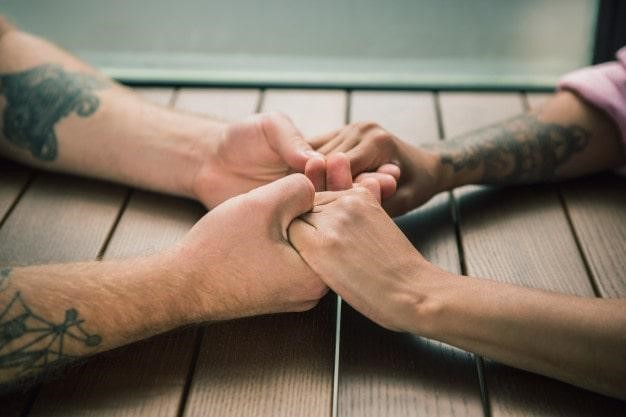 A type of psychotherapy that focuses on a couple and their relationship is what is couples counseling. A couple in a romantic relationship, married relationship, domestic or civil relationship – regardless of their religion, caste, sexual orientation, etc. can seek couples therapy.
From couples counseling, you can expect resolution of issues such as:
Addiction
Sexual problems
Jealousy
Trust issues
Communication problems
And others. Couples therapy more often than not uses a solution-focused and change-oriented approach.
But before you go for couples counseling, what do you need to do to prepare for couples therapy?
Also Read: Gay Couples Counseling: Revitalize The Love And Trust Again
How To Prepare For Couples Counseling?
So, you and your partner have decided to seek couples counseling. The two of you have talked about it, did your research, and are thinking about making your first appointment. But, are you prepared for a session with a couples counselor?
Some of the common questions that couples think about before they attend a session can be:
Will the therapist be able to understand my feelings and emotions?
Will I be blamed for the problems in my relationship?
Will the counseling work?
Will the therapy save my relationship?
Related: 2021's Best Online Premarital Counseling Programs For You!
Seeking couples counseling can be challenging and difficult but if you are prepared and committed to your relationship and your partner, it can be easy to go through.
While there is not much to look forward to in couples counseling, here are some ways you can mentally and emotionally prepare yourself and your partner for therapy:
1. Make Sure You're 100% Committed
If you've decided to go with couples therapy then make sure that both you and your partner are 100% committed to the process. Couples therapy won't work if one person is enthusiastic and the other is dragging their feet, so to say. If you want the therapy to succeed then you both need to be in accord with each other and are ready to commit yourself to the betterment of your relationship.
Related: PACT: Psychobiological Approach To Couples Therapy
2. Make Sure You're Ready To Talk About Your Feelings
Self-analysis is something that we often forget to do. Observing and understanding your feelings is important. Try to take a few minutes out of your day to think about how you're feeling and what emotions you're experiencing. It is important to know that reflecting and talking about your feelings is a part of couples counseling and shouldn't be ignored.
It's okay if you don't know how to open up about your feelings, a counselor will help you with it. Just make sure you're ready and prepared to talk about your feelings and share personal or past experiences with your therapist.
Related: Feeling Lonely In Your Marriage: Why & What To Do About It?
3. Discuss Your Goals With Your Partner
Now that you've decided to improve your relationship, you need to focus on the goals that you'd like to undertake in therapy. Every relationship is different and every relationship has different issues and struggles to manage. In such a case, it is recommended that you sit down with your partner and discuss the goals you'd like to achieve together.
Please remember that this doesn't mean that you can blame or point fingers at each other. All you need to do is focus on:
What is it that you want from a counselor?
How do you want to grow as a couple?
Do you need to work on your conflicts?
What are our goals as a couple in this relationship?
Also Read: Top 15 Couples Therapy Exercises To Try At Home
4. Discuss Potential Couples Therapist With Your Partner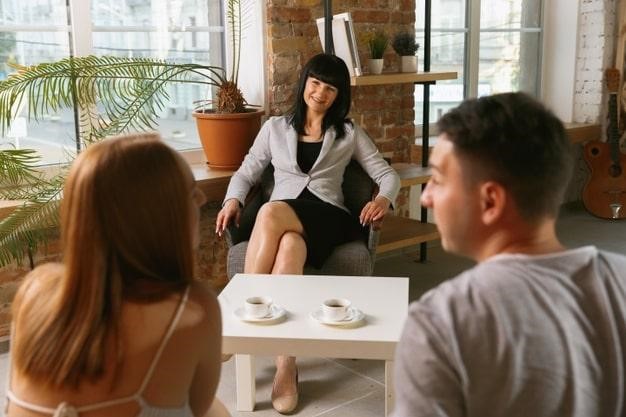 As I said, every relationship is different and so are their problems and struggles. While others will suggest finding a therapist you're comfortable with, it is recommended that you find a therapist who is trained, licensed and qualified to help with the counseling process. Not just comfortable.
Try considering a therapist who is trained in Gottman Couple Therapy or Emotionally-Focused Couples Therapy (EFT). Make sure you ask for their qualifications and experience in working with couples. While you may be able to find a therapist you're comfortable with, it is likely that they might not be as trained and experienced as other therapists.
5. Make Sure You Have A Clear Schedule
Now that you've made your goals and chosen a therapist, it is important to make sure that you have a clear schedule when it comes to attending the first couples therapy session. Prioritizing your session and having a clear schedule is important if you're committed to your therapy. If you're feeling anxious before the first session, take some time to self-care.
Related: 7 Self-Care Rituals & Wellness Trends From Other Cultures You Can Try
6. Be Prepared To Accept Change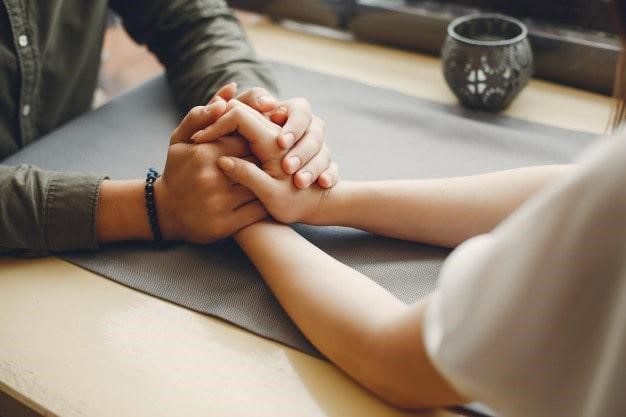 Couples therapy opens up a can of worms, sometimes. A couples therapy session requires an honest and open assessment of your and your partner's personalities. If you want something to change, then make sure you're prepared to accept the change as well. Couples counseling can be overwhelming so speak up if it becomes challenging.
A counselor is there to help you and they will help you figure things out. The bottom line is to remember that after therapy you might see changes, either in your relationship dynamic or your partner's personality, and if you're not prepared to accept the change, your therapy will not be successful.
Take 7 Day Free Trial of Couple Therapy
Disclaimer: As BetterHelp Affiliate, We may receive compensation from BetterHelp or other sources if you purchase products or services through the links provided on this page.
Related: 10 Keys Secrets To a Successful Marriage
How Online Couples Counseling Helps?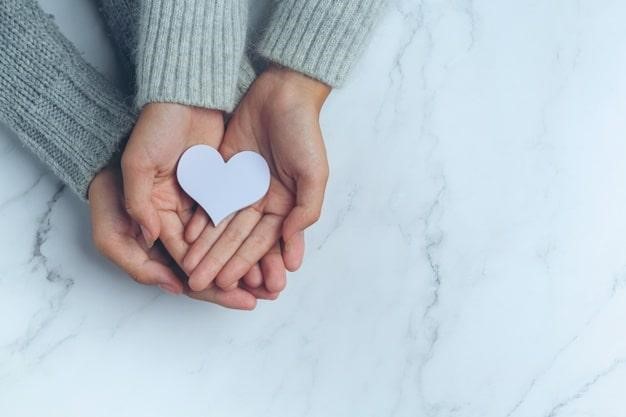 Online couples, marriage, or relationship counseling is an amazing way for couples to seek professional help through video conferencing, audio, or text message, all the while being in the comfort of their homes.
Whatever your problems or struggles, they can be easily resolved or counseled for via online couples therapy. Couples counseling helps couples improve their communications skills, teaches them empathy, rebuild trust, rediscover each other, improve their intimacy, and strengthen their bond.
Also Read: 10 Relationship Hacks Unfurled By Couples Therapists
A couples counselor provides a safe, non-judgmental space where couples can share their experiences and air out their grievances without the fear of being judged by the other.
Don't hesitate to reach out to websites such as ReGain, Talkspace, BetterHelp, Relationship Hero, and other online therapy sites, that have professional, trained, and licensed couples counselors to help you with your struggles.
For more information, you can always contact us at info@calmsage.com or connect with us on our social media.
Live healthily, love heartily, and stay safe.
Next Read: