Mental Health
Cabin Fever: Definition, Causes, Symptoms, Coping Mechanism, and more
Last Update on May 19, 2022 : Published on January 10, 2021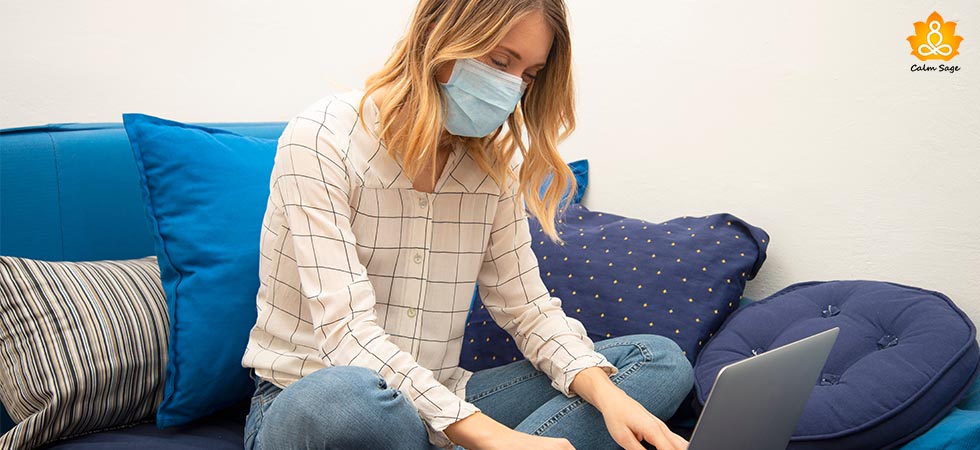 Introduction To Cabin Fever
Cabin fever is related to a psychological issue that people experience due to loneliness and confinement in their homes for extended periods. Some common symptoms of cabin fever are loneliness, restlessness, and irritability. The most common cause related to cabin fever is that people have to stay indoors due to icy or snowy weather conditions.
However, due to the outbreak of Coronavirus, the most common type of psychological problem seen among people is "Cabin fever." This article covers everything you need to know about Cabin fever along with coping strategies. The blog also includes professional advice to cope with the behavioral effects related to cabin fever.
[ Related Read: How mindfulness can help to cope the coronavirus anxiety ]
Signs and Symptoms of Cabin Fever
Some common signs and symptoms related to cabin fever are:
Restlessness
Anxiety
Boredom
Irritability
Reduced motivation
Hopelessness
Loneliness
Depression
Related read: Seasonal Affective Disorder
Side effects of cabin fever are physical, emotional, and behavioral that affect the quality of life. Some common effects of cabin fever are:
Oversleeping
Unable to wake up on routine
Difficulty in sleeping on time
Unable to perform daily task
Difficulty in concentration
Alterations in grooming
Seeking the support of alcohol
Changes in eating pattern
Causes of Cabin Fever
We cannot deny the fact that human beings perform better in life when they are socially connected. And, when this connection becomes weak, people find it hard to adapt. This results in loneliness, restlessness, and irritability. Due to the restrictions of the Covid-19 pandemic, people dealt with the problems related to self-isolation and social distancing. Restrictions due to the pandemic are enough to trigger the symptoms of cabin fever. Below mentioned are some common factors related to the causes of cabin fever:
Social distancing
Unable to participate in social activities.
Overburdened due to work from home.
Lack of motivation due to too much work.
Financial issues due to loss of a job.
Coping Strategies for Cabin Fever
Below-mentioned are some of the best and effective coping strategies for cabin fever:
1. Development of a routine system
We all might agree to the fact that the outbreak of coronavirus has disturbed everyone's routine. Therefore, getting back to a systematic routine again is necessary no matter if you work from home or a working mother. To set a routine system, you can refer to our best reads:
2. Establishing work-life balance
Due to complete lockdown, it might look impossible to maintain professional and personal life together. Spending too much time with the chores can lessen productivity and spending too much time on laptops can lead to burnout. However, with the right steps and guidance, you will be able to establish a work-life balance. To establish a work-life balance, read:
3. Practicing a mindful healthy diet
Along with working from home and practicing social distancing, it is essential to take a proper diet. Proper diet and mental health are correlated with each other. Less nutrition and starving impacts mental health. Therefore, try to take a proper diet along with mindfulness.
Related Read:
4. Staying Active Physically And Mentally
While practicing self-isolation, it is really necessary to be physically and mentally active. Due to complete lockdown, it might not be possible to go out for a walk and hit the gym. Therefore, try home workouts, meditation or yoga poses to stay physically and mentally active.
Related Read for Yoga:
Related Read for Meditation:
5. Spending Time With Nature
I know I know spending time with nature is quite impossible with lockdown and social distancing. However, what about growing more plants in your garden area, watching a sunrise from your window or terrace, playing with your pet, or listening to the chirping sound of birds! Spending time with nature does not necessarily mean to step out, you can always make your way to enjoy nature.
6. Getting Back To Normal Sleep Routine
As mentioned above, cabin fever impacts the sleeping pattern. Therefore, getting back to the normal sleep routine is the best effective strategy to combat the stress related to cabin fever. To getting back to a normal sleep routine, you can refer to the below links:
7. Taking Advantage Of Virtual Connectivity
Every problem comes with a solution and the solution for social distancing is to connect virtually. If you are not able to meet your loved ones or family members take the advantage of the technology and talk with them virtually via video calling. You can also host a party with your peeps for relieving cabin fever-related stress.
Related Read:
8. Saying "no" To Fake News
Watching fake news over the internet or television is too much for your mental health. Therefore, try to avoid news which does not make any sense and feels fake to you. It's better not to watch or hear anything that may trigger stress or anxiety. Similarly, ask everyone to not give weightage to any kind of fake news.
Related Read:
9. Focusing On The Brightside
Indeed, focusing on the Brightside is the best and effective tip to overcome cabin fever. The best way to focus on the Brightside is to feel gratitude every day. Some ways to focus on the Brightside are:
Learning a new skill or hobby
Spending time with loved ones or family members
Being more creative
Related Read: The Ultimate Brightside to the Coronavirus Pandemic
10. Taking Good Care Of Yourself
Along with taking care of your family members and working hard for your goals, it is really important to take care of yourself.  The fact is, "it takes time to adopt a new lifestyle." And life with coronavirus is not easy at all. Therefore, do not be so harsh on yourself, give yourself time, and take good care of yourself.
Related Read:
Seeking Help For Cabin Fever
People with mental health issues are prone to cabin fever. Along with the changes in weather and pandemic, they might face difficulties with such situations.
The right time to ask for professional help related to cabin fever is the first trigger. Whenever you or your loved one is feeling stressed or anxious about the weather, loneliness, or social distancing, it is recommended to look for a registered mental health provider. Below-mentioned are some of the signs to look for seeking help from a professional:
Unable to sleep
Unable to eat
Always stressed about being lonely
Lack of motivation
Feeling anxious or depressed
Obsessive behavior or changes in behavior
Mental health providers help to enlighten the mood with the help of therapy such as cognitive-behavioral therapy (CBT). If you or your loved ones are experiencing the same issues as mentioned, connect with a mental health advisor from here.
Please Note: We have provided this material as information. It is not intended as a substitute for medical expertise or advice. We strongly encourage you to discuss any decisions about treatment with a certified mental health provider.
---
Small Message from the Author
While maintaining social distancing and staying indoors, you might feel the need of instinct socialization. However, it is important to follow the Covid-19 guidelines per government. If we will ignore these guidelines, it may result in increased numbers of cases and deaths in the world. Therefore, it is important to handle this situation with seriousness and follow the guidelines provided by the government. To overcome the signs of cabin fever, try the above mentioned coping strategies. If the coping strategies do not work, look for a therapist without giving it a second thought.
In this phase of uncertainty, let's do every bit to overcome this situation safely.
I hope this blog helps you to understand everything related to cabin fever. Comment down and let us know your queries related to cabin fever. For more such content, follow Calm Sage on all social media platforms.
Thanks for reading!